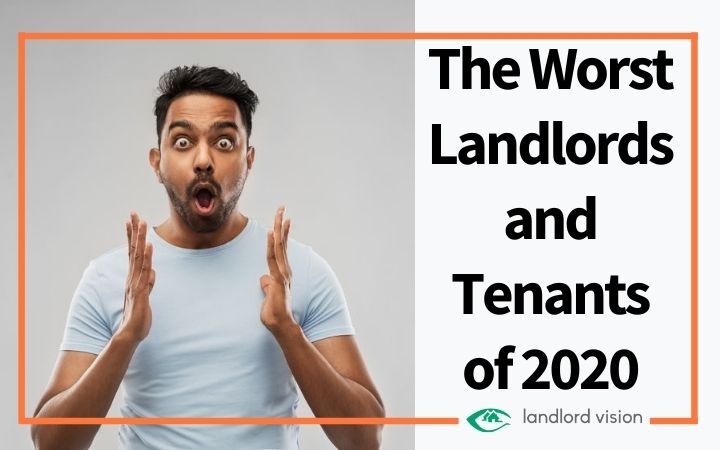 Well ask anyone how 2020 has gone and they'll tell you it was an all-round unmitigated disaster. Sure, the pandemic has put a huge downer on proceedings this year, but – well – um hopefully next year will be better!?
Anyway, as it's the end of the year we thought we'd delve back into the world of bad landlords and tenants. Each year we collect the soap scum of news that is dodgy landlords and delinquent tenants, we glove up and sift through it all to bring you only the worst of the worst. This is one list you really don't want to find yourself on…
The Worst Landlords of 2020
From letting agents charging twice as much for rent because of the colour of someone's skin to landlords who just cannot help but pray on vulnerable tenants (even after it caused a huge scandal the first time!) Here are the top 5 landlords no one wants to do business with.
The Original Sex for Rent Landlord is at it Again!
We've covered sex for rent on the blog a few times – needless to say it's bad. Landlords take advantage of (usually vulnerable) tenants who are struggling to pay their rent by offering them a rental property in return for sexual favours. This kind of agreement never ends well.
Recent years have seen the number of sex for rent cases rise and many landlord and tenant groups alike are doing what they can to highlight and condemn this illegal behaviour. Sex for rent was really catapulted into the public consciousness back in 2018 when a landlord was exposed by a BBC investigation. Well the very same landlord has been at it again.
A woman contacted the BBC to confirm that she'd been offered a sex for rent agreement by this same landlord over Twitter. The landlord of course denies these accusations offering the explanation that his Twitter account had been hacked. We felt this landlord deserved the dubious honour of making our naughty list because we feel much more needs to be done to combat sex for rent and that no landlord should be allowed to proposition tenants in this way.
Tenant Pays Twice the Rent Because of Skin Colour?
Yes, you read that correctly. A woman has been re-paid £30k in back rent after being charged twice as much rent for an identical property as her white neighbour. That really says it all.
In this case it wasn't an individual landlord at fault but a letting agency. If this doesn't convince you to keep an eye on your agent, not much will! The agency in question (Sanctuary Housing) said it was just an oversight on their part and they have at least paid the money back.
An investigation concluded that it wasn't possible to say whether this was racially motivated or just an egregious error. We think it speaks volumes that despite the tenant requesting a review none was carried out until Huffpost began reporting on it. Also, in 2019 both neighbours were served with an eviction notice, while the white neighbour was given a reprieve, the tenant at the heart of this story was not. However you look at it, this tenant was unfairly treated and it's severely impacted her mental health. For this we think Sanctuary Housing deserve a spot on this list and coal in their stockings this Christmas.
Landlord Carelessness Causes Death of Tenant
When it comes to landlords treating tenants badly it doesn't get a lot worse than causing untimely death and that's exactly what this landlord did. This Luton HMO landlord failed to take general fire precautions. When a fire broke out at his property one of his tenants died and another was injured attempting a rescue. The landlord in question was fined £32,000 overall and was handed down a 12-month suspended sentence. In court he said he believed the property had been rented out as a single tenancy, but this did not grant him any leniency as the manager of the property. Let this landlord be a lesson to us all:
Not knowing what's going on in your properties does not make you any less culpable – ignorance is no defence in the eyes of the law.
Do not skimp on fire safety – it's important no matter what kind of landlord you are.
This landlord made our list because there is never a reasonable excuse for poor fire safety – carelessness costs lives.
Landlord fined 70K for not maintaining property
Fourth place on this list was a tough one to call, it was between this landlord who was fined over £70k and the HMO landlord who got banned for 5 years – only the second one ever to receive a banning order in the UK. We went with this landlord though because there were more details on what she'd done wrong and she was fined an awful lot more than the 5-year ban guy!
In a nutshell this Clacton landlord didn't take care of her property. Some of the floors in this property were at risk of collapse and there was rotting food and debris in drains. Tenants who pointed out the many other issues in the property were threatened with eviction. The landlord received 10 penalty notices and the council had been trying to get her to improve the conditions of her HMOs for over a year. After failing to fix the fire alarm the HMO was shut down and tenants were re-housed. Subsequently a gas leak was discovered at the property. She may not have been banned from operating as a landlord, but she has had her HMO licence revoked. Initially she was fined £90,000! This amount was subsequently reduced in an appeal to £70,900. Maintain your properties people!
Revenge Evictions During a Pandemic – Tut Tut Tut!
You may have seen this story doing the rounds, the usual angle that the media come at this story from is that a Billionaire landlord refused to reduce his tenant's rents during the first lockdown and when they protested he tried to evict them. The thing is we don't know what kind of billionaire he is. Just because he's a billionaire doesn't mean he's liquid enough to reduce all tenant rents by 20%. This just isn't a pot we want to stir. Make up your own minds on whether you think he was right or wrong to refuse that initial 20% reduction. The reason he's made our list is for the subsequent revenge evictions.
The pandemic has been hard on us all and it's been a real test of landlord tenant relationships all over the world. Some landlords can't afford to reduce rent, some tenants can't afford to pay it. At the end of it all no one has anywhere to go because quite often lockdowns prevent people from moving to a new house in all but the most necessary of circumstances. All things considered, this isn't the time to try and evict your tenants because they protested against your decision. Also, tenants being unhappy about your decision is absolutely not a good enough reason to evict them. Nuff said.
In this case the tenants appealed and were successful, in the meantime the attention this garnered from the media has caused Hackney Council to investigate as they suspect that some of the landlord's HMOs are unlicenced. Bet he wished he'd reduced the rent now, just saying…
The Worst Tenants of 2020
Now we all know that it isn't just landlords that cause problems in the rental market, there are a fair few rogue tenants out there as well. We really hope you have a strong stomach before reading this section, it's got everything from thousands upon thousands of pounds worth of property damage, secret tenants and dead snakes. Yep, dead snakes…
Put down your cuppa, back away from the mince pies, we're about to reveal the tenants that made our naughty list.
Landlord's Property Trashed by a Tenant he Didn't Know he Had
Well we'll do our best to summarise this story, but it really is worth reading the original Bristol Post article to get the full story as it's one that has to be read to be believed.
In a nutshell a Bristol family decided to let their property out after the husband was offered a 3 year fixed term job in America. Now immediately you're thinking amateur landlord, right? But that wasn't his downfall. Initially the family planned to sell the property, but they received a call from a letting agent asking if they'd consider letting the property out and that the agent already had tenants lined up.
The agent was legitimate, had offices and everything. The family did all their due diligence on the tenants that the letting agency had lined up, signed off on the tenancy and then went to America. Only, the letting agent put a different tenant in the property, without telling the family. The tenant that the agent actually put into the property ended up totally trashing the place.
The husband did try to keep tabs on his property while in America, he soon knew something was up and in the Bristol Post article it details a lot of back and forth until the husband finally found out that he had a tenant he'd not signed off on.
When the family got back home, they found the remnants of cannabis growing, holes in walls, rubbish all over the place, dog excrement up walls, a fish tank containing dead fish and numerous other issues. We're not quite sure if this is a rogue tenant or a rogue letting agent story, but both deserve to be on this list. Yet another reason why you should keep tabs on your letting agent.
This one made the top of our list because it's so heart breaking! The family did everything they could to protect their property and still ended up being victims of terrible tenants!
Tenant Tries to Murder Housing Officer
This one definitely deserves to be high on the list. While you can replace the inside of a house you can't repair or replace human life.
At River Clyde Homes offices a woman asked a tenant how she could help him and he stabbed her twice causing life threatening wounds. The knife attack was unprovoked. Another customer who was waiting to be seen picked up a chair and threw it at the tenant which allowed the woman to escape.
The tenant in question had received psychiatric help in the past and had previously admitted to wanting to murder housing officers. At the time the threats were reported to the police and the tenant was told that he was to stay away from the River Clyde Homes offices and a note was put on his file. Evidently this wasn't enough to protect the poor woman who tried to help him. He appeared in court and admitted to attempting to murder the housing officer.
The tenant in question had previously been evicted and felt aggrieved that no help was given to find him new accommodation. You can read the full story in the Sun.
While this tenant's actions cannot be condoned in any way, this shouldn't be seen as a warning against housing tenants who are suffering with their mental health. Many people who suffer as a result of their mental health get the help that they need and only a very small percentage of mental health sufferers would be considered dangerous in the way that this tenant was. In this instance we feel that the systems in place to support the tenant and protect others failed and that's what allowed this awful event to happen.
Tenant Leaves Property Caked in Cat Faeces
It was tough to decide whether this should be third or fourth place as faeces seemed to be a key theme in both stories, having seen the pictures though, this was the one that made us feel the queasiest, so third place it is.
The title says it all and it does not exaggerate. You can see the images of the property in the Daily Mail article.
The property was let out by a Wiltshire landlord in November 2019. He hadn't been able to gain access to the property for 10 months despite requesting access to check fire alarms etc. as the tenants gave excuses every time. When he finally did gain access, he found that the property was caked in cat faeces. Carpets, worktops, mattresses, the bathroom, even the hallway bannister were covered in excrement. Aside from that there was rubbish left at the property and the tenants had not paid rent. A lot of the furniture left in the property had to be thrown away.
There's not a lot more to say on this one. If you get a tenant who's refusing to grant access to the property don't leave it, start dealing with the situation straight away. This Property Investment Project article explains what you should do if your tenants refuse access.
Absconding Tenant Leaves Dead Snakes, Flies and Faeces in Their Wake
Like the previous tenant, this one caused pretty widespread property damage. The family of 5 that occupied this property disappeared over Christmas 2019 and the landlord forced entry to the property once he was aware that his tenants had gone. The family had lived there for 5 years but hadn't paid rent for the last year they were there.
Inside the landlord found dead snakes and other animals which had attracted files and there was faeces, dirt and rubbish throughout the property. What makes this worse than many of the other tenant from hell stories out there is that there were children living in this mess too.
You can read more details in The Sun, but we'd only recommend this if you won't be offended by images of dead snakes.
There's no indication in this story as to whether the landlord carried out inspections in the 5 years the family was in the property. He had previously chased them for unpaid rent but was taken in by sob stories of their financial difficulties. This just goes to show that if your tenants stop paying rent without warning and won't grant access, it's time to go into business mode and follow all the legal steps to re-gain possession of your property.
Romania – the Country – Owes This Landlord £75k
So, finishing off on an (almost) lighter and decidedly less smelly note, this tenant had to make the list because, well, it's an entire country! And £75,000 is a lot of moolah. The Romanian ambassador had rented the home in Hyde Park since 2008 but didn't pay rent for 6 months as they believed they had a 'gentleman's agreement' to end the tenancy early.
The high court has subsequently ordered Romania to pay the outstanding rent and £3,660 in legal fees.
While the country have said they believed there was a 'gentleman's agreement' in place, the landlord has taken the country to court as he has a mortgage to pay, so who's actually at fault here is not clear.
At least this one had a happy ending.
That's it for our list of the worst landlords and tenants of 2020, are there any others you thought should make the list? Let us know on Facebook or Twitter. We'll see you next year for another instalment of the worst landlords and tenants.
Read More Like This.