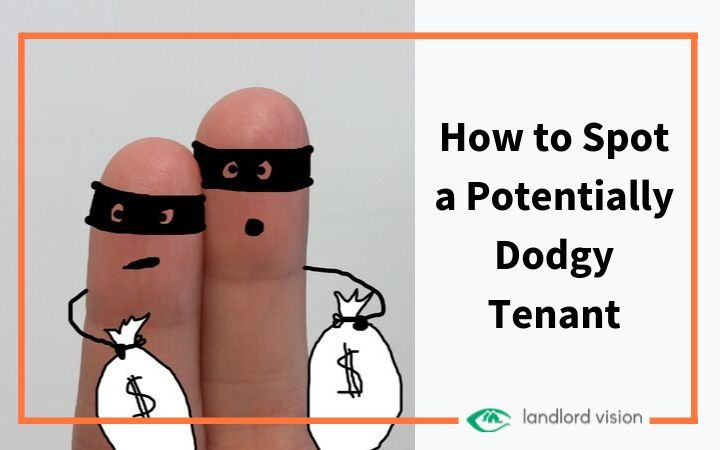 Tenants come in all shapes and sizes. Most tenants are lovely and soon make it on to your Christmas list. But some are best shoved into a dark recess of your mind where even your therapist doesn't venture. But how do you spot the bad tenants before they become a real problem?
You probably know better than to accept a tenant without checking their references. Only a naïve fool would do that. Unfortunately, however, whilst references can tell you whether a tenant is solvent, has a job, and is who they claim to be, references don't give you the full story. This is why you need to look beyond the obvious and employ a combination of observation and your sixth sense.
Here are a few things to watch out for (you can thank us later for saving you a whole world of pain!).
The Tenant Turns up Late for a Viewing
Everyone is late sometimes. Life happens. But when a prospective tenant shows up late for a viewing and their excuse is questionable or even non-existent, you have to wonder what else might be late, such as the rent…
The Tenant Ghosts you After Saying They Want the Place
Ghosting is a 21stcentury phenomenon. People ghost each other on dating sites all the time. It's so easy to do these days – you just disappear from that person's virtual world. Ghosting happens in the real world, too. Consider yourself ghosted when the person stops answering your calls, doesn't return text messages, or pretends they are not in when you call round – even though you can hear the TV and see they are home.
If a prospective tenant doesn't answer your calls, reply to texts, or fails to show up for a viewing, you can assume they are deeply unreliable and flaky in the extreme. This is not someone you want as a tenant. Not unless you want them to disappear before paying the rent.
The Tenant Reschedules More Than Once
This is a continuation of the previous two points. Perhaps the prospective tenant seemed super keen on the phone, but then keeps rescheduling when you offer to show them the property. Sure, it's possible that something unexpected cropped up the first time, like an emergency dental appointment or work drama, but to reschedule more than once is a red flag. Either the tenant is unable to decide between multiple properties or they are just flaky. Neither is likely to end well.
The Tenant Smells of Smoke
Many landlords have a 'no smoking' rule in their properties. This is sensible. Cigarette smoke imbues everything with a nasty yellow stain and seeps into soft furnishings like a cancer.
If a prospective tenant stinks of cigarettes or shows up in a haze of smoke, it's likely they will continue their habits once they move into your property. Ask them if they are a smoker. A flat-out denial is a great reason to show them the door, literally as well as figuratively.
The Tenant's Personal Hygiene is Suspect
Personal hygiene is an indicator of whether a prospective tenant will take care of your property. After all, if they can't be bothered to shower more than once a fortnight or wash their clothes very often, how often do you think they'll clean the bathroom or vacuum the stairs?
The Tenant Doesn't ask About Removing Their Shoes at a Viewing
Asking you if they should remove their shoes before exploring the property is polite. Who knows there those shoes have been? Mud, dog excrement, and worse all spring to mind. If a tenant shows no interest in whether they leave a mess on the floor, it indicates they are not terribly house proud. Do you want someone like that as your tenant? It might not matter too much if the property is in a poor state, but if you just spent a wad of cash fitting new carpets, be afraid, be very afraid.
The Tenant Offers a wad of Cash in Lieu of Monthly Rent
It is customary to ask for a deposit as well as a month's rent in advance. This protects you in the event of damages. However, if a tenant tries to give you several months' worth of rent in advance, look this gift horse in the mouth because it's deeply shady.
Tenants keen to pay several months in advance, with a wad of cash, are very often a front for some criminal endeavour. Don't grab that cash with no questions asked. If you do, your property will most likely be turned into a pop-up brothel, cannabis farm, or temporary home for trafficked slave workers.
The Tenant Wants to Haggle Over the Rent
Some prospective tenants like to haggle over the rent. Your ad says the property is £600/months, so they come along, express interest, then ask if you'll take £550/month. In a stagnant property market, it's probably a good idea to be flexible about how much rent you'll accept. After all, a slightly lower rent is better than no rent, at least in the short-term. However, if a tenant tries giving you a low-ball offer, even though it's clear you have had a lot of interest, walk away. This person will probably make your life miserable if you take them on.
The Tenant Asks 1001 Questions
Asking questions is acceptable. Of course, the tenant needs to know where the meters and water stop tap is. But asking 1001 questions about anything and everything, via telephone, text message, and email, at all hours of the day and night, is enough to drive a person insane. If the tenant is this high maintenance now, imagine how much worse it will get if you let them move in?
The Tenant Scares you
If you are 6'6" and built like a small truck, it's doubtful any prospective tenant will scare you or make you feel unsafe. But if you aren't an absolute unit of a person, don't offer a tenancy to anyone who makes you feel afraid for any reason whatsoever. The tenant might need you to call in to fix a problem late at night. If you are worried that you'll end up being buried under the patio shortly after visiting them, it's hardly the start of a beautiful tenant/landlord relationship.
The Tenant Invades Your Personal Space
Some people are naturally touchy-feely. This is OK as long as it doesn't slide into creepy territory and you are comfortable at all times. But if a prospective tenant oversteps their boundaries and tries to invade your personal space, even though you have made it quite clear this makes you uncomfortable, it's a huge red flag. Walk away and let them know the property is no longer available – to them at least.
The Tenant Gives off a bad Vibe
Listen to your sixth sense. Our internal radar can usually spot when someone is suspect, even if on paper they seem perfectly fine. If anything about a prospective tenant gives you a bad vibe, listen to your gut. Chances are, it's not wrong and by turning down this person, you are saving your future self a lot of hassle.
We hope this guide helps you to avoid any future tenant disasters. Let us know if you have met any of these people during your landlord career. We'd love to hear more about your tales of woe! You can leave a comment below or connect with us on social media.
Read More Like This:
Landlords Beat the Deposit cap by Charging Pet Rent
How Landlords can Survive a Property Inspection
33 Ways to Boost Your Buy to Let Rental Yields