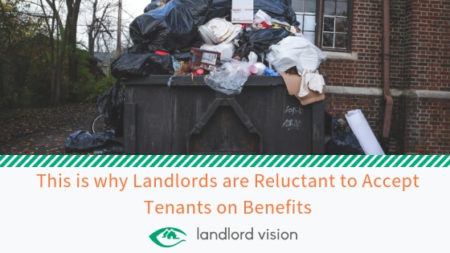 Many landlords refuse to let their properties to tenants on benefits. They fear that the tenants will fall into arrears and it could take them months to evict them. One landlord in Grimsby discovered to his cost that some tenants cause a lot of trouble.
Property Trashed by Tenants on Benefits
The landlord was greeted with a terrible mess when he finally evicted a family with young children. Carpets had been damaged, many of the kitchen units had been trashed, the bath was left full of stagnant water, and bags of rubbish were strewn all over the house. Even the garden was a disaster area, as it had been allowed to get overgrown. The tenants also owed £1,700 in unpaid rent.
After the landlord removed more than 50 bags of rubbish, he vowed to never again let his properties out to tenants on benefits. Then he had a call from Nottingham Borough Council who were desperate to find a landlord who could take a family in need. Because the council offered to pay three months' worth of rent in advance, the landlord reconsidered and agreed to accept the family. The money enabled him to make essential repairs.
Repairing the Damage
"We ended up giving the house a complete makeover, with a new kitchen, carpets, paint, electrics, and doors," his property manager said.
Nevertheless, the landlord would still think twice about accepting more tenants on Universal Credit.
Do you accept tenants on Universal Credit? Let us know in the comments.
Read More Like This
This isn't the only unlucky landlord with mucky tenants, take a look at these horror stories: