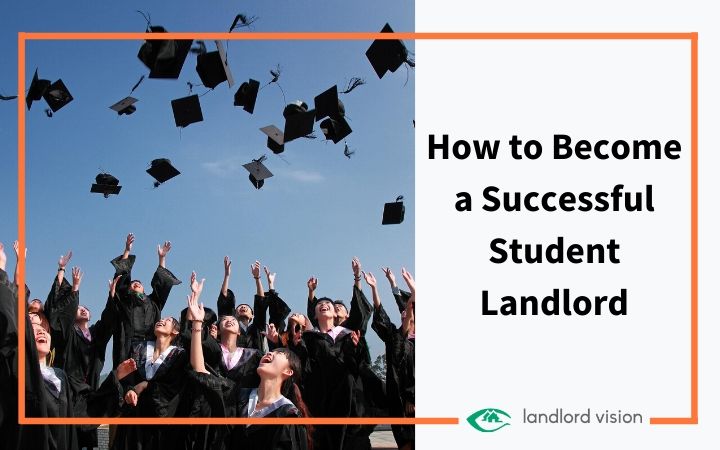 There are a lot of good reasons to become a student landlord, but to make a success of your business, it is essential that you pay close attention to the following considerations.
We've talked to a few experienced student landlords and they have given up some useful tips. Read on to hear more about the do's and don'ts of being a student landlord.
The Benefits of Being a Student Landlord
It would be remiss of us to skip over the benefits of letting to students. Student lets have managed to outperform many other areas of the private rental sector. Demand for student housing is consistently high and student landlords enjoy excellent returns on their investment.
Towns and cities like Huddersfield, Plymouth, Bristol, Liverpool, Leeds, and Newcastle are property hotspots for student landlords. Property prices are often lower than average, yet demand is strong. This creates the perfect conditions for high rental yields.
In addition, void periods are low in student accommodation, as students typically pay for a full year. And, with parents often acting as guarantors, there is very little chance of being stuck with costly rent arrears.
Of course, it's not all plain sailing. Student houses suffer more wear and tear than most, so you'll need to budget for regular maintenance and cleaning costs. Student properties are also let furnished, so there are upfront and ongoing costs in that department too. But with the right management, student lets are well worth considering.
Finding the Right Property to let to Students
To be a successful student landlord, you need the right property(s). Students usually congregate in specific areas, which are typically close to campus and within easy walking distance of shops, nightlife, and other amenities.
It takes time to find the right property. Bear in mind that the student market is cyclical, so you have to time your investment just right. Allow enough time for renovations after the sale has completed. Ideally, your property should be ready for students at the time when most students are looking for somewhere to live. Term usually starts in September, so students will be looking for their accommodation in the months leading up to term time. If you get it wrong, you could end up with an empty property for up to 12 months.
Maximise your rental income with HMOs. This allows you to let the property to 3/4/5+ students at a time. They have their own bedrooms and share kitchens, bathrooms, and communal spaces. If you go down the HMO route, check whether you need an HMO licence. Many councils now enforce HMO licencing.
You can maximise returns from a regular family property by converting second reception rooms into bedrooms. This turns a three-bed home with a separate dining room into a four-bed student HMO.
Study the local market and see what types of properties are available in your target areas. Older properties over two or more floors offer more space, but they also need more maintenance and potentially a full renovation job. Factor this into your budget.
Speak to local letting agents to find out what sort of properties students prefer. This should give you some useful insights before you start booking viewings.
Legal Compliance for Student Landlords
It's a landlord's responsibility to ensure the property is safe for tenants. Electrics must be in a safe condition. Gas and electrical appliances must be safe and gas fires/boilers must have annual safety checks by a certified Gas Safe engineer. You'll need to provide a copy of the gas safety certificate to your student tenants when they move in.
You'll also need to fit smoke alarms on every floor, and CO alarms if you have any solid fuel appliances or log burners.
Preparing a House for Modern Students
Modern students expect a lot for their money. They don't want to live in abject squalor. They expect fibre broadband and SKY tv packages as standard. They like en-suite bathrooms and nice furnishings.
At the very least, you need to have broadband installed before your tenants move in. Most students don't give the kitchen a second glance, but if they can't SnapChat their mates on moving in day, they will be seriously upset.
Don't spend too much money on furnishings. It's a waste of money. Cheap Ikea furniture will do the job. Expect to replace mattresses fairly often, and if you don't want to replace them every year, fit mattress protectors.
Install a large fridge/freezer, so there is enough room for multi-packs of beer and family-sized pizzas.
Students with heaps of cash are even more discerning. They are willing to pay extra for high-spec apartments with all mod-cons. If you want to attract the most affluent students, be prepared to fit out your property accordingly.
Finding New Student Tenants
There are many ways to find new student tenants. In time, word of mouth is likely to be your best route, as one batch of students tend to hand over to the next. In the beginning, however, speak to the student accommodation officer at the local university or college. Let them know you have a property to rent, so they can add it to their database.
Register with a letting agent to advertise your properties. There are fees for this service, but if you don't have time to advertise a number of student properties, a letting agent will help reduce admin.
There are now plenty of websites where landlords can advertise their properties. Gumtree, OpenRent, SpareRoom, TheHouseShop are four of the best free property websites. You can also try Zoopla and Rightmove if you use an online letting agent such as Upad or IATA.
Social media is also handy. Put the word out on social media and ask for referrals. This gives you some oversight of potential tenants, although don't take someone's word as gospel that their niece or nephew is a quiet, diligent student with no interest in holding all-night parties.
Tenancy Agreements for Students
Think carefully about whether you want to offer students a single or shared tenancy agreement.
Shared tenancy agreements are ideal for groups of friends. The onus is on them to replace a tenant if someone ditches their course and leaves the property half-way through the academic year. A single tenancy is better if you are renting individual bedsits to separate students who might not know each other before they move in.
The tenancy agreement should include all pertinent information, including how damage to the property and fixtures and fittings is dealt with, who is liable for unpaid rent, cleaning, etc. Since this is a legal agreement between you and your tenants, take advice before drawing up a tenancy agreement.
Student Housing Inventories
Conduct a thorough inventory check before students move in and before they leave. This is to protect you and them. Record the condition of the property and its contents in detail. Take photos of everything.
Have a checklist and make a note of any damage. Ask students to check the inventory and sign it to say they agree with the contents. The more thorough you are, the less likely you are to have any disputes over property damage.
Welcoming Your Students
Welcome your students on moving in day. Be available in case there are any problems. Make sure that new students are given a key, a copy of gas safety certificates, information pertaining to appliances and other house-related things.
While some students will have been given a brief overview of how to manage bills and responsibilities by their parents, others won't have and it's not something that's taught in schools. Ensure your student tenants know which bills they are responsible for if you're not offering a tenancy that has utility bills included. This will save any issues with unpaid bills.
Conduct meter readings on the day your students move in and tell them where the water stop tap is, just in case there is a leak.
Keeping Students Happy
Happy students mean fewer problems. Remember that for many students, this is the first time they have lived away from home, so there is often a steep learning curve. Expect many late-night phone calls over lost door keys and other irritating problems. Try not to be too grumpy but do set boundaries – if you don't want students calling you out of hours, tell them not to unless it's an emergency!
Charging for replacement keys is one way to solve that particular problem. It's amazing how much more careful students are when they have to pay £20 for a replacement door key…
Dealing with Student Housing Problems
If problems do arise – and they will – be there to deal with them in a polite, professional manner. Be respectful and try to fix issues as quickly as possible. Remember, problems like a faulty boiler must be addressed within a strict time-frame. It's not acceptable to leave students without heating and hot water for weeks at a time.
Be vigilant for anti-social behaviour. Student properties in residential areas are often blamed for late-night noise. Students do need to be told to keep noise levels down. Ask neighbours to alert you if there are noise and other anti-social behaviour issues. Include a clause in your tenancy agreement so you can deal with repeat offenders. Problems with anti-social behaviour will put you on the radar of local housing officers.
There will come a time when a student unexpectedly leaves mid-term. If your students are on a joint tenancy, this isn't your problem as such, as the remaining tenants will have to cover the unpaid rent, but on a single tenancy, you will be left with a void. It isn't easy finding replacement students part way through the year, as most students are already set up in a property and don't want to move.
One way to fill short-term voids is by advertising the room on Airbnb. If the property is in a central area, you should be able to let it out to visiting students, tourists, friends, and relatives. If you use this option, make sure you check how this will affect the council tax rates. Student housing usually receives a council tax discount or in some cases is exempt from Council Tax. HMO's may not be exempt so choose the right kind of tenancy and business structure to suit your needs before letting to students.
Student Housing Management Software
Managing multiple student lets will increase your admin, so it pays to use a property management software like Landlord Vision to manage the day-to-day running of your student properties. This will save a lot of time completing administrative tasks and makes filling in your tax return much easier, and it is far cheaper than using a property manager or letting agent.
If you don't feel you can manage your student properties on a day-to-day basis, hire a property manager to take care of the routine management. This can be quite expensive, so make sure you do your research.
Conclusion – Letting to Students is Worth Considering
Letting to student tenants can be hard work at times. Students are often high-maintenance and many of them lack common sense, at least in the first year. But rental yields are higher than in other sectors, so operating in the student sector is well worth considering.
Do you let properties to student tenants? Are there any issues you feel we should cover in a future article? Let us know!
Read More Like This:
Student Lets Prove Tempting for Beleaguered Landlords
The Costs of Being a Student Landlord
Increase Your Rental Income by Renting out Furnished Properties