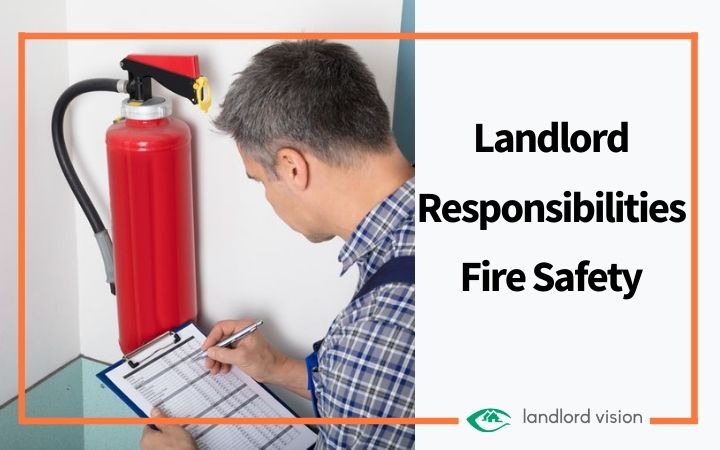 Landlords have a responsibility to ensure their properties are safe for tenants. This includes paying close attention to fire safety. Unlike gas safety or electrical safety, there isn't a certificate you can obtain that shows unequivocally that your property is safe for tenants, but there are certain things you must do, some of which are mandatory.
There are several factors at play when it comes to fire safety, and in this guide, we'll look at all of them. Read on to discover how to keep your rental property fire safe.
The law and Fire Safety
Landlords have a legal obligation to ensure their rental properties are safe for tenants, and this extends to fire safety.
The Housing Act 2004
The Housing Act 2004 covers fire safety in rental homes, specifically fire escape routes and the fabric of the building where a failure to carry out repairs could cause a fire to spread more easily.
The Smoke and Carbon Monoxide Alarm (England) Regulations 2015
The Smoke and Carbon Monoxide Alarm (England) Regulations 2015 states that early warning systems – smoke detectors and CO alarms – must be put in place to alert tenants in the event of a fire. The rules are as follows:
There must be a smoke alarm on every storey of the property used as accommodation, including the ground floor if a living room is converted into a bedroom. Note that bathrooms and toilets also count as 'accommodation'.
A CO alarm is needed if there is a solid fuel appliance in the property, e.g., log burner or open fire.
The Housing Health & Safety Rating System (HHSRS)
The HHSRS was prepared for use with the Housing Act 2004. It lists the areas landlords should focus on when reviewing the condition of their properties. Although it doesn't set minimum standards, it is a useful tool for fire risk assessment purposes, as it offers guidance on potential hazards.
Local authorities can also use the HHRSR when carrying out safety inspections, particularly in HMOs.
Fire is hazard #24 in the HHSRS guide. It covers causes, preventative measures, HMOs, and hazard assessment.
The Regulatory Reform (Fire Safety) Order 2005
This piece of legislation is relevant for HMOs and blocks of flats, as it covers fire safety in shared/communal areas. If you own flats or HMOs, you must consider who is at risk, for example, disabled people, take reasonable steps to ensure residents can safely escape in the event of a fire, and put measures in place to prevent fires.
The Homes (Fitness for Human Habitation) Act 2018
As outlined in the Homes (Fitness for Human Habitation) Act 2018, a rental property must be safe and free from hazards likely to cause injury or death. The HFHH act doesn't offer any new guidance with regard to fire safety, but it does make it easier for landlords to access their property to make repairs or check fire safety measures.
Furniture and Furnishings (Fire Safety) Regulations 1988/1989, 1993, and 2010
Any furniture supplied by a landlord must conform to specific fire safety rules, as per the Furniture and Furnishings (Fire Safety) Regulations 1988/1989, 1993, and 2010. Items covered by the legislation include beds, sofa beds, sofas, chairs, mattresses, and any other upholstered item such as pillows, cushions, etc.
The only exclusions are goods made before 1950 or materials supplied to reupholster items pre-dating 1950.
Building Regulations
Building regulations are applicable if you plan to renovate a property before letting it out to tenants. It's really important that the work is done to the required standard to prevent fire risks.
You can download the Building Regulations 2010 here. It covers various things, including building work, material change of use, materials and workmanship, and energy efficiency requirements.
Some areas where fire safety problems may arise following refurbishment or renovations include:
An absence of self-closing fire doors on flat entrances
Breached fire protection and fire stopping in service risers between flats
Illegal attic conversions
No fire escape routes in an HMO
Façade Cladding and Fire Safety
Façade cladding has been in the news ever since the Grenfell Fire disaster in 2017. Enquiries into the disaster have since concluded that the cladding used on the building's exterior fuelled the fire and helped it spread to upper floors, causing the deaths of 72 people. Unfortunately, since Grenfell, many types of exterior cladding have been declared 'unsafe' and local authorities have been instructed to remove and replace unsafe aluminium composite material (ACM) cladding from affected buildings.
The ACM cladding crisis has affected many landlords and tenants there are still 700k people living in blocks with flammable cladding, and the costs associated with fixing affected buildings are as high as £50,000 per flat.
This article offers a glimmer of hope.
Fire Risk Assessments
It's important to carry out a regular fire risk assessment in your rental property. Ideally, this should be done twice a year, but it is recommended that you complete a new one when a change of tenancy takes place.
The idea of a fire risk assessment is to identify fire hazards and risk areas, so you can remove or mitigate them. For example, you may discover that a tenant stores a bicycle in a rear hallway, effectively blocking a rear exit door, which could be fatal in the event of a fire. The solution would be to provide a lockable shed where the tenant can safely store their bicycle.
Fire Risk Assessment Checklist
There are five areas to look at when carrying out a fire risk assessment. These are:
Fire Hazards
Look for potential fire hazards in the property, such as candles, bottles of lighter fluid, a gas stove, basically anything that could start or spread a fire. Make a note of where these are found.
People at Risk
Consider who is living in the property and whether they are especially at risk, such as young children, elderly or disabled tenants. Make a note of who lives in adjacent properties or flats, as they would be impacted by a fire.
Evaluate and Mitigate Risks Identified
Assess how likely a fire is. Too many appliances and gadgets plugged into an overloaded electrical circuit are also high-risk. Even decorative items like candles can start fires when left unattended.
Be vigilant for multiple extension leads, clutter stored in hallways and around exit doors, batteries removed from smoke detectors, tenants who are smokers, gas or oil burning space heaters, etc.
Record, Plan, and Instruct
Record your findings and devise a fire escape plan. Think about how tenants could get out in the event of a fire. Would they be able to climb out of upstairs windows on to a garage roof, for example?
Discuss your findings with your tenants and offer advice on how to improve fire safety, such as removing clutter from communal areas. Make sure they understand it is their responsibility to keep exits clear.
Review and Make Changes When Necessary
Keep a record of your fire risk assessment and review it regularly. Carry out repairs and replace worn items, such as a faulty gas stove or non-functioning smoke alarms when necessary.
Essential Fire Safety Equipment in Rental Homes
As we have already mentioned, CO detectors and smoke alarms are essential in rental properties. Follow the requirements of the Smoke and Carbon Monoxide Alarm (England) Regulations 2015. Wired smoke alarms and CO detectors are best, as these can't be disabled by tenants and you won't need to check whether new batteries are needed.
The London Fire Brigade also strongly recommend that heat detectors are fitted in kitchens and an extra smoke alarm is fitted in the living room. This provides an early warning for other residents.
Wales
In Wales, mains-powered linked smoke alarms are required in all properties built since 1992. Battery-powered smoke detectors are advised for older properties.
Scotland
In Scotland, all rental properties need a CO detector fitted in rooms with a solid fuel appliance and any bedroom or living room above the appliance. There also needs to be a working smoke detector in living rooms, hallways and landings, and a heat alarm in the kitchen. These should be interlinked, so if one goes off, they all go off. You can read more on the topic here.
Northern Ireland
Rental properties in Northern Ireland must have a CO alarm for gas appliances fitted since 2012.
Fire Safe Windows
In a new build property, windows must conform to current building regulations. This is a complex topic, but a key point to remember is that egress windows should be fitted on the first floor of a property (an egress window is one large enough to allow a person to escape in the event of a fire).
Egress windows should be positioned so tenants can escape the property and not end up in a confined yard. They should also allow rescue by ladder, so not positioned above a conservatory.
In taller new buildings, such as HMOs extending beyond two storeys, egress windows on upper floors are not an option. Instead, a fire-resistant stairway is needed, which provides an escape route for all habitable rooms.
There are no legal requirements for existing windows, but it is sensible to ensure there is a viable escape route for tenants. This would be something to think about when you conduct a fire safety risk assessment. If you need to replace existing windows for any reason, make sure the installation is FENSA approved. Consider making all first-floor bedroom windows tilt and turn, as these offer the quickest means of escape.
Furniture in Rental Properties
We have already mentioned the legal requirements for furniture in the section on Furniture and Furnishings (Fire Safety) Regulations. New furniture purchased from reputable retailers should meet the requirements – although it is a good idea to check attached labels. There is more of a risk if you purchase furniture second-hand from sites like eBay. Do check the item meets current fire safety standards – items like sofas should have a label attached to the underside clearly stating the item meets BS7177 safety standards.
The penalties for not complying with fire safety requirements pertaining to furniture are severe.
You could be fined up to £5,000, be given a 6 month jail sentence, be sued for damages, and may even face manslaughter charges if your failure to comply with the regulations causes the death of a tenant. Any insurance you have on the property will be invalidated.
Tenant Owned Furniture and Appliances
Landlords are not responsible for furniture and appliances owned by the tenant. If, for instance, a fire is caused by any items owned by the tenant they can't sue you for damages.
Electrical Fires
Faulty electrical installations are a major cause of house fires, so landlords must make sure all electrical systems and appliances are safe.
New regulations introduced into the private rental sector in 2020 mean landlords must have electrical installations checked every five years. Our guide to electrical safety covers this topic in much greater detail.
Landlords are also advised to have electrical appliances supplied as part of the tenancy tested. This is also covered in detail in the above-linked guide.
HMO Fire Safety
Fire safety requirements in HMOs are more extensive than ordinary rental properties. It's important to check what your local authority requires before applying for an HMO licence, as the exact requirements may vary between different authorities.
Even if your HMO doesn't need a licence, you'll still need to follow the latest rules. If you hire contractors to carry out refurbishment work, such as converting an attic into habitable bedrooms, it is your responsibility to ensure the work done meets the required standards.
Some things worthy of extra consideration include:
Fire Warning Systems
Fire alarms are needed on all floors, stairways, emergency exits, and in high-risk areas such as kitchens.
Fire Prevention Equipment
A fire extinguisher is needed for each floor of an HMO. These must be serviced annually.
Provide a fire blanket for every shared kitchen.
Fire Safe Doors
Doors can make the difference between life and death. A fire rated door slows the spread of heat and smoke, which gives tenants valuable time to escape. And in a fire, every second counts.
A fire door looks the same as a regular door, but it has been tested rigorously in accordance with British standards.
Fire doors are essential in HMOs and flats, as they stop the spread of smoke and heat if a fire breaks out. If self-closing fire doors are not fitted, or the self-closing mechanism has been disabled by tenants, tenants might end up trapped due to smoke and heat.
Fire safety regulations state that a fire door is required in all properties with more than two storeys, which is applicable to larger HMOs. There must be a fire door separating each habitable room (bedrooms, bathrooms, kitchens, etc.), and also a fire door at the entrance to each stairwell on every level of the property.
Door retainers can be fitted to internal doors. These allow a door to remain open, but automatically close it if a fire alarm is activated.
Fire doors should be certified by the British Woodworking Federation (BWF). Look for interior domestic doors with an FD30 rating, as this indicates they will provide residents with 30 minutes respite before succumbing to fire and smoke.
Hardware and seals must also be fire-rated. An intumescent strip around the door expands in a fire, which seals the gap between the door and the frame. Cold smoke seals are also advisable. Make sure the door frame is the same standard as the door.
FD30 rated fire doors typically cost around £100 for the door, frame, closer, and other hardware. If you are refurbishing several properties, you may be able to obtain a discount on bulk purchases if a contractor does the work for you.
External fire doors should also be fitted with a night latch and internal turn knob, so the door can be opened from the inside if a tenant has no key. This ensures tenants can escape quickly without the need to search for a key.
Carry out regular checks on doors to ensure the self-closing device has not been tampered with. Tenants may wedge doors open if they bang on closing, so they are not disturbed late at night. Doing this will damage the self-closing mechanism, which makes the door useless if a fire does break out.
Even if the property is not an HMO, it is sensible to fit a fire door on a kitchen, which is typically a high-risk room for fires.
Fire Escape Route
As already mentioned, HMOs must have a designated escape route to allow all residents ample time to leave the building in the event of a fire. Doors along the escape route must be fire-rated and have automatic closing mechanisms.
Buildings above 7.5 metres are subject to different rules. They need a second fire escape route and may also require a sprinkler system installed for compliance purposes.
Provide tenants with guidance on an evacuation strategy. This should be done at the start of a tenancy and in an HMO, place advice notices in public areas, outlining what tenants must do if a fire breaks out.
Sprinkler Systems
Sprinkler systems are mandatory in all new build properties constructed from 2016 onwards in Wales.
There are no such requirements in England, but a sprinkler system may be needed if the ground floor has an open-plan layout or there is an inadequate escape route from habitable rooms on upper floors.
Fire Safety in Flats
All fire safety regulations apply to individual flats, but if you own a block of flats, you are also responsible for communal areas. This is a complex area and beyond the scope of this guide, but a few general points are as follows:
Communal areas must remain free of obstructions, such as pushchairs, bicycles, and abandoned furniture.
In purpose-built blocks, there must be a minimum of 60 minutes of fire resistance between each flat and the means of escape.
Self-closing fire doors are required for all flat entrances and between communal areas.
Summary
Fire safety is immensely complex and professional guidance is recommended, especially for HMOs and blocks of flats. Speak to your local housing department or fire service if you need advice on any aspect of fire safety. And if you carry our refurbishment works, always use reputable contractors to ensure no corners are cut in the pursuit of cost-savings.
Pay close attention to the layout of an investment property when you purchase it, especially if you buy a property that has had a loft conversion. Make sure the work received planning approval and has been signed off by the building inspector.
As always, if you have any comments or suggestions for future articles, feel free to get in touch via Facebook or Twitter or sign up to our newsletter in the side bar.
Read More Like This.