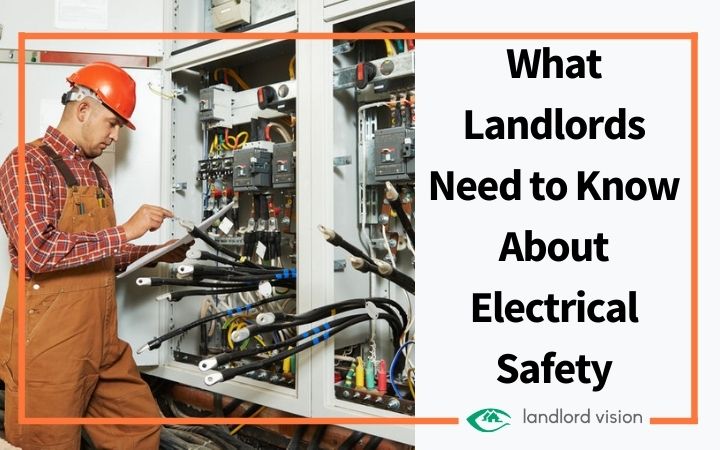 Until recently there haven't been any laws or guidelines regulating electric installations in rental properties. Landlords have been able to deal with problems as and when they arise. Recently, however, more focus has been put on to tenant safety and landlords are now expected to keep the electric installations in their properties safe.
Today, health and safety in rental homes is a priority and tenants have a right to be safe in their homes.
Landlords have a duty of care to maintain electrical installations and fix problems when they arise. Read on for a look at this topic in more detail.
Contents
The Facts About Electrical Safety
There are more than 20,000 fires in UK homes each year and more than half of them are electrical in origin.
25% of electrical fires are caused by faulty cables and appliances, with the Grenfell Fire disaster believed to have been started by a faulty fridge-freezer. Some fires can be linked to sub-standard electrical installations, including faulty outlets that are not correctly grounded.
Each year, 1.2 million people are injured in electrical accidents in their homes and 70 people die annually.
These deaths could and should be prevented.
Landlords must make sure rental properties are safe for tenants. This includes the electrical installation and any appliances provided as part of the tenancy.
What are the new Electrical Regulations for Landlords?
The Electrical Safety Standards in the Private Rented Sector (England) Regulations 2020 came into force at the beginning of June 2020. They apply to all private landlords renting properties in England where the property is the tenant's only or main residence (note that different standards apply to landlords in Wales and Scotland).
Some types of property are exempt from the regulations:
Social housing
Student halls of residence
Accommodation related to healthcare provision
Properties with a live-in lodger
Under the new regulations, landlords must check the electrical installations in rental properties every five years. Testing must be carried out by a suitably qualified person, i.e., a competent electrician.
The regulations came into effect in July 2020 for new tenancies and will apply to existing tenancies created prior to 1 July 2020 from 1 April 2021.
There are key steps to follow:
Book an electrician to carry out an Electrical Installation Condition Report (EICR)
Give a copy of the report to your tenant within 28 days of the inspection
Keep a copy of the report for your records and give it to the next electrician to test the property within five years
Give a copy of the report to the next tenant that occupies the property while the report is still valid – ask them to acknowledge in writing they have received a copy of the report
Landlords are also obliged to provide a copy of the report if a prospective tenant asks to see it while considering the tenancy. If a local authority writes and asks to see a copy of the report, the landlord must produce it within 28 days of the request.
What is an EICR?
An Electrical Installation Condition Report (EICR) looks at the condition of the electrical installation in the property. It checks for any signs of damage, defects, age deterioration, and other problems that might be potentially dangerous.
What is Tested During an EICR?
The electrician carrying out the checks will test all the fixed aspects of the electrical installation. This includes light fittings, plug sockets, wiring circuits, and the consumer unit (fuse box). The electrician will look for overloaded circuits, defective work carried out by previous contractors, whether circuits are earthed or bonded, and whether there are any fire hazards or electric shock risks.
What About Appliances?
Electrical appliances are not checked during an EICR, but fixed installations such as electric showers and extractor fans will be checked. If you provide any electrical appliances as part of the tenancy, it is sensible to conduct periodic portable appliance testing (PAT). More on this later in the article.
If a tenant has their own appliances, for example, a washing machine or tumble dryer, they are responsible for carrying out checks on them and ensuring they are safe to use.
Pro tip: always register any appliances you purchase for a property. This ensures you are notified if there are any product recalls related to safety issues.
How Long Does an EICR Take?
Depending on the size of the property, it can take 2-4 hours to complete. By the time the contractor is done, you will know whether the property complies with BS 7671, the current British Standard for electrician safety in a residential property.
Everything tested is assigned a code. These are as follows:
C1 indicates danger and persons living in the property are at-risk; remedial action must be taken immediately.
C2 tells you there are deficiencies in the electrical installation and if action is not taken, it could be dangerous should a fault arise
C3 alerts you to deficiencies that should be addressed to improve safety in the property
F1 – further investigation is needed
C1, C2, and F1 codes are classed as 'unsatisfactory' and C3 'satisfactory'.
C1 recommendations should be acted upon immediately and the electrician carrying out the testing would normally do what's needed to make the installation safe.
C2 and F1 recommendations must be acted upon within 28 days, whether the recommendation is a repair, replacement, or further investigation.
You are not obliged to act on any C3 recommendations, but it would be wise to sort them out within a reasonable time frame, for peace of mind.
Once remedial works have been carried out at the property, written confirmation of such works from the electrician should be passed to the tenant (and the local authority, if applicable) within 28 days of completion.
Is Another Test Needed if the EICR is Unsatisfactory?
No, but certification must be obtained to prove the work has been carried out to the required standard and the property is now safe for tenants.
If your property receives an 'unsatisfactory' EICR report, you have 28 days to fix the problems (or less time if the report states otherwise). Once the rectification work has been completed, the electrician will provide an Electrical Installation Certificate or Minor Work Certificate to show the work has been done to the required standard. This should be kept with your EICR report and copies given to tenants to show compliance.
In the event of an 'unsatisfactory' EICR report, a copy of the report and certificates to show the work has been done must be sent to the local authority within 28 days, to prove the property is now safe.
Who Should Carry out an EICR?
EICRs should always be carried out by a qualified electrician. Government guidelines state that the tester must be "qualified and competent". To make sure the person you hire meets the criterion, check whether they are members of established competent person schemes. These include:
Both schemes list electricians registered to carry out "full scope domestic work in England and Wales".
Check whether the electrician or the company they work for has a suitable qualification and insurance covering their work.
What About Small Appliances?
Testing small appliances, otherwise known as PAT testing, is not a government legal requirement for landlords but it is sensible to do this if you supply electrical appliances as part of a tenancy agreement.
PAT testing is a legal requirement for HMO landlords. Testing should be carried out every two years, or in the case of some student houses, every year. Not testing appliances could lead to an insurance claim being rejected if a tenant suffered a personal injury due to a faulty appliance supplied by the landlord.
What Should be Tested?
All small appliances fall into the remit of PAT testing. Basically, if an appliance has a plug and it can be moved, it should be tested. These include:
Washing machine
Dishwasher
Tumble dryer
Microwave
Kettle
Vacuum cleaner
Toaster
Coffee machine
PAT testing is not something you can do yourself. Specialist equipment is needed, and this equipment must be recalibrated every year. Your best option is to have it done by a third-party provider.
Qualified PAT testers usually charge around £2 per item, so it's not massively expensive. If you have multiple properties, you can probably negotiate a discount.
What if the Property has Been Rewired?
In the case of an older property being renovated, the entire electrical installation might need replacing, a process known as 'rewiring'. When the wiring is completely replaced, you should be given an Electrical Installation Certificate (EIC).
Once you have an EIC, give a copy to your tenants. No further checks are needed for five years, so long as the installation has been carried out to the required standard.
I Already Have an EICR From When I Purchased the Property?
It's possible that you already have an EICR if you had the electrics checked when you purchased the property. If so, this will be valid for five years from the date on the report. Make a note of when it is due to expire and organise a new inspection around 3 months before it runs out.
How Much do EICRs Cost?
The cost of having an EICR done will depend on how busy electricians are in your local area. Electricians set their own fees, so when they are busy or if there isn't much competition in the area, prices will invariably rise. Other factors at play include the size of the property and the number of properties to be tested – you may be able to negotiate a discount if you have several properties all in need of a test. Bear in mind trades charge more in London and the southeast.
Expect to pay around £220 plus VAT for a property with 15 separate electrical circuits. Some landlords end up paying significantly more during times of peak demand.
Always get a written quotation before agreeing to have the work done. Make sure the pricing structure is transparent and there are no hidden fees on the quote. Any reputable electrician will include their trade body references on paperwork, which lets you verify their qualifications.
Electrical Safety Standards in HMOs
HMO landlords have always had extra duties related to electrical safety, as per the Management of Houses in Multiple Occupation (England) Regulations 2006. This has since been superseded by the new Electrical Safety Regulations. It is now a mandatory part of HMO licencing requirements that HMO electrical installations are safe.
Is my Property an HMO?
If you rent a property to five or more people from two or more separate households and they share toilets, bathrooms, and kitchens, it is classed as a large HMO and must be licenced. Smaller properties let to people from more than one household may also need an HMO licence, so check with your local council housing department.
What Happens if a Landlord Fails to Comply With the new Regulations?
Landlords face stiff penalties if they don't comply with the Electrical Safety Standards in the Private Rented Sector (England) Regulations 2020. Local authorities can take court action against the landlord. This may lead to a maximum fine of £30k if the landlord is found to be in breach of the regulations.
In practice, local authorities will normally issue a remedial notice if they believe the landlord is in breach of the regulations. The landlord then has 28 days to comply with the terms of the notice. If he doesn't take action, the local authority can organise for the work to be carried out – so long as the tenant agrees – and the landlord will be invoiced for the costs incurred.
Landlords can appeal against a demand for costs. You have 28 days to make a written appeal and the remedial notice will be suspended while the local authority looks at your representations. They must reply within seven days.
If the landlord isn't happy with the local authority's decision, they can take their case to the First-tier Tribunal.
What if Tenants Don't Grant Access?
The vast majority of tenants won't have a problem allowing an electrician in to carry out an EICR inspection, although you do need to give them sufficient notice (at least 24-hours) and work around their work/lifestyle requirements – especially now while some tenants are shielding because of Covid-19. A small minority of tenants might not be co-operative to requests for access for various reasons so work cannot be carried out.
If the tenant won't allow access a landlord is not in breach of the regulations.
To avoid problems, keep an accurate record of all communications with the tenant and with electricians if they have been refused access to the property. If you can provide evidence from previous years to show the electrical installation was in good condition, this is also helpful. Examples include a previous EICR report, invoices for electrical work completed in the property, service records, etc.
What Happens if I Can't Find a Competent Electrician?
Electricians are difficult to get hold of at the best of times, but during a pandemic, the situation is even worse.
Right now, you may find it hard if not impossible to get a competent electrician to carry out the required safety checks, but fear not, all is not lost.
As in the section about tenants not allowing access to the property, if you can prove you have done all you can to comply with the regulations, you should be fine. Keep records of all communications with electricians, such as text messages and emails proving they are unavailable to do the work. Keep records to show the electrical installation was in a good condition previously.
A Tenant's Responsibilities
Tenants are obliged to let the landlord know when there are problems with the electrics in a rental property and they should contact you as soon as possible.
Tenants should also allow access to the property to allow electrical safety tests to be carried out.
Finally, tenants are responsible for any appliances they bring to the property.
Warning Signs a Property has Electrical Problems
Be vigilant for signs a property has issues with the electrics. Pay attention to any of the signs below when you carry out a property inspection or the tenant advises you of strange happenings.
Flickering lights are usually a symptom of a power surge rather than a malevolent poltergeist; these can be caused by the power company but usually, it's a problem closer to home, and if it happens often, the electrics definitely need checking out.
Buzzing sounds from the consumer unit, plug sockets, or light switches are a major red flag – do not ignore!
Hot plug sockets – sockets should feel cool to the touch, not warm, or worse, hot.
Sparking light switches or plug sockets are not a good sign – your tenants could be at risk of electrocution when they plug something in or switch the lights on or off.
Loose sockets are not a massive problem, but in time the wiring inside will work loose; this increases the risk of a short-circuit, which could cause a fire or electrocution injury.
Rodent infestations are not good under any circumstances, but if left unchecked, rodents will happily munch through plastic wiring and cables causing larger problems.
Persistent circuit overloads happen when the electrical installation can't cope when more than a few appliances and gadgets are plugged in; this is more common in older properties where the electrics have not been updated.
A burning smell coming from an electrical outlet could indicate worn wiring, which is a fire risk.
Welsh and Scottish Landlords
Please note that whilst the above advice is aimed at English landlords, Welsh and Scottish landlords will find most of it relevant, too. The main difference for Welsh landlords is that the Electrical Safety Standards in the Private Rented Sector (England) Regulations 2020 do not apply to you. Instead, you are still governed by older legislation, notably:
Duty of manager to supply and maintain gas and electricity
6.—(1) The manager must supply to the local housing authority within 7 days of receiving a request in writing from that authority the latest gas appliance test certificate which the manager has received in relation to the testing of any gas appliance at the HMO by a recognised engineer.
(2) In paragraph (1), "recognised engineer" ("peiriannydd cydnabyddedig") means an engineer recognised by the Council of Registered Gas Installers as being competent to undertake such testing.
(3) The manager must—
(a) ensure that every fixed electrical installation is inspected and tested at intervals not exceeding five years by a person qualified to undertake such inspection and testing;
(b) obtain a certificate from the person conducting that test, specifying the results of the test; and
(c) supply that certificate to the local housing authority within 7 days of receiving a request in writing for it from that authority.
(4) The manager must not unreasonably cause the gas or electricity supply that is used by any occupier within the HMO to be interrupted.
And Finally…
Electrical safety in rental homes is mostly a case of acting as you would if you lived in the property – i.e., with a healthy respect for the dangers of bad wiring. Sub-standard circuitry can cause fires and electrocute people.
If you think there is something we have missed from this guide, or have any other suggestions or comments, please get in touch. You can contact the team via Facebook or Twitter.
Read More Like This.