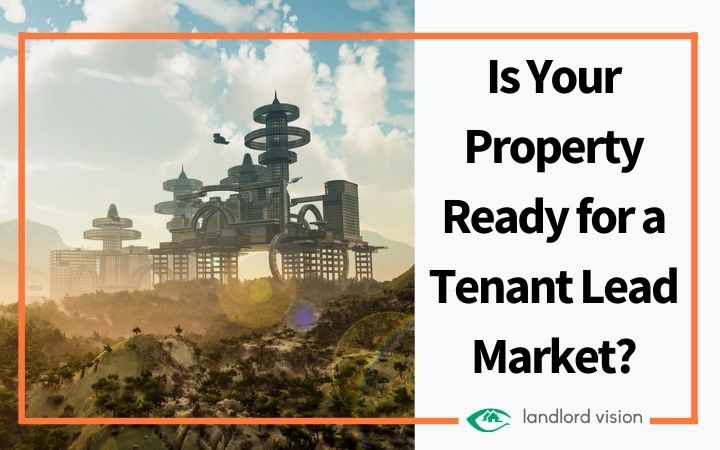 Future proofing our rented properties is something which we should do constantly but it has never been more important than now. I see people investing thousands of pounds developing properties, mainly into HMO, although some people have realised that the market is saturated and are now developing studios or one bedroom flats; they look very nice but are they what tenants want and, more importantly, are they what tenants will want in future?
It's easy to talk ourselves into believing that our "creations" are irresistible to tenants but the only way to be really sure of that is to actually look at what tenants want and what they are likely to want in future. I haven't got a crystal ball but I have learned to take note of information which is freely available on the internet and which is unbiased and therefore very helpful.
We are Headed Toward a Tenant Lead Market
First let's agree that we are heading towards a tenant lead market. What is that? When there are more rented properties than there are tenants and where tenants have real choice including the ability to negotiate rents downwards – if you haven't operated in a market like this you will find it very uncomfortable and you may well suffer from long voids until you adjust your thinking. What evidence is there that there will soon be a huge oversupply:
"Nearly 125,000 retail jobs have been lost and 13,867 shops shuttered for good in the first eight months of 2020, new data shows. Analysis by the Centre for Retail Research (CRR) shows 92,917 of the losses came from high street chains and 32,598 from smaller independent retailers. It comes as Pizza Hut and Lloyds Banking Group announce a slew of job cuts. Pizza Hut is to close up to 29 of its 244 UK restaurants, with the loss of up to 450 jobs. Meanwhile, Lloyds is to cut 865 roles as it resumes restructuring plans." LinkedIn
"London Firms Are Dumping Office Space as Workers Stay Home
London firms are ditching their unwanted office space at an even faster rate than in the financial crisis.
More than 1 million square feet (92,900 square meters) has become available for sublet since June, the equivalent of two Gherkin skyscrapers, according to research by real-estate data company CoStar Group Inc Businesses are offering up the excess space as the pandemic keeps large swathes of employees working from home."
"Wage subsidy will help renters, but more support is needed: Chancellor publishes Winter Economy Plan
"Our research still shows that private landlords across England have faced rental loses of up to £437 million as a result of COVID-19."
Some property investors believe that "they will have to live somewhere and HMO rooms are more affordable than anything else" Unfortunately this is not true, living at home with mum and dad may not be very aspirational but it is defiantly more affordable than renting and for those who are unemployed and used to a good lifestyle it's a better option than living on benefits in a more modest HMO. In the area where I invest a "high end HMO room" is offered for £595-650 pcm all inclusive. A "high end" 2 bedroomed flat or house is offered for £850-900 (£900 rent + £100 council tax + £80 utilities = £1080) For two people to share that flat/house would cost each £540 a month and no restrictions on visitors. HMO landlords have suffered very long voids and rents have now dropped to a more affordable £495-520 pcm all inclusive – a sure sign of the market changing.
There are more people offering rooms in their own homes, AirBnB works for some people but others prefer longer term lodgers who they can get to know as they share their home. These days a lodger can find ensuite rooms, often with an exclusive living room as well as bedroom, for a reasonable rent as home owners keep the rental income below the Rent-A-Room tax allowance of £7,500. Many young homebuyers are finding this a helpful source of income as they too see their incomes reduced and/or job losses threatening their ability to pay the mortgage.
Finally we are seeing even more purpose build student accommodation being built around all the popular universities, this is causing those landlords who let to students to look for alternative tenants which in turn has an knock on effect for the supply of rented accommodation. Covid-19 has also caused a reduction in demand in some areas and those landlords are already fishing for other tenants
In a Nutshell
Less jobs – as we switch more and more to online shopping
Lower income – reduced hours or benefits only
No need to be in cities and towns – home working
AND
More supply – Rent a Room, home to mum and dad, purpose built accommodation for segments of the market like students
All of this will flip the letting market over to a tenants market as supply is greater than demand and, apart from rent decreases, we need to work hard to keep our good tenants as long as possible and to attract new tenants when our properties become available. That means Future Proofing:
Being blunt – shades of elephant on walls, ensuites, tiny living spaces and heating when the landlord decides you need it – do not make a property "High end" – Ask any tenant. If you are letting Pigs in wigs you need to rethink.
When I became a mother I was told that if a baby was kept warm and cosy it would sleep until it was hungry- that was the best advice I was given and I have never been woken to do a night feed nor because my babies had wet nappies. Why am I telling you this? I carried that advice through to my rented properties, always making sure that they were cosy and easy to keep warm but at the same time easy to ventilate and with plenty of light. Temperature control has a big impact on comfort and comfort has a big impact on contentment – contented tenants are my favourite kind.
When having central heating installed I always have too many radiators (according to my gas engineer) Always have TRVs on every radiator to enable each room temperature to be controlled as the tenants want it and of course explain how the timer and room thermostat work.
When having windows fitted I always have trickle vents and more opening windows than are recommended
I have fitted velux windows in several properties because they are great for creating light and I am about to find out how much light is gained when I fit a sun tunnel in a north facing living room
In Victorian Terraces I have the internal walls insulated with Celotex and fibre glass insulation in the middle of stud walls, a mountain of fibreglass insulation in the loft and double glazing as above.
In a more modern build I have the cavities and lofts insulated
I always aim for D or above on my Energy Performance Certificate (EPC)
Imagine my concern when I read two Bills passing through parliament, both of which are increasing the minimum EPC rating to C by 2025
AND on 30th September:
"Open consultation
Improving the energy performance of privately rented homes
Consultation description:
The government has committed to upgrade as many private rented sector homes as possible to Energy Performance Certificate (EPC) Band C by 2030, where practical, cost-effective and affordable."
At least that is 10 years away, unless those Bills going through become law, but we don't want to disrupt our tenants and therefore we need to improve our energy efficiency at rebuild, refurbish or between tenancies over the years. I wrote about the Green Homes Grant and we should all claim as much as possible towards energy performance improvements.
Needless to say we need to stop controlling the heating in our rented properties, it's unlawful to do this anyway, and use a Fair Usage Clause to ensure that we are covered to reclaim over use from tenants, this is one of the few charges we can make under the Tenant Fees Act. Landlords who continue to control heating can expect long voids – if they are not warm and cosy they will not be content and if they are working from home they won't tolerate it.
What else will tenants want?
Rightmove, using site data and a survey of over 4,000 home-movers, published the following results:
For those looking for rental properties:
The most sought after properties are now two bedroom houses – they were studio flats
84% more people wanted gardens
26% wanted better workspace
HMO Rooms aren't in the top properties searched for
Which other amenities are they searching for:
| | |
| --- | --- |
| A bigger home | 41% |
| Live in a pet-friendly home | 29% |
| Live closer to parks & green spaces | 27% |
| Access to a parking space or garage | 27% |
| A better home workspace | 26% |
| Live closer to friends & family | 19% |
| Live closer to essential local services | 16% |
| Live closer to non-essential amenities | 15% |
| Live closer to work | 13% |
| Want to live in a rural area | 13% |
Some interesting changes:
| | |
| --- | --- |
| What tenants want now | What they used to want |
| Good internet at home | Commuting time from the workplace |
| A spare room | Transport links nearby |
| The size of the home | Non-essential amenities available nearby |
Good internet connections has been top of the wants list for several years now and with so many people working from home and relying on internet connections for meetings it is likely that this remain at the top of the list. If I were buying a property to let now this would be the first thing that I would check before even viewing a property.
The size of the property has also become more important because people are spending more time in it, it is unlikely that we will ever return to the old days where the majority of people sat in traffic to start and end their working days with both employees and companies seeing the benefits of working from home. Expect tenants to want larger communal areas and outdoor spaces/gardens/terraces and treat them like another room. Garden furniture is very cheap these days, especially at the moment, it can make a huge difference to the way a person perceives a property and the way that tenants use it, especially if there is an umbrella and a BBQ. A few solar garden lights make a big difference too.
Indoor space:
Where living rooms have been repurposed to make additional letable bedrooms we may, in future, find that those rooms need to be converted back. In fact I have no doubt that Government will look closely at this and at Amenity Standards in HMO in future. This will of course reduce profitability but it may keep tenants who are working from home and need a chill space where they can talk to other tenants, something which was less important when they had colleagues at work.
Minimum space standards for all permitted development homes – announced 30th September
"New homes delivered through Permitted Development Rights will have to meet space standards, Housing Secretary Robert Jenrick has announced.
All new homes in England delivered through any Permitted Development Right must meet space standards
This change builds on reforms to ensure these homes provide adequate natural light
Follows wider reforms to create a new, simpler planning system whilst raising standards
The space standard begins at 37m² of floorspace for a new one bed flat with a shower room (39m² with a bathroom), ensuring proper living space for a single occupier."
Something that I have observed over the years, while showing properties, is that rooms with large windows are always more popular, even where other rooms are the same size, and I have always tried to show rooms/properties at the time of the day when they get the most sunshine – this is easy to do with a compass on your phone. I often see photographs online where blinds have been used and where they are more interested in showing off the blind than they are the window – windows are there to show light not blinds and I am sure that I have never let to a tenant who fell in love with the blinds but I have let to many who have commented on how bright the room is. Try undressing the windows as much as possible and showing the light and the space beyond the room. I also find placing mirrors in the right place helps to brighten up the room and make it look bigger.
Don't over furnish a room/property, the more time the tenant intends to spend in the property the more of his/her own bits and pieces they will want, leave room for "grannies chair". Alsolet them put pictures and posters on the walls, specify that they must use tacs or nails rather than blu tac or sticky tape or give them picture hangers or nails in appropriate places. My experience is that the more of their own belongings they bring, the longer they stay.
If you are furnishing make sure that the furniture is comfortable. I once threw out two expensive leather sofas, which were six months old and had been delivered at the last minute, because when I went to the house after the tenant had left I actually sat on a sofa and it was like sitting on a rock – I did wonder if that was the reason the tenant only stayed 6 months my tenancies average 5 years in that property. Lesson learned I always sit on them in the suppliers and I lie on the beds – there is nothing worse than an uncomfortable mattress for causing tenant complaints
Finally a piece of proposed legislation which we do need to take account of:
Pavement Parking Bill [HL] 2019-21
"A Bill to amend the law relating to parking on verges and footways in England outside of Greater London and in Wales"
27% of people in the Righmove stats wanted access to parking space or a garage but even if your prospective tenants are happy with street parking it's important to check that they can actually park in the road, rather than being forced to put two wheels on the pavement or grass verges because, if this bill becomes law and it's likely to, you will lose tenants once they begin to be fined. Now might be a good time to remove front walls, hedges and gardens and create more parking where possible.
I believe that many of us will need to invest more money in changes to our properties and accept that rents, and profits, will drop but this too will pass and the market will level as it has done in the past and it may even grow again who knows?

Read More Like This: