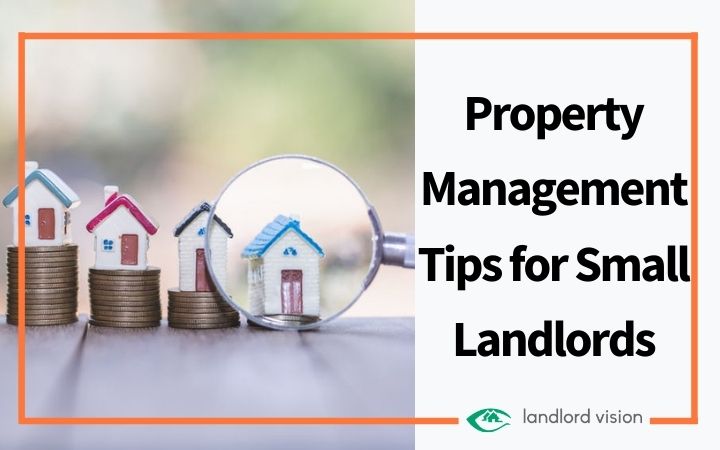 Managing rental properties can be time-consuming and give you a lot of sleepless nights when things don't go according to plan. Small landlords don't always take managing their properties seriously enough, and this is a huge mistake.
The private rental sector comes with a lot of red tape and the penalties for not meeting your landlord obligations can be high. It is essential to have a property management system in place, so you don't forget to do anything important, like protect your tenant's deposit.
Read on for a list of property management tips for landlords. It isn't an exhaustive list but we have covered most of the things you need to be aware of.
Below is a list of the topics we'll be covering in this guide, so you can jump ahead to any sections of interest.
Contents
Create a Property Business Plan
A business plan is your road map for the next 1-5 years. Use it to:
Help you clarify your business model – for example, targeting students, running an HMO, or letting out a holiday property.
Predict potential problems such as rental voids, uncooperative tenants, unexpected tax changes in the private rental sector, a property market crash, a pandemic, etc. – and how you would handle them. 
Work out what your goals are – is your intention to cover the mortgage while you live with a partner, build a nest egg for retirement, or follow in the footsteps of Fergus Wilson and become a buy to let property mogul.
Measure your progress by comparing where you currently are against where you expected to be.
The days of lenders throwing money at landlords are long gone. Buy to let lenders may want to see a copy of your business plan before they make a lending decision.
Draw up a cash flow projection as part of your business plan. Work out your potential income against outgoings, to see how much profit you can make. If the numbers don't stack up, then you need to make some changes somewhere.
Educate Yourself on the Private Rental Sector
There is a lot of red tape and legislation in the private rental sector. From Right to Rent checks to Gas Safety and landlord licencing, it's vital that you understand your role. Overlooking your landlord responsibilities is not a defence in the eyes of the law. 
Read as much as you can to learn more about what being a landlord entails.
Subscribe to blogs like Landlord Vision and bookmark websites like The Property Investment Project.
Join landlord forums and ask questions about stuff you don't understand.
Talk to other landlords to get the inside story.
Chat with a letting agent or two, to check whether you have a viable business model.
Speak to your local housing department if you are not sure you can rent out a property in your area without a licence.
Sign up for a training workshop with an experienced property investor; you can do them online these days.
Find a mentor who can guide you in the early stages of your buy to let career.
The more knowledgeable you are, the less likely you are to make silly mistakes and incur fines.
Maintain Proper Business Accounts
The success of any business is inextricably tied to how well the finances are managed. If you don't have a clue about your income and expenditure at any given time, how can you be sure you are making a profit?
Another excellent reason to maintain accurate accounts is that HMRC will highly disapprove if you don't. 
If you only have one or two properties, keeping accurate accounts isn't too difficult and maintaining records in a spreadsheet is perfectly doable. Most landlords find it easier to use specialist landlord software.
You can either use generic accounting software, like FreshBooks or Sage, or you can invest in bespoke landlord property management software.
There are many different property management software packages on the market, including Landlord Vision. They can be used to:
Track expenses and rental payments
Store electronic documents
Remind you when things need doing, like gas safety checks
Produce tax liability reports
Cloud-based solutions are ideal for landlords who want to access their account from anywhere. Landlord Vision has everything you need and more and is the only one recommended by the National Residential Landlords Association (NRLA). If you join the NRLA, you can try it for free for six months, and thereafter enjoy a 15% discount on the price.
Use an Accountant
Having an experienced property accountant on speed dial is a huge advantage. An accountant is most likely to be more knowledgeable about taxation than you will ever be, and they can advise you of the best way to avoid paying too much tax (legally). They can inform you about legislative changes, what expenses you are entitled to write-off against your tax liability, and help you plan for the future (whether that involves investing in more properties or selling up). 
Remaining financially compliant is important if you want to avoid any nasty surprises when HMRC decides to audit your accounts. If the worst does happen, having an experienced accountant fighting your corner could save you a lot of stress and sleepless nights.
Don't let an accountant's hourly rate put you off. A good accountant is worth their weight in gold.
Shop Around for a buy to let Mortgage
Mortgage deals come and go all the time, but it's always important to shop around for the right product. Buy to let mortgages are more expensive than residential products, and if you are buying via a limited company, the fees are even higher.
There are now more mainstream lenders offering buy to let mortgages, but some of the best deals are only available via brokers. It's always worth speaking to an independent mortgage broker if you want access to a greater selection of mortgage products. They can help you with the application and ensure you have all the paperwork in order. (Landlord Vision customers can enjoy preferential mortgage brokerage rates too!)
Don't just look at the headline rate. Some 'cheap' deals come with huge fees, which wipe out any potential savings you might have made. Factor in the early repayment charge too, as this kicks in if you need to re-mortgage or sell the property before any discounted or fixed-rate term ends.
Remember, the larger the deposit you have, the better the deals you'll be offered. The Loan to Value (LTV) rate is the difference between the value of the property and the sum you borrow. Many lenders now insist on a minimum 40% deposit, which equates to £80k on a purchase price of £200k.
Finally, bear in mind that the lender will require the rent to be at least 125% of the monthly mortgage repayment. Factor this in when you do your calculations.
This article goes into more detail about buy to let mortgages.
Have a Target Tenant in Mind
Think about who your target tenant is. The main tenant categories are:
Students
Low income/benefits tenants
Professionals
Families
Retired people
Short-term tenants
Students and low income or benefits claimants typically look for low cost, shared housing, i.e. HMOs.
Professionals might want shared housing at the start of their careers or in expensive cities like London, but they'll expect a better standard of accommodation.
Families want larger homes with a garden, close to good schools, and in quiet residential areas.
Retired people are more likely to be interested in single-story dwellings such as ground floor flats or bungalows.
Until you have a target tenant in mind, it's pointless looking for a suitable property.
Find the Right Property(s)
Don't rush into buying the first property you see. Think carefully about your target tenant. Different tenants have different requirements and not all properties will be suitable for their needs. For example, students usually want to be close to their university campus and within walking distance of pubs, takeaways, and shops.
Weigh up the pros and cons of buying a cheaper property that needs work against a more expensive property ready for tenants to move into straight away.
Factor in the costs of buying a property, such as conveyancing fees and survey costs. Have a contingency fund set aside in case the property needs unexpected work once you complete on the purchase.
Spend some time getting to know the local property market so you can spot a bargain when it comes up for sale. If you are a cash buyer, consider buying a property at auction, as these are often cheaper.
Decide whether a property with a tenant in situ might work for you. These can be advantageous, as you don't need to worry about finding a tenant straight away, but make sure you understand the risks.
Market Your Properties Online
Marketing is a critical process. The better you are at marketing, the faster you'll find tenants for vacant properties. Luckily, thanks to the wonders of technology, you don't need a degree in marketing to market your property successfully! 
Online marketing is the best way to find new tenants. The vast majority of tenants will search online for rental properties before they speak to a letting agent.
All the main property portals list rentals as well as property for sale. The top ones are Rightmove, Zoopla, On The Market, Airbnb, and Prime Location.
Landlords can't list directly on sites like Rightmove and Zoopla, so you'll need to use an online letting agent. Other sites like Airbnb, Gumtree, and Spare Room are easy to use, and in some cases, free.
Social media is also worth trying. Facebook is very handy for finding local tenants and it's free to create a listing. Create a Facebook page for your landlord brand and use it to connect to potential and actual tenants. Post property ads on local groups so people can tag or share with friends.
The internet is useful for promoting holiday lets too. Have a website for your properties, preferably one that can accept direct bookings or enquiries. Add a blog to the site to boost traffic. Use Instagram to post lots of gorgeous photos of the local area and direct traffic back to your website or an Airbnb listing.
Research Rent Prices to Stay Competitive
Rents fluctuate according to market conditions. As demand increases, rents rise, and vice versa. It's vital that you stay on top of local trends. If you charge too little, you are missing out, but conversely, if you try and charge more than the market can stand, you run the risk of property voids.
When a tenancy is coming to an end and the tenant is moving out, check local rents for similar properties to make sure your rental price is a fair reflection of the market. Consider offering a discount for the right tenant.
Remember, don't be greedy. A slightly lower monthly rent payment from a long-term, reliable tenant is a better deal than an unreliable tenant who signs up to pay an above-market rent but stops paying after three months. 
Speak to local letting agents if you are new to the local buy to let market. They can advise you of the going rate for a property like yours, as it may depend on the exact location and what amenities you offer.
Have a Tenant Screening Process
This one is a no-brainer. Never take what someone says at face value. There are tenants out there who will happily say whatever the landlord wants to hear, even if some or all of it is untrue.
Always screen potential tenants thoroughly. Run credit checks, verify employer and previous landlord references, and make sure their income is what they say it is.
There are tenant screening services that will do all the essential checks for you, including this one from the NRLA. They will conduct tenant referencing and credit checks, and each one is done manually, not using automated systems. It's worth paying the cost for peace of mind.
If anything is amiss, or they have a dubious credit history, walk away.
Be wary of a 'perfect' tenant that wants to give you cash up-front for six months or a year. This type of tenant can have a hidden agenda and may be a front for a criminal organisation. 
Sometimes everything appears to stack up, but you still get a feeling something isn't quite right. Even if you can't put your finger on what that something is, move on to the next applicant. Listen to your sixth sense – it's screaming at you for a reason.
Tenant screening isn't 100% fool-proof, but it should weed out most of the bad apples.
Do a Thorough Property Inventory
Property inventories are essential. A good property inventory details the exact state of the property at the start of a tenancy. If a tenant ends up trashing the place, you can prove you didn't let the property in that state.
The condition of all fixtures and fittings inside the property should be described. This includes smoke alarms, meter readings, keys, white goods, outbuildings such as sheds, and anything else included with the property. Ideally, photos and videos should accompany the text.
An accredited inventory clerk can produce a detailed property inventory for you, or you can do it yourself.
Give the tenant a copy of the inventory at the start of the tenancy, so they can verify the contents and sign to say they agree with it.
If there is a deposit dispute at the end of the tenancy, a detailed property inventory will provide vital evidence to support your claim.
Protect Tenant Deposits
Landlords must place a tenant's deposit in a government-approved protection scheme. This ensures tenants get their money back if they don't breach the terms of the tenancy agreement.
There are three schemes:
All three are very similar but check each of them out before you make a final decision.
You can read more about deposit schemes and how they work on this page.
Maintain Your Properties
Carrying out regular property maintenance is essential whether you are a homeowner or a landlord. The longer you leave problems to fester, the more likely they are to snowball into major – and expensive – issues.
Under the Homes (Fitness for Human Habitation) Act 2018, rental properties must be suitable for tenants and free from problems such as damp, faulty wiring, vermin infestations, and anything else that could be a danger to health or life. 
There are some landlords who buy a decrepit older property, throw some paint at the walls, and install a tenant. Whilst these landlords often do get away with it for a while, especially in a booming rental market, sooner or later the law catches up with them.
Keep on top of your maintenance obligations.
Schedule major works like kitchen and bathroom upgrades before the existing fixtures and fittings fall apart.
Act swiftly when tenants inform you there is a problem.
Use landlord software to remind you when routine jobs need doing, such as cleaning out the gutters and trimming hedges.
The more responsive you are to maintenance issues, the easier it will be to hang on to decent tenants and avoid costly long-term issues.
Take Health and Safety Seriously
Health and safety might seem like a the most tedious thing on your never ending list of landlord responsibilities, but it's an essential part of being a responsible landlord. Just as you wouldn't expect to go to work and risk your life by using a faulty electrical socket every day, you shouldn't expect your tenants to live in a potentially dangerous property. 
Faulty gas appliances, inadequate fire safety measures, and faulty electrics can all cause injury or death. At best, you'll be prosecuted for health and safety omissions; at worse, you will be responsible for the death of your tenants. 
Gas safety – landlords must have gas appliances checked annually by a gas safe registered engineer. Copies of gas safety checks must be given to tenants within 28 days or at the start of the tenancy.
Fire safety – smoke alarms must be fitted. CO alarms are essential in rooms with a solid fuel appliance. Furniture must be fire safe and there should be an escape route in the event of a fire. Note that HMOs are subject to more stringent fire safety regulations-learn more on this page.
Electrical safety – Electrical Safety Standards in the Private Rented Sector (England) Regulations 2020 apply to all homes in the private rented sector. It basically means all electrical circuits and appliances must be safe.
Carry out Regular Property Inspections
Property inspections are a useful opportunity to look for signs of damage or maintenance issues. When you take on a new tenant, it is sensible to schedule a property inspection after three months and six months. This helps you spot potential problems, such as signs of a pet when the tenancy agreement explicitly bans pets or a tenant who is allergic to housework.
Once you are certain the tenant is unlikely to cause problems, a property inspection once a year is usually sufficient. For reliable, long-term tenants, you may even decide to leave longer intervals between property inspections, but that's not always advisable.
Monitor Rent Payments
If you have no clue whether a tenant is paying their rent on time or at all, you may find out the hard way they aren't when your mortgage payment bounces.
As stated in the early part of this article, managing rental properties is the same as running any business. Would a savvy business owner skip over monitoring his accounts receivables? No, of course not. As a landlord, you need to have systems in place to check whether rental payments have arrived on time.
Asking tenants to pay via direct debit is the most sensible solution. This ensures payments are automatically deducted from their bank account on a set day, with no input from them. If you do agree to accept some other form of rental payment, be vigilant for late payers and deal with it immediately.
Arrears should be queried at once. It may be an oversight on the part of the tenant, in which case issue a polite reminder and hope it's a one off. If the problem is more serious, for example, the tenant has lost their job and is having cash flow problems, talk to them and decide what to do next.
Always give tenants the benefit of the doubt if rent is late. Sometimes it makes sense to help them out a bit, perhaps by offering a discount or rent holiday if they are having financial problems. Obviously, this depends on how reliable they are generally and whether you can afford it. Don't be too quick to start eviction proceedings for an otherwise decent tenant when it is something that might only be temporary.
Pro tip: landlord software can monitor rent payments and alert you if a tenant is late paying.
Deal With Tenant Problems Quickly
Be quick to act when a tenant notifies you of a problem with the property or someone else living in the property. The longer you dilly-dally, the more likely it is that the tenant will get fed up and do something you might not like. This includes things like handing in their notice or reporting you to the local authority housing department.
Deal With Problem Tenants Quickly
Problem tenants are a landlord's worst nightmare. Whether it is antisocial behaviour, making the neighbours' lives miserable or they have fallen into rent arrears and not sticking to a payment plan, you need to deal with the problem before it costs you dearly.
Once a tenant is in breach of their assured shorthold tenancy agreement, you can evict them using a Section 8 notice. If a tenant is in rent arrears, you only need to give them four weeks' notice. For ASB cases, you don't need to give them any notice at all. In all other cases, landlords must give six months' notice currently due to Covid-19.
Landlords must follow the correct procedures when evicting a tenant. If you don't, your case will be thrown out and you'll be back at square one, fed up and out of pocket.
Section 21 notices can be used if you need to end the tenancy for any other reason, but these cases take longer to reach court – typically nine months or longer.
This government resource tells you all you need to know about evicting tenants, as well as providing links to the forms you need.
Be Nice to Tenants
Good landlords treat their tenants with respect. It costs nothing to be nice to people. Treat others how you would like to be treated and life is generally more pleasant. That said, it is best not to be a pushover.
Always maintain strict professional boundaries for your own protection. Keep records of all communication between you and the tenant. Keep all communication between you and the tenant professional, polite, and on-topic.
Note that there is a fine line between being nice and crossing over into unprofessional territory.
Outsource When Necessary
Being a landlord can be hard work at times, and if you're new to the sector, it can feel overwhelming at first. Don't be afraid to outsource when necessary. Using a letting agent to manage your properties makes sense if you are unfamiliar with your landlord responsibilities; there's no reason why you can't step in and manage them yourself once you are up to speed.
It may also make sense to outsource things like taking photos for property listings, decorating between tenancies, carrying out routine maintenance jobs, or doing a property inventory.
Do the maths. Weigh up how much it will cost you to outsource certain tasks and decide whether the cost is worth the time saved and peace of mind. In the early days of your landlord career, it most likely will be.
Congratulations, you have reached the end of this guide. We hope you have found it useful, but as always, feel free to let us know. You can get in touch via Facebook or Twitter with your landlord stories, good or bad, comments, or suggestions for future content. We'd love to hear from you!
Read More Like This.