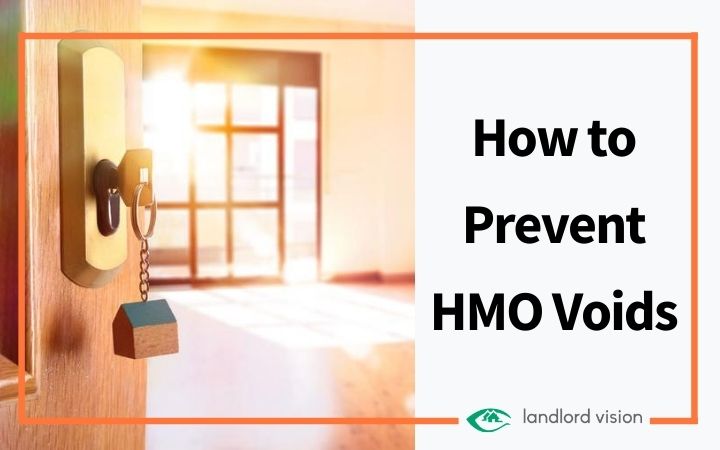 Voids cost landlords money. It's less of a problem in HMOs, as you'll still have rental income from the remaining rooms. Since the aim of buy to let investment is to maximise your rental income, it makes sense to take steps to avoid property voids where possible.
In 2018, the average void period was 22 days, but because of Covid-19, 3.4% of landlords are now seeing longer voids, and it's harder to find new tenants to fill the voids.
To minimise the effect of vacant rooms on your HMO property income, you need to be proactive and have a plan in place. Read on for some useful tips to help you avoid voids in your HMOs.
Be a Good HMO Landlord
Good landlords are less likely to suffer voids in their rental properties. The simple fact of the matter is that good landlords look after their tenants and properties. As a result, tenants are more likely to stay longer, which means fewer voids.
A bad landlord doesn't maintain his properties, treats his tenants with contempt, and generally makes their lives miserable. You can hardly blame them for not wanting to stick around or encourage others to move in!

Maintain Your Property
Property maintenance is critical for HMO landlords. Many HMOs are older properties, which require more upkeep and are more likely to have problems like damp. Some HMO landlords opt to spend as little money as possible on their properties, on the basis that their tenants are living on the poverty line. Some landlords probably don't notice if the plaster is falling off the wall due to damp or if the electrics are faulty.
If you want to attract good quality tenants who are happy to stick around, this is a huge mistake. No tenant in his or her right mind will choose to live in a derelict shed of an HMO unless they have no other option. Instead, they'll either choose not to live there in the first place or look to move on as soon as possible.
Existing tenants won't recommend your HMO to other tenants if you don't maintain the place. Nor will prospective tenants be impressed if the windows are shabby, the main entrance door is covered in graffiti, and the kitchen has a 1960s feel complete with cracked linoleum.
Aside from losing tenants, your local council may take punitive action against you if you don't take care of your property. With the Homes Fitness for Human Habitation Act now in force there are even more avenues for tenants to take action against landlords who don't maintain their properties.
Keep Communal Areas Clean
Cleanliness is next to godliness in HMO land. Clean and tidy communal areas indicate a landlord that knows his job and runs a tight ship.
When you show prospective tenants around, they won't be impressed to see piles of junk mail in the hall, filthy stains on the floor, and a kitchen piled high with dirty dishes. Your tenants won't appreciate mucky carpets and sticky floors either.
Employ a cleaner to keep communal areas clean and tidy. It will pay dividends when the time comes to look for a new tenant.
Ensure Rents are Competitive
This one is a no-brainer. Tenants are going to shop around when they need a room in an HMO. Nobody will pay over the odds unless the property has something extra special.
Research market rents before you advertise rooms in an HMO. Look on property portals or speak to letting agents. Do this each time you have a vacancy to fill. Otherwise, you could end up struggling to find tenants in a competitive marketplace.
Offer an Incentive to New Tenants
If you have a vacant room to fill, consider offering a discount or incentive to suitable tenants, such as money off the first month's rent, or a free 'man with a van' to help them move in. This might be enough to encourage a tenant to pick your property over a different one. It would also set a good tone for the tenancy and help you start off on the right foot with your new tenant.
Offer a TenantFinder's Incentive to Existing Tenants
Ask your existing tenants if they know of anyone looking for a room to rent, chances are they have friends who might need somewhere to live. Offer them a finder's fee, such as reduced rent for a month if they successfully find you a new tenant. That way, they put in the legwork and all you have to do is prepare the tenancy paperwork.
Carefully Screen Tenants
HMOs are a lot easier to manage when you have the right mix of tenants. Disruptive tenants cause havoc and will encourage your other tenants to hand in their notice and leave. If you're really unlucky, you will end up with one nightmare tenant and a lot of empty rooms.
Always put time and effort into screening prospective tenants. Let existing tenants have a say in the tenant vetting process. Even better, pick new tenants from people recommended by those already living in the property. Friends and acquaintances are more likely to get along with your existing tenants than random strangers. A happy house is a full house.
Advertise Rooms Promptly
Don't drag your feet when it comes to advertising a room in an HMO. As soon as a tenant hands in their notice, stick an ad on all the usual channels, such as Facebook and property listing portals. The sooner you start marketing the room, the quicker you'll find a replacement tenant. The best-case scenario is to have someone ready to move in within a day of the last tenant moving out.
Some HMO landlords have permanent signs erected outside their properties, advertising rooms to let and providing a telephone number for prospective tenants to contact them. This isn't a bad idea. By boosting your brand in the local area, people will think of you when they need a room or know of someone else that does. Even if you don't have any vacancies, you can keep their details on record and stay in touch in the event a room does become available.
Take Great Photos
Photos are the key to a successful marketing campaign. The first thing most tenants look at are the photos, and it's no different whether you're advertising an HMO or a high-end Airbnb. Always take quality photos of the room you're advertising.
Dress the room. Light it well. Make sure the bed has nice linen on it. Try and make the space look as attractive as possible. Take photos of communal areas before tenants move in, so they look spacious and clean. Include as many photos from different angles as possible, and if the room has a nice view, throw in a photo of that too – after all, it's a selling point!
Advertise on Social Media
Don't dismiss social media as a time-sap. The State of the Property survey carried out by Zoopla found that 12% of house hunters now use Facebook to find suitable properties, so it follows that tenants are doing the same.
It costs nothing to list a vacant room on Facebook marketplace or your own page. Run regular listings on local buy/sell groups, so when people are looking for a room, they think of you. Spend time building your brand on social media, so people can share your listings with friends who might need a room in an HMO. It will pay dividends when word of mouth advertising starts bringing you a steady stream of enquiries.
Be Available for Viewings
It will take a lot longer to find a suitable tenant for your vacant rooms if you are only available for viewings one or two evenings a week. Try and be available most of the time when you have a room to fill. The more flexible you are for viewings, the easier it will be to fit in viewings around your prospective tenant's work schedules.
Organise back-to-back viewings, so if one person cancels, you have a few more due. That way, you don't waste valuable time traipsing out to the property for no good reason. Not that your happy tenants won't be delighted to see you, of course!
Be Organised
Try to be as organised as possible. Have systems in place to find tenants when one hands in their notice. Flapping around and wasting time will only lead to longer voids, which costs you money. Use landlord software to organise your life and business. As soon as you hear rumours a tenant might be leaving, start preparing your marketing campaign and put the word out there is a vacancy coming up.
The more proactive you are, the faster you'll fill that void.
If you do end up with an empty room for a couple of weeks or more, use that time wisely. Decorate the room and fix any problems, such as replacing the carpet or fixing squeaky floorboards. Investing some TLC in the room might make it easier to re-let it, and if you make it look ten times nicer, you may even be able to increase the rent slightly!
Finally, make sure you budget for voids. Factor in room voids when you create a business plan. Be aware that sooner or later, you'll have tenants who can't pay/won't pay. Remember, it will take 5-6 months to evict them (and potentially even longer right now, due to the backlog in housing court cases).
It's worth looking into landlord insurance to protect you if a tenant falls into rent arrears. That way your income is protected and you can claim for damages causes by the tenant in question.

Do you have any good strategies for minimising voids you'd like to share with us? If so, you can get in touch via Facebook or Twitter, so we can share your pearls of wisdom with our readers!
Read More Like This: