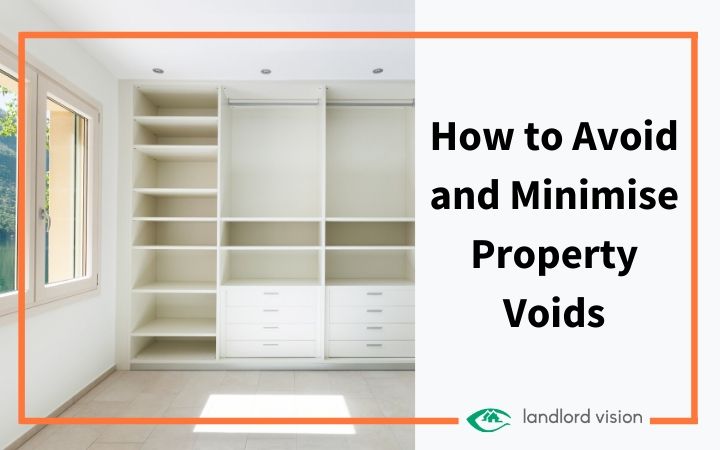 Void periods are a landlord's worst nightmare. For every week a property lies empty, it costs you money. Of course, periods of no rental income are not just caused by a vacancy. If a tenant can't or won't pay the rent and you are going through the court process to evict them, it's essentially a void period. However, for the purposes of this article, we are going to look at how to manage void periods caused by a gap between tenants.
Why Void Periods are bad News for Landlords
When a property is empty, it is costing you serious money. You'll still have to pay the standing charges for utilities, even if nobody is living there. Then there is council tax. Some local authorities offer up to six months exemption on council tax if a property is substantially unfurnished but do check before you make this assumption.
The other major expense is the mortgage payment. You can rest a bit easier if you are not paying a mortgage, but otherwise, this is a significant expense when there is no rental income. It is why advance planning is essential.
Minimising voids is critical if you want a successful buy to let property portfolio. The following strategies will help you keep void periods to a minimum and where possible, avoid them altogether.
Be Organised
It pays to be well organised in the lettings business. If you don't have your ducks lined up in a neat little row, it will inevitably cause delays in setting up a new tenancy agreement.
Make sure all your paperwork is in order. Check your gas certificates and Energy Performance Certificates have not expired; you can't let a property until you have these. This is where landlord software comes in handy, as it will give you a timely reminder well before you need to act.
Assuming you are well aware a tenancy is coming to an end or your tenants have given notice they intend to leave, kick into gear. There's no reason why you can't start looking for a new tenant while the old one is still in place.
If the property requires updating or some serious maintenance, plan to start work as soon as the tenant moves out. Have contractors booked in and ready to go, so you don't waste any time. The sooner you get the work done, the sooner you can install a new tenant. Ideally, have a new tenant ready to move in as soon as the work completes, although build in a contingency plan in case the work overruns due to complications.
It's customary to clean a rental property between lets. Rather than waste time, do the job the day after the old tenant moves out (assuming there are no major issues when you do the check-out). If you use professional cleaners, book them well in advance, with the proviso that you may have to alter the date in the event of problems.
Look for Tenants Well in Advance
Don't wait until your tenant is long gone before you start looking for a new one. You can begin advertising the property as soon as you know your tenant is leaving. Plenty of landlords organise viewings while an existing tenant is still there (with that tenant's permission, of course). If you are really lucky, the tenant will show people around on your behalf, although it's better if you are there, just in case they bad mouth you!
Do check the property before you book in viewings. Give the place a once over so you can see if there are any issues and fix these before you advertise the property. Remember, prospective tenants won't be impressed if the existing tenant has collected dozens of stray cats and the whole property stinks.
Take Professional Photographs
Photographs make or break a property. They are the first thing a potential tenant sees when they view an online listing, so it makes sense to use the best quality photos possible. If you use a letting agent to market your property, their package might include professional photos. If so, great. But if you take your own photos, do so with caution.
Make sure the property is clean and tidy before you take photos
Choose a sunny day and switch all interior lights on so every room is bright and well-lit
Take photos from multiple angles and choose the ones that offer the most flattering viewpoint
Use photo editing software to tweak your images, but don't mis-represent the space
If your photographic skills are sorely lacking or your old iPhone isn't up to the job, hire a professional property photographer to take some decent photos. Don't forget, you can reuse the same photos each time you advertise the property, so it's money well spent.
List the Property in Multiple Locations
The more exposure your property has, the easier it will be to find suitable tenants. Using a letting agent's tenant finder package might be your preferred option, but if you manage your own portfolio, advertise your property in more than one place.
Rightmove and Zoopla are the two largest property portals, but to use these you need to engage the services of an online letting agent
Social media is free; list your property on local buy/sell pages as well as your own page. Encourage people to share the listing, in case there is someone in their social circle looking for a new home
Place an ad in the window of the property, to attract locals walking past
Ask your existing tenants if they know anyone who might be interested
Place an ad in the local press
Buy/sell sites like Gumtree are also worth trying
Cover as many bases as possible and you'll maximise your chances of finding a replacement tenant fast.
Maintain the Property
There are some landlords who begrudge spending any money on their properties. They make their cash by letting to desperate people who are willing to live in dire conditions because it's better than sleeping on the streets. However, for the majority of good landlords, it is a lot harder to find a good quality tenant if a property is falling to bits, one brick at a time.
Don't ignore maintenance issues. Unless demand is higher than supply in your area, mouldy bathrooms and rancid carpets are likely to put off decent tenants. As such, it will take you a lot longer to find a new tenant.
Tackle maintenance issues in a timely fashion. Take note of problems during regular property inspections and fix them ASAP. There will be fewer nasty surprises when a tenant moves out and the property won't be left empty while you figure out how to repair a collapsed kitchen ceiling.
Look for Long-term, Good Quality Tenants
Long-term, reliable tenants are the goose that laid the golden egg. These amazing individuals pay their rent on time every month, look after the property, and are pleasant to deal with. In short, every landlord wants a Mr & Mrs Perfect in their house. The alternative is Wayne and Waynetta Slob, and that doesn't bear thinking about!
Screen tenants carefully and prioritise those who are looking for long-term accommodation. Offer them the option of a longer tenancy if they prove to be reliable in the first year. Many families and single parents are desperate for long-term tenancies. It allows them to put down roots and make a real home for their children.
Unless you have plans to sell up in the next year or so, a long-term tenant is much better for your cash flow. No void periods = financial stability.
Be Willing to Work With Tenants
Tenants sometimes have problems paying the rent. Life happens – they lose their job or get sick. Instead of rushing to evict them, if they were previously reliable, try working with them to come up with a workable solution that suits all parties.
For example, consider discounting the rent for a couple of months until the tenant can get back on their feet. You'll still have some money coming in and the tenant doesn't have to worry about being evicted.
If they need to move on to benefits for a while, go with the flow. Just because they are not working right now, it doesn't mean they are no longer reliable. Give them a chance to sort their life out and try to be understanding. Bad things happen to good people. Wouldn't you rather keep your tenant, who you know won't trash the place, rather than risk reletting the property to a new tenant who plans to sub-let to illegal immigrants and cultivate industrial quantities of cannabis?
It's a no-brainer really!
Charge a Competitive Rent
Always research local rents before you advertise a property. Don't just set an arbitrary figure based on how much money you need for a holiday in the Maldives. If you charge too much rent compared to market averages, there won't be any interest in the property, and it will be empty for longer.
Chat to local letting agents if you're new to the lettings business. Look at similar properties in the local area to see what current rents are like. It's OK to charge a bit more than average if the property has had a major refit or offers something extra, like off-road parking in a restricted parking zone, but tenants won't want to pay extra for no additional benefit.
The more competitive your rents are, the easier it will be to secure a new tenant. Do the maths and find the right balance between good rental yields and minimal void periods.
Look Into Deposit Replacement Schemes
Deposit replacement schemes are a relatively new idea. Instead of a tenant paying a large sum up-front, they pay a non-refundable fee in return for an insurance policy that pays out to the landlord in the event of issues when the tenancy ends.
In areas where rents are high, such as London, a tenant may have to pay up to £2,500 on top of a month's rent in advance before they move in. That's a lot of cash to find.
A deposit replacement scheme is a good incentive for attracting cash-strapped tenants in high rent areas. Landlords are still protected as the schemes typically pay out very quickly in the event of a claim. The tenant will still be liable for the non-payment of rent and property damage, but it is the insurance company's task to chase them for the money. So, less hassle for landlords.
There are many advantages of a non-deposit scheme, including fewer void periods, but weigh up the pros and cons before you decide. Not all tenants like the idea of a non-refundable deposit and landlords still have to make a watertight case before they make a claim for damages.
Be Flexible
The pickier you are when it comes to tenants, the harder it will be to find the right person. It's perfectly OK to specify a non-smoker, professional person with no kids or pets, but be aware that the pool of acceptable applicants is a lot smaller as a result.
If you want to minimise void periods, be flexible about who you are willing to accept as a tenant. There are plenty of single parents who are model tenants and not all dog owners let their pets chew the furniture or dig craters in the garden. Judge each applicant on their individual merits and if it means taking on a tenant sooner rather than later, be willing to overlook something you might have previously rejected, like a cat or benefits tenant.
Offer Introductory Deals
Sometimes it pays to offer a few headline deals to attract tenants. The German discounters advertise weekly special offers to bring the punters in. Take a leaf out of their book and do the same. We're not suggesting you offer tenants a free kettle or pillow set, although you could if Aldi has a good offer on this week!
Instead, consider deals like discounted rent for the first three months, or one month free if they can move in within a set amount of time. You could even offer to cover the cost of their move by providing a 'man with a van' service.
Think about what might attract the most interest and tweak it according to your budget. The more attractive your offer is, the faster you'll find a tenant to fill the void.
Consider Student Tenants
The advantage of letting to students is that voids are minimal. Students typically pay for a full year, usually in advance per term. Even if a student drops out of university for whatever reason, they have already paid the rent, so it won't affect you. It's also customary to operate joint tenancies for student properties whereby the students are responsible for the rent as a group. So, if one student leaves, the others have to cover the rent.
There are downsides to letting to students, of course, but rental yields are usually higher than average, so it's well worth considering.
Consider Switching to HMOs
HMOs are another profitable sub-sector of the lettings market. Again, voids are usually less frequent because it's easier to let individual rooms to multiple tenants than a three-bed house to one tenant. In addition, if your rental income comes from letting out several rooms in one property, you are spreading the risk.
There are many additional things to consider when letting out HMOs, including HMO licences and extra legislation. However, if you want higher rental yields and lower voids, HMOs can be very profitable.
Grow Your Portfolio
Landlords with only one or two properties are more at risk of financial hardship if a property lies empty. The more properties you own, the easier it is to spread the risk of voids over the entire portfolio because income from the other properties can be used to cover the costs of the empty one.
It's also wise to diversify into different areas. For example, you could invest in a mixture of student houses, HMOs, and commercial properties. That way, if one sector dips, you don't have all your eggs in one basket.
Do bear in mind, however, that using mortgage finance to buy more properties comes with its own set of problems, such as rising internet rates and the loss of mortgage interest tax relief.
Ensure you Have Money set Aside to Cover Void Periods
Managing a property portfolio is no different from running any other type of business. Your cash flow will rise and fall according to regular and irregular expenses. Sensible landlords run regular cash flow forecasts, taking account of their known expenses and planning for any unexpected ones. Landlord software can help in this regard.
It's always sensible to plan for void periods. If you have enough money set aside to cover two to three months' worth of voids, planned or unplanned, it won't be a huge thorn in your side if a tenant unexpectedly leaves or you can't find another tenant immediately.
Have a Contingency Plan in Place
Have a plan in the event you have to cover an extended void period. Work out what your outgoings are and how much money you need to keep up with mortgage payments, standing charges, etc. Once the money runs out, plan what happens next. For example, some lenders might let you take a temporary payment holiday; or you might be able to switch to an interest-only mortgage to reduce your payments.
Note: if your mortgage payments are in jeopardy, speak to your lender as soon as possible. They should be sympathetic if you keep them in the loop, but if you ignore the problem in the hope it goes away, they may take punitive action against you.
Plan for every eventuality so you are not caught off-guard. Short voids can usually be managed, but extended voids, e.g if a tenant stops paying the rent and you have to take them to court, could cause you great difficulties. But if you have contingency measures in place for such an event, it won't be quite so stressful.
Think Outside the Box
Try and come up with an innovative solution if you have an empty property. Instead of going down the usual route, look for other answers to the problem. For example, although a long-term tenant is the most desirable option, perhaps you could provide temporary housing to local authority tenants looking for emergency placements or visiting lecturers from the local university? Or go down the short-term lettings route if the property is in a nice area or close to a major tourist attraction.
Even a relative in need of a temporary place to stay while the house they are buying completes could generate some much-need income. Think outside the box and you might not have an empty property for long.
Void periods are not ideal, but every landlord has to deal with them sooner or later. Where possible, take steps to prevent extended voids from happening. But it's also wise to plan for voids, so you can minimise the impact a void period has on your cash flow.
How do you handle voids? Do you have a plan in place to reduce the impact voids have on your cash flow? Leave a comment below or get in touch via social media. We'd love to hear more about your experiences.
Read More Like This: