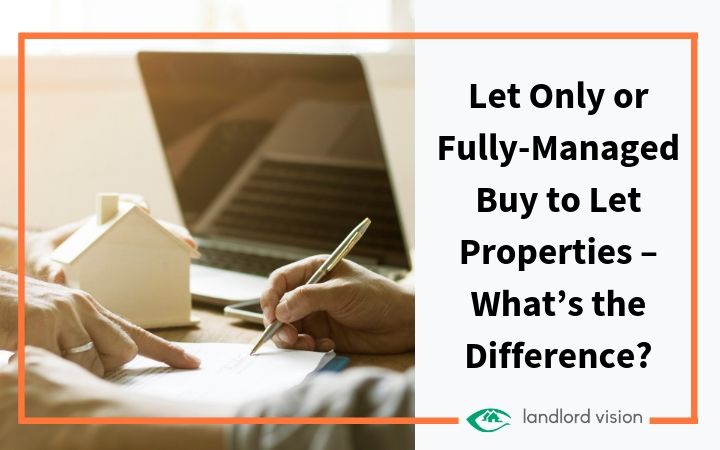 Landlords come in all shapes and sizes. And no, we're not referring to a pizza addiction. Some landlords treat the buy to let sector as a business. For them, it's a hands-on approach. Others end up as accidental landlords, perhaps because they moved in with a partner and didn't want to sell their home – just in case, you know, it all went pear-shaped…
Whatever your circumstances, any property you own and let out must be managed. It's not enough to give a tenant a key, collect the rent, and leave them to their own devices indefinitely. You could try it, but we guarantee it won't end well.
Properties need regular maintenance. Tenants need managing. You are required to maintain business records. Landlords are subject to various statutory requirements. You get the picture.
Managing rental properties successfully requires time, effort, and a degree of experience. The more properties you own, the more work is involved. So, when you invest in a buy to let property, you have a few decisions to make. One of these is how you plan to manage your property: are you ready to dive right in and become a hands-on landlord, or would you rather take a backseat and be an investor rather than a landlord?
Let Only Letting Agent Services
Let only is the no-frills service offered by letting agents. For a fixed fee, you ask the letting agent to find you a suitable tenant. They advertise the property, conduct viewings (if required), carry out appropriate checks such as Right to Remain, credit checks, etc., and organise the tenancy on your behalf. The agent takes the tenant's deposit and first rental payment.
Once the tenant has moved in, their deposit has been placed in a deposit protection scheme, and you have one month's rent paid in advance, responsibility for managing the property reverts back to you.
Fully Managed Letting Agent Services
A fully managed service does all of the above, plus a lot more.
For a monthly or annual fee, typically between 8% and 20% of the rent (depending on where in the country you are based), a letting agent will handle everything for you, including:
Inventories
Property inspections
Property maintenance
Dealing with trades and suppliers
Rent collection
Handling tenant enquiries
Take care of all legal obligations
Check-in and check-out
Basically, a fully managed service means you can sit back and forget about your property, but it's important to remember that you are still legally responsible for anything that goes wrong. So, if your letting agent forgets to organise a boiler service and your tenant ends up in hospital with carbon-monoxide poisoning, it's your head on the block.
Which Letting Agent Service is Right for You?
Only you can make this decision, but it all boils down to the following questions:
How much spare time do you have?
Professional landlords have time to manage their properties full-time, but if you have another full-time job, you probably won't want the hassle of being a hands-on landlord.
How confident are you?
Landlords have a lot on their plate. It can be hard work managing multiple properties. From maintenance issues to regulatory changes, you can't afford to drop the ball. Experienced landlords are used to juggling numerous things, but if this is your first rental property, you might not have the confidence to deal with the day-to-day management. If you're not confident of your abilities, then a fully managed service is a safer bet.
Bear in mind that your confidence will grow over time. It's normal to feel nervous about managing properties in the beginning, but we all have to start somewhere. As long as you are willing to learn and take advice, your skills as a landlord will improve over time.
One solution is to begin with a fully managed service and then downgrade to a let-only service when you feel more confident. Remember, there are a ton of resources out there for landlords, including on our website. As long as you keep up with changes in the law and other pertinent news, you won't be caught out. You may be much better off signing up with a reputable landlord association such as the Residential Landlords Association than relying on a letting agent to keep you in the loop.
The cost of letting agents
It would be nice if a letting agent offered to manage your properties for free, but that's unlikely to happen anytime soon. Losing 10-15% of your rental income in fees may stick in the throat, so do a cost-benefit analysis before you sign any contract.
Work out what your rental yield will be if you pay for a full-managed service compared to a let only package. If you end up making a loss, then you may have to reconsider your position.
Landlords who want to maximise their profits are better off not paying a letting agent to manage their properties.
Do you like property management?
It's pointless being a hands-on landlord if every whiney phone call from a tenant sends you into paroxysms of rage and the thought of dealing with a property inspection brings you out in hives. Although it is a job like any other, it helps if you enjoy being a landlord.
Some landlords use a letting agent because they can't stand dealing with tenants and all that it entails whereas others enjoy problem-solving and being more involved in their tenant's lives. Only you can decide which side of the fence you stand.
How much is your time worth?
Work out your hourly rate and decide whether it's worth paying someone else to do the job full-time. This is more applicable if you have a well-paid job.
You live overseas or in a different area
Managing properties is nigh on impossible if you don't leave within a reasonable geographic range. Therefore, you will have very little choice but to use a full-managed service.
You have a large portfolio
When you have 10+ properties, management becomes a full-time job that requires more than one person dealing with the admin. It might be cheaper to use a letting agent to manage your properties than employ someone on a part-time basis. Do the maths and decide for yourself.
Do you need a letting agent at all?
This is the million-dollar question. There are some people who think letting agents do nothing to earn their fee. Others swear by their trusted letting agent and wouldn't dream of being a hands-on landlord.
Look at what your letting agent offers and make an educated decision. If you have zero free time and no experience, a fully managed service makes sense, but make sure the service gives you value for money. There are a few letting agents out there who charge a premium for doing very little.
Do you really want to pay extortionate fees for sub-standard property repairs carried out by the agent's cowboy brother-in-law? Remember also that a good tenant requires very little in the way of management, so you will be paying a fee for nothing more than the agent to collect the rent each month, which is hardly a hassle if you have a direct debit set up.
When it all goes wrong…
There is a misconception that letting agents are there to hold your hand when a tenant goes rogue, but that's far from the case. Yes, they might deal with some of the correspondence, but if you need to take your tenant to court to secure an eviction order, it's largely down to you to handle the whole sorry affair. Some letting agents will provide assistance, but you are better off talking to an expert if you need legal advice.
Let only and fully managed services both have their pros and cons. Decide what type of landlord you are and the look for a service that ticks all the right boxes.
Confident landlords with time and resources to manage their properties will be fine with a let only service, but if you lack confidence, don't have time, and definitely don't need the hassle, a fully managed property management service is your best bet. If you go down this route, obtain quotes from several letting agents and don't be afraid to negotiate on price, especially if you have several properties. Bear in mind that online letting agents might offer a better deal in terms of price than high street agents.
Do you use a fully managed letting agent service, or do you prefer to manage your own properties? Tell us more below or reach out on social media. We'd love to hear more about your experiences!
Read More Like This:
A landlord's Guide to Choosing the Right Letting Agent
A Property Inspection Checklist for Landlords
How to Make a Property Business Plan