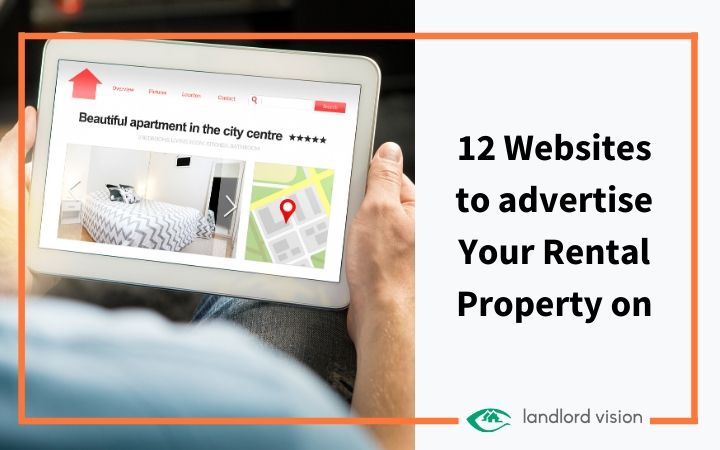 For DIY landlords, the internet is a huge asset. The days of sticking a postcard in the window of the corner shop in the hope of finding a new tenant are long gone. It's far more effective to place an ad online, where you can reach many more tenants. The hard part is deciding which websites to use. Here we've rounded up the top listing websites you can use to advertise your rental property.
We will cover the pros and cons of each site, how much it costs to place a listing, and more. So, get comfy and read on!
Rightmove
Rightmove is huge. More than 120 million people visit the site each month. If you want to find a tenant fast, you can't ignore the obvious advantages of using Rightmove to place a listing.
A lot of people check out Rightmove when they want to rent or buy a property. In fact the property portal released figures showing that around Christmas last year their page was getting between 10 and 40 million views a day. So, listing your vacant properties on Rightmove is a no-brainer. The catch is that landlords can't advertise properties on Rightmove directly you'll need to use a letting agent or a third-party. You don't have to hand over wads of cash to a letting agent – there are some online companies offering fixed-price advertising deals.
Check out deals from online agents before you commit to one. OpenRent offers an advertising package for £29 which will get your listing onto Rightmove, Zoopla and other portals.
Cost – subject to letting agent or third-party fees
Pros – biggest market share in the UK
Cons – landlords can't place listings directly
Zoopla
Zoopla is the second-largest property site in the UK. It's big, but with less than 40k visitors a month, it is nowhere near as popular as Rightmove. This same data also shows that site visits have fallen in the last six months, so you might not enjoy the same reach on Zoopla as you would on Rightmove.
Like Rightmove, the site doesn't deal with landlords directly, so to place a listing on Zoopla, you'll need to engage a letting agent or third-party.
The good news is that online letting agents usually include Zoopla in the list of websites they use. If you opt to use OpenRent you can purchase one package to use both Rightmove and Zoopla.
Cost – subject to letting agent or third-party fees
Pros – offers a lot of useful market data, such as local amenities and potential utility costs
Cons – landlords can't place listings directly and may not be as popular as Rightmove
Accommodation for Students
Accommodation for Students.com is the UK No.1 Student Accommodation Property Portal. If you have student rental properties then this is the site for you. It is the One Stop Shop for student accommodation featuring all types of student accommodation.
As a landlord you can advertise directly to students and the website covers all UK university towns and cities. Simply create an account and upload your property within minutes.
The good news with afs is you don't need to use a 3rd party to advertise and it is an effective low cost solution for advertising which generates lots of enquiries.
Cost – Advertise and rent a full property from just £20 + VAT
Pros – Top of the search engines, high traffic, great customer services team
Cons – doesn't feature properties on other sites like Rightmove but they don't need to
Airbnb
If short-term lets are your business model, Airbnb is the platform for you. The site is easy to use and once you have created an account, it will walk you through building a listing. All you need to do is upload some great photos and decide how much you want to charge guests.
Airbnb is very flexible. You can personalise a listing to suit your needs and set promotions, such as discounts for early bird bookings or long-term rentals. The site will even set rental prices for you, based on market averages. Once your listing is live, all that remains is dealing with enquiries and bookings.
It is free to create a listing on Airbnb. The company makes its money by charging a service fee, so when someone books your property, Airbnb takes 3% of the listed price. This can rise to 5%, depending on your cancellation policy.
The keys to success when using Airbnb are offering something that stands out, great photos, and good reviews. Prioritise customer service and be responsive to guests. The more positive reviews you have, the easier it will be to secure repeat bookings.
Cost – 3%-5% service fee
Pros – Easy to use and you have full control of your property listing
Cons – The site requires a hands-on approach and you'll need to monitor the local market to ensure your listing remains competitive

On The Market
On The Market describes itself as "the most uncluttered and easy to use property portal". It's an agent-backed property portal that came into being as an alternative to Rightmove and Zoopla. Landlords can list their properties on the site, but like Rightmove and Zoopla they must use an agent or third-party to do so.
The site is growing. On The Market's published figures show that online traffic is increasing, and listings generate more leads than Rightmove and Zoopla. If you want to cover your bases, look for a letting agent or third-party that advertises on this portal.
Cost – Subject to letting agent or third-party fees
Pros – The site is growing
Cons – Landlords can't list on the site directly
Primelocation
The PrimeLocation website is part of the Zoopla brand. Landlords can use the site to get an instant rental valuation and tenants can use it to easily search for properties in their area. Like Zoopla and Rightmove, landlords can't list properties on it directly, but many letting agents and third-parties include PrimeLocation in their listings packages. It's not as big as Rightmove and Zoopla, but if your agent offers to place a listing on there, what have you got to lose?
Cost – Subject to letting agent or third-party fees
Pros – The site is part of the Zoopla brand, so it has a fair amount of traffic
Cons – Landlords can't list on the site directly
Facebook
Social media can be an excellent marketing channel for landlords. Most tenants use social media so you can't afford to ignore the likes of Facebook when marketing your properties.
One strategy is to create a Facebook page for your properties and when you have a vacancy, post on there. Encourage friends and family to share your listing, so it reaches the maximum number of people. Unless you have a decent number of followers or you're prepared to cough up for paid advertising (PPC), this strategy won't help you reach that many people.
A handy alternative is to post on local buy/sell groups in the area your property is in. Many groups have thousands of members and your listing will reach many of them. The downside is that listings soon drop down the page in busy groups, so after the first day, don't expect much traction.
Cost – Free
Pros – It's free! And you don't have to go through an agent or third-party.
Cons – The Facebook page strategy won't reach that many people unless you have a big Facebook following.
Gumtree
Everyone has heard of Gumtree. Heck, you probably bought your last car there! The site is very popular with people buying and selling anything and everything, and for a landlord, it's a handy place to look for tenants.
Don't dismiss Gumtree as a rabbit hole of broken beds and dodgy TVs. Since its rebrand in 2016 Gumtree now reaches 16.4 million people monthly. It's free to create a listing on Gumtree, but the quality of tenants can be lower than on sites like Rightmove. The search function isn't that great either, so tenants might not find your property listing. Because of how the site's algorithms work, each new listing pushes the old ones down the page, so if your property is in a popular area, your listing will be effectively invisible after a few days.
Cost – Free
Pros – It's free! You don't have to use an agent or third-party to list there.
Cons – Tenants may not be as serious on Gumtree so the overall quality of leads is lower compared to the bigger sites
Craig's List
Craig's List is another free listing site, rather like Gumtree in format and overall vibe. It's worth trying if you have a low (non-existent) marketing budget, but as with Gumtree, you'll need to be extra vigilant when vetting tenants from Craig's List.
Cost – Free
Pros – It's free! And you don't need to use an agent or third-party.
Cons – Like Gumtree prospective tenants might not be so serious and the quality of the leads isn't as good as the larger sites.
SpareRoom
Don't let the name fool you – you can advertise entire properties on the Spare Room website, although it is mainly geared towards people looking for someone to rent a spare room. The site gets around 2 million visits a month, which is not to be sniffed at.
Because the site is free to use, it makes sense to create a listing on there, especially if you have a low marketing budget. After all, what have you got to lose?
Cost – Free
Pros – It's free!
Cons – The site is mainly geared to HMO landlords rather than entire properties
House Ladder
House Ladder is one of the smaller online property listing websites. To use the site, sign up for an account, log in, and then create a listing. Registered tenants are emailed property details daily.
You can edit the listings any time, so you are in control of what prospective tenants see. A basic listing package is free for a two-week listing, though on the free package it can take 2 days for listings and listing edits to go live. Leads from House Ladder are forwarded to landlords via email. You can upgrade to a four-week featured listing or premium package where new ads and edits are "live" in four hours and leads are directed via phone as well as email; both options come with full support and at a cost.
Cost – Free if you go for the basic package, £50 to £100 for the featured or premium packages
Pros – Landlords have full control over listings
Cons – The basic package is limited, and the site doesn't get as much traffic as Rightmove and Zoopla
Loot
Loot is like Gumtree and Craig's List. It's a buy/sell portal connecting sellers with buyers. The site has a property section where landlords can list their rentals for free. There is more of a focus on cheap/affordable property, so listing a high-end penthouse apartment on there is probably not going to get you many leads.
The site is easy to use: select the appropriate section, upload photos and a description, state what rent you're charging – and whether it is negotiable.
Cost – Free
Pros – Good if you're advertising a low-rent property
Cons – Not as much traffic as the larger sites
Property News
Launched in 2000, the propertynews.com website covers all rental properties including Northern Ireland and student lets. Unfortunately, landlords can't list directly on the site – they'll need to pay for a letting agent or third-party to list on their behalf.
Web traffic on Property News is increasing and the site was recently named Property Portal of the Year.
Cost – Subject to letting agent or third-party fees
Pros – Useful for Northern Ireland and student landlords
Cons – You'll need to use a letting agent or third-party
With so many sites to choose from, and some of them free to use, landlords have a wealth of opportunities to find new tenants. You will need a letting agent to post on the larger sites, but if you would rather go it alone or your budget is zero, try one of the free sites. In fact, try ALL the free sites! You have nothing to lose and everything to gain.
If you've used any of these sites let us know what they're like in the comments below, we'd love to hear how it's worked for you.
As always, you can also connect with us on Facebook or Twitter
Read More Like This: