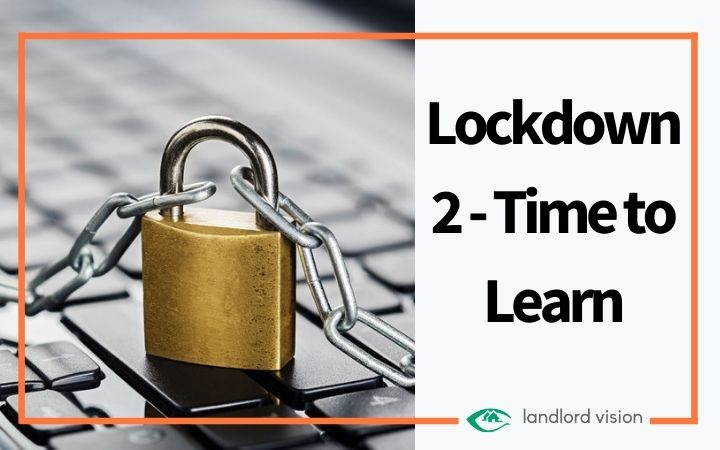 Many people who are furloughed because of Covid19 are taking the opportunity to learn; from musical instruments to full blown university and college courses on line, this is a great way to keep yourself busy to avoid mental health issues and to actually turn a very negative thing into an extremely positive thing, especially if your learning is going to give you new opportunities or fill in gaps in the knowledge you need to do a good job. With this is mind I am going to tell you some of the questions that I am asked during seminars or online and of course give you the answers.
THE most popular:
Q. My tenant has changed the locks and will not give me a key. Can they do that?
A. The simple answer is that a tenant can change the locks and prevent the landlord, agent or contractor entering any part of the property where they have exclusive use. Even where the contract says that the tenant must give the landlord a key, this is not an enforceable contract term, the Law gives tenants "quiet enjoyment" and a contract term cannot change the law.
The tenant should grant access for statutory works like Gas or Electric inspections.
The tenant should be given a MINIMUM OF 24HRS WRITTEN NOTICE but can refuse if this doesn't suit them but must agree for these to be carried out during reasonable daylight hours An example might be that they want to be there themselves and need a weekend visit.
Written Notice does not include texts. Texts are useful to send a reminder or an On the Way message but do not constitute Formal Notice.
If there is an emergency and you need to enter, get a witness statement and go in. Text the tenant immediately telling them what has happened.
Landlords and agents must not call an Inspection of the property an emergency.
Tenants must not be harassed in order to gain access. If you have a need to enter to carry out statutory duties or repair works and the tenant will not grant access contact your local Environmental Health Department and they will assist. If they cannot gain access for you go to court and ask for a Court Order – this is VERY rare.
In a Type A HMO the landlord has free access to the shared areas but not the tenants rooms.
In a Type B HMO the landlord has no access unless the tenants agree just as in a Single let.
Q. What is the difference between a Type A and Type B HMO?
A Type A HMO Is the traditional Bedsit type of property where each tenant has an individual contract for their own room and the right to share other parts of the property which are not other tenants rooms. Tenants usually don't know one another until they meet in the property. In this case the tenant has the right to prevent anyone going into their own room and can change the locks to that room only.
A Type B HMO Was known as a Shared House until the Housing Act 2004. Since that act it is treated in the same was as a Type A. This is where a group of tenants come together, are all on one contract and rent the entire house. They may well have locks on the bedroom doors but they will decide who sleeps in which room. These tenants can change the locks on their own rooms or the main doors to the property without permission and without giving the landlord or agent a key.
Where the tenant has changed locks they must return the original locks at the end of the tenancy or provide new keys to the new locks including copies for landlord and agent.
They will be responsible if one of them loses a key or forgets a key and needs to be given access.
They will be responsible for giving contractors access for statutory works, repairs and replacements but must agree for these during reasonable daylight hours. This does not change the landlords obligation to give written Notice.
Q. Who is responsible for the garden?
A. In a single let or Type B HMO the tenants are responsible, in a Type A HMO the landlord is responsible.
If the contract stipulates that a contractor will take care of the garden tenants must allow access.
This cannot be charged as a separate bill it must be included in the rent which appears on the contract.
If it is the tenants responsibility and they do not keep the garden clear this may cause issues with neighbours – this is a very common cause of neighbour disputes both in owner occupier and rented properties. In this case the landlord should get the garden cleared before a complaint is made to the local authorities, you do not want that attention and it's worth the cost. The cost should be recovered from the deposit at the end of the tenancy since the Tenants Fees Act prohibits an extra charge.
Once the fixed term has ended you can increase the rent to cover future costs of gardening if you feel that the tenants should pay.
Q. Who is responsible for blocked drains?
A. The drains should be clean and clear at the start of every tenancy and this should be demonstrated to the tenant at move in. If the drains then become blocked it is clearly caused by the tenant and is chargeable to them
Common causes and low cost solutions:
Nappies OR sanitary products being put into the toilet – Pour down a mug of fabric conditioner and leave over night. Do not flush in the morning pour down a 2 ltr bottle of cheap full sugar coke and leave for the day if possible. Pour down a bucket of water or flush several times until there is no residue visible in the toilet pan. GIVE THEM A SMALL BIN WITH LID.
Too much toilet paper or lack of flushing – Pour down a 2 ltr bottle of coke and leave overnight. Flush several times or pour down a bucket of water. Ask them to do this monthly.
Fat, Rice, Grease and Hair going down the plug holes – Pour down a 2 ltr bottle of coke and leave overnight. Next day Pour down a bucket of hot soapy water.
Coke is the best pipe cleaner I know and it's brilliant on really discoloured toilets. Take care not to let it settle on the chrome fittings when you use it to clear sink pipes because it will eat the chrome. Also great for outside drains but you will probably need 4 large bottles.
Q. My tenant didn't give me Notice and is moving out at the end of the fixed term. My tenancy agreement says one months notice
A. A fixed term contract has an end date and that means that the tenant can simply leave on that date without giving Notice at all. It is, in fact, very rare for tenants to do this but the law is on their side. A landlord has no such legal rights and must always obtain a court order to remove a tenant who doesn't want to leave.
A fixed term ends and they can leave without notice.
Monies cannot be claimed from their deposit in lieu of Notice not given.
Landlords still need a Court Order.
In reality most tenant do give a months' notice or at least let us know that they are leaving, they often ask what they need to do at the end of the tenancy in terms of inspections, returning keys etc., this sometimes triggers an angry reply from the landlords that they haven't given notice because this is misunderstood by many landlords and even some agents. I helped a young couple recently who were being threatened (yes that is the right word) by an agent that they would take a months' rent from their deposit in lieu of notice. Deposit protection schemes recognise end of fixed term contract without notice.
Q. What does having an Article 4 Direction in an area mean?
You cannot develop an HMO in this area?
You can only let an established HMO in this area?
A. An Article 4 Direction is where a local authority withdraws permitted development rights to change a single family home into a house in multi occupation (HMO).
You must apply for Planning Permission to change a single family property into an HMO in this area. If the building already has Established Use as an HMO nothing changes. You may in future be asked to give evidence that the property was let as an HMO at the time a designation began or sometimes for as far back as 10 years. Keep all the documents you have to prove this for 10 years.
Q. Is it true that I must provide smoke detectors in a property let to a single family, I thought that was only for HMO?
A. Yes that is true.
The landlord must supply one smoke detector on each floor of the building.
A Carbon Monoxide Detector must also be provided if there is a solid fuel burning appliance.
The smoke alarms only need to be battery operated but the landlord is responsible for replacing batteries and ensuring that they are in good working order at all time.
At move in these must be shown to the tenant and demonstrated as working, by pressing the red test button in the middle of the alarm, and asking the tenant to do this monthly and to let you know if it stops working and always test when you have reason to visit or inspect.
Q. How long have we got to return the tenants deposit at the end of the tenancy?
A. 10 working days from move out.
Any money which is not in dispute must be returned/released within 10 working days of move out.
Where you are in dispute you should try to gain agreement if not write to the tenant to say how much you have withheld/will claim and what for with quotes or receipts, this must all be within the 10 working days.
The tenant then has the choice to ask the Deposit Protection Scheme to deal with the dispute because you cannot agree or take legal action to recover their deposit.
The landlord has no choice in this process because the money is the tenants until we prove that it is not.
If the tenant asks the Deposit Protection Scheme to deal with the issue, most of them do rather than going to court, you will be asked to lodge with them any deposit monies you are holding because you have used an insured scheme.
You cannot claim new for old you must allow for fair wear and tear depending on the length of the tenancy and always provide receipts
Tenant Fees Act does not apply to deposits, in fact it is the deposit where fair claims which cannot be made under the tenant fees act should be claimed. A good example would be cleaning. We cannot make a fixed end of tenancy charge or ask them to use a cleaning company (unless they choose to do that) but we can make a deposit claim if we have a signed inventory and check out photographs proving that the property needed to be cleaned and an invoice from the cleaners.
Q. Is it true that the electrical system need to be inspected and certificated in a single let property, I thought that was only HMO?
A. Under "Electrical Safety Standards in the Private Rented Sector (England) Regulations 2020" Every rented property must have a full electric inspection certificate from June this year.
No allowance has been made for Covid19.
The certificate should last for 5 years unless the installation needs to be upgraded.
We do not need to have a metal fuse box if the installation is in good condition.
Do not accept a 12 months certificate – complain to their professional body if they do not give you 5 years.
Give a copy to your tenant within 28 days of inspection.
Give a copy to every new tenant before they move in – as with the Gas Safety Certificate.
Q. Which Type of properties need a Fire Risk Assessment?
A. Type A and Type B HMO must have a Fire Risk Assessment on file.
Be prepared to show this to a local authority or Fire Officer.
Make sure that you have met all the recommendations.
Put a copy on the Notice Board where it can be seen clearly by all tenants.
Several companies and retired Fire Officers carry out these assessments ask local landlords or local authority officers for recommendations.
Q. Will the tax man find out if I don't declare my rental income?
Letting Agents and other services must inform HMRC by law.
Airbnb have a new agreement to share information about their hosts with HMRC.
Neighbours often inform HMRC because your tenants (or you) are annoying them.
If your tenants are claiming any form of benefits HMRC will be aware of their address.
Q. If I don't tell my house insurance company that I'm letting the property is it still insured if there is a fire?
No, if the insurance company are not given all the facts they will not pay out on claims for fires or anything else – you stand to lose everything you have invested in the property.
Insurance companies rely on the information we give them if they find out at any point, including when we claim, that the information was incorrect they simply will not pay out. This is why they don't necessarily ask for evidence of the information we give which makes some people believe that they are getting away with it.
More and more landlords are deciding that there is too much legislation and regulation to keep up with and are turning to letting agents to let and manage their properties. This can be a good decision as long as you do thorough due diligence on the agent, make sure that they have Client Money Protection Insurance, A Separate Client Money Bank Account, are Members of a Property Redress Scheme and meet all other legal requirements. There is legislation in the pipeline which will mean that agents must have a level of knowledge/education in order to practice – this is a very good thing because some of them are brilliant while others are not up to date and could easily let you down.
The important thing to remember is that anything an Agent does or doesn't do is done on our behalf and the buck stops at the property owner/landlord. We cannot put our properties with an agent and walk away, the law does not allow for that. This is why letting property in the UK can never been a passive/armchair investment.
Read More Like This