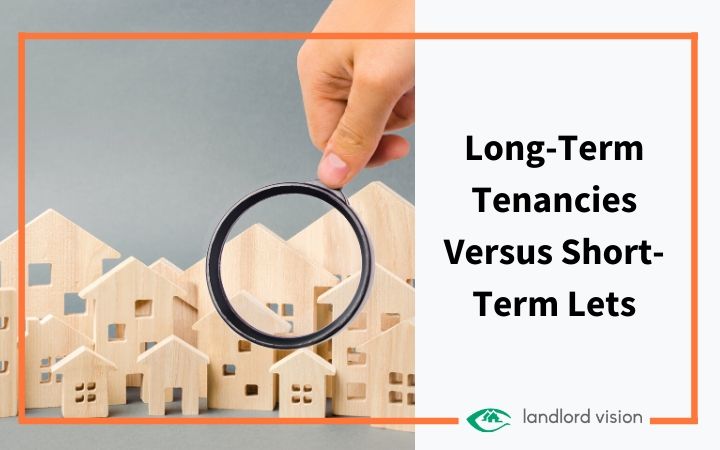 No matter what type of buy to let property you're looking to invest in, you need to decide whether you want long-term or short-term tenants. In some cases, it's a no-brainer, but in other instances, it might not be so obvious.
In this article, we're going to take a look at the pros and cons of long-term vs. short-term tenancies. If you are not sure which way to go, this should help you decide.
What is a Long-term Tenancy?
Long-term tenancies are the standard business model for many landlords. It is customary to offer tenants a minimum 12-month tenancy, which can then be renewed at the end of the term, assuming both landlord and tenant are happy with the arrangement.
According to data from the 2018 English Housing Survey, 41% of landlords are willing to offer tenancies of more than 12 months, as long as there is a break clause. Interestingly, landlords with three or more years' worth of experience were less willing to offer longer tenancies because shorter tenancies make it easier for them to remove problem tenants. Both landlords and agents stated they would be willing to offer longer tenancies (3+ years) if it was easier to evict rogue tenants and there were financial incentives, such as rent increases at the rate of inflation).
Does the long-term rental model make sense to you? Let's find out.
The Advantages of a Long-term Tenancy
The main advantage of a long-term tenancy is that you have a guaranteed income for a year or more (unless the tenant stops paying, of course). Since cash flow is critical, especially if there is a buy to let mortgage to pay, many landlords prefer to go down the long-term tenancy route.
Managing an empty property, especially in the dead of winter, is no fun. Empty properties are more vulnerable to squatters and damage, and if they are empty for a long time, your property insurance might be voided. Landlords offering longer tenancies experience fewer void periods. It's only natural for tenants with a six-month or 12-month tenancy agreement to start looking for somewhere else to live as their tenure comes to an end, whereas tenants living in the property long-term are more settled.
Long term tenancies are less hassle than the short-term business model. Once you have found a tenant and they are installed in the property, aside from routine maintenance and rent collection, you won't have too much to do. This is probably the closest buy to let gets to passive income.
Tenants living in a property long-term are more likely to take care of the place and treat it as their 'home'. This is advantageous for landlords, as it means less wear and tear. Yes, you'll still need to replace stuff, but usually not as often as you would in a holiday let.
Long-term tenants are more likely to report issues with the property. After all, they won't want to live with a broken shower or leaky tap. When issues are reported promptly, you can fix them before they snowball into major – costly – nightmares.
Landlords with long-term tenants tend to have better relationships. You have a chance to get to know your tenant. This is beneficial to both parties. Research carried out by Shelter has shown that 43% of families worry about being evicted by their landlord, which means they are less likely to have a positive relationship with them. Wouldn't you rather be a caring, sharing landlord?!
The Disadvantages of a Long-term Tenancy
It's not all a bed of roses. One of the main disadvantages of long-term tenancies is the risk of ending up with a terrible tenant. It can take months to evict a problem tenant. If they stop paying their rent or begin to cause damage in the property you could end up out of pocket with huge repair bills while you wait for the eviction process to run its course.
Even if a tenant is a peach, you can't just repossess the property if you feel like sticking it on Rightmove to free up some cash. Whilst you can serve a Section 21 notice to a tenant, you can't do it until the end of a fixed-term tenancy or within four months of the tenancy starting. There are also other rules you must adhere to, which you can check here.
Market rents tend to be lower in long-term tenancies when compared to how much you can charge for a short-term let. This is one of the main reasons why landlords with properties in popular tourist areas are often more likely to go down the Airbnb short-term rental route.
Long-term landlords have to deal with a lot of red tape. From ensuring tenants' deposits are safeguarded in a government-approved deposit scheme to giving every tenant a copy of the Energy Performance Certificate, the amount of rent tape in the private rental sector is staggering. Short-term landlords have far less to worry about since their tenants are only staying for a short amount of time. If a landlord doesn't fulfil their legal obligations, who's going to report them? The worst that will happen is a tenant/guest leaves a 1-star review which is detrimental to the landlord's ability to let the property to another short term tenant.
What is a Short-term Let?
Holiday rentals are typically short-term lets, such as those advertised on Airbnb. Some landlords also take on the occasional short-term tenant if they have an empty room/property and a tenant in need of a short-term place to stay.
In 2017, an RLA research study found that Airbnb listings had increased by 54% in 12 months. In February this year, the Guardian reported that the number of active listings on the site had tripled, rising from 76k in 2016 to 225k in 2019. In some areas of the UK, there is now one Airbnb property for every four homes.
Critics argue that short-term lets are depriving people of homes, but short-term lets can be very profitable – one London landlord with 881 properties in his portfolio reportedly made more than £11 million in 2017!
Do bear in mind, however, that if you invest in a flat in a block, there may be clauses in the leasehold that prevent short-term lets.
Let's look at the advantages and disadvantages below.
The Advantages of Short-term Lets
How much you make from a short-term rental very much depends on the location and type of property you own. After all, a two-bed terrace on a rough street in Middlesbrough won't be as desirable as a cottage in the Lake District. Overall, however, short-term rentals are more profitable. Landlords can make as much for one week on Airbnb as they would in one month if they offered the property as a long-term rental.
Rates are seasonal, of course, so out of season rates will be lower and occupancy rates correspondingly lower.
Another upside is that the property is available for your own use as and when you need it. This is pretty handy if you own a property in a nice location, such as Cornwall or Northumberland. Fancy a family holiday? Block out a week and pack your bags. This degree of flexibility is very attractive to some landlords.
When you decide to sell the property, you won't have to wait for your tenant to move out. Just stop taking bookings and advertise the property for sale.
With short-term lets, you have different people renting the property from one week to the next. Some will inevitably be repeat guests, but most will be new. If you're the type of landlord that enjoys meeting new people, short-term lets are a fun adventure. You don't need to be a hands-on manager, but if you're good with people, it's worth giving it a go.
The Disadvantages of Short-term Lets
Short-term rentals can be risky, so it's worth considering the key pain points before you enter this market.
Some lenders don't allow short-term lets
Many buy to let lenders do not allow holiday or short-term lets. Most, including the big names like HSBC, Lloyds, and Santander, require a minimum six-month assured shorthold tenancy in place. If your property is funded by a buy to let mortgage, you may have to switch to a new lender. If you have a buy to let mortgage, don't make the mistake of listing your property on a short-term lettings platform without speaking to your lender; it will void your T&Cs. If the lender doesn't allow short-term lets, you'll need to switch to a new lender. Speak to a specialist mortgage broker – some of the smaller lenders are still open to short-term lets, but their products are often only available via an intermediary.
Short-term lets are more management intensive
Managing short-term rentals is more time-consuming and tiring. Each property will need cleaning between guests, and someone has to manage the bookings, meet and greet, and maintenance. You can pay an agent to take care of things, but it will cost you. Unlike a long-term rental offers largely passive income once a tenancy is established, short-term lets are ongoing work for as long as you accept tenants. Be prepared to deal with a lot of potentially irritating people.
Short-term lets suffer more wear and tear
You can expect more wear and tear if you rent out a property on a site like Airbnb. The site does offer hosts a 'Host Guarantee' that provides up to $1 million to cover property damage, but this doesn't apply to general wear and tear. Quite aside from the risk that guests decide to hold a raucous party, your property is more likely to suffer accidental damage, stolen items, and fixtures and fittings will wear out sooner. Instead of decorating at the end of a tenancy, you'll probably need to refresh the property every couple of years.
Short-term lets are always furnished. Furniture, fixtures and fittings will need to be decent quality unless you want a flood of negative feedback on your listing. This means that a lumpy old sofa and the classic 70's orange and brown curtains won't cut it.
Short-term rental income can be erratic
Short-term rental income can be erratic. Instead of rent paid on the dot every month, you might have to live with seasonal rental income. During the summer months, money is flowing, but in the winter when bookings dry up, so will your income stream. This has been a huge problem lately, as Covid-19 has decimated the tourism industry. Many short-term landlords have lost their source of income, which has left them in a precarious position. Whilst a global pandemic is an unprecedented event, it's worth bearing in mind for the future.
In a long-term rental, the tenants usually pay the utility bills. In a short-term rental, that falls on you. You will have to cover the gas, electric, council tax, broadband, and any other bills connected to the property. Make sure you build these costs into the rent you charge tenants.
Short-term neighbours can be more hostile
Neighbours tend to be disagreeable about the proliferation of short-term rentals. Most people don't want to live next door to a flat or house rented out to random people on a daily or weekly basis. There's no continuity and they may end up listening to all-night parties or crazy hen party antics. Don't be surprised if you end up fielding angry late-night phone calls from upset neighbours when a party animal lets your Airbnb flat for a few nights.
Short-term lets may be subject to planning controls
Airbnb has been at the forefront of short-term lets in recent years and in many popular tourist areas, there has been an explosion of properties advertised on the platform. Outside of Greater London, there are no planning controls preventing landlords from letting properties on a short-term basis, but if you own a property inside Greater London, the Greater London Council (General Powers) Act 1973 states that letting a property for less than 90 consecutive nights is a breach of planning. Under the Deregulation Act 2015, s44, the terms were relaxed, but landlords are still not allowed to let out properties for more than 90 nights in any one year.
One way to beat the system is to combine a short-term and long-term tenancy. For example, list the property on Airbnb for less than 90 days and then offer it on a 12-month tenancy; rinse and repeat every 18 months. The challenge is finding someone willing to rent the place for a year and then move on.
Which is Best? Long-term Tenancies or Short-term Lets?
Consider all the points above and decide which ones matter the most to you. Property location will be important if the short-term let business model sounds attractive, but that's also applicable to long-term rentals too.
Do the maths and see which business model makes the most sense from a financial perspective. You may be able to switch from one to the other if the first doesn't work out, just remember this will have implications on your insurance and if you have finance on your properties.
Read More Like This: