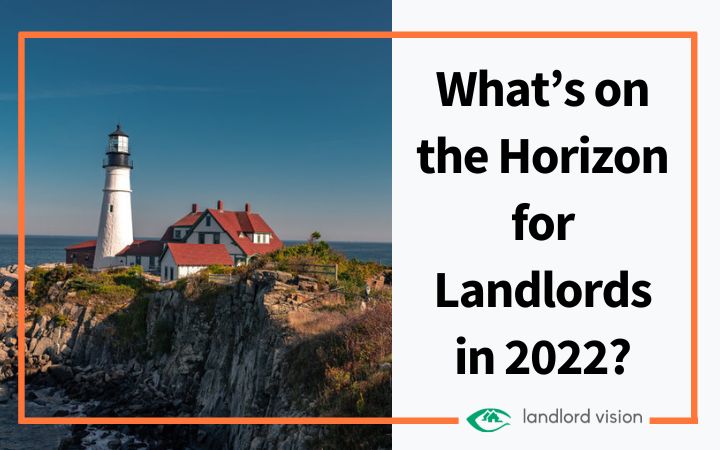 There have been a lot of updates so far on legislation that is aimed at governing the private rental sector. In turn this will have an impact on landlords. In today's post Mary Latham will be explaining what landlords can expect to see on the horizon this year.
THE SMOKE AND CARBON MONOXIDE ALARM (AMENDMENT) REGULATIONS 2022
When, in 2015, new legislation was introduced that required landlords to have a carbon monoxide detector in our properties, I was surprised to find that gas boilers were specifically excluded. There is now a change before Parliament to include gas boilers but not gas cookers, and this is likely to become law from October 2022 since there is very little likelihood of anyone challenging the change.
I have had them in my properties for years regardless of the legislation because I once saw a mother and daughter taken into ambulances in a very poor state as a result of what is called 'the silent killer'. They were owner-occupiers and I heard that they had both made a full recovery, what raised the alarm I have no idea, but it could so easily have cost two lives.
My Gas Engineers check my carbon monoxide detectors every year when they carry out the gas safety inspection and annual boiler service. I use the ones with lithium batteries, which cost a little more, but the batteries cannot be taken out to be used for other purposes. I also demonstrate that they are working and how they work at check-in while I'm demonstrating the battery-operated smoke alarms which the original legislation requires us to place on each floor of a single let property. (This is nothing to do with HMO which have their own Fire Safety requirements). I find that the ones which are meant to last for 10 years actually last for around 6 or 7. The other safety device which I use in my single lets is a heat detector in the kitchen. I was recently reminded that this is a very important part of keeping my tenants safe (even from themselves). A smoke alarm cannot be used in a kitchen because the cooking of food would set it off, therefore a heat detector is the only option, this is not a legal requirement but for a very small cost it is an important part of fire safety in single lets.
I was horrified to get a call from a good friend to tell me that her rented flat had burned down (this isn't a bad landlord story). So many things flashed through my mind, the flat was above a shop, and I was imagining her having to get out if the shop below was on fire. This isn't what happened, and my friend said immediately that it was her fault. She is a mobile beauty therapist, and she uses a lot of essential oils in her treatments. When she washes her towels, not all the oils are removed even at a very high temperature. She had put on a wash and dry and gone out…. The drier had overheated the oils and they burst into flames. Thankfully no one was hurt, and the damage was confined to the room with the heater. But it is a lesson well learned and something that wouldn't have occurred to me, but it would have set off a heat detector if there had been one instead of becoming a full-blown fire before setting off the smoke alarm in the hallway.
WASH BASINS IN HMO BEDROOMS
I can well remember the objections and anger when the Mandatory Licensing of HMO was introduced in the Housing Act 2004 and from 2006 all HMO bedrooms were required to have a handbasin. This was one of the very rare occasions where everyone agreed, landlord, tenants and local authorities and the Government amended the legislation the following year when Licensing and Management of Houses in Multiple Occupation (Additional Provisions) (England) Regulations 2007 Schedule 3 called for basins to be fitted
" so far as it is reasonably practicable"
The Licensing and Management of Houses in Multiple Occupation (Additional Provisions) (England) Regulations 2007 (legislation.gov.uk)
I believe that the reason most people agreed this was not a good idea was because of the potential misuse and the potential for leaks into rooms below because of the additional plumbing which would be placed across the whole of the property (ensuites hadn't really happened yet).
Why am I writing about this 15 years later? I have just been made aware that Walsall Council in the West Midlands has now resurrected this legislation and is enforcing it on HMO licenses!! Of course, technically they can enforce this, but why on earth would they want to? In 2004 when Mandatory licensing was introduced, local authorities added the mandatory conditions, hand basins being one of them at the time, and they gave a time scale for compliance. Most local authorities, including Walsall, gave the landlord 3-5 years to comply, and when I asked an officer in another authority why so long he told me that they all expected the Government to U-turn on this one because it made no sense and local authorities did not support it. It is a pity that they didn't simply remove it when they made the amendments because " so far as it is reasonably practicable" is too ambiguous and enables the new boy on the block, who wasn't around in 2004-7, to have the latest great idea! I expect there will be a lot of time and money wasted before they are made to see the light.
THE QUEEN'S SPEECH MAY 2022
Prince Charles delivered the speech on behalf of the Queen this time. The full transcript is here:
Queen's Speech 2022 – GOV.UK (www.gov.uk)
Some highlights which will impact our business:
My Ministers will support the Bank of England to return inflation to its target
This is probably a warning of more interest rate rises this year.
I read a very interesting post by Lisa Orme, who until recently was a mortgage broker and since selling her very successful business she has moved to giving advice on her website www.lisaorme.com I am sharing this with her permission:
"The Bank of England has today used the cost of a Freddo to explain the economy and inflation so prompted by Kate Faulkner I've compared this to UK House Prices.
So what's the outcome?
Well while there are stark variations, mostly determined by sudden increases in the cost of a Freddo, over the 20 year period they are almost identical.
So from now on I think the Bank of England would be better to use the cost of a Freddo to regulate the economy rather than the complicated instruments they currently use!"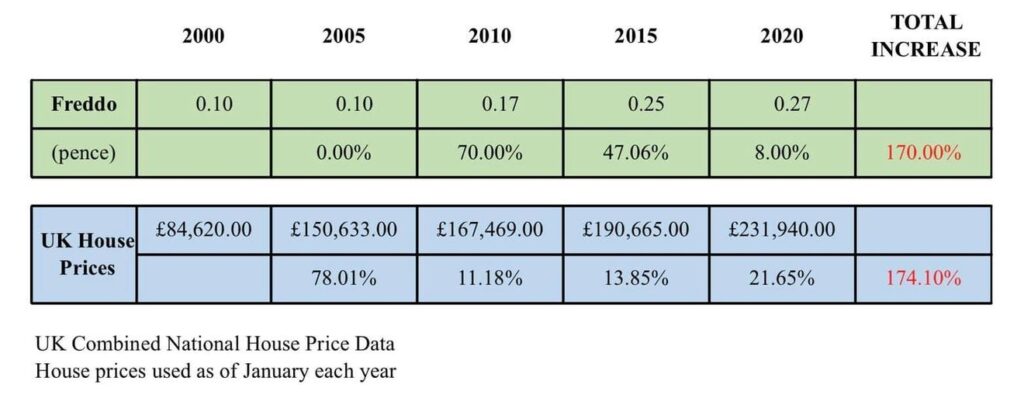 My fear is that I will not be able to afford a Freddo in years to come if the Bank of England are involved!
The reference to the Bank of England using the cost of a Freddo, yes this is those little chocolate frogs that come in individual packs.
(pic)
Who knew that there was a Freddo Index?
The Freddo Index – The History of Freddo Prices Since 2000
Here The Freddo Index – The History of Freddo Prices Since 2000 (vouchercloud.com)
The planning system will be reformed to give residents more involvement in local development -Levelling Up and Regeneration Bill
Levelling-up and Regeneration Bill – Parliamentary Bills – UK Parliament
A bill to make provision for the setting of levelling-up missions and reporting on progress in delivering them; about local democracy; about town and country planning; about Community Infrastructure Levy; about the imposition of Infrastructure Levy; about environmental outcome reports for certain consents and plans; about regeneration; about the compulsory purchase of land; about information and records relating to land, the environment or heritage; for the provision for pavement licenses to be permanent; about the governance of the Royal Institution of Chartered Surveyors; about vagrancy and begging; and for connected purposes.
"Long-term empty dwellings:
England In section 11B of the Local Government Finance Act 1992 (higher amount for long-term empty dwellings: England)—
after subsection (1C) insert—
"(1D) In exercising its functions under this section a billing authority must have regard to any guidance issued by the Secretary of State.";
(b) in subsection (8), for "2 years" substitute "1 year".
The amendments made by subsection (1) have effect for financial years beginning on or after 1 April 2024 (and, in relation to the amendment made by subsection (1)(b), it does not matter whether the period mentioned in section 11B of the Local Government Finance Act 1992 begins before this section comes into force).
Dwellings occupied periodically:
England (1) The Local Government Finance Act 1992 is amended in accordance with subsections (2) and (3).
(2) After section 11B (higher amount for long-term empty dwellings: England) insert— "11C Higher amount for dwellings occupied periodically:
England (1) For any financial year, a billing authority in England may by determination provide in relation to its area, or such part of its area as it may specify in the determination, that if on any day the conditions mentioned in subsection (2) are satisfied in respect of a dwelling—
the discount under section (2)
does not apply,
and
(b) the amount of council tax payable in respect of that dwelling and that day is increased by such percentage of not more than 100 as it may specify in the determination.
there is no resident of the dwelling,
and
(b) the dwelling is substantially furnished.
(3) A billing authority's first determination under this section must be made at least one year before the beginning of the financial year to which it relates.
(4) In exercising its functions under this section a billing authority must have regard to any guidance issued by the Secretary of State.
(5) Where a determination under this section has effect in relation to a class of dwellings—
Levelling-up and Regeneration Bill Part 2—Local democracy and devolution Chapter 2— Other provision
the billing authority may not make a determination under section 11A(3), (4) or (4A) in relation to that class,
and (b) any determination that has been made under section 11A(3), (4) or (4A) ceases to have effect in relation to that class.
(6) A billing authority may make a determination varying or revoking a 5 determination under this section for a financial year, but only before the beginning of the year.
(7) Where a billing authority makes a determination under this section it 10 must publish a notice of the determination in at least one newspaper circulating in the area
(8) The notice must be published before the end of the period of 21 days beginning with the date of the determination.
(9) The validity of the determination is not affected by a failure to comply with subsection (7) or (8)."
In a nutshell any property which has not been occupied for a period of one year (previously 2 years) can now be subjected to 100% additional council tax. Second homes/holiday homes – properties that are not occupied permanently may also be charged this additional council tax
My Government will introduce legislation to improve the regulation of social housing to strengthen the rights of tenants and ensure better quality, safer homes – Social Housing Regulation Bill.
Social Housing (Regulation) Bill – Draft clauses (publishing.service.gov.uk)
Fundamental objectives
"(1) Section 92K of the Housing and Regeneration Act 2008 (fundamental objectives) is amended as follows.
(2) In subsection
(3)— (a) in paragraph (a), after "well-managed" insert ", safe"; (b) in paragraph (c), omit the final "and"; (c) after paragraph (c) insert— "(ca) to ensure that registered providers act in a transparent manner in relation to their tenants of social housing, and".
The regulator must appoint the following persons to an Advisory Panel—
(a) persons appearing to the regulator to represent the interests of—
(i) registered providers,
(ii) secured creditors of registered providers,
(iii) tenants of social housing,
(iv) local housing authorities,
(b) the Greater London Authority,
(c) the HCA, and
(d) the Secretary of State."
There then follows changes to Schedule 2 to the Housing Act 1996 (social rented sector: housing complaints) and to The Housing and Regeneration Act 2008 which add up to more robust regulation of social housing and better provision for Health and Safety within " the responsible body":
Meaning of "responsible body"
Registered charity – which is not a registered company – Its charity trustees within the meaning given by section 177 of the Charities Act 2011
Registered Society – Its committee within the meaning given by section 149 of the Registered society Co-operative and Community Benefit Societies Act 2014
Registered Company – Its directors within the meaning given by section 250 of the Companies Act 2006 Registered company
Limited liability partnership – Its members
This is very good news for the people who rely on this housing and support, for the communities in which they live and for the many landlords who cannot hold on to good tenants because of the anti-social behaviour of unsupported vulnerable people.
"My Ministers will bring forward an Energy Bill to deliver the transition to cheaper, cleaner, and more secure energy. This will build on the success of the COP26 Summit in Glasgow last year."
Builds on the energy security strategy announced in April, and is announced against the backdrop of the ongoing cost of living crisis. The bill will look to extend the energy price cap beyond 2023, with the government arguing the limit is the best means to protect consumers from "unfair pricing" despite the current eye-watering energy costs".
Non-Domestic Rating Bill 
"The government says the new bill would create a "fairer, more accurate business rates system".
Electronic Trade Documents Bill
The main aim of this bill is to give electronic trade documents the same legal status paper documents currently have, to cut down on waste and unnecessary red-tape measures.
"The notable new change this bill provides is abolishing 'no fault' evictions through the removal of Section 21 of the Housing Act 1998. This would allow tenants to challenge unfair rent increases and poor practice by landlords in the sector".
I assume this means that the fact that a landlord cannot issue a Section 21 "no-fault eviction" means that the tenant would have the courage to challenge a rent increase, otherwise I don't know what it can mean because tenants already have the option of asking the Fair Rent Tribunal to arbitrate on a rent increase which they don't accept. This has been "promised" to tenants for a long time now and from a landlord's point of view, it is better than a more aggressive form of rent control.
The full list of Bills announced in the Queen's Speech is here:
Queen's Speech 2022: Full list of bills (politics.co.uk)
In total 38 Bills were mentioned in the Queen's Speech, some will be new others continue their journey through parliament.
Read More Like This.