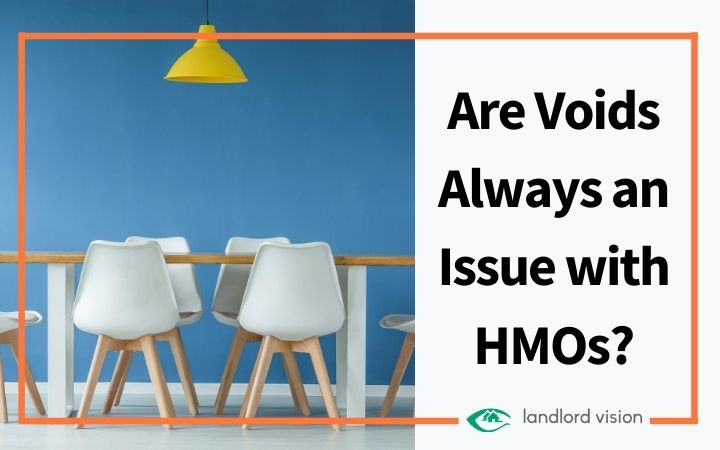 "Are voids always an issue with HMO's? What would one estimate average monthly voids for HMO's?"
I often take part in discussions in face book property groups and very often they begin with a question from a new landlord or a person who is hoping to become a landlord or "get into property" via rent to rent. Many experienced people give information and advice because it doesn't cost us anything and
"a rising tide raises all ships".
I actually learn a lot about the current market from these discussions. An example would be when there are a lot of people asking:
"Any advice on where to advertise my rooms I'm not getting many enquiries at the moment and this isn't usual"
When I see a lot of these, as there are at the moment, it gives me an indication of the demand. Reading the discussion gives more detail as landlords reply to say that they too are struggling and stating the area their properties are in.
These are strange times but even last year these posts were appearing more frequently and many landlords who I know personally were admitting to an increase in empty HMO rooms. My experience of single lets in the West Midlands is that demand has remained very strong. This begs the question:
"Is the demand for HMO rooms down all over the country and if so why are people continuing to develop properties for this market?"
The answer is that people are not always truthful and then some people actually do believe what they are saying but they haven't been in the business very long (some a matter of months). Therefore they are chanting what they were taught by a property "guru" or are basing tomorrow on yesterday – Lets begin by agreeing that yesterday is gone and the last few months have changed the financial landscape forever. Realistically we are heading towards massive unemployment. Once government support ends and the changes in our buying habits continue, many businesses won't find a way to survive and will be forced to let their staff go. Yes new jobs are appearing but will there be enough to balance the books?
Getting back to:
"Are voids always an issue with HMO's? What would one estimate average monthly voids for HMO's?"
This is the question which began a very interesting discussion, not least because just three of the landlords who were taking part have been in the HMO business for almost 100 years between them. This is a first and brought out some interesting comments that really feel need to be shared. There were of course good comments from other landlords and further questions which drove the discussion. I asked permission to quote from this discussion and no one objected. I will not identify the landlords nor the group but what I am sharing is some of the most valuable information you will ever get for free.
Landlord 1 has been in the HMO business in the West Midlands for over 20 years
Landlord 2 has been an HMO landlord in Oxfordshire for over 29 years
Landlord 3 is me and I have been letting HMO for over 48 years
Many other experienced landlords contributed to this discussion but I can only choose some of the 150 comments made for the purpose of this article. I am choosing the comments which come from those who have been in the business during a previous economic downturn and survived. My intention is to pass on a reality check to those who considering entering this market and to comfort those who are struggling to let rooms – that it is not their "product" or their marketing that is the problem – it's the lack of demand.
Let's agree that there isn't actually "a property market" there are many different markets, even within the same area of the country, this is more reason to listen to those who have been in the business for a long time. If we are concerned perhaps you should be too – unless you know something we don't? It's also important to talk to experienced local landlords because you may be in an area of high demand, there are still several around the country.
Let's agree that if there are no customers, hanging gold bells on an offering isn't going to make a difference, but price and meeting their desires might just attract those who are looking. Rather than putting more grey paint on the walls and pretty linen on the bed – the answer might actually be reducing your rent or increasing the broadband speed! A recent survey has shown big changes in what tenants want, including outdoor space and access to green areas – this is the result of lockdown and we need to be aware of it.
Back to the online discussion:
There were several comments stating what void level they aimed for, not awfully helpful because a target is not a fact and the poster needed facts.
There were comments about the standard of the property suggesting that if the rooms were "high end" (I am not really clear what is meant by that other than en-suite and paint colours) they would let easily. I know a landlord with lovely modern "high end" rooms in a good location and the voids on the property have been up to 80% for several months before March, the level dropped recently when tenants moved in, but is now back to 80% again. The landlord is very clued up and actively marketed the rooms via every source.
There were also comments admitting that there was a big drop in demand and there were several empty rooms in the area.
One comment that I will share because it is very good advice, Anti social behaviour has become a major problem for many landlords during lockdown:
"I would rather stay vacant than take the wrong tenant who would cause me trouble"
I am well aware that many landlords cannot afford to take that attitude because they are highly geared and one room can be the difference between profit and loss but beware the extra workload and stress.
An experienced landlord told us that the voids in his area were at 60%. Several landlords agreed that this was caused by Brexit.
Those landlords who said that they had 100% occupancy were letting very few, often only 5, rooms and my experience is that with only one property landlords tend to look after both the tenants and the property very well, don't increase the rent and often have very long tenancies – home away from home.
Two very experienced landlords, from different parts of the country, said that they had some houses which were full and others which were half empty in the same area. One of them said that those who were saying that you only need to offer high spec rooms were just selling dreams and don't understand market saturation.
Then landlord 1 posted this:
"I have built up and always self managed a fairly large portfolio of HMOs for young professionals for nearly 20 years now so here's my view.
You always needed to provide a clean, safe, welcoming environment to tenants in a well run and managed HMO and be mindful of the household you were building and the "fit" between tenants.
This is not some new co-living revelation despite what some people seem to think! This has always made business sense to a savvy HMO owner. I have often kept a room empty longer or turned tenants away if I thought they did not fit in a certain household. I don't want to take someone that potentially loses me 5 other good tenants in a house – that's just good business sense!
I personally think there is some disconnect in the HMO market these days between what some people think tenants want and how long they will stay. A tenant will always want the best environment and location that they can find at the best price – value for money.
However, my view is that HMOs were and always will be a stepping stone in a persons way of living. Even if your house looks like the most amazing boutique hotel then it will still only be a stop gap for most people, especially the better paid and more ambitious type of person who aspires to renting or owning their own place. It is ultimately NOT aspirational to live for several years in a shared house.
When my tenants give me notice to move in with their other half, rent their own flat or purchase their first home I am always delighted for them, even though it leaves me with a gap to fill. The market between home/uni and having your own place was always the market I was targeting.
Ultimately, the newer and the higher quality your HMO is, then naturally the easier it will be to let and re-let in the future. However, don't ever assume that the more money you spend on a HMO achieving Instagram levels of design then the less tenant turnover you will have.
The quality of the accommodation has rarely been the reason that I have received notices from hundreds of tenants over the years. Interestingly, the less affluent of my professional tenants who find it harder to afford their own place are actually my longest staying tenants – several more than 5 years but this is the exception."
Therefore, in conclusion I think you should always expect to have HMO tenants for only a year on average. I do operate at lower levels of turnover than this personally and minimal voids but I am very service focused and provide value for money.
If you want much less turnover then the top end of the HMO market is not really the place to position yourself, and you must always be aware that voids are truly the biggest cost to a Landlord. You need to be confident that it adds up if you spend top dollar on your HMO conversion that you can manage inevitable tenant turnover and have the systems in place to have very few voids.
In my opinion, the key figure to be looking at is the price differential between a HMO room and a studio/1-bed flat in your particular area as this will also give you some indication of the likely tenant turnover in your HMO.
So far 50 people have liked that comment which shows that it resonates with many of us.
I particularly love this comment:
"When my tenants give me notice to move in with their other half, rent their own flat or purchase their first home I am always delighted for them, even though it leaves me with a gap to fill."
I posted to congratulate this landlord on a brilliant post that would be so helpful to the poster and to many others reading the discussion.
I too am very tenant focused and target the same market in my single lets, therefore I can say that I often get new tenants who have moved out of HMO rooms into my little houses (one bedroom), studios or flats (2 bedroom) and I am often told that the difference in cost is very little, particularly if they live alone and get the council tax discount. This confirms Landlord 1's comment:
"It is ultimately NOT aspirational to live for several years in a shared house."
A young, very successful landlord, also said that to me a few years ago. When the market becomes more competitive and rents are dropped all down the line, those tenants who are working may well decide to move up the property rental ladder, particularly those who will be working from home and need a degree of peace and those who have missed their partners and want to move into together.
We all need to keep a close eye on subtle changes like the reasons tenants give for moving out.
Landlord 2 posted this:
"Fb is full of happy clappers who will portray nothing but its all rosy even if it aint
The whole HMO market is saturated and supply of rooms far exceeds demand – rents are falling / voids periods are increasing and tenant dynamics has massively changed, foreigners have all gone home / professionals are far fewer – the brexit ****show coupled with covid is a huge double whammy that has truly created a tsunami of over supply.
R2R / SA operators are handing keys back and renaging on agreements with gaurantees meaning ****, hence owners being saddled with empty rooms, hence dropping rents just to get them let !
This is oxford and I should know bearing in mind I've probably got the largest owned HMO portfolio registered with the council and 29 yrs experience.
So tough to all the happy clapping brigade, reality is as above, thank **** I got minimal LtV so I'm cool – but anyone who is thinking HMOs is a good business to move into – you need your head testing
All imho – anyone offended then tough ****, no good going round the roundabout 10 times with BS – truth is truth, most welcome to contradict all – but that's the reality I see 24/7"
This is also resonating with many other landlords as they put likes on the comment, this is a "warts an' all" summary from a plain speaker and a very experienced HMO landlord
Brexit seems a world away now but obviously it will have an impact on the rental market, with landlords reporting a drop in enquiries from overseas tenants to add to the pain of Covid 19.
Landlord 3 said:
"We are about to enter a tenants market and the last ten years will go out of the window. Anyone could have made money renting during this time but that is all about to change as unemployment rockets, home working increases and supply outstrips demand because people don't recognise the signs and keep on developing more HMOs.
I guess you were hoping for actual honest figures but that's probably not going to happen on a Facebook discussion group
My opinion for what it worth – now is not the time to commit to guaranteeing rent and hoping to make a profit on HMOs of any variety"
I want to leave you with my favourite quote from this discussion from a young landlord, who sums up why I believe that I have survived several economic downturns since 1972, and in my opinion this is the best strategy for existing landlords to adopt. Stop moaning about your tenants being demanding, being unable to change a light bulb, being a couple of days late with the rent…. they are our customers and we need to work hard to keep them.
This won't make you a property millionaire in five minutes but it will help you to survive until the chaos has passed and we can clearly see the market of the future. He said:
"My plan short term is to hold what I have and manage them well – and look after my tenants because they are precious"