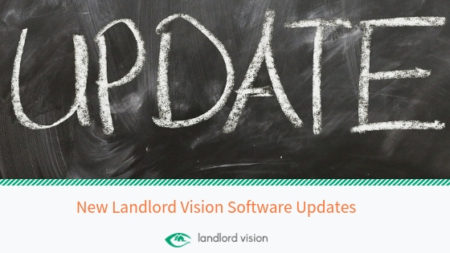 Our software has had yet more updates! Here you can learn about the latest features we've added to make using the software easier. Did your feedback make it into our latest round of updates? Find out here…
Assign a Single Expense to Many Properties in Landlord Vision
Do you have an expense for more than one property? Do you have a cleaner that you use for many units but you pay them a single lump sum? Does your insurance policy cover multiple properties? Now you can enter these into Landlord Vision more easily. When entering an expense, the Property Reference has been moved to the Expense Item line, allowing you to choose a different property with each line that you add.
Further, the Portfolio Cost tick-box is now an item in the Property Drop-down box and whatever you select will show up when you add a new line, for those occasions when you want to assign everything to the same building
Changes to Expense Items to Make Allocation Easier
The following changes have been made to the Chart of Accounts
*The Expense Item 'Survey Fees' is now 'Survey Fees – Mortgage' and is assigned to the 'Finance Costs' account
*The Expense Item 'Surveyor Fee' has been replaced with 'Survey Fees – Property Purchase' and is assigned to the 'Property Buying Costs' account
The intention is to help to clear up any confusion with where to allocate these expenses
Easier Allocation of Retained Deposits
If you have retained some or all of a tenant's deposit, it is now easier to assign that money to an invoice or expense.  Once you have recorded the amount held in the Deposit Scheme section, Landlord Vision will automatically create a credit note that you can allocate to either the unpaid rental or charge invoice which the deposit will cover
All of these features are up and available to use right now.  Just log into your Landlord Vision software to get started.  Remember, if you have an issue please don't hesitate to contact us through the help-desk (Help > Submit a Support Ticket).
If you want to suggest a new feature to make Landlord Vision work even better for you, head to Landlord Vision's User Echo page where you can leave new requests or vote on existing ones.
Read more software updates:
You Said it We Did it New Software Updates
You Said It We Did It User Requested Software Updates