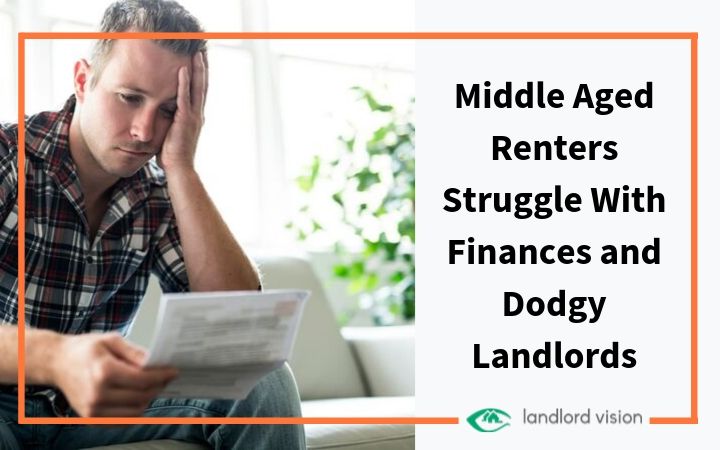 Generation Rent gets a lot of press. It's common knowledge that the younger "millennial" generation (25-34) are far less likely to own their own home. They can't afford to save up for a deposit and high property prices have put homeownership well out of their reach. But what the press rarely remarks upon is the increasing number of middle-aged people navigating the private rental sector. Who are these individuals and why are they having such a hard time?
Middle-aged renters don't often rent out of choice. Often, they end up in the private rental sector following a divorce, but some have never had the resources to own a home. Recent research has looked at the plight of middle-aged renters. Sadly, their experiences are not always that great.
Like Generation Rent, middle-aged renters sometimes have to deal with rogue landlords, poor rental accommodation, and being forced to move against their will. This makes it hard for them to put down roots and create a secure, comfortable life.
Interestingly, many middle-aged people are still struggling to pay their bills or manage their finances. Some were forced to ask family members to act as guarantors for their rent and others needed help saving for a rental deposit.
One of the key differences between middle-aged renters and millennials is that younger people believe their situation is temporary and one day, they will own their own home. Middle-aged renters, on the other hand, know all too well that homeownership is out of their grasp. Many of the people the researchers interviewed had lost all hope. They were sad and embarrassed to be living in rented accommodation at their age, but could see no way out.
Many were forced to live in shared housing, which was having a negative effect on their health and mental wellbeing. This is a big problem for divorced parents, as it meant they couldn't have their children to stay.
Living in rental housing is challenging for anyone, but for many millennials, it's a temporary lifestyle choice while they save up for a home deposit. For older people with children and pets, living rental housing is far more challenging. Landlords often refuse to take pets and short-term tenancies can play havoc with kids' schooling. Health issues are also a factor with many older tenants, especially when they have to share a property with other tenants.
Housing campaigners are calling for further reforms to protect tenants from rogue landlords.  They say there needs to be more investment in affordable housing, as well as political change to tackle social inequality that is the root cause of many housing-related issues.
Are you a middle-aged renter through choice or necessity? Tell us more about your experiences in the comments, or join us on Facebook and Twitter.
Read More Like This:
Zero Deposits an Introduction for Landlords
How to Spot a Potentially Dodgy Tenant
A Landlord's Guide to Pets in Rentals