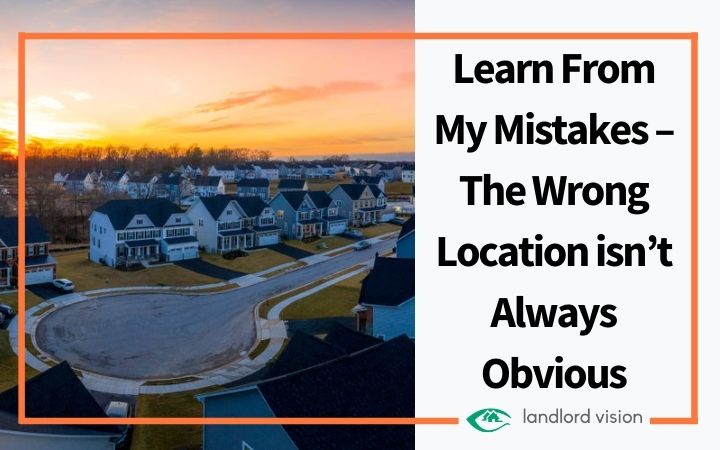 Since our distant ancestor searched for a cave in which to keep his family dry and safe we have known that the location of a place to call home is THE single most important consideration …. And yet mistakes happen because a T-Rex isn't standing in the entrance and sometimes we don't see the more subtle signs.
Great area, wrong road…
Small Cul-de-sac
A cul-de-sac is a road with an opening for entrance and exit at one end and a "turning circle" at the other end. They are of varying length but the ones that I want to talk about are the small cul-de-sacs, with no more than 12 properties forming a horseshoe shape.
Some years ago, I watched a disaster unfold when a colleague bought a house in a 1930's small cul-de-sac in Birmingham. The objective was to turn this substantial property into a 2 story HMO for 5 people by adding a small extension over the garage, as many other people had done in this road, and refurbishing the property as no doubt others had done. The trouble began from day one.
Problem – Where does one park a skip in a cul-de-sac? When you find the answer – how do they actually get a skip off the lorry into a cul-de-sac?
When these properties were built most families didn't own a car and those that did owned just one. Skip forward (pardon the pun) to the 21st century and most of the people living in the properties owned two or more cars, motorbikes, trailers …. Many front gardens had been sacrificed in order to gain off-road parking (can you spot the problem here?)
Problem Neighbours
People had "dibs" on their parking spots, neighbours who were trying to get on were courteous and visitors learned to park in the road before turning into the cu-de-sac. Even during the time when most people are out at work both sides, and yes, the turning circles are usually lined with vehicles and space must be left in front of the entrances to off-road parking. Getting a delivery vehicle of any size into a cul-de-sac is a triumph but don't try getting it out again. AND whatever happens do not leave residue of building materials in the road or on the pavement in front of your property otherwise an urgent email will be sent to the council explaining that there is a health and safety issue!
In a small cul-de-sac, privacy doesn't seem to exist, communication is often by body language, territories are marked by invisible lines and having road tax, insurance and an MOT doesn't give a person the legal right to park on the road where there are no parking restrictions nor openings to drives.
The story of the colleague who developed an HMO in a cul-de-sac just went from bad to worse, with time consuming arguments between contractors and neighbours on a regular basis and everything taking more effort and time than was usual. This was only the beginning. Can you imagine what greeted the tenants when they moved in?
Parking Problems
Three parking spaces had been created in the front garden and drive but despite having paid for the council to drop the curb people continued to park as they always had and often this caused arguments when the tenants couldn't get their cars off the drive.
Bin Problems
The big weekly event arrived – BIN DAY! No one had put the bins out in the "rented house" and this was the trigger for neighbours to write emails to the council sighting the rented property as the cause of the rodent infestation which had suddenly appeared in the cul-de-sac. In these days, a two story 5 person HMO did not need an HMO licence but it did need a Property Manager who would meet HMO Management Regulation including waste management. My colleague was self managing and was spending more time on this property than the rest of his portfolio.
Tenant Retention Problems
After losing several tenants who couldn't tolerate the interference of neighbours and constant parking issues, the landlord sold up. When we spoke about it we agreed that it was an easy mistake to make but one which should be avoided at all costs. HMOs in small cul-de-sacs didn't work. I have spoken about this when speaking at landlord events in the hope of preventing other landlords going through the stress and financial loss my colleague suffered.
Silly Me!
I spoke about the little houses I bought when I wanted to diversify my portfolio in my last article but what I didn't tell you is that I bought two of them in a cul-de-sac (Don't do as I do, do as I say…)
In my defence I did not plan to develop these properties, no more HMOs for me, they would be refurbished to a high standard inside and out and let to an individual or couple like the occupiers of the other small houses in the cul-de-sac. How could that possibly cause a problem?
To begin with I removed the front gardens to make plenty of off-street parking for both contractors, materials and subsequently for tenants and their visitors. Each house had off street parking for 3 cars. There were a few cars parked on the road and most owners parked on their own drives but I didn't want my tenants to cause issues.
Privacy Problem
I had removed a row of four conifers which were 2 metres high and took up a lot of space on one of the front drives. Removing these trees meant easy access to the front garden which I planned to turn into a tarmac parking area but at this point it would house the skip, which was delivered without disturbing any of the neighbours and would ensure that no rubbish escaped.
I got a call from my contractor to say that someone wanted to speak to me. I went to find the guy who lived in the property opposite mine waiting. He wasted no time telling me that I had "exposed him". (Keeping my face straight is easy for a landlord who has been into so many student bedrooms but I did not miss the opportunity of amusing my contractors). I replied, "I'm sorry I don't think that we have met and I'm not at all sure how I could have exposed you." All while looking at his belt. My contractors went to hide but my comment was lost on this man who was clearly determined to make a point. Cutting a long story short he was angry because, my removing the conifer hedge meant that he could see straight into my front garden and anyone standing in my front garden could see into his. Suffice it to say that I told him I would not object if he decided to plant a conifer hedge in the front of his garden to protect his privacy. He was rude, uppity and sexist but I have come across enough people like this in my life and they don't faze me at all.
My contractor told me that there had been an outside meeting of the "residents" and it was made obvious that they were talking about my property and probably about me. I was doing nothing wrong but alarm bells were ringing. As I said, silly me!
To be honest I didn't hear any more until the works were complete, the skip was gone and the finishing touches were being done. The drive was now nice new tarmac with a couple of pretty planters, the windows and doors were new as were the facia, soffit and guttering, the house looked lovely inside and out. My contractor was on his last day when he called me to the house again because the same man wanted to speak to me.
Problem – You won't guess what he wanted and I believe that this might go into the record books as one of the most ridiculous requests from a neighbour.
My contractor was fitting an external post box beside the front door. I no longer fit doors with letter boxes because they feel safer without. This was a smart brand new metal post box in a steel colour, about the size of a magazine. Mr. Uppity "told" my contractor to put the box on the side wall so that he couldn't see it if he looked at my house!! The contractor, who was following my instructions and also realised that the post man might miss the box if it wasn't visible, couldn't believe it. I took a deep breath, turned my back on Mr. Uppity and asked my contractor to put the box in the original place that we had agreed. I got back into my car and left. My contractor said that after opening and closing his mouth several times Mr. Uppity left too and the box was put in place.
It isn't over yet.
I go out of my way to get on with neighbours and my contractors know that I will pay them for little jobs that they do for neighbours as long as they do not interfere with what I have agreed with the contractor but they also know not to discuss me or my plans. Unfortunately someone let it slip that I intended to rent the property. Remember we're talking about renting to a single person or a couple to attract discerning tenants who pay their own rent.
Problem Mrs NextDoorButOne
I arrived at the house with my sister to do the final clean. I was inside the house when a lady who lives next-door-but-one asked my sister "Who are we getting for a neighbour?" My sister replied, "I have no idea, we don't own the houses either side of yours", she then came inside. We cleaned and as I was loading the car this lady called "We have got a right know who our neighbours are going to be" I told her that I always leave my tenants to tell neighbours as much or as little as they want about themselves out of respect for their privacy. She replied, "I'm not going to be spoken to like this, you and your sister think too much of yourselves". The irony wasn't lost on us, my sister and I had just spent a couple of hours cleaning up after the contractors, including the toilet!! We packed up and left.
This was all in 1998. The average tenancy in that house has been over four years and all of the tenants have been lovely and respectful, the guy who actually did live next door (he passed away last year) always got on with them and there was no neighbours on the other side, but it wasn't over for Mr Uppity nor Mrs NextDoorButOne.
A few years ago a young couple moved in while they saved for their wedding, this little house has had three couples who did this and I think of it as my happy house.
More Parking Problems
These tenants had a car each and he drove a medium sized van which he parked on the drive. The guy next door asked him if he would mind parking in the road because he couldn't see anything from his window when the van was there. My tenant parked in front of the house and …. Mr Uppity told him to stop parking in the road because it spoiled the look of the cul-de-sac. The tenant explained that the van was taxed, insured and MOT'd and therefore he was not breaking any law parking in front of the house he lived in, usually after dark and only overnight. Mr. Uppity was rude to him but my tenant wasn't concerned and only told me to check that he was doing the right thing.
On this one I took legal advice:
Making Problems Where None Exist
Mrs NextDoorButOne took to stopping the girl who lived at the house with her fiancé when she got out of her car. She wanted to know why they left the cat out in the rain. There is a cat flap and the cat could go in and out as she chose. The next time she wanted to know why they weren't feeding the cat who was skin and bones. I fed the cat when they were on holiday and Winnie was a healthy cat with a thick silky black coat. My tenant told her that the cat was healthy and had recently been to the vet for an injection. She wouldn't give up. The next time she told my tenant that she had called the RSPCA to report the condition of the cat. At this point my tenant (who was only 23) called her father to speak to this woman. Dad came, he was not happy to drive a 50 mile round trip after a day at work. He told Mrs NextDoorButOne that he was recording the conversation and if she did not stop harassing his daughter he would report it to the police. I heard the recording of that conversation but apparently she didn't listen because the RSPCA did visit, they found a healthy cat and asked Mrs.NextDoorButOne to stop wasting their time.
It didn't end there and my lovely tenants eventually moved out telling me in writing that the problem with this neighbour was the reason. I asked my solicitor to write and tell Mrs. NextDoorButOne not to speak to me or my tenants and not to enter my land at any time otherwise I would sue her for interfering with my business.
That last incident was about 5 years ago and she snarls at me when she sees me but it seems that the message has gone around because Mr. Uppity has planted conifers in his front garden and it's all gone very quiet since. All of these incidents were spread over 15 years but as they say "you couldn't make it up" and I certainly didn't imagine that even a single tenancy would be a problem in a small cul-de-sac.
I did say that I had bought two houses in this cul-de-sac, and I may write about the drama of the other one in future, including the joys of a shared drive, the cost of maintaining a useless piece of land and rear access!
I really love these little houses and so do those people who rent them from me, the return is great and I have no intention of selling them BUT would I choose to have on-going battles and bad feeling with neighbours? No, I would not.
Before you choose to buy a property in a small cul-de-sac, park your car there, get out and walk around the whole pavement – see how long it is before someone asks "are you looking for someone?" or "Can I help you?" which translates to "What are you doing on my territory?" You may not care but your tenants may and it's really annoying to lose good tenants because of difficult neighbours.
Read More Like This.