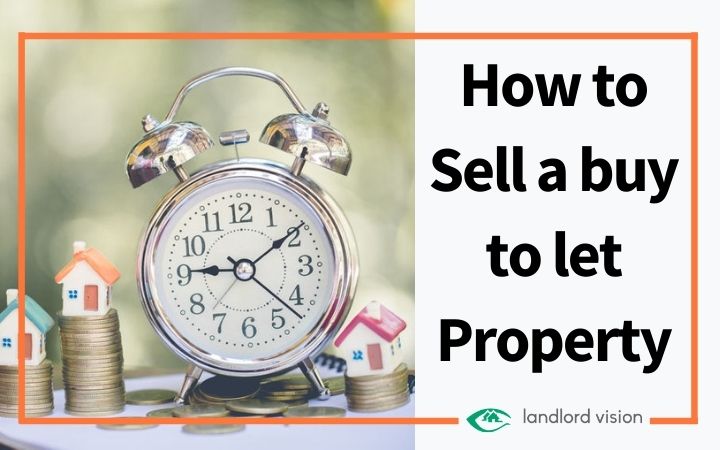 There will come a point when you want to sell one or all of your investment properties. This may be because you have decided to leave the sector, or you have a property that isn't performing as well as you'd hoped. Either way, finding a buyer gives you an opportunity to release your capital.
Now is a good time to sell a rental property. The market is booming after a brief hiatus during lockdown. According to figures from Nationwide, property prices rose by 5% in September, which is the fastest rate since 2016. This is hardly surprising as interest rates are extremely low right now. It's worth bearing in mind things could change as the economic impact of the pandemic continues to take its toll.
The pandemic has exerted pressure on the buy to let sector. A lot of tenants are now out of work and unable to pay the rent, which is having a knock on effect on landlords. If your tenants have fallen into arrears and your costs are mounting, it makes sense to sell the property to release some capital and eliminate outgoings. Before you stick a 'For Sale' sign outside, read the following guide.
Is now a Good Time to Sell?
It is a seller's market. In many areas, there is a shortage of suitable properties and those that do end up on the market are selling in around 27 days. If you are targeting buyers looking for a residential property, now is definitely a good time to sell. Of course, that may change if the property bubble bursts and unemployment figures rise.
Speak to a local agent if you're unsure of the current status of your local property market. They can advise you whether it is a good time to sell and how marketable your property will be. If the property is in an in-demand area, they might even have buyers on their books ready and waiting.
Selling a Vacant Property
Selling a property with vacant possession is always easier. Buyers are attracted to properties that are already vacant and not in a chain. There are fewer delays, and the buyer can move in quicker. If the property is already vacant, all you need to do is find an agent and start the ball rolling.
Evicting a Tenant to Sell a Property
Landlords can't just kick a tenant out if they decide to sell their property. There are laws to protect tenants from this type of arbitrary eviction and if you fall foul of the law, you won't be able to secure vacant possession. Evictions must be handled in the correct way.
Tenants have the right to remain in the property during a fixed term tenancy. You can't evict them unless they breach the terms of their tenancy agreement, e.g. they fall into rent arrears or cause property damage. If this is the case, use a Section 8 notice.
Once a fixed term is over, or if you activate a break clause in the tenancy agreement, you can serve a Section 21 notice. Bear in mind that there are still a lot of new rules and regulations surrounding evictions. Evictions currently take a lot longer and there are some restrictions around no fault or Section 21 evictions.
One option is to let the tenants know you wish to sell the property. Give them first refusal – if they have lived there for a long time and are in a position to buy, everyone's a winner. Remember, it's much easier to sell a property if you have co-operative tenants happy to allow viewings and willing to move out on time. Some tenants might be happy to move on if you give them enough notice.
Another option is to pay the tenants to leave. Offer to cover their removal costs or pay for their first month's rent in a new property. If you can come to some kind of deal, it might make it easier to secure vacant possession. Just remember to put any deal in writing, so the tenant can't take the money and decide to stay put.
Not all tenants can be evicted. Tenants on an assured or regulated tenancy have extra protection from eviction. Check what type of tenancy your tenant has before you start eviction proceedings.
Read the government's guide to evicting tenants for more information.
Selling a Property With a Tenant in Situ
Selling a tenanted property is going to be more difficult. Many landlords are cashing in their portfolios rather than looking for more properties. It might still be worth marketing a tenanted property. Professional landlords with larger portfolios may be interested in taking on a long-term, reliable tenant with rental income from day one.
The downside of selling a tenanted property, aside from a much smaller pool of buyers, is that in most cases, you won't achieve full market value for the property.
Speak to an estate agent that also handles lettings. They will have a lot of landlords on their books, some of whom might be interested in adding another property to their portfolio. If there's no interest, you can always consider evicting the tenant and selling the property with vacant possession.
Tax Implications
There are tax implications to think about when selling a buy to let property. Unlike when you sell your main residential home, you are liable for Capital Gains Tax (CGT) when you sell an investment property.
The current CGT basic rate is 18% for residential properties and 28% if your income is more than £50k a year. The first £12,300 of capital gains are tax-free because they are covered by the CGT allowance.
Some costs can be used to offset your CGT bill. These include conveyancing fees and estate agent costs.
Use this calculator to work out your estimated CGT bill.
Always seek professional advice if you need help with your tax affairs.
Mortgage Implications
If the property is mortgaged, check whether you are still locked into a fixed-rate deal. These mortgages usually come with hefty early repayment penalties, which can be as much as 5% of the outstanding balance.
Check the terms and conditions of your mortgage to find out whether you are liable for an early repayment penalty, and if so, how much.
It may be possible to port the mortgage to a new property, which is handy if you have plans to purchase something else with the proceeds of this sale. Again, check the T&Cs of your mortgage product to verify this, or speak to your lender.
It's also wise to ask your lender for a settlement figure, so you can determine how much will be left when you sell up.
Is the Property Ready to Market?
Before you put the property on the market, give it a once-over to see whether anything needs doing.
Would the property benefit from a lick of paint?
Is it worth replacing the carpets?
Are there any outstanding maintenance jobs that need doing?
Does the garden need sorting out?
Most rentals look rather tired at the end of a tenancy, which will probably put off a fair number of potential buyers. Whilst there are always a few people keen to find a competitively priced 'doer-upper' as a project, the vast majority want a home they can move into without spending a bucket load of cash on improvements.
It may not be realistic to replace an old kitchen or upgrade the bathroom, but small improvements like a coat of paint and a new carpet can make a big difference to the overall appeal of a property. This, in addition to being chain-free (if applicable), may make it easier to achieve a quick sale closer to the asking price.
Find an Agent
Selling via an agent is not compulsory, but it does make life easier. The agent you choose will firstly depend on whether you are selling a property with a tenant in situ. If you are, you need an experienced agent. Look for a combined estate and lettings agency. They are more likely to be familiar with the complexities of selling tenanted properties.
If you're not selling a tenanted property, in theory, any agent will do. It's useful to pick an agent with local knowledge.
Invite 3-4 agents around to offer a valuation. You can either price the property low to attract a lot of interest or go higher and be prepared to wait longer for a buyer. Be wary of the agent who promises you the moon and stars on a stick. Do your own research into local property prices. You can then judge whether they are being overly optimistic about the proposed selling price.
Unless you're prepared to be present for viewings, check whether the agent is willing to handle viewings as part of the deal. Online marketing is also essential, as most people use sites like Zoopla and Rightmove to find properties these days.
Estate agents either charge a fixed fee or a percentage of the sale price. Online agents tend to be cheaper, but they don't always offer the same value for money, as this research study found out. High street agents provide a more personal service, are better at validating potential buyers, and can work with you throughout the conveyancing process to chase up solicitors and move things along faster. High street agents are often more proactive and can help sellers achieve a better price.
Before you go with an agent, read their terms and conditions to verify exactly what's included in the price. Check whether things like premium online listings are included or additional costs. Finally, read customer reviews to make sure the service on offer is up to scratch.
Look for a Conveyancing Solicitor
In theory, all conveyancing solicitors offer the same service and the only difference is the price you pay for that service. In practice, some conveyancing solicitors are much better than others – by a country mile!
The solicitor you choose will firstly depend on whether you are selling a tenanted property. If so, look for a solicitor with ample experience in this area, as there are many unique complexities to deal with. If not, any conveyancing solicitor will do, but life will be a lot easier and less stressful if you choose someone proactive and easily contactable.
Many larger firms of conveyancing solicitors these days offer an online-only service. This means all paperwork is dealt with via email and contracts are signed and posted. This saves time and speeds things up, as you don't need to visit the solicitor's office. In practice, it often means solicitors are dealing with heavy caseloads and may sometimes ignore your emails or phone calls if they are not deemed urgent.
It's sometimes a lot less stressful to appoint a local conveyancing solicitor, as it means you can visit the office in person if you feel the solicitor is fobbing you off. It's also worth considering the estate agent's in-house conveyancing service if you want an easy life. The downside is that they tend to be more expensive.
The takeaway here is: choose your conveyancing solicitor wisely. A good solicitor can get the job done with the minimum amount of stress. An overworked or incompetent solicitor will probably cause you more stress.
Property Viewings
Property viewings are all part and parcel of selling a property. As a landlord, you are not actually living in the property, so it's handy if the agent can organise viewings for you. This saves you from making endless trips to meet buyers and give them the sales spiel.
Organising viewings for a tenanted property is more difficult. Tenants have a right to quiet enjoyment, which means your agent can't send people round at their convenience. A minimum of 24-hours' notice must be given before a viewing. If your tenant is comfortable with having random people in their home, all is good, but some tenants might not be happy about it.
It's worth considering whether the tenant and their living habits might be off-putting to potential investors. Speak to them nicely and encourage them to tidy up and air the place before viewings. Remember, the more unappealing the place is, the harder it will be to find an investor to take on your tenant. Most landlords looking for a tenanted property are seasoned professionals and have seen it all before, but it doesn't mean they will want to buy a property with a tenant that looks like trouble, even with a decent set of references and a spotless credit history.
Buyers and Offers
Decent estate agents will screen any offers and potential buyers before passing them on. Listen to your agent when they tell you an offer is worth serious consideration. Use your best judgement here. It's OK to negotiate, but don't be too greedy. A slightly lower offer from a buyer with no chain behind them is often worth more than a higher offer from a buyer who is locked in a chain.
In England, sellers can pull out of an agreed sale if a better offer comes along. This is known as gazumping. It isn't a nice practice, and the universe will frown on you if you ditch your deal with one buyer in favour of another who offers more money, but until contracts are signed, both parties cannot be held to a verbal agreement. This is not the case in Scotland, so bear that in mind.
Completion Day
Completion day is when you get to skip off into the sunset without looking back. Monies are transferred and keys are handed over. In the case of a tenanted property, the deposit is transferred to the new landlord.
Remember to take meter readings so you can close off any energy accounts (if applicable). This saves the hassle of estimated bills.
Wait for a call from your solicitor before you drop the keys off at the agent. They will let you know when the money from your buyer has been received.
Are you planning to sell any of your rental properties this year? Or have you sold up in the last 12 months? Tell us more about your experiences. You can get in touch via Twitter or Facebook.
Read More Like This.