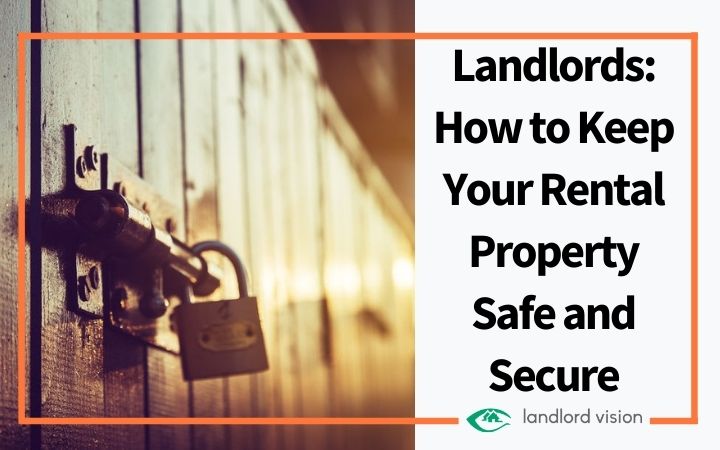 A rental property is a big investment. Data from July shows the average cost of a property in the UK is £237,963, and it's likely risen since then thanks to a post-lockdown buying frenzy. If you're spending upwards of £200k on an investment property, it makes sense to look after it. You wouldn't leave your own home unsecured, so why would you leave a rental property unsecured?
Unlike cars, properties can't be stolen. Bad luck, poor decision making, and a series of unfortunate events can lead to many expensive problems if you're not careful. Ensuring your rental properties are safe and secure can help you avoid most issues.
Tenants also have a basic right to expect a rental property to be safe and secure, as per the Homes (Fitness for Habitation) Act 2018. If a landlord does not take appropriate steps to ensure their rental property is safe and secure, they can be prosecuted.
Read on for some helpful advice.
Doors and Windows
Basic property security begins with doors and windows. If doors and windows are old with inadequate locks or in the case of windows, no locks at all, it won't be difficult for intruders to find a way in. Even if a property is empty, this represents a huge problem. Empty properties attract people looking for a place to squat and worse.
Doors
Wooden doors should have a 5-lever mortice lock. Fit one that is BS3261 approved, as this has been tested against drilling and other common burglary techniques. Non BS3261 locks are only tested by the manufacturer, so are less secure.
A 5-lever mortice deadlock can be opened with a key from both sides and is fitted inside the door rather than externally. Look for a stamp saying '5-lever' on the faceplate of the lock. Note that 3-lever locks are less secure and not recommended.
The other type of look often used on wooden doors is an automatic rim cylinder deadlatch, also known as a nightlatch. This locks the door automatically when it closes but can be opened using a key from both sides. Deadlatches offer an extra layer of security when a 5-lever mortice lock is fitted.
Modern UPVC and composite external doors usually have multipoint locks. This type of lock is also found on UPVC patio doors and French windows. Multi-point locks have a cylinder with three or five bolts that slot into the door frame when the lock is engaged. 5-point locking doors are the most secure, as it's harder to force the door. Look for multipoint locks with a TS 007 rating.
Door Locks for HMOs
HMOs need a different type of lock. Main entrance doors must not have a key lock operated from the inside as well as the outside, or tenants could end up being locked out. Fit rim cylinder night latches with turn knobs on the inside. This ensures doors lock automatically when closed but can be opened easily from the inside if a tenant has no key, such as in the event of a fire.
Fit a security grill over glazed panels and letterboxes, to prevent someone reaching in to turn the knob and open the door. Multipoint locking doors with automatic door closers are more secure.
A registered key system is essential for HMOs, to prevent tenants from duplicating keys without the landlord's knowledge. This type of system often utilises keys that open multiple doors, for example, one key for both a front door and a back door. Providing one key as opposed to several keys makes everyone's life easier.
A multi-occupant HMO with individual tenancy agreements where each tenant rents a room but has access to shared areas should have bedroom doors fitted with rim cylinder night latch locks. In a shared house with a single tenancy agreement where each tenant has the right to access all areas, locks on bedroom doors are not required. Landlords can give tenants permission to put locks on doors if required.
Lock Bumping
Locks installed prior to 2008 are vulnerable to a common burglary method known as 'lock bumping'. Thieves use master keys and gently 'bump' the key in the lock to align the pins inside the lock cylinder. This will compromise even a strong deadbolt and is a particular problem on many modern housing estates where the developer has fitted the same cylinder lock on all doors.
The problem with lock bumping is that it leaves no trace. A property can be burgled with no sign of forced entry, which will cause problems when you need to make an insurance claim. Police and insurers are aware of the issue, but it's an extra headache you and your tenants don't need.
Security Ratings
Doors and locking hardware certified to PAS 24 – the standard for lock security – are resistant to lock bumping. Look for this Kitemark on the lock cylinder and key. Many multipoint locking doors are protected against this type of intrusion.
TS007 is another security standard that indicates a lock has been tested against all known methods of intrusion, including lock bumping and lock snapping.
TS621:2018 is the current standard for smart locking doors.
BS7950 relates to window security.
This document has more information about lock security standards.
If your doors were installed prior to 2008, they need checking. Doors installed between 2008 and 2012 should be checked too. Sub-standard lock hardware can be replaced by a locksmith.
Be particularly vigilant with internal bedroom doors in HMOs. HMOs may have a higher number of visitors making it more at risk of strangers entering the property. To protect against this, bedroom doors must be resistant to lock bumping.
You can learn more about lock bumping here.
Note: always use a master locksmith to modify existing locks or fit new ones. A DIY installation could invalidate the hardware warranty and your insurance by extension.
Windows
Windows are a vulnerable area of any property, especially ground floor windows. Modern UPVC windows usually come with key locks. Make sure keys are available for windows when the property is let and remind tenants to keep accessible windows locked when they are not in the property and at night. Any window on the ground floor or easily accessible via a flat roof or shed is a security risk.
If the property has older wooden windows, specifically sash windows, fit some locks. There are many different types of lock available, including window latches and lockable sash stops. If in doubt, consult a locksmith.
Consider upgrading to modern UPVC windows if the current windows are in poor condition or are single glazed. Not only will the new windows be more secure, but the property's energy efficiency will be much improved, too.
If you do upgrade to new windows, make sure the installer provides a FENSA certificate (which stands for Fenestration Self-Assessment Scheme). This proves the products installed are compliant with Building Regulations.
Exterior Lighting
If there's one thing burglars and vandals hate more than anything, it's light. Installing security lights around a property is basic stuff. You can pick up motion sensor lights from any DIY store. Fit LED lights, as they last longer. Make sure they don't point directly into a neighbour's bedroom window if you install lights at the rear of the property.
As well as keeping a property safe from intruders, exterior lighting also helps tenants feel safe. Fit lights in dark areas, such as near the bins or around a garage. The aim is to prevent any lighting dead-zones, where tenants might feel vulnerable if they work shifts and come home alone late at night.
Ask your tenants for feedback if you are fitting new exterior lights. Check with them to see where they feel more lighting is needed.
CCTV
A full-blown CCTV system might be a bit overkill for a small residential property, but if you manage large HMOs, it can be a useful investment. CCTV systems let residents verify visitors before letting them access the building. CCTV cameras can also monitor communal areas, to prevent petty vandalism and other antisocial behaviour problems.
With a CCTV system in place, you have evidence if needed in the event of a break-in. Be careful if considering the use of CCTV, your tenants have a right to quiet enjoyment of their rental property. You want them to feel safe and secure and not to breach their rights. Take advice on fitting this kind of system to make sure you aren't in breach of any rules.
Security Cameras
Home security cameras can be picked up from DIY stores and online retailers such as Amazon. Cameras are useful for monitoring front and rear entrances, gardens, sheds, bike stores, driveways, and garages. They act as a good deterrent, but if there is an incident, you can hand over the footage to the police, which might facilitate an arrest and conviction.
Security cameras usually connect to a home's Wi-Fi network. Digital footage is recorded live and uploaded to a cloud server. Alerts can be set up, which are sent to a remote device, such as a smartphone. This is handy if the property is empty and you don't live nearby. You'll know if there is someone at the property and can take appropriate action.
If you buy an outdoor camera, look for a device that can withstand all weather conditions. The device should have a video resolution of 1080p, or images will be too grainy. Make sure the camera has a good field of vision and can capture night video footage. Most cameras are motion sensitive, so they won't record anything unless there is movement. It's also worth buying a camera with sound detection capability, so you or the tenant can check if someone is there but out of range of the camera.
As in the previous point be careful if considering the use of Cameras, your tenants have a right to quiet enjoyment of their rental property. You want them to feel safe and secure and not to breach their rights. Take advice on fitting this kind of system to make sure you aren't in breach of any rules.
Video Doorbells
Video doorbells are another useful home security gadget. They can be used by tenants to monitor visitors in shared houses and HMOs and will provide an extra layer of security for nervous or vulnerable tenants. It's also useful if a property is empty and you want to monitor visitors.
Choose from wireless or wired models. Wireless video doorbells are a DIY install, but because they rely on batteries, they are less reliable as batteries deplete fairly quickly. If you have an existing wired doorbell, upgrading to a wired video doorbell won't be difficult – you'll just need to connect the wires to the new device.
Features to look out for include high-definition video, motion sensitive camera, cloud storage of digital footage, and whether the device works with smart devices such as Alexa and Google voice. Colour night vision and facial recognition software are also useful, so you can avoid recording footage of dogs and cars. The latest devices have a pre-buffer feature that records images prior to the person activating the doorbell.
Video doorbells offer many crossover features with home security cameras, but the latter won't tell you when someone is at the door. So, if a tenant is out in the garden and someone presses the doorbell, at least they'll have fair warning.
Security System
A home security system offers the full package. It can be a useful selling point for high-end properties and any property in a less reputable area where crime rates are higher than average. Home security systems also offer peace of mind for nervous tenants and landlords whose properties are empty for extended periods.
The home tech market offers some excellent DIY security systems these days, many of which are pretty easy to install. They typically include cameras, motion detector sensors, sirens, smart technology integration, user apps, and add-on components.
If you want a fairly basic system, opt for a DIY home security kit you can customise and add to as your needs change. Most are user monitored but some also offer a professional monitoring service. Remote third-party monitoring is an additional component worth considering if the property is empty for extended periods. This is typically offered as a subscription service.
Professional home security systems include high-end components and 24/7 monitoring. You get what you pay for here, with all kinds of cool extras, such as glass break technology and smart integrations. The downside is the cost, which can be significantly higher, as well as contracts that typically lock the user in for extended periods. If you want a bespoke system suitable for a high-end property, a professional home security system installed by a security firm is a must-have.
Professional systems are better for shared houses and HMOs. The landlord will have the master access code and tenants are given their own access codes, which can be changed when a tenant moves out. Obviously, tenants will need to be instructed on how to use the system, as improper or non-use renders it worthless to both the tenant and the landlord.
Property Inventory
A property inventory documents everything the property contains, as well as its condition. A full inventory check should be carried out at the start and end of a tenancy.
Include photos and videos with written descriptions for the sake of thoroughness. The more evidence you have, the easier it will be to log an insurance claim or win a dispute if there is any damage or if any items are stolen.
Make sure the tenant has a copy of the property inventory and signs it to show they are happy with the contents. Keep your own master copy somewhere safe. Note that landlord software can help you manage things such as a property inventory, which is handy if you have several properties in your portfolio.
Tenant Screening
Effective tenant screening is a critical factor in keeping your rental property safe and secure.
Professional tenant screening services will check things like credit history, employment references, previous landlord references, etc., but it is worth conducting your own checks too.
Listen to your gut when interviewing tenants. If something feels 'off', dig a little deeper. Remember you cannot and should not discriminate against tenants on grounds of religion, sexuality, gender, nationality etc.

Safety Checks
Landlords must conduct regular safety checks. Gas appliances should be tested by a Gas Safe engineer once a year, and a gas certificate issued to tenants. Electrical Safety Standards in the Private Rented Sector (England) Regulations 2020 require electrics to be tested once every five years and a copy of the report issued to the tenant. Portable appliances should also be tested by a qualified electrician. It is advisable to regularly check fire alarms and CO alarms, to ensure they are working properly since tenants may disable them or fail to let you know when batteries die (if applicable).
More rigorous safety standards apply to HMOs, so make sure you understand your statutory obligations. For more information on fire safety in HMOs, read this guide.
A failure to fulfil your landlord obligations with regard to gas, electrical, and fire safety could lead to serious injury, loss of life, and the destruction of your property. None of these outcomes is desirable.
Routine Maintenance
Routine maintenance can go a long way to ensuring your rental properties remain safe and secure. Be vigilant for issues like broken perimeter fencing, badly fitting windows and doors, missing roof tiles, cracked gutters, blocked drains, and anything else that might cause long-term and expensive damage or security issues for your tenant.
Carrying out maintenance tasks such as replacing broken furniture and sweeping the chimney is all part of being a responsible landlord.
Ask tenants to notify you if things need fixing and don't delay if they do. The quicker off the mark you are when there are issues, the happier your tenant will be, and more likely they are to take good care of the property.
Landlord Insurance
A rental property is a huge asset, so it makes sense to protect it. Landlord insurance protects your property from damage caused by Acts of God, inclement weather and other perils. Work with an experienced insurance broker to find the most appropriate insurance policy for your needs. They can compare a huge range of policies, many of which will only be available via intermediaries.
Remember, the cheapest policy is not necessarily the best one. Don't be too frugal with your coverage needs, either. Being underinsured won't be much of a comfort when you need to make a claim.

That's it, folks!
We hope you have found this guide to rental property safety and security useful. As always, if you think we need to include anything or have comments, get in touch via Facebook or Twitter. We'd love to hear from you!
Read More Like This.