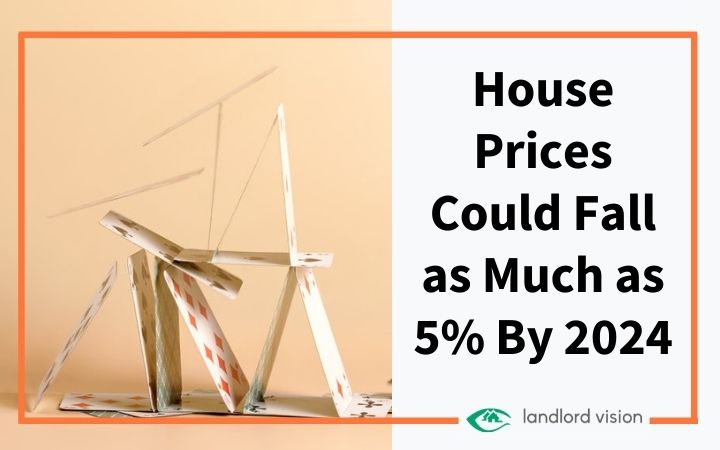 House prices could be set to fall by as much as 5 percent over the next two years as inflation and rising interest rates begin to take their toll. Capital Economics, a leading independent economic research firm, is now forecasting that house prices will l drop by 4 percent overall by the end of 2024. In contrast to recent reports by Knight Frank and Halifax, which suggest that prices could rise by a more moderate 0-2 percent in 2023, Capital Economics now expects house prices to fall by 3 percent in 2023 and a further 1.8 percent in 2024.
House prices are set to face a number of key headwinds over the coming 12 months. The Russian-Ukrainian war has drastically increased commodity prices, driving up import costs and fuelling more persistent and aggressive inflation than was initially expected. The Consumer Price Index (CPI) is now forecast to reach a 40-year high of 10 percent in October this year. Capital Economics expects that this will force the Bank of England to increase the base rate from its current level of 0.75 percent to 3 percent by 2023. At the same time, real household disposable income may fall by as much as 3.3 percent.
Capital Economics suggests that borrowers could see the sharpest rise in mortgage rates since 1990, as lenders respond to the Bank of England increasing the base rate. A higher base rate makes it more expensive for banks to borrow money, forcing lenders to pass the additional costs onto their customers to remain profitable.
Andrew Wishart, the senior economist at Capital Economics, said: "Lenders have been slow to pass on rising interest rates so far, so we expect a sharp rise in mortgage rates in the months ahead. For example, some banks are offering 60 percent loan to value (LTV) mortgages at 2.2 percent, in line with the two-year interest swap rate. If the bank rate was to rise as expected by financial markets, lenders would make no profit on such loans so it is inevitable that rates will rise further."
Not only will borrowers face higher rates when they take out loans, but they may also find it more difficult to pass the affordability tests for mortgages when they do. Many lenders are beginning to factor the rising cost of living into their affordability metrics, reducing the amount that customers may be able to borrow.
Nicholas Mendes, mortgage technical manager at broker John Charcol, said: 'Consumers' borrowing power is likely to wane as lenders take into account the extra costs associated with the current environment. 'With several lenders, affordability is based on income rather than considerations in the costs of living. But as the costs continue to escalate, we could see lenders exercise caution and start to consider other factors to ensure the mortgage remains affordable.'
The first signs of slowing house price growth are beginning to become evident. Fewer people are visiting property websites and shopping for new properties. Although a lack of supply is continuing to support house prices at the moment, the latest RICS housing survey highlights concern around growing macroeconomic headwinds and their impact on demand.
Whilst rising interest rates and falling disposable incomes may cause prices to fall over the next couple of years, it is unlikely that there will be a repeat of previous market crashes, where prices fell by as much as 20 percent in 2007 and 1990. That being said, the current average price-to-earnings ratio – an important measure of house price affordability – is almost at the same level as it was in 2007. However, even if mortgage rates were to rise to 3.6 percent, as Capital Economics predicts, this will still fall well short of the 6 percent rates that borrowers faced in 2007. Meaning that although prices are currently high, the cost of mortgages will be less burdensome than during previous crashes. What is more, inflation is helping to drive up wage growth, which will help to increase earnings and mitigate the current price-to-earnings ratio.
References
Capital Economics Limited, 2022. House prices will fall in 2023 and 2024. [Online]
Available at: https://www.capitaleconomics.com/publications/uk-housing/uk-housing-market-update/house-prices-will-fall-in-2023-and-2024/
Knight Frank, 2022. New Knight Frank forecasts for UK house prices and rents. [Online]
Available at: https://www.knightfrank.com/research/article/2022-04-13-new-knight-frank-forecasts-for-uk-house-prices-and-rents
Royal Institue of Chartered Surveyors (RICS), 2022. UK Residential Market Survey: March 2022. [Online]
Available at: https://www.rics.org/globalassets/rics-website/media/knowledge/research/market-surveys/uk-residential-market-surveys/3._web_-march_2022_rics_uk_residential_market_survey_tp.pdf
Disclaimer: This Landlord Vision blog post is produced for general guidance only, and professional advice should be sought before any decision is made. Nothing in this post should be construed as the giving of advice. Individual circumstances can vary and therefore no responsibility can be accepted by the contributors or the publisher, Landlord Vision Ltd, for any action taken, or any decision made to refrain from action, by any readers of this post. All rights reserved. No part of this post may be reproduced or transmitted in any form or by any means. To the fullest extent permitted by law, the contributors and Landlord Vision do not accept liability for any direct, indirect, special, consequential or other losses or damages of whatsoever kind arising from using this post.  
Read More Like This.