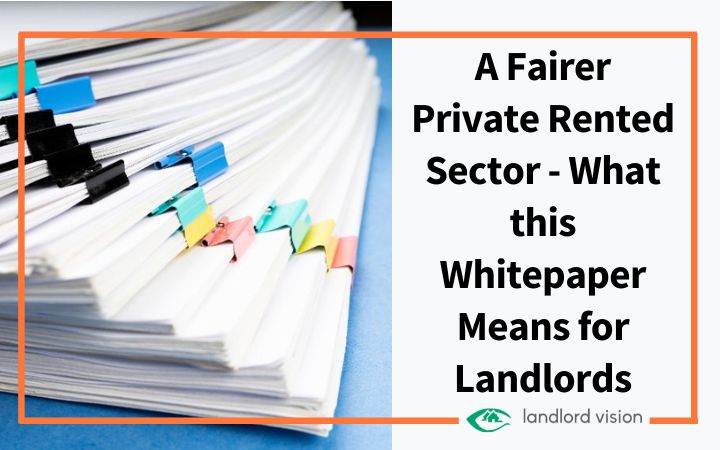 This White Paper starts the process for new legislation leading to consultation and the publication of a Bill that will go through the Houses of Commons and Lords before receiving Royal Assent. In other words, it will be some time before we see any changes and there is still time to make our MPs aware of any concerns that we might have – and we should do this if we have any chance of actually seeing a "Fairer" PRS, rather than a PRS in which good landlords are despondent and considering leaving the sector.
You'll find the new whitepaper here:
A fairer private rented sector – GOV.UK (www.gov.uk)
There is no doubt that some of the proposals will have a major impact on private landlords but there is one sector that will be turned on its head – The student accommodation let by private landlords. Purpose Built Student Accommodation (PBSA) and university-owned accommodation are exempt from the major changes. I am going to look at the student market first. Remember anything which impacts on one area of private renting has the potential to cause a domino effect as property owners look for alternative occupiers.
To summarise the way in which the student market works in most parts of England:
Most first-year students live in university or PBSA because they book their accommodation before coming to university and often don't know the area or have been offered a place late in the day.
Year two is usually spent in private rented accommodation so that they can escape and enjoy the freedom of living in a house share with like-minded people and no "mum and dad" figures to tell them what they can and cannot do. This is seen by most people as an essential part of the student experience.
If they are on a 'three year on campus' course the third year is often a short year of exams and dissertations – in other words, the reality of hard work. For this reason, some students go back onto campus and get their heads down. Others see this as their last year of freedom and remain in privately rented shared houses until they eventually leave university.
Those who have longer periods of study often settle down with housemates for the whole term of their course and if they are happy in a particular property they won't leave until their university days have come to an end.
Depending on the area there is usually a mass movement of students moving out and in at a predictable time of the year – typically the end of June.
The last thing most students (and their parents) want is to haul all their belongings home every summer and in fact, many students don't want to haul themselves home either preferring to remain in their shared houses and work or play according to their needs.
Although this is often a chaotic few days it works, and has worked for many years now because everyone knows, including students, parents, landlords, cleaners, letting agents etc., that they are a cog in the wheel, and in order to keep the wheel moving as it must they must move when they must.
I have been letting to students since 1972 and in those days, students would begin looking for accommodation for the coming academic year at Easter. We had no mobile phones nor internet and it was vital that everyone understood how the system worked if all the students who needed accommodation were going to get signed up so that they knew that they had somewhere to live and when they were going to move. Most houses were let in the first couple of weeks of the Easter break and the students went home for the next two weeks. When they came back all the documents were finalised – end of story until the end of June which was similar to now.
Over the years students have looked for their accommodation earlier and earlier in the year until now when they begin looking soon after the start of term, in November, in the hope of snapping up the best accommodation which is closest to the best social life and the university. This is probably not the best practice for landlords, groups often break up before the new tenancy is due to begin and this causes landlords extra expense, work and worry but we are in the hands of the market trend and accommodate the wants of our customers.
What we end up with is joint tenancies which are agreed and signed in December/January/February to begin on 1st July (this differs in some areas and might be 1st August or even later) and end on the last day of July (this can also differ in some areas). Typically, students are asked to leave university accommodation and that of PBSA by the last day of June and it works very well that they can move their belongings, and themselves, straight into their new digs with no storage or homeless problems.
What could possibly go wrong?
Landlords could not know what date existing students will end their contract and move out until 2 months before they actually want to leave this could be as late as the end of April.
Students could go through their end-of-term exams with the worry that they haven't got accommodation for the following year settled or have to make time to view properties.
Students could be prevented from planning and booking a summer of travelling because they don't know when they can leave or when they need to get back because their accommodation hasn't been settled.
Final year students could decide to stay on for a few weeks into the summer break which means that the new groups could not move in until into the holidays – where will they store their belongings/live in the meantime? Landlords won't be able to offer them a tenancy for the 1st July and may not know what start date they can actually offer.
Overseas students could be prevented from traveling home because their accommodation for next year hasn't been settled and they have nowhere to leave their belongings.
New overseas students who haven't been offered accommodation by the university or PBSA will be left until the last minute to settle their accommodation.
Overseas students without a UK guarantor will not be offered accommodation in the PRS.
Landlords could be left with empty properties when term begins and possibly for up to a year.
Why would any of that happen?
Changes detailed in the White Paper will cause the following changes:
Every tenancy will be a monthly rolling contract with the tenant being able to give 2 months' notice at any time.
New contracts cannot be signed with a start date until the present students give notice.
Students who have finished their exams could want to leave months earlier and if they all agree that would leave the landlord with an empty property until at least the start of July. The problem becomes worse when there is a joint tenancy and some of them want to exercise their right to give notice and others do not – Does that end the tenancy for all of them? Do those who want to stay become responsible for the rent for the whole property? At the moment those who want to leave remain responsible for their own rent but if they have given two months' notice, they will have legally ended their tenancy and thus their liability – does that mean that the landlord will lose the rent from that person?
Students who are living in an area which they would like time to explore or use as a base may stay into the summer months by giving 2 months' notice past the end of the academic year.
When there isn't a fixed-term contract, we probably will not be able to take more than 2 months' rent in advance because anything other than the rent which is due is classed as a deposit, and deposits are capped at 5 weeks' rent. This will impact those who haven't got a UK home-owning guarantor like overseas students and some UK students
Outside of the student market
Much of the above will apply to other markets to a greater or lesser extent certainly those who cannot prove affordability and who traditionally pay rent in advance will be in a very difficult position.
Landlords will need to manage our risk much better than we have in the past because when we have no Section 21 to rely on our only option to remove a bad tenant will be section 8 with proven grounds. I don't see this as a problem for rent, as long as we keep immaculate records, but for Anti-Social Behaviour/property damage, it will be very difficult to make a case because private landlords haven't got access to information that social landlords can use and if we can only remove a tenant for ABS when they have been prosecuted, as is suggested in the White paper, it's likely that we will lose any other tenants in the property and become embroiled in some difficult conversations with neighbours.
Pets, children, and Benefit Claimants
If you had no understanding of the way that the private rented sector works you might be forgiven for saying that landlords should be forced to accept tenants with children and/or pets and/or those on benefits.
The reality is that if landlords were forced to take tenants which are perceived as high-risk while being prevented from taking larger deposits and evicting those who turn out to be bad tenants, they will leave the business. Not only that, but Lenders will also become nervous and may either stop lending or increase the cost of borrowing. None of this is going to help tenants because it will reduce the number of properties available to them when there is already a shortage in most areas.
The government has said that they will amend the Tenant Fees Act to enable us to ask tenants with pets to take out insurance to cover any damage they may make to a property – that's a step in the right direction and will certainly encourage those of us who always accepted pets when we could take the extra deposit.
I realise that some landlords enter the business with prejudice against some tenant types – those mentioned above in particular – they listen to tales of woe from other landlords and make their minds up that they won't be caught out, this is when they make a decision not to accept these tenant types.
If I had a magic formula for choosing the perfect tenant, I promise I would share it. There isn't a good or bad tenant group. I've had families with several children who have left my properties in better order than some adult-only tenants. I have had people with pets who have left my properties in better order than those with no pets. I have had "suited and booted" executive tenants who have left me with enormous damage.
I will share a story to illustrate my point
Mr. VerySeniorExecutive had left his wife and came looking like a Harvey Nichols shop dummy. He explained that he wanted to rent for 2 years while the divorce went through and during that time his son and daughter would visit at weekends and occasional other times – hence he needed a three-bedroomed flat. Everything came back clean, affordability, character references (he hadn't rented before), credit reference etc.
The flat had laminate flooring throughout. Two bathrooms one with a bath and the other with a shower. I let it fully furnished. When I visited it was clear that he wasn't a chef, and the kitchen wasn't being used much at all. The rest of the flat was fine, he wasn't a cleaner either but …
At the end of the two-year tenancy where he had paid on the nail and in full, hadn't reported any issues, and had cooperated with inspections/safety checks, etc. I went to the flat, he had already moved out, and said to let him know if there were any issues which he needed to sort out. Happy landlord? No.
His son had a set of drums that were used in the living room and when the drum kit was removed the top of the laminate was stripped completely. In the middle of the floor of course so no hope of having it patched even if I could find the matching laminate – which I couldn't. I ended up with a floor in that room which didn't match the rest of this lovely flat and I really loathe things which don't match. It wasn't the end of the world and there was certainly no intention to cause damage by the tenant, but I was very disappointed in my "perfect tenant"
In the bathroom, I found that the bath plug had been left in the plughole and when I pulled it out the smell almost knocked me backwards. I'm not going to describe the process of cleaning it; my trusty bottle of coke cleared the blockage but the products which he had been using to clear it had completely eaten away the whole fitting and left a leak with a puddle under the bath. This reminded me that I prefer a tenant who complains too much to a tenant who allows issues to build up and become a major expense.
I'm sure you see the point of this story. The perfect tenant comes in many shapes and sizes and it's not always the ones who you avoid who would be a bed tenant nor the ones which you welcome which will make good ones.
Having said this, the whitepaper is not suggesting that any landlord MUST take any particular tenant or tenant type. For those with pets, we are being asked to consider them rather than have a blanket 'no pets policy' and enabling us to cover our risk with pet insurance for which the tenant will pay. We are being asked to accept them unless we have a good reason to refuse.
We are not being FORCED to take families nor people in receipt of benefits we are being told that we must not state that we don't take these tenant types when we advertise. We will still have the final decision on who lives in our properties and certainly must be responsible and only take those tenants who can afford to pay the rent regardless of the source of their income.
This whitepaper is only the beginning of the biggest changes to legislation that I have seen since the 2004 Housing Act. There will be a lot of consultation and it's important that landlords take the time to reply. There will be a draft bill that will have a lot of details, but which must pass through both houses before it receives royal assent and is enacted. We may well be looking at a couple of years or more before this becomes legislation and we all need to keep ourselves informed of the progress so that we can make sound business decisions rather than knee-jerk reactions like leaving the sector as many are suggesting. The landlord-tenant relationship needed more balance and we must hope that it doesn't end up penalising good landlords or our good tenants.
Read More Like This: