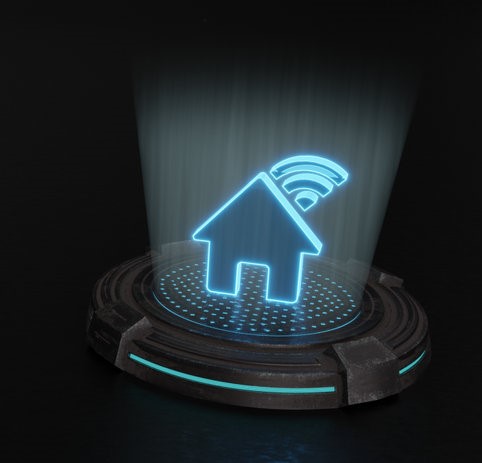 Traditionally, if you were to discuss the infrastructure which connects a property to the outside world, you would think of roads, bus routes, rail links and so forth. Yet, with the not-so-recent advent of the digital world, internet connectivity is the primary piece of infrastructure connecting a property to those around it and much further afield.
When assessing a property, it is worth considering its digital infrastructure. Tenants tend to be younger and more digitally savvy than their homeowning counterparts. Whether it is streaming movies instantaneously, shopping online or downloading music and games, the demand for better internet speeds can be insatiable. This is even more apparent as the population adjusts to the new demands of working from home. Prior to the pandemic, 1.7 million people used their home as their primary place of work. More recently, one in four people now expect to work from home either permanently or occasionally.
Which Regions in the UK Have the Best Internet Speeds?
Much like with their access to transport or public services, different areas in the UK will have varying digital connectivity. Rentround conducted a study to find out which regions in the UK benefit from the fastest download speeds. Topping the leader board is the West Midlands, with properties having access to an average download speed of 82 Mbps, 6 Mbps more than the national average. Unsurprisingly, London came a close second with average download speeds of 78 Mbps and 96.2% of properties having access to Superfast internet (download speeds in excess of 30 Mbps).
Which Regions in the UK Have the Worst Internet Speeds?
Propping up the bottom of the table are Wales and Northern Ireland. Welsh properties suffer from average download speeds of just 58 Mbps, a significant 18 Mbps less than the UK average. Whilst properties in Northern Ireland tend to have slightly better internet speeds on average (64 Mbps), the proportion of properties with access to Superfast internet is the lowest of any region. Just 89% of properties across the Irish Sea have access to download speeds of 30 Mbps or more, meaning one in ten properties face the prospect of endless buffering and pixelated Zoom calls.
| | | | |
| --- | --- | --- | --- |
| Rank | Name | Average download speed (Mbps) | Superfast availability |
| 1 | West Midlands | 82.4 | 95.8% |
| 2 | London | 78.2 | 96.2% |
| 3 | Yorkshire & Humber | 75.5 | 95.7% |
| 4 | East of England | 75.1 | 95.5% |
| 5 | North West | 73.9 | 96.3% |
| 6 | East Midlands | 73.9 | 95.8% |
| 7 | South East | 71.6 | 95.6% |
| 8 | North East | 71.6 | 95.4% |
| 9 | Scotland | 70.4 | 92.9% |
| 10 | South West | 64.8 | 91.8% |
| 11 | Northern Ireland | 64.3 | 89.0% |
| 12 | Wales | 58.3 | 93.2% |
Towns and Cities with the Best Internet Speeds
Breaking the data down into more detail, there are some surprising findings. Hull was once one of the pre-eminent wool ports in the world, connecting Yorkshire's wool to medieval Europe. Now, the former city of culture leads the way as the constituency with the fastest download speeds in the UK. Residents can expect average download speeds of 165.7 Mbps, with only 1% of properties having internet speeds below 30 Mbps. Birmingham and York are close contenders with areas of each city witnessing download speeds of up to 160 Mbps and 147 Mbps respectively.
Towns and Cities with the Worst Internet Speeds
At the opposite end of the scale, residents of Argyll & Bute, Tiverton & Honiton, Torridge & West Devon, Angus, and Devon deserve honorary mentions as the worst locations in the UK for average download speeds. Residents in many of these locations would consider themselves lucky to achieve speeds of anywhere close to 37 Mbps, with a significant proportion of properties unable to access Superfast internet.
| | | | |
| --- | --- | --- | --- |
| Rank | Name | Average download speed (Mbps) | Superfast availability |
| 1 | Kingston upon Hull East | 165.7 | 98.9% |
| 2 | Birmingham, Hall Green | 160.9 | 97.8% |
| 3 | Birmingham, Selly Oak | 150.5 | 96.6% |
| 4 | York Central | 147.4 | 93.8% |
| 5 | York Outer | 146.7 | 94.5% |
| 6 | Birmingham, Hodge Hill | 146.4 | 99.5% |
| 7 | Welwyn Hatfield | 137.6 | 97.5% |
| 8 | St Albans | 135.4 | 97.4% |
| 9 | Birmingham, Ladywood | 125.6 | 86.3% |
| 10 | Hitchin and Harpenden | 114.5 | 95.1% |
| 11 | Birmingham, Edgbaston | 111.6 | 94.4% |
| 12 | Haltemprice and Howden | 109.2 | 96.1% |
| 13 | Birmingham, Yardley | 108.2 | 98.8% |
| 14 | Filton and Bradley Stoke | 106.8 | 98.3% |
| 15 | Great Grimsby | 105.4 | 98.0% |
How do UK Internet Speeds Stack up Internationally?
Broadly, despite our position as a leading developed nation, the United Kingdom performs poorly when our average internet speeds are compared internationally. The national average speed of 76 Mbps is 67% slower than Singapore who top the international league tables (226 Mbps). Closer to home, countries such as France and Switzerland have average download speeds 100 Mbps greater than our own.
What Determines a Property's Internet Download Speed?
Generally, most fixed line broadband services are connected to a property through the telephone line. The internet speeds a property can achieve will be capped by the maximum connection speeds that its wiring can support, such as 80 Mbps or even 24 Mbps. In truth, many properties struggle to come close to their theoretical maximum speeds due to the amount of copper cabling used for each individual connection.
Properties of a similar age and in a similar postcode can have a huge variation in the download speeds that they achieve, precisely due to the inclusion of copper wiring in the network. Copper cables tend not to be particularly efficient, with signal degrading the further down a cable it has to travel. Therefore, the more copper wiring used in a connection, the more limited a property's internet speeds may be. This is even true for Fibre Optic connections, which, despite being significantly more efficient, can still rely on varying amounts of copper wiring.
Which Broadband Services are Fastest?
Most UK broadband services can be split into two types:
Standard ASL:
In this case, the broadband signal is carried between the nearest telephone exchange and a property using entirely copper cables. The further away a property is from the exchange, the worse the connection will be.
Fibre-to-the-cabinet:
Typically speaking, when people refer to fibre optic connections, they are referring to fibre-to-the-cabinet. Fibre optic cables connect the telephone exchange to the nearest street cabinet to your property. However, even in this case, copper wiring is typically used to connect your home to the cabinet. Therefore, properties located at one end of the street and closest to the cabinet will benefit from superior speeds to those located at the other end of the street and furthest away.
Fibre-to-the-home
Some, more modern newbuild estates and apartment blocks benefit from fibre-to-the-home. In this case, fibre optic cables are connected all the way up to your property. Properties with this type of connection can achieve internet speeds of up to 900 Mbps.
Most broadband services run on the Openreach network, which is currently being upgraded to support new G.fast technology. Currently, 2.7 million homes throughout the UK benefit from two tier speeds of 160 Mbps and 330 Mbps. Openreach plan to continue rolling out Ultrafast fibre-to-the-home to properties. You can see when your area will benefit from Ultrafast Full Fibre by searching for your postcode on the Openreach website.
Disclaimer: This 'Landlord Vision' blog post is produced for general guidance only, and professional advice should be sought before any decision is made. Nothing in this post should be construed as the giving of advice. Individual circumstances can vary and therefore no responsibility can be accepted by the contributors or the publisher, Landlord Vision Ltd, for any action taken, or any decision made to refrain from action, by any readers of this post. All rights reserved. No part of this post may be reproduced or transmitted in any form or by any means. To the fullest extent permitted by law, the contributors and Landlord Vision do not accept liability for any direct, indirect, special, consequential or other losses or damages of whatsoever kind arising from using this post.