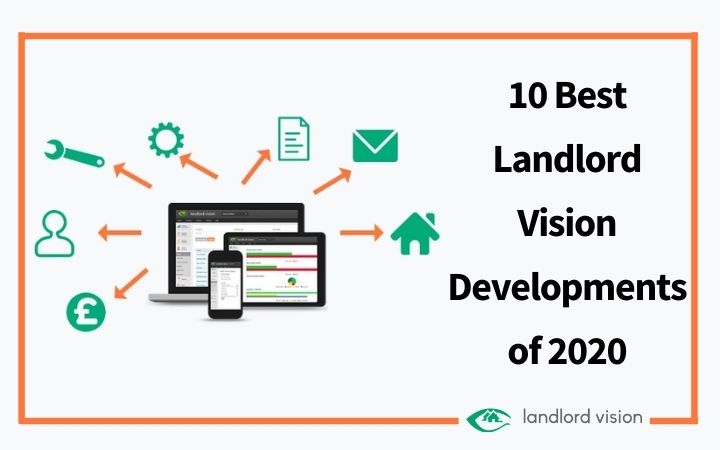 Our wonderful customers are always full of great ideas on how to improve Landlord Vision. That's why we listen to your suggestions and encourage you to vote on our development priorities. It's what makes Landlord Vision a top-class property management solution and keeps our customers happy and organised while saving them time and money.
Landlord Vision is feature rich, so unless you use every nook and cranny of it you might feel like not much changes from day to day. We put a huge amount of development resource into Landlord Vision and that allows us to deliver new features and tweak existing ones every. Single. Day.
So, to keep you up to date with the developments you might have missed, (and to deliver a well earned pat on the back to our development team), here we're sharing the 10 best Landlord Vision developments of 2020.
Landlord Vision Integrates with Open Banking
If you've been reading our newsletter, you'll know that this behemoth development was over a year in the making. It was our most requested enhancement with a huge number of requests and votes in User Echo. We were able to launch this in November 2020 and plenty of our brilliant customers helped us to beta test integrations for specific banks. We had to integrate with each bank separately so even after we launched, new bank integrations were being added to Landlord Vision. We now have a huge list of supported banks which you can read all about in our regularly updated Open Banking post. We're also still taking requests for other banks you want to see integrated.
Open Banking or Live Bank Feeds, whichever you want to call it, allows customers to retrieve statements electronically from their bank. These statements are imported into Landlord Vision for easy reconciliation with income and expenditure.
Drag and Drop Files into Landlord Vision
This feature seems like something small but it can make a huge difference in time saving. Previously, if you wanted to upload a document to Landlord Vision you had to go through the file explorer to select the file you wanted. Granted, this doesn't take a lot of time but when we introduced drag and drop it became the case that you can now just drag documents from anywhere on your computer to Landlord Vision and the upload starts. If you've got a lot of documents to upload, this process makes it a lot faster and you save precious seconds having to find said document in the maze that is file explorer. If you've got lots and lots of files on your computer this little nugget of a feature will save you time in the long run.
Aged Payables and Receivables Reports
We were asked quite a few times for aged payables and receivables reports, not just from customers but from our recommended bookkeepers as well. Naturally, we created them. The Aged Payables Report will show you how much you owed to whom on any given date. You can use this report to keep you up to date with where you were at any given year end. The Aged Receivables Report shows you the same thing in reverse. So, you can use this report to show you how much money you are owed and by whom at any given point in time. You'll find these reports in the report section of Landlord Vision and they are as easy to use as all the other reports within the suite.
Landlord Vision is Now Making Tax Digital Ready
Over the last few years, the goal posts on Making Tax Digital have changed a few times. At one point we were told that MTD would go live in 2021, now it's looking more like 2023. Whenever it goes live though, we'll be ready for it. That's right, in 2020 we made sure our MTD integration was up and running. In fact, if you're a fan of the digital tax return and you meet HMRC's eligibility criteria, you can already use it. A few customers have submitted tax returns via Landlord Vision to help us test the integration.
We've worked closely with HMRC to make sure that the integration meets their standards and we've been listed as an MTD for individuals' supplier on their website. This was another massive integration that we're very proud of as it will mean that Landlord Vision customers will experience very little upheaval when MTD goes live.
Store Scanned Receipts in Landlord Vision
This new feature was an essential part of Making Tax Digital. If all records are moving online then landlords need to be able to store receipts and invoices online as well. Even if you aren't ready to switch to MTD just yet this feature saves so much hassle. Just store your receipts in Landlord Vision through the year, reconcile with your expenses (and your live bank feeds) and you'll always remember to claim every expense against your tax return. As missed expenses are one of the biggest tax saving mistakes that landlords make, this integration should not only save you time, it should help save you money as well.
New Legal Documents
We've had legal documents in the software for a number of years, but we found that they weren't updated as quickly as we'd like and we wanted to make the documents more comprehensive, so we partnered up with NetLawman. This has meant we're able to provide a larger suite of expertly written documents. Thanks to a direct integration with NetLawman's own software, updates can be made instantaneously. When the experts at NetLawman update a tenancy agreement to reflect the latest legal changes, it becomes immediately available in Landlord Vision.
Target Rents Report Improved
The Target Rents Report has now been updated so that you can easily see how your properties compare against your target rents. The update means that your properties will only appear as non-comparable if you haven't set target rents in the property section.
Landlord Vision Integrates with Dropbox for Receipt Storage
When we changed the software to allow drag and drop uploads and made it as easy as possible to upload saved receipts, we also included an integration with Dropbox. Most people these days make use of cloud storage and Dropbox is one of the most common cloud storage websites out there. We made sure that it's easier than ever to move your receipts into Landlord Vision from this popular programme.
Various Reports Have Been Improved
While we've already highlighted the target rents and aged payable and receivable reports, we also made changes to existing reports to make them more insightful and easier to use. The balance sheet report can now show accounts with zero balances (as long as there are other accounting transactions recorded against it) giving you a clearer picture of income and expenditure. The cashflow report was streamlined, the cashflow audit report and bank reconciliation reports can now be exported to pdf and a few more reports besides were tweaked or fixed where there were errors.
Landlord Vision has had Some Useability Improvements
We're always making little tweaks and nudges in the software to make it easier and more intuitive to use. These little enhancements often go unnoticed as they aren't as exciting as things like MTD and Open Banking! Here is just a small selection of the useability improvements we made in 2020:

Made it so that credit notes can be created from the reconciliation area
Added the option to add an invoice from the tenant payment schedule area
You can now filter safety certificates by type
In a mail merge tenant names are now in alphabetical order (we also added new mail merge tags)
You can now import .odt and .eml files
So those were our best and most requested updates last year, as you can see, we were very busy! What will we work on this year? That's down to you!

Head over to our User Echo community where you can suggest new features and vote on other suggestions that have been made. The ability to message tenants is a frequent request that's also gathering steam, so that's maybe something we should start looking into…
Read More Like This.