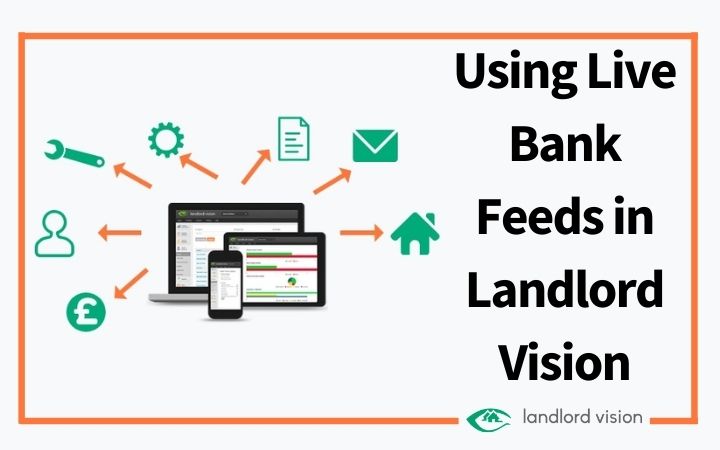 It's been a long time coming, it is our most requested feature and we're very excited about it! But what are live bank feeds? How do they benefit you? And how do they work in the software?
How Do Live Bank Feeds Work in Landlord Vision?
Part of running the accounting side of Landlord Vision is the reconciling of the bank account whereby a bank statement is uploaded and then matched up with payments, invoices, expenses, receipts and other payment schedule items in the software. You can even record payments this way, but ultimately it means that you can account for every transaction in your bank account and ensure that you haven't missed anything or added something twice.
Live bank feeds allow you to connect your Landlord Vision portfolio to your bank account and feed the transactions into the software automatically, and reconcile your payments almost as they happen. This means that you will no longer have to manually upload your bank statements, so you will no longer have any accidental gaps or overlaps between your statements and also you can always be right up to date with who has paid and who hasn't. You can even produce your monthly and yearly accounts more quickly!
How Can I use Live Bank Feeds in Landlord Vision?
All of which brings us on to actually setting them up in the software. The process is pretty straightforward. Go to Account Manager > Bank Accounts and click the orange Get Bank Feeds button. You will be taken to a page asking you to confirm your approval for the software to connect to your bank account and pull the account transactions. Once you have approved this, you will be taken to your bank's internet banking log in screen where you need to enter your log in credentials for your bank. This is you logging into your bank and we do not receive this data.
Once into your bank, select the account or accounts you wish to connect to and then select which bank account in Landlord Vision you want to associate it with. You can even select what date you want to start importing transactions from so that you don't end up with a very long list of payments that aren't relevant to what you are trying to do.
With the feed set up, the software will load up your transactions from the date selected and will then check your account every hour for new data, allowing you to record your payments quickly and correctly and keep on top of what's going on.
Which Banks Does Landlord Vision Integrate With?
We have added support for all the banks in the list below. We'll be integrating with new banks if we get lots of requests for them, so if there's an integration you'd like to see, let us know on User Echo.
Currently Supported
Bank of Scotland Business | Commercial | Personal
Coutts
Halifax
HSBC Business | Personal
Lloyds Business | Commercial | Personal
Monzo
Nationwide
NatWest
Royal Bank of Scotland
Santander
Starling Bank
Ulster Bank
First Direct
Barclaycard Commercial Payments | Barclaycard UK
Barclays Business | Barclays Corporate | Barclays Personal | Barclays Wealth
Tide
TSB Bank
TransferWise
We hope you enjoy using your new feature! Get in touch and let us know what you think 🙂
Read More Like This.