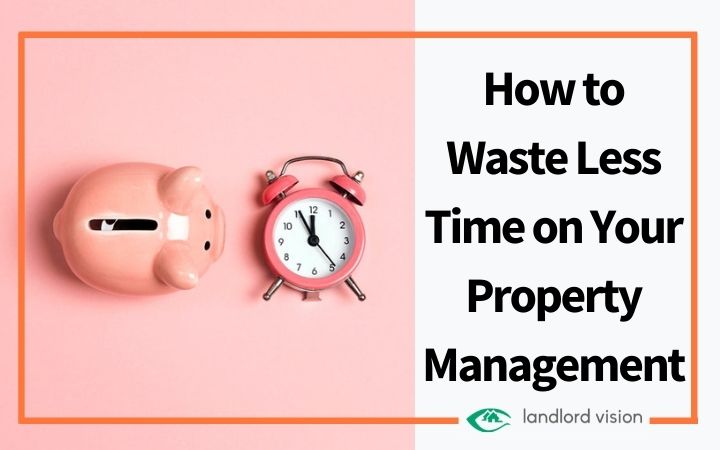 Time is a finite resource, so it's no wonder that saving time is a huge concern for anyone trying to achieve complicated things… like growing a property portfolio.
Given that there's a huge amount of legislation to navigate, tenants to manage, paper trails to keep track of, it makes sense that landlords are always on the lookout for tips and tricks to help them save as much time as possible.
In this post we're going to show you some common and not so common ways to reduce the time you spend managing your properties, so you can spend more time doing the things you love.
Reduce the Amount of Time your Properties are Standing Empty
Reducing voids is almost certainly easier said than done, and it can't be denied that they are a huge time sink. Far too many landlords think that voids are just part and parcel of being a landlord, so often don't then put the time and effort into reducing them. Yes, voids are inevitable, and there will always be a turnover time between tenants, but there are things you can and should do to reduce the time that your properties are stood empty.
Common times to experience a void period are when:
Readying the property for the next tenant when the previous one has moved out.
Advertising the property for rent and conducting viewings and tenant screening.
Checking in the next tenant, i.e getting all the paperwork ready, receiving the deposit, etc.
The best thing you can do to reduce voids is to understand how and when you are most likely to experience them. Once you know where your weaknesses are you can put strategies in place to reduce these void periods.
For example, if you know that readying the property for the next tenant usually takes you the most time you can look at:
Incentivising the previous tenant to leave the property in a good state by attending before they move out and making them aware of anything they need to do to get their deposit back.
Outsourcing the cleaning to a professional company rather than doing it yourself.
Advertising the property and arranging viewings while the previous tenant is still in situ.
There are lots of things you can do to reduce voids overall and you should endeavour to understand these void reduction strategies and put them in place wherever possible. This great post from our writer George Dibb contains some tried and tested strategies for reducing void periods to get you started:
Vet Tenants to Reduce Tenant Management Time
If you're a professional landlord it wouldn't cross your mind to take on a tenant that you haven't vetted thoroughly. If you're new to property management you might be tempted to cut corners, this is a false economy though, both in terms of expense and time management. You should always vet tenants. It will save a lot of time in the long run.
A proper vetting procedure will prevent you from taking on a tenant that ultimately isn't suitable for the property. If a tenant is unsuitable they may subsequently move out leaving you with a void, if you haven't checked affordability you may end up with a tenant who is unable to pay rent. Again this will result in a tenant leaving you with a void. It's not good for you and it's not good for the tenant, so it is in everyone's interests to make sure that the tenant is properly vetted.
Make use of Electronic Payments
You can collect rental payments in cash or by cheque or by other means, but no payment methods are as fast or efficient as electronic payments. The most common forms of payment are direct debits or standing orders. These are recurring payments, so the tenant doesn't have to manually create a payment each month. These kinds of payments require less admin for both you and the tenant.
Many people get confused between direct debits and standing orders, but there is a difference between each one.
Standing orders are set up by the tenant. The tenant controls the payment amount and frequency. To set this up the tenant will require your bank details, they can then provide these to their bank who will set up the standing order for them. The tenant can cancel the standing order at any time. You will only know if a standing order has been cancelled if a payment is not received on the allotted due date.
Direct debits are set up by the landlord. You will generally need to do this via a third party because there is financial legislation governing their use. With a direct debit, the person setting it up controls the payment amount and frequency. A tenant can cancel a direct debit, but if they do this you will receive a notification the day it is cancelled.
There are pros and cons to each method. If you're using dedicated landlord software like Landlord Vision then you will find it likely has the ability to collect direct debit payments for you, thus removing the need to use a separate provider. If you're using a more manual system like spreadsheets or you don't want to use direct debits, setting up a standing order is your best bet.
With monthly payments like this set up each month, all you need to do is check your account when the payment is due to make sure it has been received. This reduces any time spent processing manual payments.
As a bonus time saver, if you use landlord software you can also usually automate rental payment reminders. So even if there's a good reason that you still need to make use of manual payments, you don't have to remember to manually remind the tenant each month to make the payment.
Schedule Inspections and do the Maintenance Afterwards
Every landlord knows that they should be carrying out inspections regularly. It may seem like a time sink, but it's important to do these at least every 6 months. This gives you the opportunity to ensure the property is in good condition and look for any signs that maintenance needs to be carried out.
Tenants are generally pretty good at reporting issues, but some of them may struggle to identify those issues that have the potential to grow into something a bit more serious. Especially if they have not been homeowners themselves or don't have any experience with looking for and understanding the structure of a property.
When you attend the inspection you can look for any issues the tenant might have missed and more importantly, you can arrange for the maintenance to be carried out straight after the inspection. This gives you a bit more control over things that would usually fall outside of your control. If you book your property inspections across the year and do any maintenance straight away, you know that time and costs associated with the inspection will also be spread out across the year.

Include as Much Info as Possible in Your Property Listing
When you're listing a property to rent you should give as much information as possible. Any missing information will result in queries from tenants that will take you extra time to deal with. Include all the information a prospective tenant might need. Make your listing scannable by using headings and bullet points. If you do both of these you will allow prospective tenants to pick out the information they need quickly and easily. If a tenant then calls up to ask questions about your property take note of these questions and answer them in your rental listing to reduce similar enquiries from other tenants.
Reduce Turnover Time by Making Properties Low Maintenance
There are some simple tips and tricks of the trade you can use to make your properties lower maintenance. Doing this will reduce the time it takes you to turn the property over ready for the next tenant. This is more likely to be effective on shorter-term lets like holiday lets, HMO's and student lets, but can also help on longer-term lets as well.  
Some examples of making properties low maintenance include:
Lining cupboards with lino or cupboard liners – this protects the cupboard and means you can just replace the liner between tenancies if it is not clean and in good condition.
Fitting hard floors – these are easier to sweep and mop and far more resistant to wear and staining than carpet.
Lay weed membrane in gardens and choose patios and gravel over grass – this reduces the time needed to mow lawns and pull up weeds.
Using paint on walls instead of wallpaper – you can just touch this up between tenancies rather than having to strip and re-paper walls if they are scuffed.
If this sounds like something you need to consider or if you find yourself spending a lot of time on one particular thing when you're turning over your property then head to Google to find more tips!
Use Standard Paint Colours and Buy in Bulk
Using standard paint colours and fittings in your property and buying both in bulk can save a lot of time when it comes to sourcing replacements or having to touch up the walls. It's much easier to touch up scuffs and stains if you have the same brand and colour of paint you used to decorate in the first place. Most landlords opt for magnolia and keep some spare tubs of this inside the unit or somewhere else. Un-opened paint can last a long time, so it's worth buying in bulk if you spot any offers or when you're first purchasing paint for the property. The same goes for fixtures and fittings. If handles or taps break it's easier to replace them if you use standard fittings instead of something fancy, and you can also keep spares on hand just in case you need them.
Respond to Tenant Concerns in a Timely Manner
If a tenant gets in touch to report an issue, you should deal with this as soon as possible. As we said earlier in the post, it's better to deal with maintenance issues before they snowball into something bigger. Even outside of maintenance it's important to respond to the tenant as soon as possible, especially if they're giving you notice or raising an issue.
Use Software or Hire Someone to Manage for you
Using software to manage your property portfolio will reduce the time you spend managing it. It keeps everything in one place, reduces paperwork, and gives you an audit trail of communications, paperwork, etc. It can keep you on top of your obligations, send you important reminders for certificate expiries, and just overall give you a system for easier management. It's also much cheaper than using a letting agent or property manager.
If you're not a fan of software, you could hire someone to help you manage your properties, such as a letting agent or property manager.
There are pros and cons to using software or hiring someone, but both will reduce the amount of time you spend managing your properties.

Track Your Time to See Where it's Going
Unless you know how you're spending your time how can you save it? It's the same as managing finances. In order to save money, you need to budget by looking at what you're spending your money on, reducing spending if needed, and thus you will have more money to save. Time is no different. 
Monitor a typical week to see where you spend most of your time. This can be tedious, but you will reap the rewards. People who carry out this exercise are almost always surprised at how much time they spend on certain activities. You can either make detailed notes to track how much time you've spent on everything or if most of your work is computer-based you can use a programme like Rescue Time or Toggl Track to help.  
When you've finished monitoring a typical week you will be able to see where most of your time is going. This will allow you to retrospectively think about which tasks you could have done differently, ones you didn't need to do at all, and ultimately spot any wasted time. Once you've identified these things you can work differently in the future and save yourself more time.
Don't try to Multi-Task it Doesn't Work
Multi-tasking doesn't work. It splits your attention. Ultimately you end up doing a worse job on two things rather than a good job on one.
Focussing on one task at a time is more efficient. You'll get through the task faster and more successfully than if you tried to do it at the same time as something else.
Multi-tasking leads to re-work because it increases mistakes, so even if it feels faster at first, it isn't faster in the long run. 
Make Good Notes
We've all been there. You get a phone call at an unexpected time, you grab a bit of paper and start scribbling down what you need to remember. You think I'll deal with that later… fast forward to later and you're looking at your scrawled notes wondering what on earth they mean…..
Take the time to make good notes. It doesn't take that much more time than it does to write terrible notes! Keep your notes somewhere sensible. Doing both of these things will save you time. You won't waste time trying to decipher your very best attempt at doctor's handwriting, and you won't have to chase down that same information later on if it turns out that you can't translate your notes.
There are lots of apps and programmes that will help you do this and a lot of them are free. Some favourites of ours include Google Keep Notes which is a nice simple and free note-taking app that syncs across all devices. Another favourite is Evernote. The free version of Evernote is very good for more detailed notes that include links and pictures etc, but the free version will only allow you to access it on two devices. Both of these will allow you to make standard notes and also allow you to make to-do lists as well.
Make sure your notes are legible, all collected in one place, and that you make as many notes as you need. You will save yourself a surprising amount of time.
Communicate
It is common for landlords to work with multiple people, from letting agents to contractors to accountants and tenants. When you're working with a lot of people it's important that you make sure everyone is on the same page. Gaps in communication cause re-work, misunderstandings, arguments and ultimately take time to sort out.
When you're talking to anyone about your properties, especially if it involves them doing something for you or being somewhere at a specified time, make sure everyone is clear about what needs to be done and when.
The best way to do this is to be clear in what you want or need when you're talking to people. Ensure that you listen to their responses. If you're talking on the phone or face to face, re-cap any agreements or instructions at the end of the call and follow up in writing by text or email if you can. Asking the other person to repeat back to you what you have asked or agreed can also be a good way to ensure that you're both on the same page.
If at the end of any correspondence you find yourself thinking that the other person might not have totally got what you were saying, don't just assume they will figure it out. Follow up with a call or an email to make sure they definitely understood.
Pre-qualify Tenants Before Viewings
Viewings can take up a lot of time, but there are things you can do to reduce the time you spend doing them.
Pre-qualify tenants before you arrange a viewing. All you need to do is make sure that they can afford the property and are legitimately interested in renting. If you're renting via a letting agent they will generally do this for you. If you are self-managing, a quick conversation with the tenant ahead of the viewing should be enough to establish their legitimacy. 
Conduct group viewings if you have a lot of interest in the property. Or book viewings consecutively. This reduces the amount of time you need to spend preparing the property and attending the viewing.
Put up a video tour of the property on your listing. This is a great way to increase interest in your property but also to give prospective tenants a feel for the property before they view it. A video tour gives a much better sense of a property
File Your Documents
Landlords have to manage an inordinate number of documents from safety certificates to tenant identification documents to insurance policy booklets. Make sure you have a filing system for keeping these documents organised. This will allow you to find them again quickly when you need them.
If you use some kind of landlord software like Landlord Vision, it should include a cloud-based document management system that will keep everything organised. If you don't use landlord software you should consider using a relevant cloud-based solution. A computer will allow you to store things locally on the machine, but you should also consider using something like Google Drive, Dropbox, or Onedrive to store files in the cloud. This means that should anything ever go wrong with your computer you won't lose any of your documents. It will also allow you to access documents from multiple devices and makes sharing documents easier.
It is far more efficient and time friendly to store documents electronically than in paper format. If you're not doing this, we recommend starting ASAP!
Automate
You wouldn't be alone if you shied away from the word automate. It sounds like setting up automation is going to be tricky and time-consuming but there are plenty of tools that help to make it simple.  
Automating repeating tasks will save you a bunch of time. Some automation is possible with landlord software, for instance sending out rent reminders and receipts, reminding you to book in gas safety renewals and property inspections, etc. You can go beyond this though by getting to grips with tools like Zapier and IFTTT. 
For instance, imagine if you could ask Alexa to text or email you your shopping list, or if you could use your phone to track how much time you spend at a specific location without having to touch any buttons at all, or if you could automatically move your Facebook messages into a spreadsheet? All of these (and many more) are easy enough to set up with automation tools like Zapier and IFTTT. There are plenty of providers available. Some allow you to set up free automations, whilst others require you to pay. There can be a bit of a learning curve, but generally, the providers make it easy to understand and set up. You can browse their websites to find out what automations are out there as well so you can see how much use you'll get out of it before you sign up.
So that's our epic list of ways you can save time on property management. Let us know if you have any tips and tricks over on social media and make sure you sign up to our newsletter for more great posts like this one.
Read More Like This.