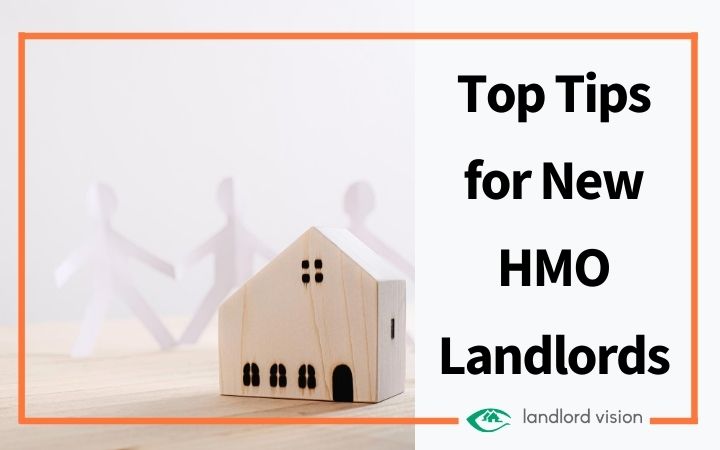 HMOs are one of the most profitable sectors of the buy to let market – landlords can earn three times as much from letting out rooms in a shared house compared to letting a property to a single family. Rental arrears are also less of a problem, as even if one tenant defaults, you still have income from the others. In addition, voids are also less impactful.
It's not all a bed of roses, however. HMOs are heavily regulated, so you can't fly by the seat of your pants. Forget something important, like applying for an HMO licence, and you could be in deep water.
If you're ready to do the work and invest in an HMO, we have some useful tips.
Research HMO Locations
HMOs tend to be in clusters. This is especially the case with student properties. One reason for this is that some types of properties lend themselves better to the HMO model, and in the case of older Victorian properties, they tend to be in more central locations.
Before buying a property, research different areas to see which ones would suit your target tenant. For example, if you are hoping to attract migrant workers, look for a property in close proximity to the places where they usually work. For example, large supermarkets and retail distribution centres often have a large Eastern European workforce who want to live within easy travelling distance to their place of work.
Another factor to consider is public transport. Many lower income tenants rely on public transport to get to and from work, so a property close to a railway/tube station or bus routes is going to be more attractive.
Speak to local estate/letting agents to see where the most favourable areas are. Ideally, invest in a property that's adjacent to other HMOs, as you're less likely to have problems with neighbours. Setting up a new HMO in a quiet residential street won't be popular.
Look for the Right HMO Property
Certain types of properties are more suited to HMOs than others. Many HMO landlords invest in older Victorian houses, as they have large rooms, high ceilings, and more space. The more rooms a property has, the more flexibility it offers for an HMO set up. A typical Victorian townhouse has accommodation over three floors, with two reception rooms and sufficient space to create a bathroom on each floor. With some careful planning, you can easily convert such a property into an HMO with five or six bedrooms.
The downside of investing in older properties is that they often need remedial work to bring them up to the required standard. Problems to watch out for include damp, sub-standard electrics, single-pane windows, poor insulation, and no parking.
Spend time searching for the right property. Depending on the type of tenant you are hoping to target, location is an important factor, but so is affordability. Remember, the aim of the game is to make a profit. There's little point buying a cheap property at auction if it is going to cost a fortune to make it habitable.
If you are new to the HMO business, consider buying an existing HMO complete with tenants. That way, most of the work has already been done for you. However, do make sure it meets HMO licencing requirements in terms of fire safety, etc.
Be very careful when buying an older property. Have the property surveyed to make sure there are no major problems, such as rising damp or subsidence. Ask a qualified electrician to do an EICR check. Have the boiler and gas appliances checked to ensure they are safe – make sure the heating is adequate for the size of the property.
A few questions to ask include:
Are there enough bathrooms for the size of the property? If not, is there scope for additional bath/shower rooms?
Is the kitchen large enough for a shared house?
Will the property suit my target tenant?
Will the property yields be enough to cover my mortgage?
Is there enough parking?
Is the property in an area where HMOs already exist?
Seek planning advice if you are converting a single-family dwelling into a small or large HMO. Planning permission may be required if there is going to be a substantial increase in noise, parking, etc. As there would be if a family home is converted into an HMO.
Do not make the mistake of illegally converting a house into an HMO. You might not be caught straight away but if the local planning department is alerted, you could be heavily fined and ordered to restore the property back to its original state.
Check Rental Yields Before you Buy
Run the figures before you invest. Speak to local letting agents to see what kind of rents you can expect to earn from a property. Check similar listings on property websites.
On average, HMO landlords enjoy a rental yield of 12%, and some boast yields of 15% and more. This is a lot better than the average rental yield in other sectors, which are between 5% and 7%. However, HMOs are more work, so before you rush in and snap up a property, work out what your prospective rental yields are likely to be. If it doesn't add up, look for a different property.
Choose the Right HMO Tenants
Choosing the right tenants is critical. The following are the main types most HMO landlords target.
Transient and Foreign Workers
This category includes migrant workers from the EU, i.e. Poles, Romanians, and Bulgarians. In many cities, there is a large EU population living and working in the UK. Many don't plan on staying here for the long-term, so they prefer renting rooms in shared houses to minimise their costs.
Not all transient workers are from Eastern Europe. There is also a sub-set of UK workers, often people working in the construction trade who move one from job site to another. Agricultural workers and seasonal workers on low incomes also fall into the transient category.
These types of tenants don't traditionally look for long-term tenancies. Most will stick around for a few weeks/months to a year and then move on.
Young Professionals
Young professionals typically want higher-end accommodation. They are just starting out in their careers, so may not have a lot of disposable income to spend on rent. This makes a shared house more affordable, especially for young professionals living and working in expensive cities like London.
They prefer more luxurious accommodation, with nicely fitted kitchens and bathrooms.
Housing Benefit Claimants
Tenants on benefits are arguably the most high-maintenance category of HMO tenants. On the one hand, you can have their rent paid directly, but on the other, this type of tenant can come with a lot of baggage – and we don't mean suitcases!
While many tenants on benefits are perfectly capable of looking after themselves and a property, a proportion of those living in shared housing can have behavioural issues. There does seem to be a stigma around tenants on benefits especially when it comes to antisocial behaviour. If you let to this type of tenant, just be aware of the common issues that arise and be prepared for these. Screen these tenants well, as you would any other tenant, that can help prevent letting nightmares. The most important thing is not to assume that all tenants on benefits are a nightmare – many are perfectly nice and well behaved people who just want somewhere decent to live.
Students
Students are a popular target tenant for HMOs. They offer a reliable, long-term income, and so long as you don't let your property to a bunch of party animals, you shouldn't have too many problems.
If you do decide to let to students, be aware that location is everything. It's very important that you purchase a property in the right area, preferably close to the university campus and away from quiet residential streets. The right house in the wrong area will not appeal to your target demographic, which could affect your rental yields.
Don't mix HMO Tenant Types
Mixing and matching tenant types will cause problems. For example, young professionals working 9-5 won't want to share a house with a student who stays up all night and sleeps all day. If you have a target tenant, make sure the entire property is rented to people with a similar lifestyle. Otherwise, you can expect to have a lot of complaints heading in your direction.
Be Prepared to Deal with Social Issues
Not all HMO tenants have issues, but as we have already mentioned, a percentage of HMO tenants come with various problems, ranging from drug and alcohol addictions to mental health issues. You'll need a lot of empathy, understanding, and patience with these types of tenants.
If you have tenants like this living in an HMO you might need to help them more than you would a normal tenant. As well as helping them you may find that there are issues between these types of tenants and the other people they're sharing your property with.
Don't assume it's all bad news. Being a social landlord can be rewarding, too. Watching people dig their way out of a big hole and move onwards and upwards is very rewarding. And it's even more so if you know that your assistance helped them on their way.
Accept that Being an HMO Landlord is a Full-time Job
From minor meltdowns and personality clashes to broken boilers and complaints of antisocial behaviour, being an HMO landlord is a full-time job. Unlike a regular buy to let property where you only have one or two tenants, HMOs can have 5-6 or more adults living under one roof. Inevitably there will be more problems requiring input from you.
There will also be a higher turnover of tenants, which means more admin work. You will need to be organised, so if the HMO model seems like a good fit for you, consider investing in landlord software to help you keep track of your responsibilities and finances.
Unless you want to be on-call 24/7 for 365 days of the year, make sure you have someone to act as your deputy manager when you are unavailable. Tenants won't care if you are on holiday when their boiler breaks down. They will expect it to be fixed pronto. Employing someone to pick up the slack when you need a break means issues can be dealt with sooner.
Your other option is to subcontract the management side of the business to a letting agent, but that comes at a price. Most managing agents charge between 12% and 20% of the rent. If you do decide to use a letting agent to manage your HMO, do the maths to make sure it's financially viable.
Remember, the more efficiently you run your HMO, the more profitable it will be!
Hire a Cleaner
While HMO tenants are usually tasked with keeping common areas such as kitchens and bathrooms clean, ultimately, it is the landlord's responsibility to ensure common areas are maintained in a reasonable condition. This blog goes into the subject in more detail.
It's a good idea to hire a cleaner to go in once a week or fortnight. This ensures common areas are not left to degenerate into pits of squalor. Depending on the tenants you have living in the property, housework may not be on their to-do list. In a busy house, it doesn't take long for kitchens and bathrooms to become seriously icky and unhygienic. If left to fester, mouldering food waste and overflowing bins will attract vermin.
Paying a professional to keep on top of things is a sensible investment on your part, especially during the current pandemic. It will also make it easier to attract new tenants since most people will be reluctant to move into a property where the kitchen comes with a health warning.
Remember: cleaning services are tax-deductible, so keep records of your expenditure.
Carry out Regular HMO Property Inspections
Because you are dealing with a higher number of tenants in one property, it's sensible to carry out regular property inspections. Always check up on new tenants to make sure they are getting on OK with the other tenants and not breaching the terms of their tenancy agreement.
Be alert to complaints from people living in shared houses. If a tenant calls you to say one of their housemates is receiving numerous visitors at odd hours or is drinking heavily, investigate. Deal with issues before they snowball, and if necessary, serve an eviction notice to remove problem individuals from the house before everyone else hands in their notice.
Don't buy Expensive Furniture for HMOs
HMOs usually come furnished. However, this is not an excuse to go crazy down at your local Ikea. Unless you are targeting young professionals, it's best to stick with second-hand furniture, preferably older, more robust items.
Cheap MDF furniture will need replacing more often than solid wood items. If there is an alcove in the room, consider having a fitted wardrobe made by a local joiner. It will last a lot longer than a cheap MDF wardrobe from Argos.
Beds are the only item you should buy new. Buy mattress covers for the mattresses to protect them from stains and spills.
And finally, try to keep hold of your sense of humour. When life gives you lemons, look for a lemonade recipe on YouTube 😊
That's it for our top tips. There is plenty more you need to think about if HMOs are your preferred business model, but we'll cover this in future articles and guides. In the meantime, if you have any comments or would like to share your HMO experiences with our audience, get in touch via social media. We are always happy to hear from our fellow landlords!
Read More Like This.