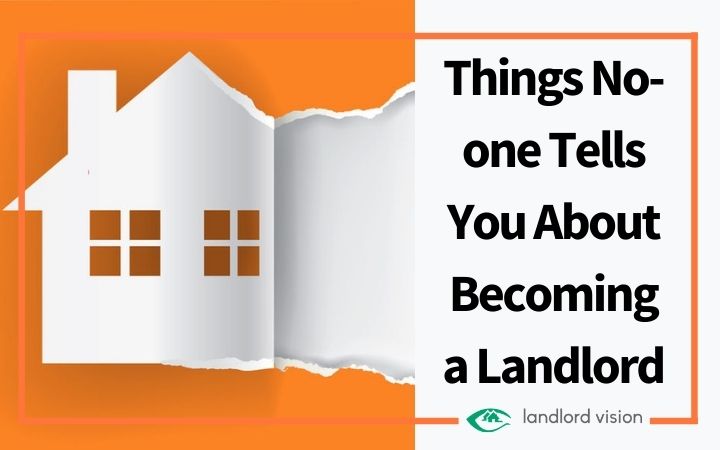 Before we dive into this post, we want to say that there are a whole bunch of good reasons to become a landlord. Some people choose to get into it from a young age, with plans to build a portfolio that will give them an eventual high return that they can then use to retire. Some leverage gearing to make money from a smaller up-front investment. Others just enjoy managing their properties and helping out tenants. All of these are laudable motives, but if you're considering becoming a landlord, there's a lot more to think about than just where and when you're going to buy your first property.
If you're planning to become a landlord you've hopefully done a lot of research on it. You may even have seen a few how-to's and top-tips posts scattered around the internet with standard pithy advice such as: understand what a gas safety certificate is. Whilst this is all great reading, what about the things that no one tells you? The things that keep landlords up at night? The stuff they wish they'd known before they started? That's what we're here to talk about. In this post, we'll share some of the top things people don't tell you about becoming a landlord – take heed if this really is the profession you want to get into.
There's Actually a Lot of Reading Involved
And if there isn't, you're doing it wrong.
If you decide you want to go down the road of using a letting agent, it won't reduce your reading burden. You'll need to read your letting agent contract if you want to avoid hidden fees and also to understand what your agent is accepting responsibility for. Not only that, but if you want to grow your portfolio or make the most of your investment, you will also find yourself reading books on reducing your taxes, different property strategies etc. Letting agents won't be looking to grow your investment for you.
Whether you're using an agent or not, there are hundreds of pieces of legislation that landlords must abide by. And even if you do use a letting agent the responsibility for ensuring these laws are met lies with you.  
You will also need to do regular research on the area you're buying properties in, the markets in which you operate, the electrical items you install in your properties, as well as lots of other things too. This kind of research isn't a one and done thing, you will need to continually research a variety of things that are pertinent to your business – just as any business owner would.
So, by now you'll probably realise there's a lot to think about before deciding to become a landlord. Just a glance around popular landlord forums will show you there are landlords who don't understand that they need gas safety certificates or that they need to protect their tenant's deposits. If you become a landlord without getting to grips with these basic principles, you're going to lose a lot more money than you make in the long run.  
It Isn't Hands Off Even When it's "Hands Off"
There was a time when property was seen as a passive investment, and even now there are some who refer to it as such. Don't be fooled, property is anything but passive.
Even if you use a letting agent, property isn't passive. The agent will still need to run a lot of things past you (if they're doing their job correctly). You'll also need to keep an eye on what your agent is doing in order to make sure that they're managing everything as you want them to. Even outside the day-to-day management and as mentioned in the previous point, if you want your investment to grow, that's down to you. No one cares about your investment more than you do and no one is going to grow it for you.
Nothing stays the same forever, so it's likely that demand for rental properties in your area will fluctuate. If you notice demand starting to drop off then you might struggle to find a tenant and this works both ways, so when there is high demand, you might be able to increase rent in line with market trends. You will need to keep an eye on the market, it's movements and your place within it to maximise your investment.
However you look at it, the buck stops with you. If you're making enough money from your properties then you can always reduce your management burden by hiring a letting agent, finding someone to manage your finances, and you can employ various staff, but there will always be something you need to do or people you need to manage.
It's Reckless to Put all Your Eggs in One Basket
Most landlords start their property journey with buy-to-let. Once you've bought and let out your first property it's tempting to just keep going with that strategy, but sticking with just the one strategy isn't the best option.
Property professionals diversify their portfolios, and they frequently pick up other investment strategies. For instance, they may have a few buy-to-let properties, an HMO and a few commercial lets as well. A common strategy used to diversify portfolios involves buying a shop with a flat above it. This means that you then have a commercial let with a residential let above it. Or you can look at geographically diversifying as well to help you ride out any peaks and troughs in market activity.
The reason for doing this is to build protection against change into your portfolio. If, for example, your entire portfolio was made up of student lets in one town and that town introduced purpose-built student accommodation that was better and cheaper than yours, it would devastate your portfolio. If you also owned buy-to-let and commercial properties alongside your student lets, it would give you some income and breathing space to figure out what do with your student properties.
The market is not stable and if this recent pandemic has taught us anything, it's that change can happen at short notice and when you least expect it. The more diverse your portfolio, the more likely you will be able to weather any financial storms that come your way.
Your Properties Will Cost You Money
Ever heard that trope: you have to speculate to accumulate? Never has that been truer for anyone than for landlords.  
Even if you buy the best property in the world, things will break, and you will have to fix them or replace them. This will cost you money, and if you put it off it will cost you even more money.
It's important to keep this in mind before you even buy your first property and to budget for these kinds of expenses as much as you possibly can. If you go into property geared up to the eyeballs, but you don't have two pennies to rub together, you're going to really struggle if anything goes wrong. Insurance doesn't cover everything, so that isn't an answer either, as sometimes it isn't economical to claim.
While you might be able to budget for some maintenance issues – like painting between tenancies, the costs of gas and electrical safety certs, etc. there will be other issues you just can't budget for. Boilers don't break down on your schedule, fridges, freezers and cookers rarely break down when we expect them to. These are all hefty expenses and the more properties you have the more things can break at any one time.
Most landlords will build a sinking fund to deal with ad hoc maintenance issues. The general rule of thumb is to keep aside as much as 2 months' rent for every property. This will cover maintenance issues and it can also be an effective way to cover void periods. Even though this will make you as prepared as the best landlords in the business, there will be times your sinking fund just doesn't cover it. You should be prepared for this and have a contingency plan in place in case everything needs replacing at once.
It Isn't as Easy as the Pros Make it Look
When you see successful professional landlords in the media, they're often portrayed as effortlessly making a killing from their properties. You hear of those who inherited a property when they were 18 and now they're making millions. In these cases, there's often a lot of the story you aren't seeing. With these kinds of stories, you aren't being shown the army of people that are helping to run a huge portfolio, or the constant number crunching and market assessment needed to keep a portfolio profitable.
Don't look at someone else's success and expect it to translate, remember there's probably a lot more to it that you aren't being shown. In business and particularly in portrayals of successful businesses in the media, everyone's fast enough to congratulate you when you finally make it but no one asks how many times you failed or how hard you had to work to get there.
It's not All About the Money
There's a lot more involved in growing a portfolio than you might think, and many landlords find that the satisfaction in property investments comes from passing their properties on to their children, or helping vulnerable people, or just being able to help tenants out by providing a nice home.
If you're in it just for the money, ask yourself if this really is the right investment strategy for you. Property is not the only way to make money. In fact, there are far more passive ways of making money and some of those have much faster returns than property.
If you're looking for a fast return on your investment, you're probably better off looking at stocks and shares. These are more volatile and still involve risk, but they are more passive and easier to make liquid if you need a faster return.
Stocks and shares aren't the only alternative investment strategy, but the barrier to entry for this strategy is quite low.
So, is property investment profitable?
Yes, property is a profitable business if you do it properly. Many landlords use it successfully to build retirement funds, but the gains will be slow, particularly if you're gearing or using mortgages to purchase property.
Average rental yields generally fall between 3-5% (and that's generous) for buy to let. The real value is tied up in your assets, which means the funds can't be easily extracted. No one can see the future and with rental yields already relatively low, the real gains are in the long-term capital growth and herein lies the risk. Should there be an issue with the market or your property, you could lose capital growth rather than gain it.
So those are the top things that no-one tells you when you're considering becoming a landlord. What do you wish people told you before you became a landlord? Share your top tips and advice with us on Facebook or Twitter!
Read More Like This.