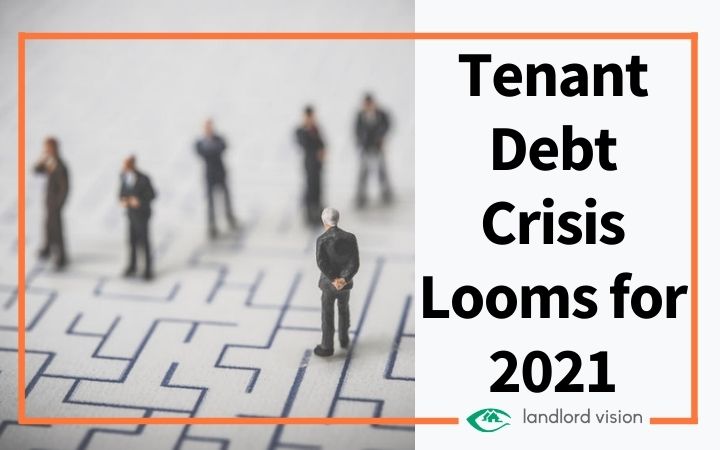 It may be a new year, but many landlords and tenants are not celebrating as the pandemic rolls over into 2021. With further lockdown measures having been introduced, many tenants and landlords are still struggling with a loss of income. This is having a huge impact on the private rental sector.
New data published by the National Residential Landlords Association (NRLA) has revealed that a staggering 7% of tenants in England and Wales are now in rental arrears, 18% of whom owe their landlords more than £1,000. Data released by housing charity, Shelter, shows that the number of tenants in debt has doubled in the last six months, which is likely to get worse as job losses continue. Shelter says the level of rent arrears in the private rental sector is a sign of how many tenants are being "pushed to the brink" in a chronically insecure housing sector.
"As the economic shockwaves of the pandemic continue, the situation will get worse if the government doesn't act swiftly,' said Polly Neate, CEO of Shelter.
Who's Most at Risk?
Self-employed tenants are bearing the brunt of the economic fallout from the Covid-19 pandemic. NRLA data shows that 17% of self-employed tenants have accrued rent arrears since lockdowns were first implemented last March. A lot of self-employed people have seen their income decimated. Although the government did introduce financial support measures, it hasn't helped everyone.
Young people have also been badly affected. A disproportionate number of them work in the retail and hospitality sectors, which have been decimated by the pandemic. The research shows 14% of people aged 18-24 are in rental arrears.
Which Areas are the Worst hit?
Landlords in the West Midlands are the most likely to have tenants in rent arrears. There, 11% of people living in the private rental sector are in debt to their landlords. London has also been badly affected, with 9% of tenants behind on their rent.
The Government Needs to Help Tenants and Landlords
The NRLA says putting a hold on evictions is not enough, and the government needs to do more to help beleaguered tenants and landlords.
"Ministers need to accept that simply banning repossessions does nothing to keep tenants in their homes long term," says Ben Beadle from the NRLA. "It will achieve the complete opposite, as kicking the can down the road just means larger debts piling up, creating a bigger problem for tenants and also for landlords."
Experts say that without some form of intervention by the government, such as interest-free hardship loans, the private rental sector is heading into a meltdown.
What can Landlords do?
It's really important to keep the lines of communication with your tenants open. Allowing tenants to accrue significant rent arrears helps no-one, least of all you. The courts are dealing with a huge backlog of cases, so it could take months to evict a non-paying tenant. If your rental income is covering a buy to let mortgage, your lender will soon be chasing you for the money.
Speak to tenants and find out what's happening with their job. If they are struggling to pay the rent, try and come up with a mutually agreeable payment plan they can afford. Remind them it's in nobody's interests for them to fall into significant debt, as you'll have no choice but to take them to court – which will lead to a CCJ on their credit record.
If you have insurance that covers rental arrears you can consider claiming against this.
If a tenant has fallen into debt and they are either uncooperative or in too much of a financial hole to make any kind of rent payment, seek professional advice to find out what your options are. All may not be lost, as there is still strong demand for rental properties in many areas.
Has the pandemic affected your property business? Do you think things are going to improve this year? Tell us more via Facebook or Twitter. We'd love to hear more about your experiences!
Read More Like This.