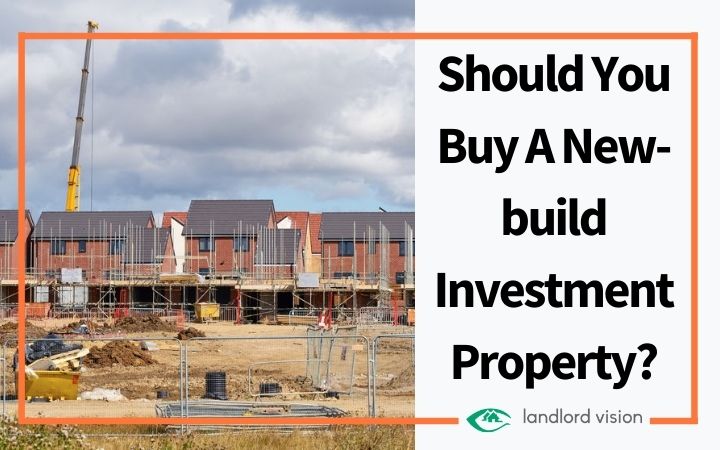 The Conservative government's scheme to encourage 95% mortgages for first time buyers and those wishing to move became active on the 19th of April. This will see the government guaranteeing loans on up to 95% of the value of properties worth up to £600,000. The aim is to provide lenders the security needed to offer such loans and hopefully mitigate the need for increasingly unaffordable deposits.
Despite the scheme, none of the 5 major high-street lenders are willing to provide 95% mortgages on new-build properties. Even with the government guarantee, lending such a significant amount is deemed to carry too much risk. This raises the question, if major lenders consider new-build properties to be risky, can they really be a worthwhile investment for landlords?
What Does the Data on New Builds Suggest?
It is common knowledge that new products tend to cost more. Unsurprisingly therefore, new-build properties are almost always sold with a new-build premium included in the price. The scale of this premium can be quite surprising in and of itself. The most recent data suggests that new-builds in the UK attract a 19% price premium. This is equivalent to paying £50,200 more when compared against the average price of an existing property. Historically, the new-build premium has averaged 18% over the past 25 years and has never fallen below 13%.
As is always the case with aggregated data, the interesting statistics become apparent when you dig down into them. As an example, new-builds sold in London do not attract the same premiums as the rest of the UK. Whilst new-builds in the City of London currently attract a 16% premium, historically, London as a whole tends to only see premiums of between 0% and 3%. Comparatively, would-be buyers of a new-build property in Harlow, Gravesham and Preston have consistently paid close to double the price of existing properties in the area.
From an investment point of view, new-build properties do not stand out as a profitable segment of the market. As would be expected, the premium applied to such properties tends to reduce with time, limiting capital gains. Estate agent Hamptons reports that in 2020, 10% of people selling their new-build properties did so at a loss, compared to only 4% for those selling existing properties. Equally, only 77% of new-build homeowners make a capital gain when selling their property after 1-6 years. This contrasts with the 89% of existing-build homeowners who made a capital gain in 2020.
Top 10 New-build Premiums by Area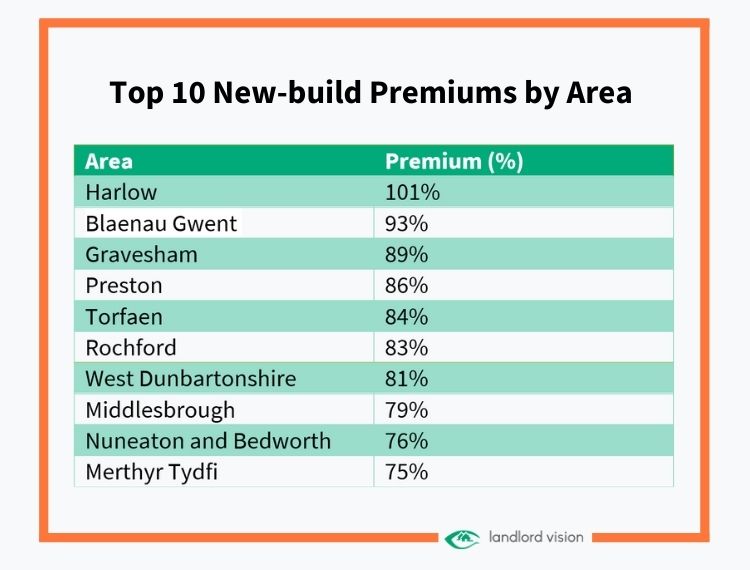 Top 10 Areas Where Existing Properties sell for More Than New Properties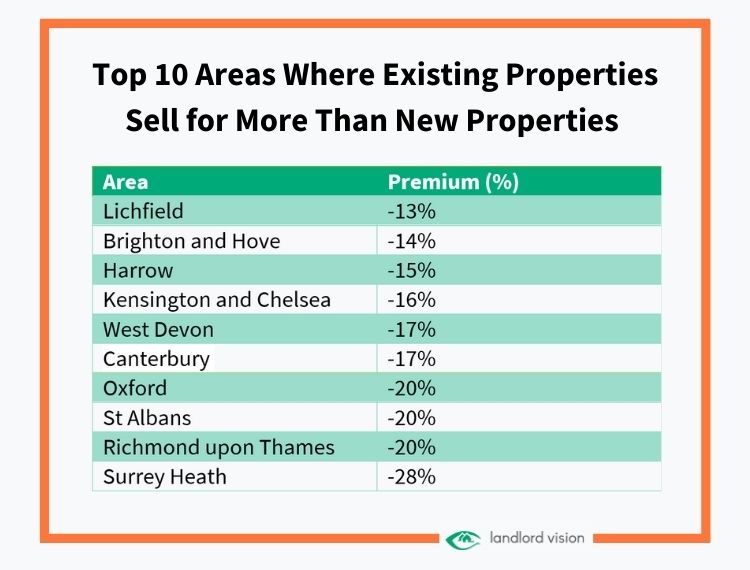 Reasons for Purchasing A New-build
Despite the headline figures, there are some financial arguments for purchasing a new-build property. Firstly, in certain areas new-build properties can sell for a discount when compared against existing properties. In areas such as St Albans and Surrey Heath, new-builds can sell for up to 25% less than the average existing house price. However, such areas are few and far between, with only 52 out of 426 areas attracting negative new-build premiums.
In an increasingly environmentally conscious world, one potential advantage of new-builds is their EPC rating. Newly built properties tend to have notably higher EPC ratings than their older counterparts. It is likely that landlords will face increasing pressure to ensure properties meet minimum EPC ratings over the next decade. As a result, existing properties which do not meet EPC standards may require substantial work to bring them up to the necessary rating. Such work can rack up costs in the thousands – a cost that new-builds will hopefully avoid.
Maintenance is another area where new-builds hold a slight advantage compared to existing-builds. The fixtures, fittings and structure of new-build properties will all be newly fabricated and up to the latest standard. Additionally, new-builds come with a 10-year NHBC warranty – although fixtures and fittings are only covered for 2 years. With this in mind, it is reasonable to expect that new-build properties will accrue significantly less maintenance expenditure during the first few years.
Reasons not to Purchase A New-build
Overall, new-build properties are more expensive. Their prices are relatively high, contributing to lower rental yields and potentially diminished capital growth for landlords and investors. However, whilst the financial cost is the most glaring downside when purchasing new-build properties, it is not the only one.
New-build properties tend to be situated on ever smaller plots of land. The rooms themselves often rely on clever staging and open-plan designs to hide their comparatively reduced square-footage. Not only does this act as a drag on future capital growth, but it can also make the properties less attractive to tenants once the fixtures and fittings have lost their 'new' appeal.
Whilst a property may be brand new, do not expect that it will be provided without issues. A survey by the New Homes Review highlights how 91% of new-build owners have found at least one significant snag with their property and over a third of all new-builds fail to meet their completion date.
So Should You Buy a New-build?
On average, new builds are more expensive and attract reduced capital growth. However, this does not mean they are entirely without merit. In certain fast-growing areas, new-build properties might be the best or only option to take advantage of macroeconomic trends. What is more, as previously detailed, new-builds do not always attract a premium. In some cases, they can even sell for a discount versus existing properties. Therefore, it can make sense to consider new-build opportunities on a case-by-case basis.
There is some truth that new-builds can save on maintenance expenses. A buy-to-let returning £900 per month may typically incur maintenance costs of 10% or £1,080. A similar new-build property may only require maintenance costs of half this amount, saving £500 per year. However, over a decade, £5,000 in maintenance savings fade into insignificance when compared to the average new-build premium of £50,200.
In summary, reasonable returns require some degree of risk and endeavour. New-builds may appeal to passive investors hoping for a hassle-free property. However, those seeking higher returns may want to focus their searches on existing-build properties.
Methodology Used to Analyse New-build Premiums
The new-build premiums used in this blog have been compiled by the Landlord Vision team. The data is sourced from the February 2021 UK House Price Index Report, available on the Office for National Statistics (ONS) website.
Disclaimer: This 'Landlord Vision' blog post is produced for general guidance only, and professional advice should be sought before any decision is made. Nothing in this post should be construed as the giving of advice. Individual circumstances can vary and therefore no responsibility can be accepted by the contributors or the publisher, Landlord Vision Ltd, for any action taken, or any decision made to refrain from action, by any readers of this post. All rights reserved. No part of this post may be reproduced or transmitted in any form or by any means. To the fullest extent permitted by law, the contributors and Landlord Vision do not accept liability for any direct, indirect, special, consequential or other losses or damages of whatsoever kind arising from using this post.
Read More Like This.