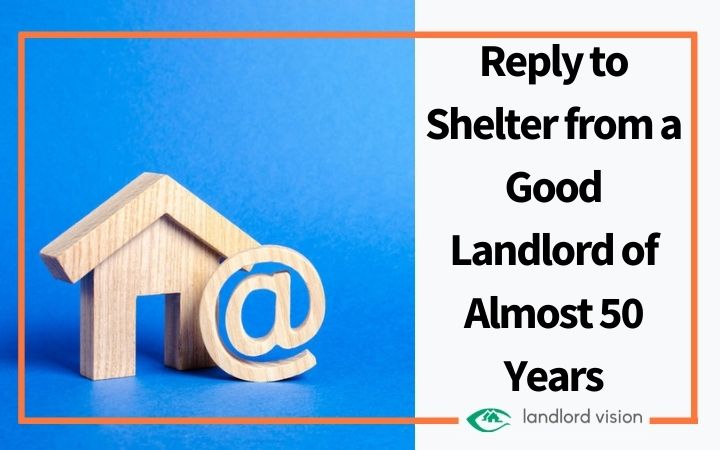 It has recently been reported that Shelter has launched a new campaign focussing on landlords and Letting Agents. This isn't new; Shelter relies on charitable donations and government funding to pay for their activities, so they like to ensure they are in the public eye. It is fundamental to their business plan to highlight to the public that some landlords and Letting Agents are operating illegally, and that Shelter is there on behalf of tenants to change rogue letting practices.
I feel that I am qualified to reply to Shelter on behalf of my landlord colleagues because I have been providing nice, safe and professionally managed homes to people for most of my adult life, almost 50 years. I have represented landlords for almost 30 years as co-founder and chair of Association of Midlands Landlords, a member of the Executive of National Federation of Residential Landlords and West Midlands Regional Representative for the National Landlords Association. I have also been the delivery partner for Accreditation Schemes from London to Stoke on Trent for 16 years, helping to keep landlords and Letting Agents up to date with legislation and regulation, I write articles on and off-line and I take part in on-line property groups to answer questions and help with problems. I have worked with national Government and local authorities on behalf of landlords.
My personal goal has always been to help to make –
private rented accommodation a tenant's first choice
First let's look at what Shelter is saying:
"Using research from 3,500 private renters to accuse both groups of illegal behaviour.
Of those polled, the lobbying organisation says 45% report illegal behaviour by their landlord or letting agent. Of these, 25% reported their landlord or letting agent entering their property without permission, 22% reported legally required safety equipment such as smoke alarms missing or not working and 18% had not protected their rental deposit with an approved scheme.
Most alarmingly, 9% of those polled said they had been threatened physically or verbally by their landlord or letting agent."
More can be found in this LandlordZone article.
To put this into perspective:
4.4 million families live in privately rented accommodation in England
3,500 is just 0.008% of the families who rent from private landlords This would be the equivalent of 875 people speaking on behalf of all those who live in Birmingham
439,996,500 families did not take part in this survey
The 45% apparently reported "illegal behaviour by their landlord or Letting Agent" That is 1,575 people. Even assuming that these people understand the law and know what is defined as "illegal behaviour" we are talking about 0.004% of the PRS and a tiny sample who were surveyed
875 people said that their landlord or Letting Agent entered their properties without permission
770 said that safety equipment was missing or not working
630 said that their deposits had not been protected
315 said that they had been "threatened physically or verbally"
I will not defend any landlord or Letting Agent who has broken the law, particularly those who may have threatened a tenant. Even at these small numbers, this kind of behaviour is unacceptable.
However I am wondering what Shelter would actually like the Government to do with this information? Aren't Shelter getting grants and donations to enable them to inform and support the tenants who have been victims of illegal behaviour – regardless of the status of the perpetrator?
What did Shelter do to help – from their 2019/20 report NB This is from 4.4m families
5,648 people in England, 409 in Scotland received advice from their legal helpline
14,121 were helped by the Offenders Service
10,336 were given debt advice
"In September and October 2019, we mobilised supporters to respond to the government's Section 21 consultation – and created an easy-to-use tool to make this easier. Over 5,500 people responded to the consultation using our tool, making up over one-quarter of all the government's responses. We engaged 1,360 new supporters, of whom 549 fully opted in. This demonstrates how much our unaccountable, underregulated private rental market angers the general public."
It does indeed, despite their efforts, only around 20,000 people responded out of the 4.4 million families who live in the PRS
A little-known fact is that Tenancy Deposit Protection legislation was introduced following a media campaign by National Citizens Advice Bureau (NCAB). NCAB had chosen a random day and asked every person who went into an agency for any reason –
"Have you ever had a landlord who has withheld money from your tenancy deposit"
No follow up question to find out why, no question of whether it was agreed or justified or not. I was on the Executive of the NFRL at that time and we discussed it but didn't take it seriously because it was so random and didn't fit any accepted version of a survey. The number of people involved wasn't revealed, only the fact that most people had in fact had money withheld from their deposits and that was enough to persuade the government to include Tenancy Deposit Protection in the Housing Act 2004. The original plan was to have a national custodial scheme. Acting on behalf of the National Federation I managed to persuade them to include the alternative of an insurance-based scheme. We couldn't have imagined back then that, whichever scheme we chose, a big pothole had opened for many landlords to fall into at great cost. I have written about what is likely to be the next step for deposit protection which will in fact be similar to the national custodial scheme proposed in the 90's but this one will be controlled by the tenant not the landlord. Even the tiny "630 who said that their deposits had not been protected" will fuel the change and we can definitely expect these changes to justify the coming Renters Right Bill.
This is my answer to the other findings from Shelter's survey:
Dear Shelter,
As a professional and caring landlord, I have a long history of working to make the private rented sector the tenure of choice for tenants in the UK. I do not turn a blind eye to those landlords or Letting Agents who disregard a tenant's dignity, legal rights, or expectations as a customer. I write articles, take part in social media, on-line fora and deliver Accreditation seminars to give information to landlords and Letting Agents and keep them up to date with legal requirements, but I acknowledge that not every landlord, nor indeed Letting Agent, does as they should, and I welcome the regulation of Letting Agents which will remove an element of unprofessionalism from the sector. Having said that I hope that it is proportionate because costs will be passed to landlords and then to tenants in rent increases – like any business, the customer pays.
I am struggling to understand why Shelter has included issues for which there is already a legal remedy? Why would more layers of regulation and legislation change the lives of those tenants who need support? Wouldn't spending more on educating tenants make a bigger difference? Knowledge is power and there is legislation that tenants can use when they are made aware of it and can perhaps be coached through the process. Better yet modules should be built into the National Curriculum and taught at school.
My answer to most problems is sharing information – education – support. I apply this to my business life, and this is why I am so involved in the delivery of Accreditation for Landlords and Letting Agents.
Let's look at the issues that you have raised and point tenants in the right direction to solve these problems.
THE ISSUE – 875 people said that their landlord or Letting Agent entered their properties without permission.
THE SOLUTION – change the locks. Regardless of what a contract says the tenants' rights to protect their privacy and security is fundamental and the right to change the lock cannot be removed by a term in a contract.
THE ISSUE – 770 said that safety equipment was missing or not working.
THE SOLUTION – if this is an HMO report this to the local Environmental Health Department or Fire Department and expect them to use their powers to force the landlord to replace or repair the item.
If it's a single let and a battery-operated smoke or heat alarm, ask for it to be replaced. You can also report this to your local council who will look to serve an improvement notice on the landlord requiring them to repair or replace the alarm. In the rare event that doesn't happen, replace it and send a copy of the receipt to the landlord asking them to re-imburse the cost.
THE ISSUE – 630 said that their deposits had not been protected.
THE SOLUTION – Find a No Win No Fee legal company and use them to sue the landlord for up to 3 times the amount of the deposit in compensation. This can be done up to 6 years after you leave the property. Alternatively help tenants to get the paperwork in order and make a claim themselves or with your support.
THE ISSUE – 315 said that they had been "threatened physically or verbally".
THE SOLUTION – the obvious one is to ask the police to support them, failing that a local authority Tenancy Support Officer. There is some good technology to help to get evidence including small video cameras. This should be a priority.
If tenants can't use current legislation what is the answer? Removing Section 21 – it may help the tenant to feel less concerned about being evicted if they make a complaint but if a landlord or Letting Agent is using threats, it is likely that they will find another way to remove the tenant and no amount of legislation will change the behaviour of the lawless. This is the fundamental issue.
Those landlords and Letting Agents who ignore the law will continue to ignore the law until they are punished for their actions. I know that I speak for my colleagues when I say that good landlords want these people removed from our business. Not only do they do reputational damage and make tenants suspicious of all landlords and Letting Agents, they make good landlords wonder why we pay for Licences, membership of ICO, Accreditation training, correct insurance, membership of Landlords Associations, keeping our equipment in good working order, maintaining the property …… when those who don't pay for any of those things just make the law look toothless.
The responsible thing for Shelter to do is to push for more enforcement of current legislation and bigger penalties for those who are convicted, while at the same time educating tenants about the remedies available to them. The major proportion of Shelter's funds should be spent on this to make a difference now.
Changes to landlord taxation has driven many good landlords from the business with many working towards selling up. You may believe that this is good news, but in reality, tenant demand is growing at an alarming rate, I witnessed this recently with two separate properties. By the time the penny drops the housing crisis will be even worse than it is at the moment and we all know that new building is not anywhere close to solving that problem.
There are a couple of things we could try:
Private landlords could stick to our own business and stop letting to tenants who should be social tenants.
There is a lot of discontent in this tenant group, mainly because they are in need of social housing, they don't want to rent from a private landlord and only do so because there is no other option. I know that Shelter fought to prevent landlords and Letting Agents stating 'No DSS' in advertisements but I am not sure why? Surely these are the tenants less likely to move out if a landlord or Letting Agent treats them without respect or doesn't maintain the property? A tenant who is paying the rent will usually just move on – if you are not getting what you are paying for that is the best solution. Why would Shelter want to force private landlords to take tenants who, if for whatever reason, they prefer not to take them?
The reality is that there are thousands of landlords who do choose to take people who need benefits to help to pay their rent, some of those landlords actually target that tenant group because they genuinely want to help them. I know several landlords who have bought in areas with good schools so that they can offer a nice home close to those schools to families with young children. This works well for both the tenants and the landlords who want the tenancy to continue for many years
Regardless of Manifesto promises building is not even close to meeting the need and social housing demands increase year on year. Until this changes, private landlords are very much a part of housing provision in this country, including for those who would prefer social housing. In recent years many landlords, who previously let to traditional private sector tenants, have begun working with Housing Associations to house vulnerable people, that means that those properties are no longer available to private tenants and this decrease in supply has caused an increase in demand in many parts of the country. This is private landlords leaving their traditional market to help to house those in need of a home and support. This is not the "job" of private landlords and is already causing further reputational damage in local communities. There is no mention in your manifesto of housing this growing number of people.
In a nutshell:
Private landlords and Letting Agents are regulated. That regulation needs to be enforced.
Private tenants have legal options to protect them. These tenants need more support to enforce their legal rights.
Private landlords house many people who would otherwise be homeless and, regardless of your opinion of the sector, this needs to be accepted.
I was interested to read in your 2019/20 Annual Report that unlike myself and my colleagues Shelter will not be investing any grant and donated money in housing:
"The investment managers are now able to set a more proactive investment strategy and respond nimbly to market conditions, to help boost returns. – Ethical parameters of the policy have been expanded. Previously, investments in organisations whose primary business related to tobacco, alcohol or gambling were excluded from the portfolio. The new policy generally excludes these organisations as well as those primarily involved in the housing and property development sector, high interest rate lending, arms, pornography and the sex industry, and extraction industries (oil, coal and gas). These changes will apply from financial year 2020/21 onwards."
Source: 2019-20_Shelter_Annual_Report.pdf (ctfassets.net)
I would be happy to discuss a better way of solving the housing problems in the UK
Mary Latham Landlord.
Read More Like This.