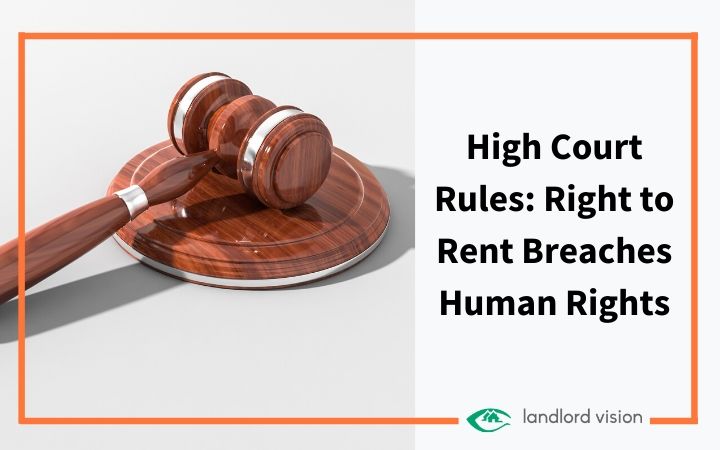 The High Court has ruled that the government's Right to Rent legislation is in breach of EU Human Rights legislation.
Mr Justice Spence said the scheme was causing widespread discrimination in the UK's private rental sector, with landlords thinking twice about renting properties to non-UK Nationals.
He added the consequence of introducing the legislation was "logical and wholly predictable" and "The safeguards used by the government to avoid discrimination, namely online guidance, telephone advice and codes of conduct and practice, have proved ineffective."
In a damning judgement, Justice Spence said the government must take responsibility for the discrimination that has taken place since the Right to Rent scheme was first rolled out in 2016.
RLA's Damning Critique of Right to Rent
The Residential Landlords Association described the ruling as "damning critique of a flagship government policy" and went on to say: "We have warned all along that turning landlords into untrained and unwilling border police would lead to the exact form of discrimination the court has found."
The RLA joined forces with human rights group, Liberty, when the legal challenge was first launched against the legislation by the Joint Council for the Welfare of Immigrants.
The Joint Council for the Welfare of Immigrants describes the current private rental sector in the UK as a "Hostile Environment" and warns that it must be "dismantled". They say discrimination is creeping into everyday life in the UK in a most alarming way and the government must work fast to scrap this contentious policy, to eradicate racism in the housing market.
Naturally, the Home Office wasn't terribly happy about the judgement and has already announced that it intends on appealing. It says it will give careful consideration to Judge Spence's comments.
What is the Right to Rent?
The government's Right to Rent policy firmly placed the onus for checking a tenant's immigration status on landlords. Before a tenancy can begin, the landlord must check all tenants aged 18 and over, even when they are not named on a tenancy agreement or there is no tenancy agreement. Landlords are expected to ask for original ID documents, such as a passport. They can also use the Home Office landlord checking service.
Illegal Renting Penalties
If a landlord doesn't perform checks or fails to do the checks properly and the tenant turns out not to have the right to remain in the UK, he or she faces unlimited fines or a five-year prison sentence. The government stressed that only the most serious cases would lead to a prison sentence, but it's not surprising that many landlords automatically turn down non-UK tenancy applications rather than put their liberty at risk. After all, ID documents can be forged.
Read More Like This:
Shelter: New Law Could see Over 1m Landlords Sued for Poor Housing Conditions
Changes to Principle Private Residence Relief
Legal Case Judgement Could Have far Reaching Repercussions for Landlords