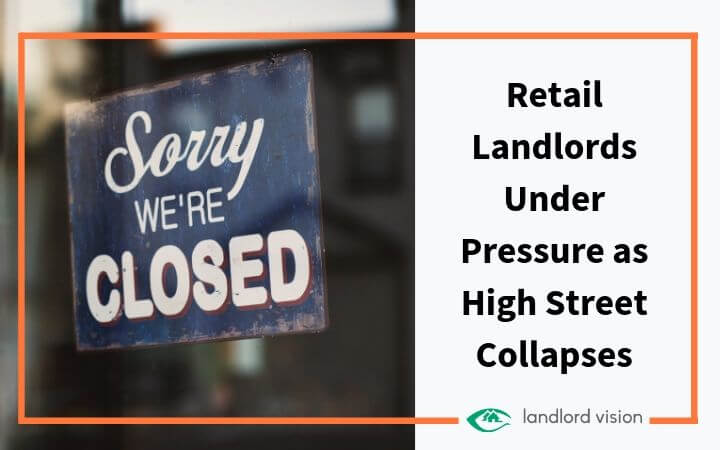 Britain's high street appears stuck in a downward spiral. Big brands such as Marks & Spencer and John Lewis are struggling. Many high street chains have gone into administration in recent years, including Coast, House of Fraser, and BHS. Even popular chains like Top Shop are struggling.
Falling Retail Rents
It isn't just jobs that are feeling the pressure of a struggling retail sector. Retail rents have fallen dramatically in the last 12 months, with agreed rents now a third less than they were during the same period a year ago. Estate agents Savills say rents in some shopping centres have fallen by as much as 60% in the last quarter. This is hitting retail landlords hard.
All over the UK, there are vacant storefronts and deserted shopping centres. As a nation, we still love to shop, but increasingly we're shopping online rather visiting the nearest shopping centre. The situation in the US is pretty similar. There, rents in retail malls are in freefall, with retailers having the upper hand when it comes to rent negotiation.
Landlords Struggling to Find Retail Tenants
Large shopping centres, particularly those out of town, are still busy, but in town centres, smaller shopping centres and high streets are feeling the pressure. Many landlords with high street properties are struggling to find tenants.
Landlords with established tenants like high street brand Next are under pressure to slash rents. Next has said that rents need to fall by up to 50% if retailers hope to balance the steady decline in sales.
Landlords with larger shopping centres are so far weathering the storms that are buffeting smaller centres, but even big names like Intu are not immune; Intu is currently trading at a discount of 70% on its book assets.
"There is pressure on rents, there is undoubtedly too much retail space. But if you can build that into your underwriting and still get your returns, then you shouldn't say 'no, not at any price'," says Canadian real estate giant, Brookfield.
The Rise of Mixed-Use Developments in Retail
Some investors feel the way forward is to develop mixed-use retail centres, which combine hotels, leisure facilities, and shops. Ikea has already announced a huge investment in mixed-use city centre developments, which it plans to extend into Europe, North America, and Asia.
Some experts say although the retail sector is turbulent right now, things will stabilise in the future and the survivors of the current purge will emerge stronger and better able to cope with further downturns in the sector.
The role of the retail landlord may be changing, but if retail can adapt to the many challenges the sector faces, it has a future.
Are you feeling the high street downturn? Let us know in the comments.
Read More Like This:
46% of Landlords Threaten to Quit the Sector
Is Short Term Letting a Viable Business Model