It is not just house prices that are increasing dramatically. Rents in some regions of the UK and Wales are rising at their fastest rate in a decade. Rents outside of London have increased by 3.0% over the past 12 months, according to online listing agent Zoopla. Similar to the broader housing market, there are noticeable trends driving rental growth. The desire for more space, changing house prices and supply imbalances have all factored into a huge variation in the performance of rents since lockdown began in 2020.
The Great Rental Divide
When viewed simply, the rental market in the UK can be divided into two groups. Inner city locations and out of city locations. Due to its size and international nature, London tends to be a group in of itself. What has been particularly noticeable over the past 12 months has been the variation in performance between city centre locations and their regional/commuter counterparts.
As a headline figure, rental growth over the past year looks decidedly negative, with rents falling 1.2% overall. However, the devil is in the detail. Once London is removed from the data, Zoopla highlight that rents increased 3.0% in the rest of the UK. The typical property outside of London now rents for £780 per month.
Interestingly, it is the historically less desirable locations which have outperformed. The North East (+5.5%), South West (+5.3%), East Midlands (+4.8%) and Wales (+3.8%) have all seen rental growth reach 10-year highs. Across the Irish Sea, rents in Northern Ireland increased by an impressive 4.4%. Rather than London, Leeds and Manchester, it is Rochdale, Barnsley and Wigan that are witnessing rental growth in excess of 8%.
In fact, many of the traditional investor hotspots have underperformed over the last year. Edinburgh, Manchester and Leeds are all down 3.2%, 1.0% and 0.7% respectively. Such locations have suffered as offices close, and people seek to move out of city centre flats. However, Gráinne Gilmore, Head of Research at Zoopla, highlights that "in large city centre markets, rental demand is building as offices start to re-open, which will ease negative pressure on rents."
Rents in London have fallen a staggering 9.4% since the first quarter of 2020. A typical property in the capital now rents for £1,554, the lowest average value since December 2013. Whilst the ratification of the UK's exit from the EU may have played some part in this, Coronavirus has been one of the most significant factors influencing rental growth in the capital.
The Economic Statistics Centre of Excellence (ESCoE) estimates that almost 700,000 non-UK born workers vacated London in 2020. Whilst it would be easy to blame this on Brexit, the ESCoE highlights Coronavirus related factors. Foreign nationals are overrepresented in the hospitality and retails sectors, which have been disproportionately affected by the pandemic. Equally, many universities have shifted to an entirely online curriculum, which has encouraged many students to return home or not renew their leases.
The ESCoE's report also highlights the West Midlands as seeing a significant exodus of non-UK born residents, with over 250,000 vacating the region in 2020. Although seeing rents rise 1.4%, the West Midlands is the third worst performing region after Scotland and London.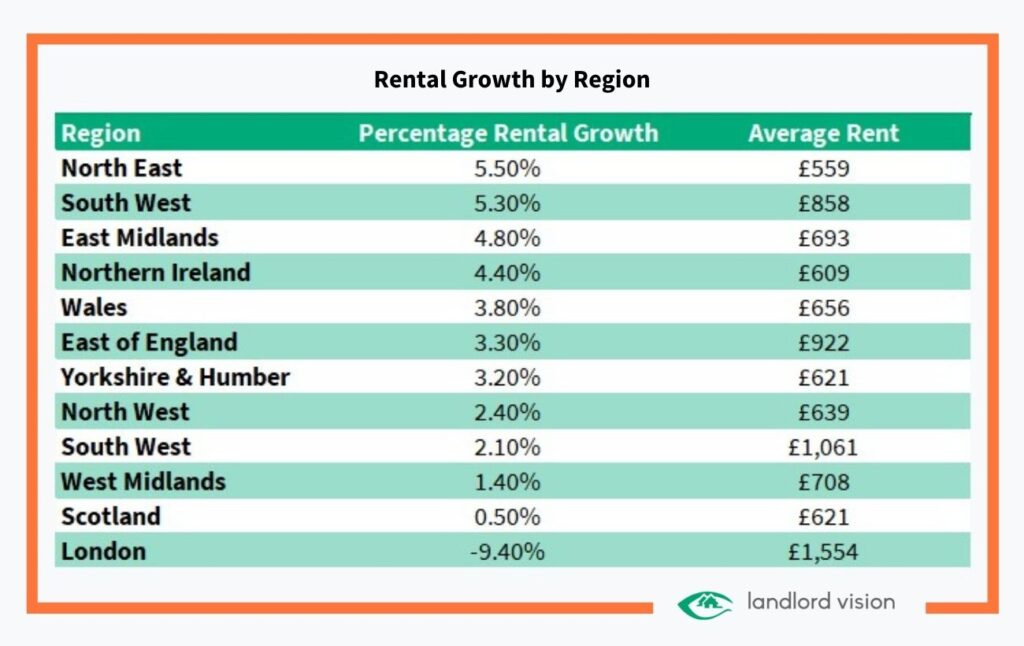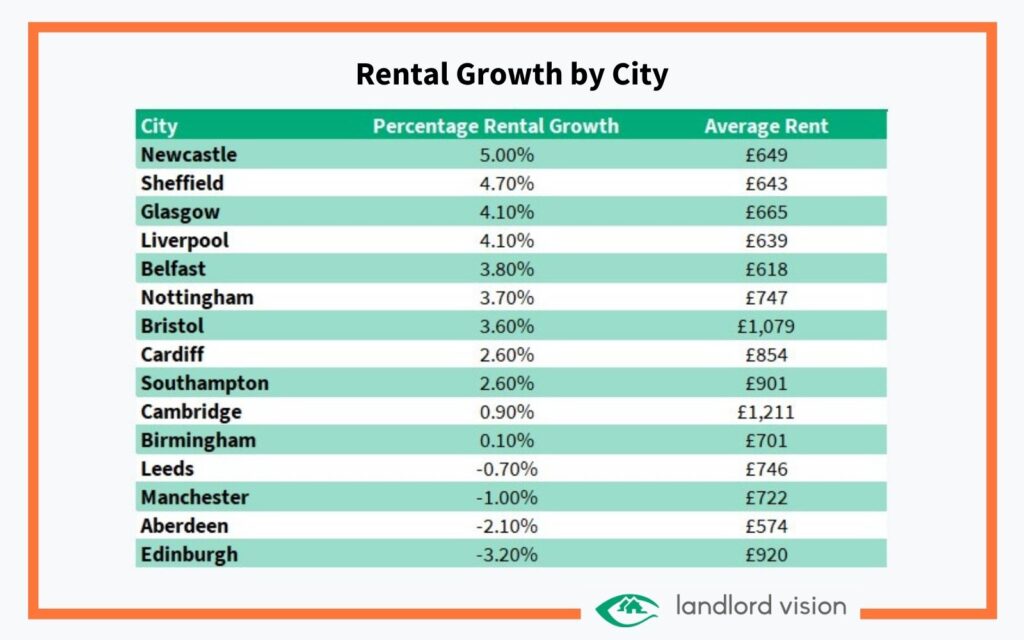 A Narrowing of the Affordability Mismatch
The regions which have witnessed the greatest increases in rent are those which tend to be the most affordable. Despite seeing average rents rise 5.5% over the past 12 months, the North East remains the most affordable rental region in the UK. A typical rental property accounts for just 22.0% of the average single-earners monthly income. Equally, other outperforming regions such as Wales and the East Midlands also fall below the UK average affordability (25.9%).
On the other end of the scale, it has been the more unaffordable locations which have underperformed. In Edinburgh, rents still account for 34.4% of monthly income. This is the case even after accounting for a 3.2% fall in rents over the past year. London itself is synonymous with high rents and still ranks as one of the least affordable locations in the UK. A typical property in London will account for 42% of the renter's monthly income. However, as contradictory as it may sound, it has been a long time since rents in London have been this affordable. The figure of 42% is down from 49% in 2019 and the all-time high of 55% in 2015. Areas such as the City of London, Kensington and Chelsea have all seen rents fall to their lowest level since 2011.
What Factors Are Driving Rental Performance?
Undoubtedly, the pandemic has caused one of the largest upheavals to the UK property market since the 2008 Financial Crisis. Coronavirus has caused an unprecedented change in house prices and the demand for properties. These changes have also affected the short-term supply of properties and compounded the long-run imbalance between supply and demand.
The desirability of property in the UK has been fundamentally altered by Coronavirus. Homeowners and renter's alike are striving for more space and more functional properties. Zoopla reports that the proportion of would-be-tenants searching for properties with gardens has more than doubled in the past 12 months. Similar trends can be seen in the demand for additional rooms and home offices.
As has been well publicised, the past year has seen a constant stream of homeowners and renters leaving city centre locations to live in commuter towns. This has seen house prices rise and the demand for rental properties increase. Demand for rental properties outside of London was 32% higher in the first quarter of 2021 when compared against the same period in 2020.
Supply of Rental Homes
Whilst demand for rental properties outside of London has rocketed, supply has failed to keep pace. The number of new properties coming to market has fallen 5.0% over the past 12 months due to several factors.
Firstly, whilst a greater number of tenants are seeking to move to new, larger rented properties, the number of renters leaving the rental market has slowed. Increasing house prices and more conservative lending requirements have caused properties to become less affordable to first-time buyers. What is more, young first-time buyers tend to work in the sectors most affected by Coronavirus, further hindering their ability to save for deposits. Alongside the inability to evict tenants, this has contributed to a reduction in the number of properties listed to rent.
Secondly, years of successive changes to taxes and legislation in the private rental market have hindered supply. Investment into the rental market by individual landlords is yet to surpass the level seen in 2015 – the year before the 3% stamp duty surcharge was introduced for investors. By the same token, the number of properties purchased in 2020 using buy-to-let mortgages was 45% lower than in 2015. Landlords have had to reassess the profitability of their portfolios or leave the market altogether. All of which has resulted in there being less private rental properties available now than there were in 2016.
Finally, the government has sought to incentivise institutional investors and large-scale landlords. Such investors have bought and developed properties in high-value city centres such as London, increasing the supply. However, they have been far less active in the more unglamorous regions throughout the rest of the UK. This means that what supply there is, tends to be congregated in areas which are currently less desirable.
What Does the Future Hold?
Gráinne Gilmore suggests that the "elevated levels of demand amid constrained supply will underpin rental growth in 2021 across the UK". Put more simply, the short-term increased in demand will combine with long-term supply issues to support further rental growth throughout 2021.
The availability of 95% mortgages and indications that wages are beginning to rise again may allow more people to leave the market to purchase their first homes. By the same token, a booming housing market and rising rents may encourage landlords to invest in further properties. However, it will take some time for this to properly address the current imbalance between supply and demand.
In the short-term, summer traditionally brings a new wave of graduates and would-be renters entering the market. Combined with the economic bump from the UK hopefully emerging from lockdown, this should support rental growth over the next 6-12 months. The re-opening of offices and bars will help to support city centre locations. However, it is unlikely that rents in London will return to their pre-pandemic levels anytime soon.
Sources:
Zoopla. 2021. UK Rental Market Report: Q1 2021. [ONLINE] Available at:  https://advantage.zpg.co.uk/insights/rental-market-report/.
Personnel Today. 2021. Number of overseas nationals leaving UK could have reached 1.3 million. [ONLINE] Available at:  https://www.personneltoday.com/hr/number-of-overseas-nationals-leaving-uk-could-have-reached-1-3-million/.
Disclaimer: This 'Landlord Vision' blog post is produced for general guidance only, and professional advice should be sought before any decision is made. Nothing in this post should be construed as the giving of advice. Individual circumstances can vary and therefore no responsibility can be accepted by the contributors or the publisher, Landlord Vision Ltd, for any action not taken, or any decision made to refrain from action, by any readers of this post. All rights reserved. No part of this post may be reproduced or transmitted in any form or by any means. To the fullest extent permitted by law, the contributors and Landlord Vision do not accept liability for any direct, indirect, special, consequential or other losses or damages of whatsoever kind arising from using this post. 
Read More Like This.