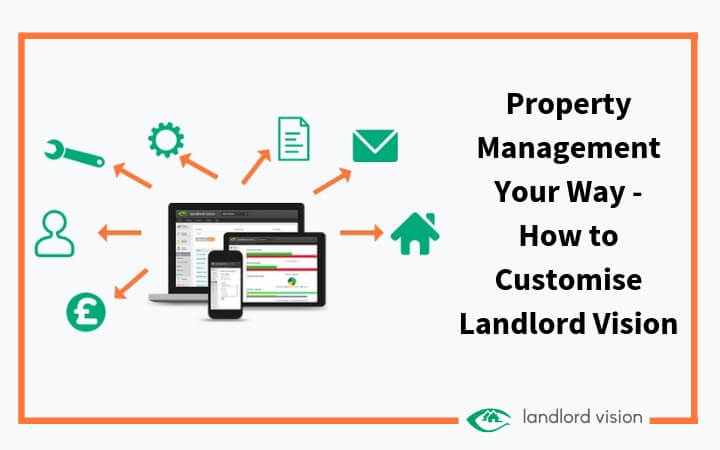 No two landlords take the same approach to managing their properties. Luckily Landlord Vision can be customised so you can manage your portfolio however you like it. In this month's tip we'll introduce you to the most popular customisations. Give this a read and have a play around to put your own stamp on the software.
Dashboard Customisation
When you log in to Landlord Vision you'll see a dashboard. This is arranged with default bits and pieces from your portfolio, but you can change it.
You can put just about anything you like on your dashboard which is really useful if you like seeing things at a glance.
To customise your Landlord Vision dashboard simply go to Settings > Portfolio Dashboard.
Change the First Screen
Dashboards are great, but if you're using some features more than others you may want to see a different screen when you log in. For instance, you could make your starting page your calendar if you'd prefer to see tasks before anything else. It's really easy to change the first screen. As in the tip above, go to Settings > Portfolio Dashboard.
You can even do this for each portfolio you have. So, if there is one portfolio you'd prefer to see your calendar for and another you'd prefer to see your portfolio dashboard, you can make that happen. Use this dashboard customisation tutorial to learn how.
Task Management
As a default all your tasks are shown on the dashboard, if you have a lot of tasks, that can be a bit overwhelming. You can control this by setting up your dashboard to only show tasks from a specific time period.
All your tasks are shown on the dashboard by default. If you have a lot of tasks that can get a bit overwhelming. You can control this by setting up your dashboard to show you tasks from a specific time period.
If this sounds useful, use the simple customisation tutorial here for instructions on how to set it up.
Upload Your own Documents
Landlord Vision has built in document management features. If you want to upload any of your own documents, this handy tutorial will show you how.
This gives you the opportunity to add legal documents (if you don't want to use the ones already in Landlord Vision), inventory forms, EPC certificates, literally any document you could ever need.
Once you've uploaded your own documents you can organise them by property so it's fast and easy to find them when you need them. If you need signatures on your documents, you can also send them to get electronically signed from inside the software.
If you aren't already using this feature, you're missing out on the extra level of organisation this brings.
Upload Your Receipts
Following on from the last point, you can also upload your receipts to Landlord Vision, and they will be stored in the software right next to the expense item they relate to.
The best thing about this feature is that once you've uploaded a receipt, the data on it will be automatically turned into an invoice or an expense item. It's fast, it's easy and it allows you to store this all-important information.
This is an essential way to customise your expenses and to make managing expenses easier. If you need an introduction to this feature this expense scanning video is a quick way to get started.
Invoice Headers
Some landlords run their properties as a business. For this reason, you might want to have your business logo or branding on your invoices. Using Landlord Vision, you can easily customise the headers of your invoices to suit your own style. This invoice headers tutorial will explain how you can do this.
This isn't just for businesses either. Sometimes you just want people to know that you are organised, creating a custom header will send the message loud and clear.
Email Templates
There are some standard email templates in Landlord Vision that are easy to use, but if you like your emails to look a certain way, or you want to create a standardised email that we don't have a template for, you can save your own template to Landlord Vision. This Email template tutorial will guide you through the necessary steps.
So, there you have it. The most common ways to customise Landlord Vision. Don't see the customisation you're looking for? Visit the Knowledge Base for more tutorials and to leave suggestions for improving the software.
Don't forget to connect with us on Facebook or Twitter to stay in touch and keep up to date on our latest posts.
Read More Like This: