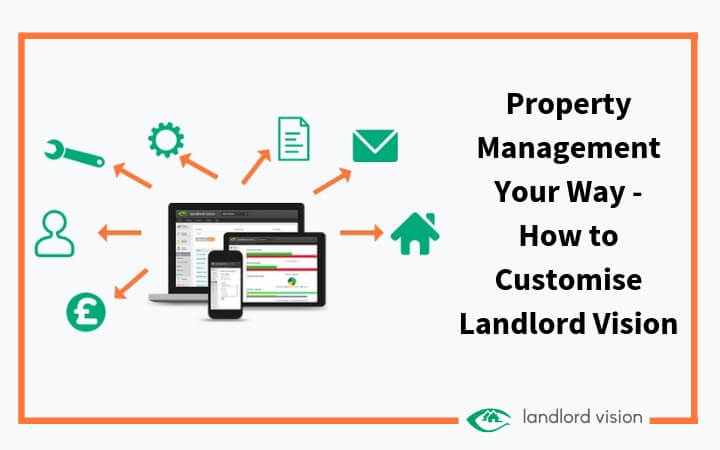 When it comes to managing properties, no two landlords will take the same approach. Landlord Vision can be customised in a variety of ways, so you can manage your portfolio however you like it. In this month's tip, we're introducing you to the most popular customisations for Landlord Vision.
Dashboard Customisation
You can re-arrange and remove anything you don't find useful from your dashboard. So, if you'd rather see your unoccupancy report before your tasks, or the other way around it's easy to make that happen.
Change the First Screen
Maybe you don't want to see the dashboard as your starting screen? If that's the case, you can also make your calendar or your agenda the first page you see.
Task Management
As a default all your tasks are shown on the dashboard, if you have a lot of tasks, that can be a bit overwhelming. You can control this by setting up your dashboard to only show tasks from a specific time period.
If these sound useful, you can use the simple customisation tutorial here for instructions on how to set them up.
Upload Your own Documents
Landlord Vision has built in document management features. If you want to upload any of your own documents, this handy tutorial will show you how.
Invoice Headers
Some landlords run their properties as a business. For this reason, you might want to have your business logo or branding on your invoices. Using Landlord Vision, you can easily customise the headers of your invoices to suit your own style. This invoice headers tutorial will explain how to make this happen.
Email Templates
There are some standard email templates in Landlord Vision that are easy to use, but if you like your emails to look a certain way, you can save your own template to Landlord Vision. This Email template tutorial will guide you through the necessary steps.
These are the most common ways to customise Landlord Vision, if you don't see the customisation you're looking for, visit the knowledge base for more tutorials, leave us a comment or contact us.