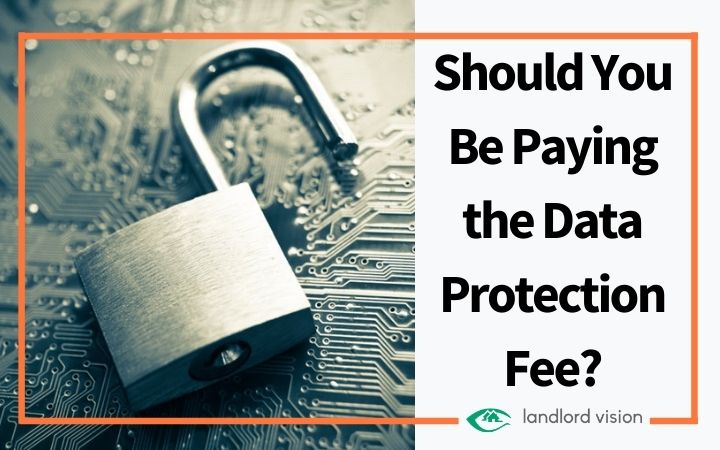 It is increasingly common for ambitious or tax conscious landlords to operate their properties through a limited company structure. In fact, more companies were set up to hold buy-to-let properties between 2016 and 2020 than in the whole of the preceding 50 years. There are more than 225,000 limited companies operated by landlords in the UK.
If you do choose to manage your properties through a limited company, there is a good chance that you will have received a letter to your registered address from the Information Commissioner's Office (ICO) reminding you to pay the Data Protection Fee. This begs the question, what is the ICO and are landlords really expected to pay a Data Protection Fee?
What is the Information Commissioner's Office (ICO)?
The Information Commissioner's Office (ICO) is a public body created to uphold the information rights of the public. The ICO is charged by parliament to ensure organisations in the UK adhere to personal data regulations.
The ICO has been in operation for decades, however in recent years the public body has seen its powers and responsibilities swell as legislation and the media spotlight increasingly focus on the misuse of personal data. The General Data Protection Regulation (GDPR) and its supplementary legislation – the Data Protection Act 2018 – have provided the ICO with enhanced responsibility and increased enforcement powers.
What is the Data Protection Fee?
The Data Protection Act 2018 stipulates that organisations which process personal information are required to pay a data protection fee to the ICO, unless exempt. It is a legal requirement to pay the fee and organisations which fail to do so can face fines of up to £4,000. The fee itself is used to fund the ICO, accounting for 85-90% of the body's annual funding.
In November 2019, the ICO launched a campaign to reach out to all registered companies in the UK to inform them of their responsibilities. Part of this campaign includes sending letters to the registered addresses of limited companies, reminding them of the need to pay the Data Protection Fee or register their exemption with the ICO.
Are You Eligible to Pay the Data Protection Fee?
Despite the increasing prevalence of software such as Landlord Vision, few would consider landlords to be an especially technologically savvy bunch. Are landlords really expected to pay a fee to ensure the safeguarding of information? The unfortunate answer is, in most cases, yes.
It is a legal requirement that any organisation which processes personal information is required to pay the Data Protection Fee, unless considered exempt. The quickest way of checking whether you are required to pay is by using the ICO's online tool.
The ICO defines 'processing' information as being any act of obtaining, recording, storing or updating personal information. Equally, 'personal information' is any detail about a living individual that can be used on its own or with other data to identify them. Therefore, if at any time you receive or store the details of one of your tenants, you are eligible to pay the Data Protection Fee.
What are the Exemptions?
There are some exemptions from paying the fee. Landlords that process personal information physically rather than digitally are exempt from these rules. However, it is worthwhile remembering that any information acquired over email, even if printed out and stored, will still be deemed to be processed digitally.
The ICO also provides exemptions for personal and not-for-profit cases where personal information is processed. A full list of the exemptions is included below:
staff administration
advertising, marketing and public relations
accounts and records
not–for–profit purposes
personal, family, or household affairs
maintaining a public register
judicial functions
Even if you do qualify for an exemption, you are required to register this with the ICO so that they are aware. If you do not, you may still be chased or even fined for non-payment.
Are Only Limited Companies Eligible?
Landlords who operate their properties under their own name may question whether they too must pay the Data Protection Fee. As with limited companies, sole traders are also required to either pay or apply for exemption with the ICO.
The main difference between landlords operating as sole traders and those operating through limited companies is the manner in which the ICO approaches them. The government holds a central register of limited companies, allowing the ICO to proactively remind such companies to pay the Data Protection Fee. In contrast, the ICO relies on sole traders to be aware of their obligations and pay the outstanding fee without reminder.
What if you use A Letting Agent?
Landlords who rely on letting agents to fully manage the letting of their properties may be able to claim exemption through the 'accounts and records' exemption. This exemption allows for personal data which may be processed in an electronic format to provide invoicing or for your own accounts.
If you only receive monthly statements and rent from your letting agent and receive physical copies of your tenancy agreement, then you will not be obliged to pay the Data Protection Fee. However, should you store a database of historic or prospective tenants, receive digital tenancy agreements or have correspondence relating to the management of specific tenants, then you will not be exempt and will have to pay the fee.
Paying The Data Protection Fee
Whilst the Data Protection Fee will not be the largest cost landlords face, it is an annual fee. The amount you will be required to pay will vary depending on the size of your organisation. Most landlords will have a turnover of less than £632,000 and employ fewer than 10 members of staff in a financial year. Landlords falling within these criteria will only need to pay £40 per annum. Should you be fortunate to earn more than £632,000 per year or employ greater than 10 members of staff, the fee will rise to £60 per annum.
To pay the Data Protection Fee you will need to go on to the ICO's website. If it is your first time paying, you will need to click 'first time payment' and complete a short form which details your company and personal details. This will take between 5 and 15 minutes to complete.
It is recommended that you opt to set up a direct debit with the ICO. The benefits of this are two-fold. Firstly, having a direct debit set up will prevent you from forgetting about future annual payments – mitigating the risk of an unpleasant fine in the future. Secondly, the ICO will apply a £5 deduction when paid through a standing order.
Disclaimer: This 'Landlord Vision' blog post is produced for general guidance only, and professional advice should be sought before any decision is made. Nothing in this post should be construed as the giving of advice. Individual circumstances can vary and therefore no responsibility can be accepted by the contributors or the publisher, Landlord Vision Ltd, for any action not taken, or any decision made to refrain from action, by any readers of this post. All rights reserved. No part of this post may be reproduced or transmitted in any form or by any means. To the fullest extent permitted by law, the contributors and Landlord Vision do not accept liability for any direct, indirect, special, consequential or other losses or damages of whatsoever kind arising from using this post. 
Read More Like This.