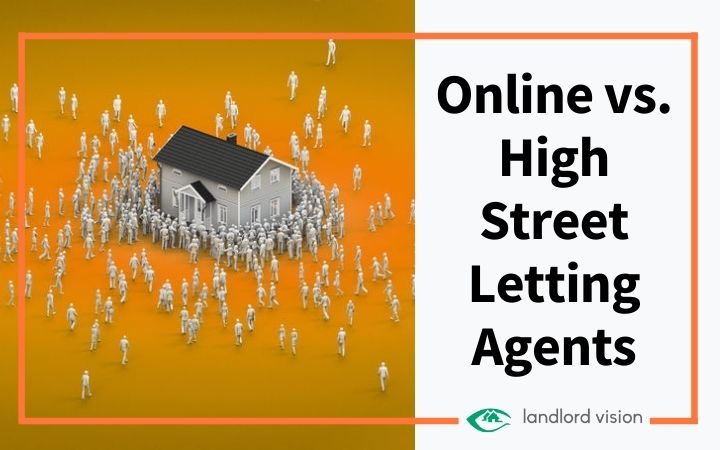 Letting agents provide a valuable service to landlords. Managing one property with long-term tenants isn't too difficult. Once you have several properties; it can easily become a full-time job. These days, landlords can choose between online letting agents and their traditional high street counterparts. Both have their pros and cons, so in this article, we'll take a look at both to help you make a more informed decision.
Finding Your Ideal Letting Agent
There's a plethora of letting agents in the market, whether online or high street.
With a wide range of variables across each agent, it can be difficult to find a letting agent.
Fees, regulatory associations, services & performance all need to be considered. Rentround allows landlords to find their ideal letting agent for free.
Simply enter your postcode & a few property details. Within 10 seconds you can see a comparison of letting agents in your area.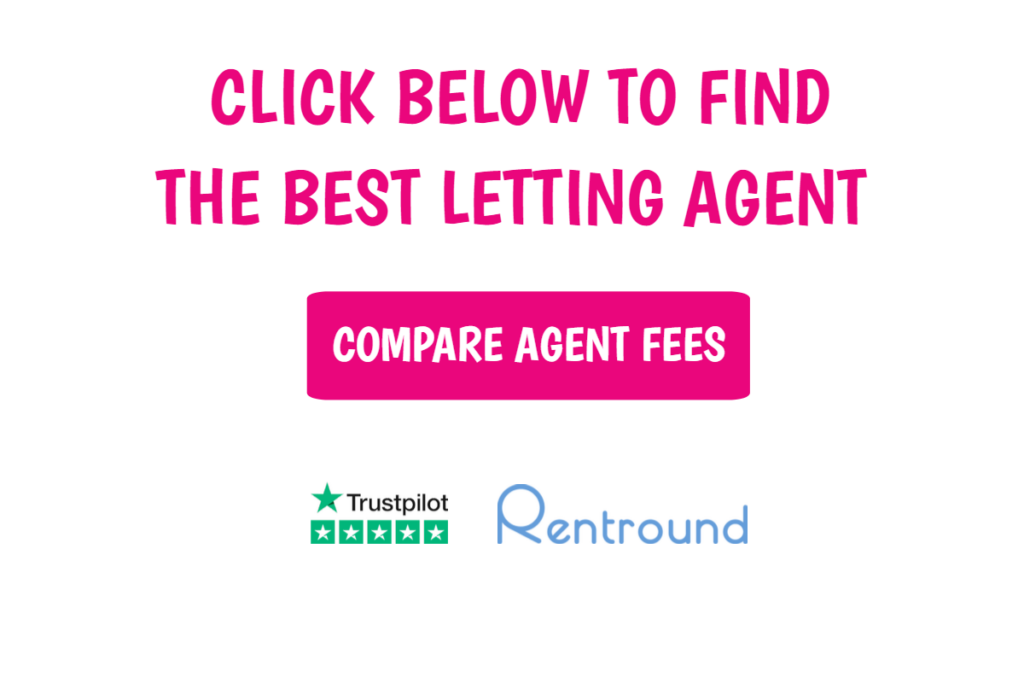 Is There a Difference Between Online and High Street Letting Agents?
Online and high street letting agents offer the same services, so it's important to think carefully about the service you need from them. Letting agents can do as much or as little as you want them to.
Most letting agents offer the following services, regardless of whether they operate online or offline.
Finding tenants – this service usually includes conducting viewings, tenant referencing, setting up a tenancy agreement, taking a deposit.
Rent collection – The letting agent collects the rent, deals with rent arrears, and serves eviction notices where necessary.
High street letting agents usually offer the following, in addition to the above two services.
Fully managed – This is perfect for armchair landlords who don't want anything to do with their rental property. The agent does everything, from dealing with tenants to organising repairs. It's important to note that you, the landlord, are still legally responsible for the property.
Add-on services may also be available, such as running tenant credit and Right to Rent checks.
High Street Letting Agents
You are probably familiar with the many traditional high street letting agents. Most of the big-name estate agents offer a lettings service in conjunction with their main offerings. Trot along your local high street and take your pick from the likes of Countrywide, Savills, and Your Move. They have a bricks and mortar presence in many towns and cities, where you can walk in off the street and chat to a live agent. Most towns and cities also have smaller local letting agents, which operate only in that area.
High street letting agents offer unique advantages compared to their online counterparts. It's worth comparing the two before you make a final decision. Read on for a quick rundown of the main benefits of using a high street letting agent with a strong local presence.
Local Knowledge
High street agents target the local area. This is useful if you want an agent with specific local knowledge. Do not underestimate the power of local knowledge. It's really important if you decide to invest in a property many miles from where you actually live, such as a holiday let.
Have a chat with the agent before you sign up for their services. Quiz them on the local property rental market and see how much they know. More experienced agents are usually a goldmine of information on which areas are the best for certain types of tenants, average rental prices, and more. It's worth taking advantage of this knowledge if you are new to renting.
Finding Tenants
Marketing a rental property is essential if you want to find tenants quickly and minimise the length of time the property remains empty. All letting agents, online and high street, use the main property portals such as Rightmove and Zoopla. When you use a local letting agent, prospective tenants can walk in off the street, if they spot a property they like in the window. Letting agents will a have a database of tenants waiting for properties. This could save you time and the hassle of creating an online listing for marketing purposes.
While most tenants look online for properties these days, older tenants are more likely to start their search by visiting local letting agents.
Property Viewings
One useful service high street letting agents provide is property viewings. Conducting viewings can be a time-consuming task. Prospective tenants may wish to view at random times of the day and night, depending on their personal circumstances. If you work full-time, you may not be available. It's a lot easier to hand over the task to a high street letting agent and let them deal with the time wasters and no-shows. All you have to do is give them a set of keys and let them show tenants around.
If you elect to use an online letting agent, you will probably have to conduct your own viewings, which might be tricky if you don't live in the local area. Factor that in when deciding which letting agent to use.
Property Management
High street letting agents usually offer a property management service. This is perfect for landlords who don't want to deal with the everyday tasks associated with running a rental property. Once you sign a contract and hand over the keys, the letting agent handles the everyday stuff, from collecting rent to fixing a dodgy boiler.
Online Letting Agents
Online letting agents don't have a high street presence. They operate purely online, via their own website. Much of their processes are automated and landlords can only communicate with an agent online or over the phone.
There are a few to choose from:
Some online estate agents also offer a lettings service, Purple Bricks being one of them.
As with a high street agent, you can choose from a number of different service packages, depending on your needs.
If all you need is an agent to post an ad on Rightmove and Zoopla, a basic package might be enough. Make sure you compare the offerings from different agents to see which package brings the best value for your money.
Plenty of landlords are happy with the basic advertising package. It lets them place a listing on Rightmove and Zoopla, which is where millions of prospective tenants look when they need a rental property. It's good to know you can upgrade to a tenancy creation and rent collection service if needed.
Now we have covered the services offered by an online letting agent, let's take a look at the main advantages of using one, as opposed to a high street agent.
The Cost of Online Letting Agents
Cost is a huge factor when choosing a letting agent and most landlords want to do everything in their power to keep costs as low as possible.
High street letting agents are not cheap. They typically charge around £750 to market the property and find a tenant. Granted, the fee does include professional photos and floorplans, tenant referencing and checks, plus deposit registration. This is a fairly hefty cost for a small landlord.
If you elect to use the fully managed service, expect to pay between 10% and 15% of the monthly rental yield, or even more if you own a property in London. This is a significant cost each month, which will seriously eat into your profit margin. It's not so brutal if you own a successful portfolio of properties and you don't have time to manage all of them. For a small landlord with only one or two properties, the extra cost of a letting agent management fee can easily make buy to let a questionable endeavour.
Online letting agents are A LOT cheaper. Because they don't have a physical presence on the high street, they have much lower overheads and can pass on their cost savings to landlords.
Let's take a look at what two of the big brand online letting agents charge.
The Online Letting Agents
Tenant Find – Budget tenant finder service, includes Zoopla and Gumtree but not Rightmove – £89
Tenant Find – Tenant finder service including Rightmove – £129
Part-managed – includes everything apart from maintenance coordination – 3.5% pcm + fees
Fully managed – 5% pcm + fees
Commercial property advertising – from £150 per month
Upad:
Uchoose – Property advertising and tenancy set up – £149
Uchoose Plus – The previous package plus a tenant sign-up service – £298
Upay on Success – Previous package plus a premium listing on Rightmove, professional photography, property portal advertising – £0 upfront but £449 on successful tenancy setup.
OpenRent
Light Advertising – a 3-month listing on OpenRent only – FREE
Ultimate Advertising – a 3-month listing on OpenRent, Rightmove, and Zoopla, plus an enquiry and viewing organiser – £29
Rent Now + Ultimate Advertising – The previous package plus professional tenancy creation; optional extras available, such as rent collection and tenancy referencing – £49
In most cases, the packages from online letting agents are flexible, and you can upgrade to a better package at any time.
As you can see, there is a significant difference between the cost of an online letting agent and a high street agent. Landlords can easily save hundreds of pounds by switching to an online letting agent advertising and tenant finder service.
Getting in Touch With Online Letting Agents
The other advantage of using an online letting agent is you remain in control at all times. Online letting agents may not have a shop you can pop into, but they do have someone available on the end of a phone at all times. Some services may be delegated to an out of hours call centre at night and over the weekend, but at least you can get help if you need it.
Upad gives you a point of contact when you use their services, so you're not talking to a different person each and every time. In addition, online letting agents give you access to a management portal. Allowing you to check on how many viewings you have booked in, fiddle with your ad, and take care of the paperwork.
You are in control at all times. If you want to cancel the package, you are free to do so.
Local agents usually operate during normal working office hours – typically Monday to Saturday. Some also open on Sundays or offer late night opening. However. If your job means you can't make telephone calls during the day, it will be hard to deal with issues related to your property. Even if the agent claims to be open at set times, there's nothing stopping them shutting shop early on a slow day or taking an extended lunch break.
Remember, nothing increases stress levels more than being unable to contact the person you urgently need to talk to.
Finding Tenants Online
Local letting agents are very good at marketing to local tenants, but online letting agents excel at reaching tenants farther afield. If you own a property in a different geographical area, it makes sense to use an online agent to manage the advertising and tenant finding part of the equation. Everything is done online; you're in control at all times.
Many online letting agents place your ads on all available online property listing sites, not just the main two. This gives you even greater exposure to prospective tenants, which is important if you wish to advertise beyond your local area.
Do bear in mind, that managed viewings might not be included, so you may need to find a solution to this problem if the property is not in your local area.
Hybrid Letting Agents
Hybrid letting agents and estate agents are a fairly new phenomenon. They offer the best of both worlds: a mostly online service combined with face-to-face contact. You can still talk to a letting agent, but processes are simplified using technology and costs are minimised because there is no high street presence.
Storeys, based in Hackney, London, is one example of a hybrid letting agent. They offer bespoke management solutions underpinned with technology. If the idea of a hybrid letting agent appeals, look for one based in your area and see what services they offer.
Why use a Letting Agent?
The 2018 English Housing Survey found that 48% of landlords use a letting agent, with 9% opting for the fully managed service. Interestingly, more experienced landlords were more likely to use a letting agent, presumably because managing a larger portfolio requires more work.
Whether you decide to use a letting agent will likely come down to cost and how much time you have available to manage your portfolio. Smaller landlords have tighter margins and are less likely to want to spend money on a letting agent. That said, it definitely makes sense to use one if you are clueless about landlord rules and requirements.
Do you use a letting agent? If so, which service do you have? Let us know whether you think letting agents offer value for money, or you prefer being a DIY landlord.
You can get in touch via Facebook or Twitter. We'd love to hear from you!
Read More Like This.