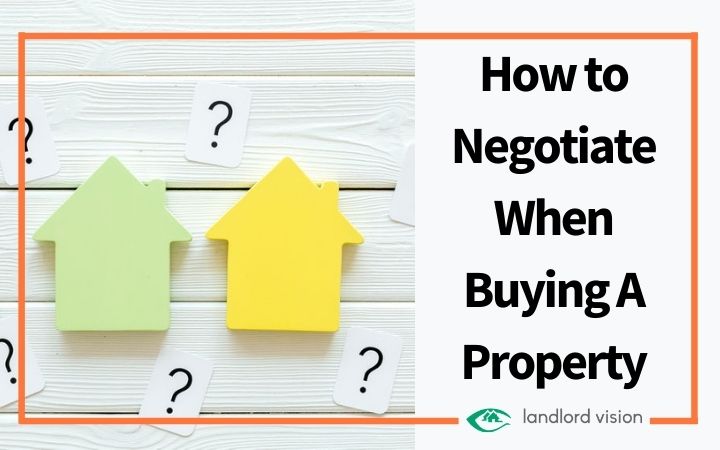 Typically, investors seek to purchase properties Below Market Value (BMV). Paying less for properties can be a key factor in determining how profitable your property investments turn out to be. Unfortunately, in an ever more digital and transparent world, buying a property below market value is proving to be an increasingly difficult task.
Investors wishing to get the best return on their money will need to use the art of negotiation. Experienced landlords and investors will seek to negotiate, ensuring that they purchase properties for the lowest possible cost. By negotiating the price down as much as possible, such investors can purchase properties at or below the market value, generating the highest possible returns.
Unfortunately, for many people the art of negotiation does not come naturally. If you find yourself to be one of these people, it may be worth taking a page from Chris Voss's book 'Never Split The Difference'. Voss was an FBI hostage negotiator before becoming a professor and CEO. Whilst his book is aimed at more general negotiation, the tips and tricks it provides can be successfully applied to purchasing properties.
Know Your Seller
Driving without sight is no easy task. Equally, negotiating without understanding the motivations of the seller can be a recipe for failure. When viewing a property, try to arrange a viewing with the owner present. If not, take the time to build a rapport with the selling agent. It is important to determine why the owner is selling the property and how this may drive their decisions.
Is the owner seeking to move to a larger house or are they seeking to downsize?
Is the property a repossession or probate?
How long have they owned the property?
If you do view the property with an agent, ask if you can speak directly to the seller when putting an offer in. The ability to speak directly with sellers and to establish a connection will allow you to learn more about their aims and desires. If there are multiple buyers, you may be the only person they are directly speaking to and this may give you the upper hand.
Let the Other Side Go First
It can be beneficial to make the seller move first. Having built a rapport with the owner or agent and convinced them that you are a serious buyer, it can sometimes be worth asking the seller what they would really sell the property for. In doing this, you are asking the seller to reconsider the price they would actually accept on the property. In most instances they may reconfirm the list price. However, they may come back with a lower price, in which case the goalposts will have already moved in your favour.
Emotional Anchors
Negotiators use anchors to reframe a seller's mindset. A seller may have a given price in mind, however if you lead with an unexpectedly low offer – ideally one which is backed up by a historical comparable – you can use this to subliminally anchor their expectations to a lower value. Simply put, an unexpectedly low offer can make sellers question their own value assumptions. You need to be careful not to make an insultingly low offer. However, making an offer which is 20-25% below the listed price can be a useful technique when trying to negotiate a price down.
Establish A Range
Rather than using a specific anchor point, it can be useful to establish an emotional range. Instead of stating a single low offer, which can put sellers in a defensive mindset, you can refer to a range. You can say that, whilst their property is listed for £150,000, other properties in the area have sold for £120,000 to £140,000. The seller will still acknowledge the lower end of the range, however making an offer as part of a range will help to make it more palatable.
Use Non-monetary Terms
Whilst the absolute selling price will drive most people, it is often not the only consideration for sellers. If you understand the seller and what they are looking to achieve, you might use this to your advantage. If they are looking to move to another house but have not found the right one yet, you could offer to let them rent the house for 12 months with a one-month break clause. If they are buying a house which requires work, offer to put them in touch with a good builder that you know. In every instance, seek to add non-monetary value. When you do this, the seller will feel that you are trying your best to offer a deal which works for them.
Use Odd Numbers
Odd numbers provide an air of precision. Buyers in the property market tend to round up to the closest thousand when making offers. Often, people become set on even larger rounding than this, being drawn towards offers to the nearest £5,000 or £10,000. The problem is that this encourages sellers to push for you to reach the next rounded offer.
As you approach your price limit, consider making an unconventional offer. Instead of rounding up to £200,000, you could offer £198,350. The precision of this number can disarm sellers and convince them that you are at your financial limit, discouraging them from asking for more. Such offers can be especially effective when backed up with an investment statistic. You can inform the seller that anything above £198,350 would surpass you minimum targeted yield.
Surprise the Seller with A Gift
As strange as it may sound, a bottle of wine can be more than a bottle of wine. Sometimes, when negotiations are approaching their endpoint, it can be worth using a surprise gift. You can offer sellers a bottle of Laurent-Perrier to celebrate their house sale or for more expensive deals you could offer to buy them a TV for their new house. It may cost you £50 to £500, however the thought itself can often be worth more to the seller than the monetary value.
The Illusion of Control
It is human nature to feel more comfortable when you are in control of a situation. Interestingly, this can be a useful negotiation tool for buyers. Instead of providing answers, buyers can use calibrated questions to get the results that they want. Ask the seller questions which make them feel like they are in charge of the negotiation, but which encourage them to come up with solutions that benefit you.
If you begin to reach an impasse on the price, ask the seller 'How can we work to get this sale over the line?'. Equally, if the seller seems set on a particular price, ask them what about that price is so important to them. The trick is to encourage the seller to feel empathy towards you and to come up with their own answers.
When using calibrated questions, you should be careful not to start questions with the word 'why' unless you want the seller to defend a goal which serves you. The word 'why' comes across as an accusation and puts sellers on the defensive.
The 7-38-55 Percent Rule
The 7-38-55 rule was created by Albert Mehrabian. He argued that only 7 percent of a message is based on the words. The tone of voice and the speakers body language account for the remaining 38 percent and 55 percent respectively.
When buying a property, it is unlikely that the negotiation is done in person. However, you can ensure that you make the offer verbally. If you speak to the seller, or even the agent, ensure that you use a soft and reasonable voice. Even if it is the agent you are speaking to, the way you convey the offer can help to influence the manner in which they represent it to the seller. If the agent does not like you, they are unlikely to represent your offer in a favourable light.
The Ackerman Model
Ackerman bargaining is a system for avoiding the predictable meet in the middle negotiation. The model uses a calculated method of offer and counteroffer to allow the negotiation to result in the user's favour. The model uses 6 simple steps which bring together many of the techniques mentioned above:
Determine the price you want to purchase the property for.
Set the first offer at 65 percent of your target price.
Work out three negotiation prices of decreasing increments (85, 95 and 100 percent).
Use empathy and questions instead of saying 'No' to encourage the seller to respond with a counteroffer.
When determining the final amount, use prices with non-round numbers such as £167,850. This adds both credibility and weight to the final offer.
On the final offer, throw in a non-monetary item such as a bottle of wine.
This system relies on convincing the seller that they are squeezing you to your absolute limit. In providing a non-round final figure which includes a non-monetary item, you are signalling to the seller that you are throwing every penny into a deal that you are keen to close. In reality, you have just reached the point with which the deal no longer makes financial sense.
Whilst the Ackerman model works, it does require some adapting for the property market. Firstly, avoid using too precise numbers. If you go down to haggling about pounds or pence, you will appear overly stingy and may encourage negative connotations. It is more viable to round to the nearest £50, which is still a minor amount in the grand scheme of things. Additionally, while a low anchor point of 65% may work well outside of the property market, it may be seen as insulting by some sellers. As such it might be better to use the following scale (rounded to the nearest £500 pounds):
80 percent
92.5 percent
97.5 percent
100 percent
Offer Timing
Timing your offers on a property can be a difficult balancing act. On the one hand, you do not want to respond too quickly as this will reinforce an assumption that you have been prepared to increase your offer all along. On the other hand, you do not want to wait too long as this will suggest disinterest or may allow other buyers to beat you to the purchase.
When negotiating, never immediately respond with a counteroffer. Instead, mention to the seller or agent that you will consider the offer and need to check the maths before getting back to them. Ideally, provide a timeline for when you will get back to them. If you are at work, say that you will check the figures when you get home and provide an answer first thing the following morning.
When you receive a counteroffer, you should use the call as an opportunity to convey concerns or queries if the price is too high. You should not immediately dismiss the offer. Instead, you could suggest that it may be difficult for you to reach that figure or that the counteroffer still seems to be quite high.
Use A Surveyor
When you do have an offer accepted, you can make it conditional on a building survey. The benefit of doing this is twofold. Firstly, having a qualified surveyor go out and assess the property will help to identify potential structural risks or costs. If the property is found to have significant structural issues, even the best negotiators will be out of pocket should they buy it. Secondly, should minor issues become apparent, you can use this information to go back to the seller and negotiate a lower price.
Don't Be Afraid to Walk Away
In the cold light of day, the aim of being a landlord is to make money. You need to purchase properties which generate sufficient rental yield or capital growth to warrant the time you will be putting into them. If not, what is the point in dedicating so much of your time and money to the endeavour?
A common mistake that buyers make is to become emotionally invested in a property. For one reason or another, you may have non-financial reasons for wanting the purchase to go ahead. When this is the case, you are liable to overpay and make a decision which proves costly. Before making an offer, work out the expected return on the property. Calculate the price that you will need to purchase the property for to generate your target return and set this as your maximum price. If the negotiations exceed this price, you should be disciplined and walk away.
Disclaimer: This 'Landlord Vision' blog post is produced for general guidance only, and professional advice should be sought before any decision is made. Nothing in this post should be construed as the giving of advice. Individual circumstances can vary and therefore no responsibility can be accepted by the contributors or the publisher, Landlord Vision Ltd, for any action not taken, or any decision made to refrain from action, by any readers of this post. All rights reserved. No part of this post may be reproduced or transmitted in any form or by any means. To the fullest extent permitted by law, the contributors and Landlord Vision do not accept liability for any direct, indirect, special, consequential or other losses or damages of whatsoever kind arising from using this post.
Read More Like This.