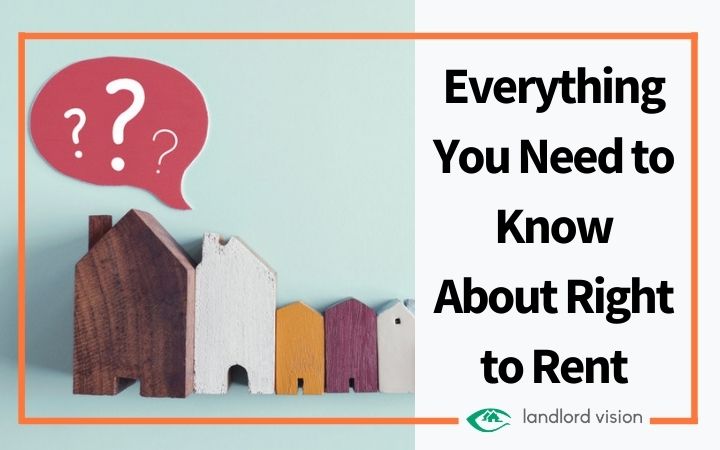 Landlords in England are required by law to ensure that their tenants have the right to reside in the UK before providing rented accommodation. It is imperative that, prior to letting a property, landlords verify the immigration status of each and every adult proposing to occupy the property.
In essence, the Right to Rent Scheme provides a framework for landlords to ensure that tenants have the legal right to rent a property in the UK. The checks themselves should be a relatively simple component of any new tenancy. However, landlords who do not adhere to the rules may rue the day, failure to comply can result in fines of up to £3,000 per tenant or even imprisonment.
What is the Right to Rent Scheme?
As implied by its name, the Right to Rent Scheme requires that landlords confirm that all prospective tenants have the right to rent in the UK. Applicants that are disqualified from renting in the UK are not permitted to occupy a rental property. The scheme instructs landlords to obtain, check and record the required documentation of all adults proposing to occupy their property. Such checks are necessary to verify both the identity of tenants and their immigration status.
Right to rent checks are only applicable for tenancies operating in England. Landlords operating elsewhere in the United Kingdom are not bound by the same legislation.
A Background on Right to Rent
The Right to Rent Scheme was introduced as part of the Immigration Act 2014, with the intention of creating a fairer and more effective immigration system. James Brokenshire, the Immigration Minister at the time, argued that the checks were designed to be a quick and simple addition to the lettings procedure. The subsequent Immigration Act of 2016 added to the legislation, making it a criminal offense to knowingly let to a person who is disqualified from renting a property.
The scheme aims to add an additional deterrent to people illegally residing in the UK, without adversely effecting people who have a legitimate right to rent. However, the introduction of right to rent has not been without controversy. The High Court described the legislation as being 'incompatible with human rights law'. Mr Justice Spencer described the scheme as "not merely providing [landlords] the occasion or opportunity to discriminate, but causing them to do so where otherwise they would not".
A report by The Joint Council for the Welfare of Immigrants found that over half of landlords surveyed believed the scheme would make them less likely to consider letting to a foreign national. Despite this, the government maintains that right to rent legislation provides a best practice for landlords and highlights that any corresponding discrimination is, and will continue to be, illegal.
Right to Rent Discrimination Concerns
Whilst it can be argued that right to rent legislation has been introduced with legitimate and fair intentions, it has created the potential for an additional layer of moral hazard for landlords. When letting a property in England, landlords now have the legal responsibility to check an applicant's immigration status whilst ensuring that they avoid unlawful discrimination against would-be tenants.
Under the Equality Act of 2010, landlords are prohibited from engaging in discrimination, harassment and victimisation when letting out or managing a property. Landlords may not discriminate against tenants on the basis of the following characteristics:
Race
Sex
Sexual orientation
Religion or belief
Gender reassignment
Pregnancy and maternity
It should go without saying; however, landlords cannot pick and choose who they conduct right to rent checks on. It is important to ensure that all prospective tenants are treated equally and that no assumptions are made about their immigration status. Landlords who are inconsistent with the application of right to rent checks could find themselves running afoul of both the Immigration Act 2014 and the Equality Act 2010.
Who has the Right to Rent in the UK?
Prospective tenants have the right to rent a residential property in the UK if any of the following apply to them:
They are a British citizen.
They have permission to be in the UK, including both work and student visas.
They have indefinite leave to remain in the UK or have settled status.
They are considered to have a refugee status or have humanitarian protection.
The Home Office has granted a time-limited right to rent.
If a tenant has documentation which indicates they meet one or more of these criteria, they can be deemed as having the right to rent in the UK.
When Are Right to Rent Checks Applicable?
Right to rent checks must be conducted on all adults prior to the start of a tenancy. The checks apply to any person living in the property, whether they are named on the tenancy agreement or not. It is important to note that the checks are still required, even if letting to a family or friend.
Should a tenant sub-let a property in exchange for rent, they then become a landlord in their own right and are responsible for conducting right to rent checks on any person whom they sub-let to. This is also the case for homeowners who rent out part or all of their main home to lodgers in return for payment.
Right to Rent Checks When Using A Letting Agent
Although landlords are required to ensure that right to rent checks are carried out, it is not a requirement that landlords conduct the checks themselves. Letting agents and third parties can be used to conduct right to rent checks on a landlord's behalf.
Landlords who rely on letting agents to conduct right to rent checks should ensure that they have a written agreement acknowledging this. It is important to have written evidence highlighting the agent's responsibility to conduct such checks within the legal timeframes. When this is the case, the liability for compliance passes onto the agent.
When Do Right to Rent Checks Need to be Carried Out?
Right to rent checks must be carried out prior to entering into a tenancy agreement with a prospective tenant. Any adult over the age of 18 who will be occupying the property must be checked, whether they are named on the tenancy or not.
Where a prospective tenant has a time-limited right to rent, the checks must be carried out no sooner than 28 days before the start of the tenancy. It is also important to schedule a follow-up check in cases where a tenant's time-limited right to rent expires whilst still occupying the property.
How To Conduct a Manual Right to Rent Check?
A prospective tenant's right to rent can be checked using one of two possible routes, either through manual checks or through using the Home Office's online checking service. Manual right to rent checks are by far the most prevalent of the two, being more universal and inherently simpler. The manual process can be split into three main steps:
Obtain
Check
Record
Firstly, landlords must obtain the original documentation of all adults proposing to occupy the property. Scanned copies or photos of the originals are not deemed to be sufficient, so it is important to physically check the original documents in person. Although exceptions were made during the Coronavirus pandemic.
Secondly, the documents must be checked in the presence of the prospective tenants. Landlords and letting agents are expected to ensure that:
The documents appear genuine.
The documents have not been tampered with.
The prospective tenant is present when the checks are being carried out.
The prospective tenant is the rightful holder of the documents provided.
The photographs and dates of birth are consistent across documents and that the persons appearance is consistent, so to detect impersonation.
Immigration rights to enter or remain in the UK have not expired.
Where there may be variation between the documents, a sufficient reason needs to be provided. The reasoning must also include supporting documentation and evidence.
Finally, landlords must ensure that they keep a record of the checks being carried out. The scheme requires landlords to produce clear copies of each document and store them in an unalterable format. The date that each document was checked must also be recorded and landlords are required to store this information securely until at least 12 months after the end of the tenancy.
The Home Office highlights that landlords must retain copies of the following:
Passports – any page with:
The document expiry date.
The holder's nationality.
The date of birth.
Signatures.
UK immigration leave expiry date.
Biometric details.
Photograph
Any page containing information indicating the holder has an entitlement to enter or remain in the UK.
All other documents – the documents in full and copy both sides of:
Biometric Residence Permit.
Application Registration Card.
Biometric Residence Card.
List of Acceptable Documents for Manual Right to Rent:
The Home Office has produced a detailed list of the acceptable types of documents which can be considered during right to rent checks. The documents can be broken down into those which evidence an unlimited right to rent (List A) and those which demonstrate a time-limited right to rent (List B).
Landlords seeking to clarify what documents are acceptable or not can check the Home Office website which includes a 'users guide'. Examples of common documents which may be requested by landlords include:
UK passport.
Driver's license.
A certificate of registration or naturalisation as a British citizen.
How to Conduct an Online Right to Rent Check
Since the 25th of November 2020, landlords have been able to conduct right to rent checks using an online service. Unfortunately, this service only works for cases where a tenant has an immigration status which can be checked online. This would include:
non-UK citizens with a current biometric resident permit or card.
EEA citizens and their family members with status granted under the EU Settlement Scheme.
those with status under the points-based immigration system.
British National Overseas (BNO) visa.
Frontier workers permit.
This service relies on individuals first viewing their own Home Office right to rent record. They can then choose to share the information with landlords by providing a share code. The share code, when included alongside a prospective tenant's date of birth, can provide landlords with access to the individual's right to rent information. As this is provided in real time by the home office, it negates the need for landlords to check the details in person.
Whilst this service may be helpful in some circumstances, in most cases the manual right to rent checks may be an easier route. Equally, whilst landlords can encourage prospective tenants to use the online service, it is not possible to insist that a person proves their right to rent in this manner.
Frequently Asked Questions About Right to Rent:
Q: What if you have bought a property with a sitting tenancy?
A: Landlords who have bought a property with a sitting tenant are required to confirm that right to rent checks have been carried out. It is important to request and keep evidence that a check was conducted and to determine whether follow up checks are required for tenants with a time-limited right to rent.
Q: What if you are letting the property to a family member or close friend?
A: Landlords are required to conduct checks on all adults residing at a property. This is irrespective of personal circumstance. Even if the would-be tenants are family or close friends, landlords are legally obligated to conduct right to rent checks.
Q: Do you need to check the right to rent of children?
A: The Right to Rent Scheme does not apply to children. Landlords do not need to conduct a right to rent check on children so long as they are satisfied that the children are under the age of 18 when the tenancy begins.
Q: Are holiday lets included under the Right to Rent Scheme?
A: It is not necessary to conduct right to rent checks on holiday lets. So long as the letting is for a short, time-limited period and the tenants intend to use the premises for leisure related purposes, then right to rent does not apply.
Q: What if a prospective tenant is unable to provide ID or sufficient evidence of their right to rent during a manual check?
A: Where there is doubt or insufficient evidence to ascertain a prospective tenants right to rent, landlords can make a request to the Landlord Checking Service.
Q: What if a tenant fails the right to rent check?
A: A landlord cannot let a property legally to anyone who fails a right to rent check. If a landlord discovers that tenants are not legally permitted to rent, they will be sent a disqualification notice from The Home Office and must take steps to end the tenancy.
Q: How are landlords expected to verify documents?
A: Landlords are not expected to have an extensive understanding of each and every form of valid identification. Instead, the Home Office requires that landlords attempt to verify documents to the best of their abilities. Obvious inconsistencies such as differing dates or signs of tampering should be noted and queried. Equally, landlords are expected to check the date of any documents in case of expiry.
Q: Are landlords obliged to accept all forms of identification?
A: Throughout the world there are thousands of different forms of ID, many of which vary in their usefulness. If they wish, landlords can require that prospective tenants provide their passport as proof of ID. There are no laws or rules which prevent landlords from doing this. The only consideration is that such a requirement must be consistent across all applicants and cannot specify or favour a single nationality.
Q: What if a current tenant is disqualified from renting?
A: If a landlord becomes aware that a tenant's right to rent has expired, they are required to inform the Home Office immediately. The Home Office website includes a disclosure form for scenarios such as this and will request information about the tenant, landlord and property. Landlords are expected to take reasonable steps to evict the disqualified tenant from the property.
Disclaimer: This 'Landlord Vision' blog post is produced for general guidance only, and professional advice should be sought before any decision is made. Nothing in this post should be construed as the giving of advice. Individual circumstances can vary and therefore no responsibility can be accepted by the contributors or the publisher, Landlord Vision Ltd, for any action taken, or any decision made to refrain from action, by any readers of this post. All rights reserved. No part of this post may be reproduced or transmitted in any form or by any means. To the fullest extent permitted by law, the contributors and Landlord Vision do not accept liability for any direct, indirect, special, consequential or other losses or damages of whatsoever kind arising from using this post. 
Read More Like This.