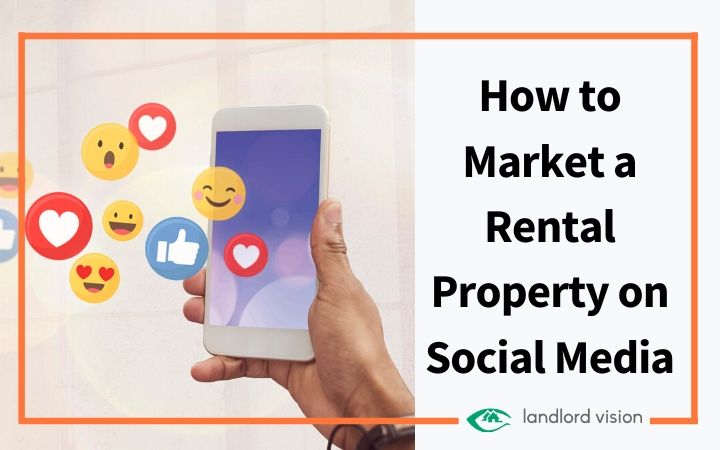 Social media is a very important medium for marketing purposes. Whether you run a holiday let business or you rent to long-term tenants, social networking can help you connect with tenants.
Most landlords use a variety of platforms to market their available properties, but social media has a lot of advantages. For one thing, it's free. The fact it costs nothing to post a listing on Facebook is a huge advantage if you don't have a lot of cash to spend. It also gives you access to a massive pool of potential tenants.
Sadly, it's not that easy. For one thing, unless you have a decent number of followers, not many people will see your listing. And for another, your marketing technique may need some work.
If social media marketing brings you out in hives, fear not, as we have some useful tips to help you get started. Read on for a guide to social media marketing for landlords. We don't claim to be experts, but we can offer some guidance based on our own experiences and that of other experienced landlords.
So, grab a drink and settle down for today's class: landlord social media marketing 101.
Why Should Landlords use Social Media?
Social media is a great tool for landlords. Many prospective tenants spend a lot of time on social media. If they are in the market for a new rental property, they might spot your listing before checking out sites like Rightmove and Zoopla. This gives you an advantage over landlords who stick to traditional marketing avenues.
Reach the Right Tenants
As a landlord, you are probably aware that it's very important to know your target tenant. This applies to all areas of buy to let investment, not just marketing. If you only have a vague idea of who you are targeting, you're going to struggle to make money. After all, buying a high-end apartment in an exclusive development and installing some tenants on benefits is not going to end well!
Social media networks all boast different demographics. You need to factor this in before you devise a social media marketing strategy.
Why do Demographics Matter on Social Media?
It's pointless using a social network for marketing if your target tenant hangs out somewhere else (digitally speaking). Make sure the tenants you are hoping to reach are active participants of the social network you are hoping to use for your marketing.
Facebook is still the biggest social network. In the UK, 37 million people use Facebook, but data shows that younger people are more likely to use image and video sharing platforms such as Instagram, Snapchat, and YouTube.
If you are hoping to attract a younger demographic – Generation Y – you might be better off diversifying and targeting a social network like Instagram or YouTube. Millennials – renters in their 20s and 30s – are very active on social media. This generation is far less likely to browse newspaper listings or cards in shop windows. If you stick to old-school marketing methods, you will find it difficult to reach the younger generation.
Have a Marketing Plan for Your Rental Property
Some landlords don't really have a marketing plan. They hope that if they throw enough stuff out there, something will stick. You're welcome to try that approach, but we recommend you devise a more coherent marketing strategy if you want to make social media work harder for you.
Begin by identifying your target tenant and working out which is the best social media to reach them on.
Create a profile for your target tenant. Think about what social networks they use. If you're utterly clueless, quiz your existing tenants and find out what social media sites they use. These are the people you already have installed in your properties, so they are likely to fit the target tenant profile.
Having a tenant profile is useful for marketing purposes. When people view prospective rental properties, they find it comforting if they can see people like them living there.
This is why ads for student accommodation typically show lots of happy, hip students hanging out in bright, trendy apartments when the reality is usually small, cramped, rubbish-strewn rabbit hutches full of bleary-eyed young people nursing a monstrous hangover or staring at a computer monitor.
Facebook
Facebook is still huge. Even after 15 years and several scandals, Facebook is still the latest social media network in the world.
Data from sproutsocial shows that Facebook is used by:
51% of 13-17 year olds
76% of 18-24 year olds
84% of 25-30 year olds
79% of 30-49 year olds
68% of 50-64 year olds
46% of 65+ year olds
From this, you can see that if you only target one social network, Facebook is your best bet. However, if you are targeting younger users, it's worth creating a presence on sites like Instagram, where 67% of 18-29-year-olds log in daily.
Instagram
You can see from the stats that the demographic breakdown of Instagram users is quite different when compared to Facebook. Data shows that Instagram is used by:
75% of 18-24 year olds
57% of 25-30 year olds
47% of 30-49 year olds
23% of 50-64 year olds
8% 65+ year olds
Whereas 68% of 50-54-year-olds use Facebook, only 23% of them use Instagram. Nevertheless, overall, 25 million people in the UK use Instagram daily, so if your marketing is heavily focussed on dreamy shots of idyllic holiday rentals, it's definitely worth targeting social networks like Instagram.
YouTube
YouTube is huge. It's right up there with Facebook in terms of popularity, but it probably won't be relevant unless you can post video content.
Nevertheless, YouTube is used by more than 70% of all adults in the 18-64 age category, so it might be worth including in your social media marketing plan, especially if you have plans to scale your business.
You Tube is used by:
90% of 18-24 year olds
93% of 25-30 year olds
87% of 30-49 year olds
70% of 50-64 year olds
38% 65+ year olds
Twitter
Twitter is less relevant for landlords, but it is useful for building a brand, forming business partnerships and sharing relevant content with your users. The UK has the fourth largest Twitter user base, with 17.75 million active users.
Twitter is used by:
44% of 18-24 year olds
31% of 25-30 year olds
26% of 30-49 year olds
17% of 50-64 year olds
7% 65+ year olds
Pinterest
Pinterest is another visual-focussed networking site. It's worth considering if you want to post aspirational content, such as great shots of your holiday rentals. It's less useful for long-terms lets.
Pinterest is used by:
38% of 18-24 year olds
28% of 25-30 year olds
35% of 30-49 year olds
27% of 50-64 year olds
15% 65+ year olds
Using Different Social Media Networks
It's very easy to fall into a social media rabbit hole, so unless you have a lot of spare time, choose one or two sites to target and concentrate on building your presence on these first.
Facebook
Facebook is the most popular social media site, so it's probably the best one to start with.
Any landlord can use Facebook to market properties and connect with tenants.
Create a page for your business, where people can message you, comment on posts, ask questions, see your current vacancies, and leave reviews.
Encourage your tenants to 'like' and share your page.
Surveys are handy for soliciting feedback and finding out what tenants want/like in rental properties.
Post useful tips for tenants, such as packing tips for a house move or where the best pizza takeaway is in your local area.
Facebook is especially useful for holiday lets. You can link to your page from blog posts or share posts on other sites.
Use Facebook advertising to boost your page or specific posts in search listings when you have vacancies to fill.
Facebook Marketplace
Facebook's marketplace is great for posting property listings. Join local buy and sell groups to reach tenants in your area. When you have a vacancy that needs filling, post a listing. Make sure you enable comments on the post, so interested parties can comment or tag other people. Add photos and include all relevant information, such as the monthly rent, how many bedrooms, the location, etc.
Twitter
Twitter isn't especially helpful for attracting new tenants, but it can be a useful portal for communicating with them. If you are a regular Twitter user, use it to build your landlord brand. Post about the latest landlord news and link to stories that may be helpful to your tenants, such as changes in the law.
This helps to build trust and show you are a professional, which will reassure some nervy tenants and help to persuade them you're not a rogue.
If you're looking for business partnerships Twitter is a great place to do this as there are a high proportion of companies on there. Follow relevant businesses and interact with them on Twitter and this helps to break the ice for a deeper conversion on how you can work together.
Instagram
Instagram is useful if you are promoting holiday lets. Most people love to see gorgeous photos of idyllic locations in their Insta feed, so if your holiday rental is in a beautiful spot, make the most of the opportunity to post lovely landscape photos.
Use Instagram to position your brand in the luxury property sector. Interior design content is always popular on sites like Instagram. If you can post stunning images of luxurious apartments, you will soon attract followers looking for high-end accommodation.
Seducing viewers with high-quality photos could lead to a few extra bookings. Make sure you add a website URL in your profile if you want people to click through to a booking website. It may also help you find high-quality long-term tenants for high-end rentals, if that's your business model.
Always add a location to your posts. This has been proven to boost post engagement by 79%. Post regularly, too, as active users get better engagement. Some research also suggests that the day you post makes a difference. Tuesdays and Thursdays are apparently the most popular days for Instagram users.
YouTube
YouTube is a video-sharing platform. Landlords can use YouTube to give tenants a virtual walk-through, show them the amenities, and really "sell" the property. In the time of Corona, virtual viewings have enabled landlords to search for new tenants while in-person viewings have been advised against.
Most tenants will want to see a property 'in the flesh' before signing a tenancy agreement, but video tours are a useful marketing tool. Video is also very useful if you are marketing holiday rentals, where tenants are not going to view before handing over money.
Use video to emphasise the best aspects of your property, such as the amazing views or the beautiful location. You can share video content on other social media sites, embed videos in your website, and integrate it with email marketing. What's not to like about that?
Pinterest
Pinterest is another place where posting attractive photos might boost your brand. Create pins of your best properties and organise them into themed boards. For example, you could create a board for each property in your portfolio and add pins of the internal décor, the views from the bedroom window, etc. Link to your boards from your other marketing channels.
This helps to paint a beguiling picture of the property you are marketing.
Like many social media sites, if you open a business account, Pinterest gives you access to analytics data. Use this to research your most visited pins and create more similar content. That way, you can attract targeted traffic and drive it to your chosen landing page, such as a booking page for a holiday let.
Pinterest users love high-quality content. Post the right images and you'll enjoy high engagement from a targeted audience.
Build a Social Media Presence
It takes time and effort to build a social media presence. Unless you buy followers, your account won't miraculously inflate overnight. The more you use your social media accounts, the more benefits you will see.
Post regularly, preferably every day.
Link your social media accounts with your website and any other channels you use.
Promote your social media accounts in emails, on documents sent to tenants, and other branded items.
Make a point of asking tenants to connect with you on social media – many will prefer to stay in touch via social media to traditional forms of contact.
Create a Strong Brand
Branding is very important on social media. A strong brand sets you apart from the millions of other people using the site.
Having a recognisable brand makes it easier for people to spot your posts on social media.
Create a logo using a free tool like Canva. Add your logo to all your social media profiles, so people know it's you on different sites. Professional branding makes your business look more legitimate, which, in turn, builds trust.
Add your branding to all of your social media channels, your website, marketing materials, and anything you send to tenants.
Post High-Quality Images
High-quality photos are worth a thousand words on social media. Posting ads for vacant properties without including decent photos is unlikely to yield much interest. More often than not, photos are the first thing people look at. In the case of holiday lets, good photos will make a massive difference, even to the point where people are often so taken with gorgeous photos of beaches and luxurious rooms that they are willing to overlook shortcomings in other areas.
Use photo galleries to showcase your vacant properties. Keep your social media page updated with current availability, so viewers can see at a glance which properties are free. This is especially important if you run a holiday lettings business.
Write Great Property Listings
The average person in 2020 has an attention span of around eight seconds. Our brains are hooked on a steady stream of digital stimuli, from notifications and ads to memes and status updates. Is it any wonder goldfish have a longer attention span than us?
To grab the reader's attention, anything you post on social media needs to hold the viewer's attention. That creates something of a challenge, but it can be done.
If you want people to click on your listings, they need to contain strong images. Research has shown that content containing images attracts far more engagement than text alone. It's even better if you add a video – the average person will happily spend 2.7 minutes watching an online video whereas users typically click away from text content in less than 20 seconds.
Pictures and video content are very important. Prospective tenants want to see what a rental property looks like. Take high-quality images of all aspects of your property. Dress it to impress. Stage it with some nice furniture. Make sure the lighting is optimal when you take photos and use a good quality camera. Ideally, use a DSLR camera with a tripod to reduce camera shake, but if you don't have one, a decent camera phone will do the job.
Edit your photos before listing them online. Use free tools like Adobe Photoshop Express editor and GIMP to adjust colours and light balance. Don't overdo it, however, as photos must be representative of the property and viewers won't be happy if they show up for a viewing and discover you edited out water stains on the ceiling and a mobile phone mast in the back garden.
Write a catchy headline for your listing so it grabs the reader's attention.
Browse other listings to see what works. If you post an ad in a buy/sell group on Facebook, bear in mind that active groups contain hundreds of new listings every day, so it's easy for one listing to end up buried. You can keep yours at the top by posting a comment to remind people the property is still available, which refreshes the post.
Engage With Your Followers
Engagement drives the social media train. Social media algorithms promote popular content, so the more engagement you have, the more people will see your posts. And the more fresh eyes you have on your posts, the faster you'll find prospective tenants.
Be responsive when people ask questions about property listings or enquire whether a holiday rental is available for a specific week. Don't wait a month to reply – it won't help your business. Facebook tells people how responsive a page is, which in turn builds trust. If you don't reply quickly, a potential tenant will assume you are not a responsive landlord and move on with their search.
Create Events
Social media can be really useful when you want to promote an event, such as an open house viewing. Create an event on your Facebook page or post about it on your other channels. Invite people to share the post with their friends. Include all relevant details of the event, such as the date, time, and address, plus your contact details.
List Up-to-date Contact Information
Social media sites like Facebook let landlords list contact information. This must be kept up to date.
Consider your preferences regarding contact from tenants, existing or new. List contact information in order or preference. For example, if you prefer tenants to get in touch in messenger, say so in your profile, and make sure this is listed above your telephone number, email address, and physical address.
Don't forget to list your business hours too. Don't put 24/7 unless you want people pinging you at 3AM on messenger or calling your mobile at 7 in the morning.
If you post listings in the Facebook marketplace, again, make it easy for prospective tenants to get in touch. It's pointless advertising a rental property and then making it hard for people to express interest.
Keep Your Profile Updated
Keep your profiles updated. If you invest in new properties, add them to your profiles. Ensure that anyone looking at your social media profiles knows exactly how many available properties you have, where they are, and how to get in touch with you.
#hashtags
Hashtags boost post engagement. Even adding just one hashtag to a post on Instagram raises engagement levels by 12.6%.
Using the right hashtags is very important. Hashtags are how people find your content. Think carefully about hashtags when you post on sites like Instagram and Twitter. Choose hashtags that are relevant to your post, for example, #propertytorent and #rentalpropertyinnottingham.
Try and use a good mix of high and low volume hashtags. Some like #holidaycottage are high volume with more than 109k posts, whereas others like location-based hashtag #holidaycottageswales only has 667 posts.
Instagram and twitter both autosuggest hashtags when you start typing, so pay attention to what hashtags are suggested.
Pay Per Click Ads
Pay-per-click advertising can be used to promote property listings. Traffic from PPC ads is usually highly targeted, as these people actively clicked on your ads rather than landed there by chance. However, ad clicks won't convert unless you have a good landing page.
Decide what search terms you want to target and pay a small fee each time someone clicks on your ad. You can specify your budget at the start of the PPC campaign, so you don't spend more than you can afford. Make sure your ads direct users to a suitable landing page, such as a booking site for your holiday rental, your property portfolio's Facebook page, or a website page where they can sign up to be on your property vacancy mailing list.
PPC isn't for everyone, but if you have holiday rentals, it can definitely pay dividends. However, make sure you do keyword research, so you don't throw money away on useless keywords. It's important to know what keywords potential tenants use to find suitable properties.
For example, if you have a beach-front holiday cottage in Cornwall, the keyword phrase: "luxury beach house St Ives" could yield some clicks. Bear in mind that the more competitive a search term is, the more a PPC campaign will cost. Unless you have deep pockets, it is usually better to try lower volume, more targeted keywords.
Social Media is not all About Marketing
Social media is not just about marketing an empty rental property!
You can use social media to communicate with tenants, get to know your target audience better, and use feedback to hone your business model. Social media helps landlords to build trust in their brand.
Trust is important. People are more likely to trust a landlord with a visible social media presence. They can see the landlord isn't some fly-by-night rogue looking to rip them off. This is especially relevant in the holiday let market, where people are expected to hand over large sums of money for a one or two-week rental. Being active on social media shows your potential tenants you exist and you're running a legitimate business.
We hope this guide to marketing rental properties on social media has given you food for thought. Social media marketing does require some effort, but it's definitely worth doing as part of a wider marketing strategy. Social media is a big part of most people's lives, so if you want to engage with a bigger audience, you can't afford to ignore sites like Facebook and Instagram. Besides, unless you experiment with PPC advertising, it's free!
As always, reach out if you have any questions, comments, or suggestions. You can connect with us on Facebook and Twitter. We're always happy to hear from our readers!
Read More Like This.