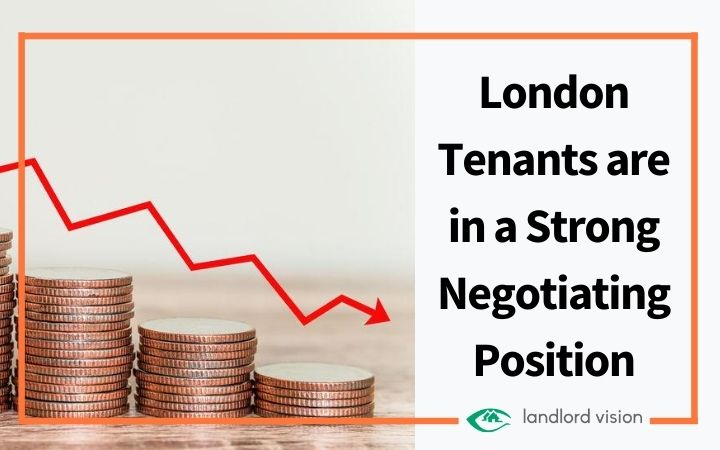 Tenants are using falling rents in London to renegotiate their rents. It seems the tide is turning in favour of renters, and landlords stuck with buy to let mortgages are caught between a rock and a hard place.
London rents have been falling since lockdown, which has pushed the cost of renting in London much lower. The average new tenancy is currently £1,583 per month, which is 1.7% lower than the same period last year. This is a sharp drop from an average of £1,673 in March.
Fewer Tenants Looking for Rental Properties
Landlords are struggling to find tenants right now. There are far fewer people looking for rental accommodation. The travel ban has stopped foreign students coming to the capital, and tourism has collapsed. All this means there is now a glut of rental properties available, which gives tenants the balance of power.
Tenants reaching the end of their tenancy are in a strong bargaining position, which some are taking advantage of. A recent Reddit thread detailed how one London renter managed to get his monthly rent discounted by £100 per month, thanks to a cheeky email request.
The tenant emailed his landlord, explaining that with his tenancy coming to an end, he'd been looking around. He discovered rents were falling in his area.
"As you know the end of our contract is coming up at the start of October. We have been looking around at other options and found several other similar properties which have been listed for less. [here I provided links to some flats that have gone for as low as £1,650]."
He said he was happy to stay in the property but was not prepared to pay the current rent. He also reminded the landlord that he was a good tenant and had been helpful on a number of occasions.
The letting agent replied on behalf of the landlord to say that was fine, as long as there was no gap between tenancy contracts.
Landlords are Struggling in London
This story resonated with other people. One respondent on the thread said they managed properties in London and knew of a landlord who was being forced to sell some of this portfolio. He could no longer keep up with his mortgage commitments due to a lack of tenants.
The moral of this story is that if rents in your area are falling, it's a good idea to be flexible on what you charge. It is definitely worth negotiating with a long-term reliable tenant if their tenancy is coming to an end. If dropping the rent slightly means they are willing to sign a contract for another 12 months. It will give you some breathing space while the economy recovers from Covid-19.
Property voids are to be avoided if possible, and now is not a good time to push rents up in the hope of making more money. Always research local rents before you hike your rents. In some areas, demand is increasing, and rents are going up. For example, landlords in Yorkshire and Humberside are enjoying a 3.8% rise in average rental values. However, if you misjudge the average rent, you will struggle to find tenants.
Read More Like This.