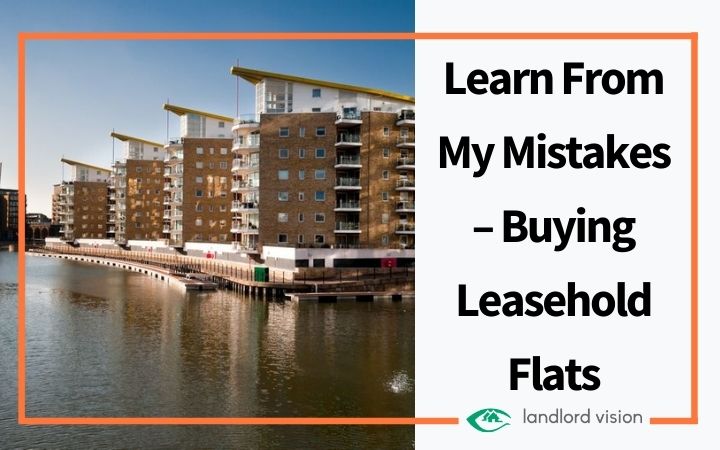 I have probably made more mistakes than most landlords over the last 49 years, not least because back in the day there was no internet, landlord associations (that I was aware of) or property investor magazines. It occurred to me that admitting my mistakes will give other property investors the information that they need to avoid making the same ones. I am going to begin with Leasehold flats, which is timely because there is a bill in Parliament to update the Leasehold Reform Act – not before time and it doesn't go far enough, as I will explain.
Until 1998 I had only bought Victorian terraced houses, which I love because they are so solid and easy to develop. When, in 1998, I decided that it was time to balance my student portfolio with some single lets, I bought small houses and my first flat. These were all 1980's builds.
The freehold houses were a solid investment and have outperformed my expectations while offering lovely homes to mainly long term tenants.
I had looked at the service charges for the flat, but I balanced that against the cost of fences, gardens, drives, guttering and drains, roof repairs, window cleaning etc., and I was happy to let someone else bring in contractors and oversee the works. In fact time has shown that the original service charges for this flat were reasonable. I hadn't considered, because I had no experience of this, is that the management company could change, and may not be as fair as the original one, but more about that later.
In 2004 I wanted to invest further in single let properties, so I bought more flats based on my 6 years experience of owning a leasehold flat. When buying houses, the conventional wisdom is to buy them close together and this is what I had previously done with my Victorian terraced houses. Initially, when buying my flats, I decided to buy a maximum of two on each development, with the goal of testing the market to get a feel for each development.
I bought them all fairly close to my home and in close proximity to a town centre, stations and motorway junctions. Some were also close to the airport. It's fair to say I had spread the risk, and I am now very glad that I did because this is what happened over the next sixteen years:
I fell in love with 1960's flats with their huge windows, big rooms, no wasted space layout and generous grounds. These were flats that I would have been excited to live in (except they had no garden and I need a garden). All the flats I bought had that same vintage feel.
My first mistake here was buying for cash, so there was no lender to satisfy! I was totally unaware that a 99 year lease was actually only worth 29 years, and as soon it was down to 70 years, lenders wouldn't lend on it. I was scandalised, I could understand that a lender wouldn't want to risk a 25 year mortgage on a lease of less than 30 years but 70 years, belt and bracers.
While on the subject of Leases in recent years, there have been issues around Leasehold Houses which are now being addressed in the Leashold Reform (Ground Rent) Bill going through Parliament:
Leasehold Reform (Ground Rent) Bill
This bill covers:
Regulated leases (1) In this Act a "regulated lease" means a lease which meets the following conditions— (a) it is a long lease of a dwelling, 5 (b) it is granted on or after the relevant commencement day, otherwise than in pursuance of a contract made before that day, and (c) when it is granted, it is not an excepted lease.
It addresses the issue of ground rents and in particular those which have been introduced in recent years, whereby over the life of the lease it will become more expensive than a mortgage and make the property unsalable. In future (after the commencement of the Act), ground rents can only be charged as a "peppercorn". This is a term used for a minimal payment when a "payment or consideration" has to be made in order to make the contract legally binding. This includes lease extensions on residential flats but not commercial leases.
The bill will make a big difference to those who are buying new builds and to those who are renewing their leases. However, it fails to address the issue of those who are trapped with leases that actually caused this legislation to be introduced. Unfortunately, it also fails to deal with another important issue for leaseholders of flats, and this is that of the commissions the landlord and managing agents can make at the Leaseholders expense:
1. Commission on the Insurance Premiums
One of my landlords is taking 20% and the managing agent takes 5%. The agents claim that this is to cover the cost of dealing with claims, but there were only 4 claims in the year before I made my enquiry! The Lease states that the Freeholder chooses the insurer, but it does not state that a commission can be made.
2. Surveyors Fees
Charged for "overseeing" major works at 15% for works below £30,000 and 10% for works above. E.g. The charge for works totalling £29,000 @ 15% will be £4,350. The surveyor is, of course, a member of their staff and it is unclear what this additional fee is for.
3. Electricity Bills
Despite the fact that this is regulated and only those who are licensed like, Eon, Scottish Power etc., are legally allowed to make a profit on the resale of electricity, some agents put a mark up on the charges for communal areas.
4. Brown envelopes from contractors
Contractors are often told the quotes that they have to beat and often "added extras" will appear on their bills (I assume that this is to cover any shortfall they have because they reduced their quotation).
5. Organising quotations
There are also charges for organising quotations. This is my least favourite.
I am not sure what their Management Fee is meant to cover.
In my opinion, we need further reforms to cover all of the above. I realise that we have Right to Manage, but this involves getting the majority of Leaseholders to agree to changes, as well as finding the right people with the relevant knowledge and skills to carry out the management. There is also the right to change the Managing Agent, but this again requires a big percentage of Leaseholders to agree AND involves finding an agent who is fair, reasonable, and most importantly honest about their charges. I don't expect anyone to work for less than they are worth, but I do expect to know exactly what I will be paying and exactly what I will be getting in return.
On one of the developments where we own some flats I decided that I must get involved. For many, many years the "residents" were represented by a self appointed group of people, none of whom had any skills or knowledge about property. No one challenged them and we all paid £1 a year to be members of the Residents Association. The Service Charges suddenly shot up to £2,000 plus and that made me pay attention. The development is 6 low blocks totalling 72 flats with a mixture of public parking, private parking, and garages.
I began my research by reading up on a very helpful website called Lease Advice, which is government funded to help leaseholders:
"the law gives leaseholders a right to request a summary of the service charge account and to inspect receipts, accounts etc in relation to the last accounting year, or where accounts are not kept by accounting years, the past 12 months preceding the request."
This is where I began, I served a Leaseholders Section 21 Notice (different to a Section 21 notice for landlords) which is free from this site and is the formal Notice which must be served in order to make the above request.
To cut a very long story short, I realised that someone needed to get a handle on the expenditure. The all male "committee" had not been voted in by anyone. And they were noticeably outraged that anyone, especially a woman, thought that she could take over. I had previously supported another lady who had offered to take on the task. When she had told them that she was prepared to take this on (as the chairman was standing down), she was told that they had appointed another man and did not recognise her. She didn't want the confrontation so sadly, walked away.
I wasn't fond of this exclusive committee setup, so I prepared a letter to all of the Leaseholders and gave them my CV offering my services free of charge with the aims of:
Reducing the Service Charge
Improving the appearance of the development
Increasing the value of the flats
The Managing Agents sent it to all the Leaseholders, I needed 60% and got almost 80%. I was recognised by the Freeholder and Managing Agents and from then on, a very steep learning curve began. I spent hours poring over previous Service Charge accounts. I looked at all the major works projects which were proposed and found some shocking paperwork. Here is my advice if you are buying an older Leasehold flat:
1. Ask to see projected Major Works and HOW MUCH IS BEING HELD IN THE SINKING FUND. What I saw was a long list of major (some urgent) works, but no sinking fund to cover them. This meant that the development was literally struggling from one year to the next, with the current Service Charge payments covering both regular daily expenses AND major works. I realised this lack of a sinking fund is why a ceiling had caved in on one of my flats which was occupied by a family with two young children. I had repeatedly warned the Managing Agent that the roof was leaking and the ceiling sagging, but they obviously hadn't got the funds to replace the roof until it actually collapsed. They also didn't see fit to tell me the truth. That flat was empty for 10 weeks before we could make it habitable again.
2. Check on Google Earth to see the condition of the rooves
3. Walk the whole site and see whether there are any inconsistencies. In one of the sites I owned flats on, I found that certain blocks were costing the rest of us more money than other blocks.
An example of a financial inconsistency is that the gardening fee for the year before I became representative was over £9,000. This was one of the fist red flags that I had spotted, but I didn't know why until later.
I now know that the gardeners, who I have now had replaced, spent most of the time that they were on the development making sure that the garden behind one of the blocks was manicured. Meanwhile the rest of the development was, to say the least, unruly. There was ivy climbing buildings, balconies, trees and filling drains as well as overgrown shrubs with some roses reaching over 2 metres high.
Had I walked around the development before I bought it, I would have noticed this. I have now reduced the budget for this year to £3,500 and those people whose gardens are no longer manicured are complaining on a daily basis. These people have previously been unaware of the major works required in other buildings and gardening is not a priority. It is only by making savings across the board that we will ever get through the major works and begin to build a Sinking Fund for future. I had thought that I would be fighting the agents, instead I found that it was the "committee" who were digging their heels in.
4. When asking the amount of the Service Charge, make sure to ask for the past 3 years. If the "committee" had been working in the best interest of the Leaseholders, they would have ensured that a fund was being built rather than holding down the Service Charges simply to cover day to day running, all the while allowing the buildings to deteriorate. Prospective buyers are put off by high Service Charges, but until we catch up there is no choice.
The best landlords turned out to be the council. I bought a couple of ex-council flats because they are located in the town centre, beside a hospital, close to the station and to the airport. These were also 1970's build with 125 year leases. The council continued to manage the development, where a few flats had not been bought under Right to Buy, and the Service Charges are so low I originally thought that the annual charge was a monthly charge. They don't mark up invoices and don't add commission to insurance, the buildings are in good condition, and if the grounds are untidy that's not a major problem because they only consist of small areas of grass and small flower beds.
Going back to the first flat that I bought – until two years ago the Service Charges were fair and the maintenance good. Unfortunately a new Managing Agent has now taken over and I am on the verge of serving a Section 21 as I write this. They wrote to me a couple of weeks ago to say that they were having a survey carried out with the intention of landscaping the gardens. The gardens consist of a verge of about 2 metres at the front and side with 2 small flower beds and about 3 meters at the rear. There are only 2, two story small blocks and a car park. Other than moving the buildings, I cannot imagine what "landscaping" might look like but I can imagine who will pay the bill for the survey.
These flats used to sell like hot cakes because of the condition and the Service Charge being so low. They were very well built and there are no major works in the pipeline, but there is a Sinking Fund for the future. I don't want a Managing Agent reducing the value of the flats by increasing the Service Charges and reducing the Sinking Fund, therefore it's time to get involved before it's too late.
I am also about to help a friend who owns a flat above shops and the Service Charges include items which only relate to the shops. There are six flats on one floor above shops with a rear access up a staircase onto a walkway. There are 4 lights on the walkway. The shops and flats pay their Service Charges separately these are for the 6 flats:
Annual Electricity £1,300 – 4 lights
Water supply to outside area – £2,000 – there isn't a tap or an outside area
Cleaning Common parts & windows £2,800 – the windows and walkway are cleaned by the flat occupiers
Snow clearing and gritting roads – £250 unnecessary on a first floor covered walkway
My absolute favourite – Fees for preparing end of year Service Charge – £550
All in addition to the Management Fee! A leaseholders Section 21 on the way!
My final advice is to get involved if you do own Leasehold flats. I have been shocked by the lack of interest from other landlords on the development where I am the representative. All I need is their vote to support the changes that I am pushing through, but most of them fail to acknowledge communications.
Read More Like This.