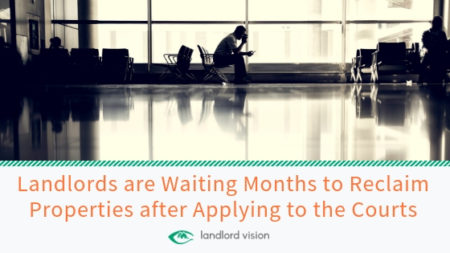 Figures released by the Ministry of Justice have revealed that landlords are having to wait more than five months to get their property back after going to court. This scenario occurs when a landlord wants to evict a tenant because they haven't paid the rent or are in breach of their tenancy agreement for some other reason but refuse to leave. The Residential Landlords Association say the wait is intolerable.
"These figures show that the court system is failing to secure justice for landlords and tenants when things go wrong," said David Smith, policy director for the RLA.
Landlords are Falling into Mortgage Arrears
Landlords who have to wait more than five months for a tenant to leave their property could have problems paying their mortgage. The RLA is concerned that if the government goes ahead with forcing longer tenancies on landlords, it will be even harder for landlords to reclaim their properties.
"If ministers want to roll out longer tenancies landlords need the confidence that in cases where they legitimately want to repossess a property the system will respond swiftly. It is not good for either tenants or landlords to be left in a prolonged period of legal limbo," says David Smith.
Government Consults on Housing Court
The government is currently consulting on the merits of a funded housing court, which would take the pressure of the County Court system and speed things up. This is exactly the kind of system the RLA is calling for.
There are regional differences between the time a landlord files a possession order and gets access. It can take, on average, 25 weeks in London, but in the South West, its only 18 weeks.
Because of the waits caused by an overstretched court system, many landlords are using Section 21 notices to evict tenants, as it is quicker and less onerous.
Have you had any bad experiences with evicting tenants or long waits after applying to the court for possession? Let us know in the comments.
Read more like this:
Landlords May Be Forced to Grant Access to Telecoms Companies
Are Banks Forcing Landlords to Leave Benefit Tenants out in the Cold?
Do These Figures Validate the Governments Landlord Taxation Policies?