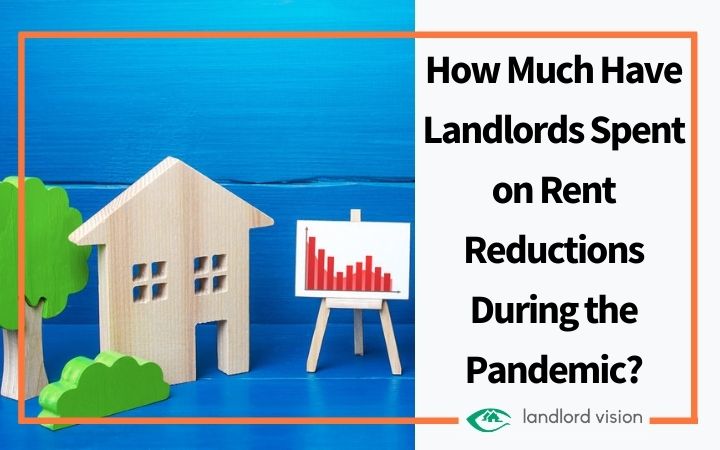 Whilst the first rays of normality have returned, the past year has certainly been one of the toughest in recent history. It has taken extraordinary measures by both the national government and the average person to pull through this pandemic. Although certain segments of the media may loathe to admit it, landlords as a community have also shouldered their fair share of responsibility.
Rent Reductions
Nearly half of British landlords reduced their tenants' rent during the pandemic. Research conducted by Shawbrook Bank indicates that 46 percent of landlords reduced the rent of one or more of their properties during the height of the pandemic. On average, the rent reductions lasted for four months and equated to £6,500 per property. Staggeringly, over the course of the year, landlords are estimated to have reduced rents by over £7.9bn collectively.
Larger landlords appear to have been more able to bear the burden of reduced rents. Portfolio landlords, those owning four or more properties, were significantly more likely to have agreed a rent reduction, compared to their single property counterparts. In fact, of the landlords who offered rent reductions, 59% did so on multiple properties. Understandably, these decisions have impacted the profitability of rentals, with 12% of single property landlords and 17% of portfolio landlords reporting that they missed out on income due to rent cuts.
Rent reductions are just one of a number of support packages landlords have offered their tenants over the course of the pandemic. Half of landlords offered their tenants rent payment holidays, allowing them to delay rent payments for up to 3 months and devising bespoke repayment plans. Shawbrook Bank highlights that such payment holidays equated to a further £7,500 per property, with 28% of landlords offering their tenants a full payment holiday.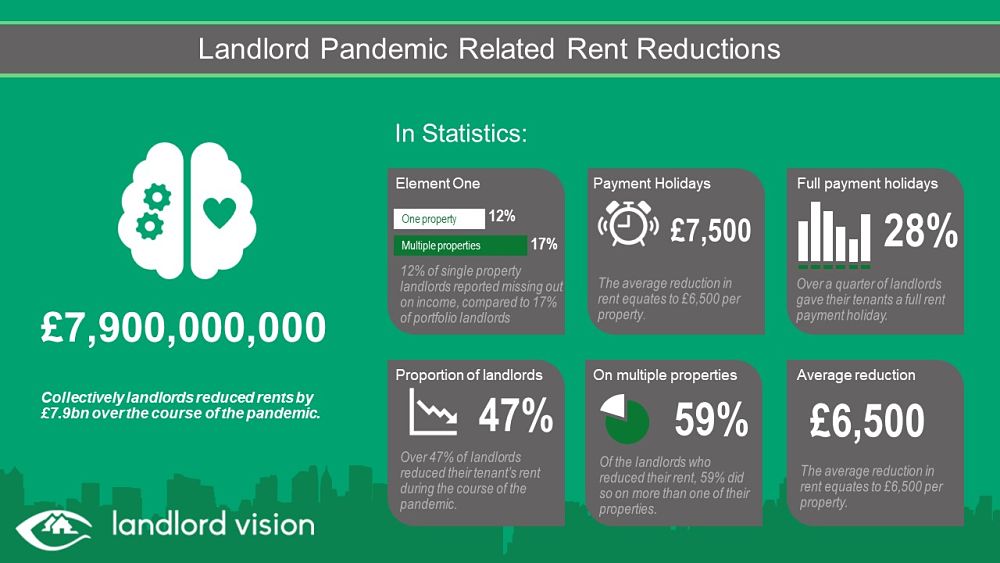 Well Intentioned Decisions
Undoubtedly, not all landlords reduced their tenant's rent out of the goodness of their heart. There was certainly a practical argument for supporting tenants who were not able to pay their rent in full. It is better to have a partially rented property, or even just an inhabited property, than an empty one.
However, to say that the rent reductions were based purely on practicality does a disservice to the thousands of landlords up and down the UK that made the decision to cut their rents due to a desire to support others. Nearly a fifth of portfolio landlords missed out on income due to their rent cuts, highlighting the altruistic nature of their decisions. Especially at the height of the pandemic, many landlords opted to support key workers and NHS nurses in the form of rent reductions.
John Eastgate, Shawbrook Bank's managing director for property finance, highlighted: "No amount of foresight could have prepared landlords, or tenants, for the impact of the pandemic. In many cases landlords were initiating the conversation around cutting rents to ease their financial burden."
Rent Reductions Have Not Been Without Pain
It is only right that those landlords who feel willing and able to, should support tenants in need. However, steadily reducing tax breaks and rental yields for landlords, combined with the more recent decline in rental prices due to the pandemic, have all contributed to a fall in the value of buy-to-let portfolios in recent years. The NRLA highlights that 60 percent of landlords have lost rental income due to the pandemic and lockdown.
Property mogul landlords, who operate enough properties to live comfortably off the profits, make up only a fraction of the total landlord population. Many landlords operate properties as private investments or hold them by way of an accident. Such landlords tend to have lower cash reserves and often manage a career alongside their properties. The inability of some tenants to fully or even partially pay their rents will have severely impacted smaller landlords such as these.
The pressures of the past year come after a period of increasing regulatory hostility towards landlords. In London, the average gross rental yield was 3.8 per cent in December 2020, compared with 5.9 per cent at its September 2012 peak, according to Zoopla. Successive legislation has squeezed margins and forced landlords to rationalise their portfolios or exit the market entirely. A fifth of all landlords are considering selling all or part of their portfolios. Over half of landlords cited increasing regulation as their reason for selling, with a quarter referencing the changes to buy-to-let mortgage relief.
Admittedly, it has not been all doom and gloom for landlords. Whilst rental returns diminished last year, the overall increase in property prices will have benefitted landlords outside of London. Going forward, Eastgate points out "There is a strong argument to suggest that landlords in regional locations have never been in a better position to profit, while city centres will continue to represent good value as workers head back to the office, even if it is on a part-time basis."
Disclaimer: This 'Landlord Vision' blog post is produced for general guidance only, and professional advice should be sought before any decision is made. Nothing in this post should be construed as the giving of advice. Individual circumstances can vary and therefore no responsibility can be accepted by the contributors or the publisher, Landlord Vision Ltd, for any action taken, or any decision made to refrain from action, by any readers of this post. All rights reserved. No part of this post may be reproduced or transmitted in any form or by any means. To the fullest extent permitted by law, the contributors and Landlord Vision do not accept liability for any direct, indirect, special, consequential or other losses or damages of whatsoever kind arising from using this post.  
Read More Like This.