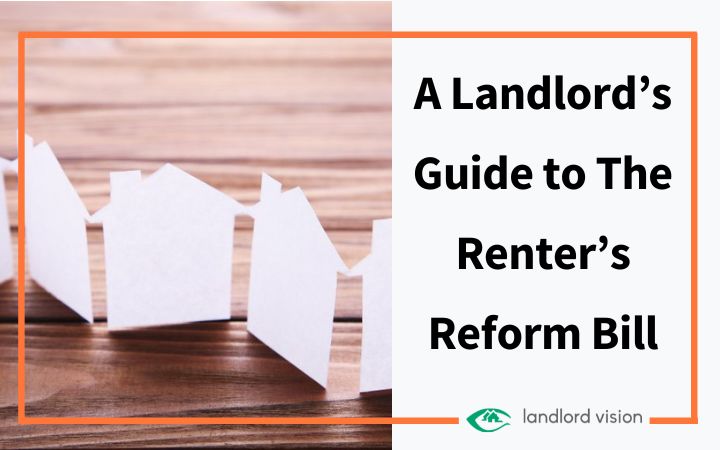 On the 16th of June 2022, the government released its long-awaited white paper on rental reform in the UK, titled 'A Fairer Private Rented Sector'. The report is arguably one of the biggest shake-ups to the private rental sector in over 30 years, advocating wholesale changes to the structure of tenancy agreements, eviction rights and landlord obligations. The government will implement the suggestions of the Fairer Private Rented Sector white paper through a proposed Renters Reform Bill, which will be put before the House of Commons.
The intention of the Renters Reform Bill is to dramatically improve the quality of the UK's stock of rental properties. The government argues that many tenants refrain from reporting poor housing standards or repair issues for fear of negative repercussions – be it early 'no-fault' evictions or aggressive increases to rent. As a consequence, more than 2.8 million tenants in the UK continue to live in homes which are not deemed fit for the 21st century.
The Fairer Private Rented Sector white paper includes a number of expected recommendations, which have been previously discussed and were widely anticipated, such as the abolition of Section 21 Notices and enhanced rights for pet owners. However, other recommendations have come as more of a surprise to landlords, including the replacement of traditional fixed-term Assured Short Term (AST) agreements with mandated periodic tenancies.
The Abolition of 'No-Fault' Section 21 Notices
As was widely expected, the government intends to keep their manifesto promise to abolish no-fault evictions. Landlords will no longer have the ability to issue Section 21 notices to tenants. Instead, landlords will only be able to evict tenants for legally defined 'reasonable' circumstances. It is hoped that by doing this, the government will enable tenants to challenge poor property conditions, without the fear of eviction.
Once Royal Assent is secured on the Renters Reform Bill, the government intends to provide landlords with 6 months' notice before withdrawing the right to issue Section 21 notices. Once the law comes into practice, all new tenancies will be exempt from Section 21 notices, with historic tenancies transitioning over to a new periodic structure to prevent a two-tiered system.
Although the government intends to do away with no-fault evictions, they have acknowledged the need of landlords to regain possession of their properties in certain circumstances. As such, the new legislation will include amendments to grounds for possession notices under Section 8, allowing landlords to repossess properties in cases where they intend to:
Sell the property
Move 'close' family members into the property
Move into the property themselves
However, similar to the current Section 21 protocol, landlords will not be allowed to use these grounds within the first 6 months of a tenancy. The Fairer Private Rented Sector white paper argues that these amendments are "comprehensive, fair, and efficient, striking a balance between protecting tenants' security and landlords' right to manage their property".
Interestingly, the government intends to introduce a new formalized ground for possession for cases of 'persistent rent arrears'. Landlords will now be able to pursue mandatory eviction of tenants in cases where the tenants have been in at least two months rent arrears three times within the past 3 years, regardless of the outstanding balance at the time of a hearing. On the one hand, this change marks an improvement over the current situation, however some landlords may be inclined to argue that the government have still not gone far enough in this regard.
Additionally, the white paper highlights an intention to reduce the notice period for existing mandatory eviction grounds in cases of criminal or serious anti-social behaviour. Although they do not provide clarity yet on what the notice period will be reduced to.
An End to Fixed Tenancies
One of the most eye-catching changes announced in the government's White Paper, is the intention to do away with fixed term tenancy agreements. Assured Shorthold Tenancy (AST) agreements, which are a staple of the current private rental sector, will be replaced by a single tiered system of periodic tenancies. In effect, tenants will be able to end a tenancy at any point during their residence, so long as they provide the landlord with 2 months' prior notice. Hypothetically, this means that the minimum period for tenancies in the UK could effectively be as little as 2 months.
The government hopes that a single periodic tenancy system will mean "both parties will better understand their rights and responsibilities", while providing "greater security for tenants, while retaining the important flexibility that privately rented accommodation offers," says the white paper. "This will enable tenants to leave poor quality properties without remaining liable for the rent or to move more easily when their circumstances change, for example to take up a new job opportunity."
Increased Restrictions on Rent Increases
As the cost of living spirals, the government intends to limit the rate at which rents on tenanted properties can increase. The new legislation will restrict landlords from increasing rent multiple times throughout a year, limiting rent increases to once every 12 months. At the same time, landlords will be required to give tenants a minimum of 2 months' notice prior to any rent increases.
The Renters Reform Bill also outlines plans to end the current use of rent review clauses "preventing tenants being locked into automatic rent increases that are vague or may not reflect changes in the market price" and says that "any attempts to evict tenants through unjustifiable rent increases are unacceptable".
The government hopes to tackle disproportionate and inequitable rent increases by landlords, making "sure that tenants have the confidence to challenge unjustified rent increases through the First-tier Tribunal."
A Minimum Housing Standard
The Decent Homes Standard, which currently only applies to the social housing sector, will see its scope widened to include the private rental sector. The Decent Homes Standard legislates a minimum condition that tenanted properties should meet. Whilst some of its requirements are relatively vague, the standard will require that landlords ensure that their properties are "free from the most serious health and safety hazards, such as fall risks, fire risks, or carbon monoxide poisoning".
The aim is that, by legislating a minimum standard, the government will be putting the onus onto landlords to ensure that their properties meet their minimum standard, as opposed to merely waiting for tenants to raise concerns. As part of this, periodic tenancies could enable tenants to end their tenancies without being required to pay the outstanding rent should the property fail to meet minimum standards.
A New Landlord Ombudsman
The Renters Reform Bill is set to introduce a new mandatory ombudsman for private landlords, irrespective of whether properties are let through an agent or not. The ombudsman will have new, far-reaching powers which will enable them to compel landlords to:
pay compensation of up to £25,000
provide tenants or the ombudsman with specific information
take mandated remedial actions
issue an apology to their tenants
The ombudsman's decisions will be binding to landlords if they meet the approval of the complainant. Landlords who fail to action the decision of the ombudsman may be fined, with repeat offenders facing the prospect of potential banning orders.
The National Landlord Portal
Landlord compliance requirements may well be entering the 21st century, with the Fairer Private Rented Sector white paper proposing a new landlord property portal. Landlord's will be required to register all tenanted properties on the portal, along with all the property's pertinent compliance documentation. There may be additional elements of the portal that support landlords to better understand their legislative requirements, as well as prove their compliance. However, specific details of how the portal may look or operate are vague at this moment.
The portal should allow tenants and councils a better visibility of a landlord and their property's compliance, prior to a tenancy beginning. By mandating the registration of properties, it is hoped that councils will have greater visibility of rogue and uncompliant landlords.
Additional Rights for Families and DSS Recipients
The Equality Act 2010 stipulates that landlords may not discriminate against tenants based on 7 protected characteristics. Namely: disability, race, religion, pregnancy, gender, gender assignment and sexual orientation. However, landlords have been able to refuse applications from certain tenant groups, such as families or benefit recipients.
The government intends to make it illegal for landlords to issue blanket bans on families with children or DSS (benefit) recipients. Some landlords are less willing to let to such groups for fear that they are more likely to damage a property or fall behind on rent.
Increased Rights for Pet Owners
Coming as less of a surprise, the government has also announced a new suite of rights for tenants with pets. Landlords will not be able to unreasonably withhold consent if a tenant requests a pet in their home. Tenants will be able to challenge decisions where they feel landlords are being unreasonable.
One positive for landlords is that the government intends to amend the Tenant Fees Act 2019 to allow pet insurance as a permitted payment. In effect, this allows landlords to mandate pet insurance as a condition of a pet residing in the property. This should help to provide landlords with additional security and protection should a tenant's pet cause additional damage to the property.
Alongside this, the government recommends that landlords begin to allow reasonable requests by tenants to amend or alter the property. This could include requests to hang pictures, redecorate or change appliances – so long as they endeavor to return the property to its original state. However, as of yet, there is no legal requirement for landlords to allow such requests.
Read More Like This.