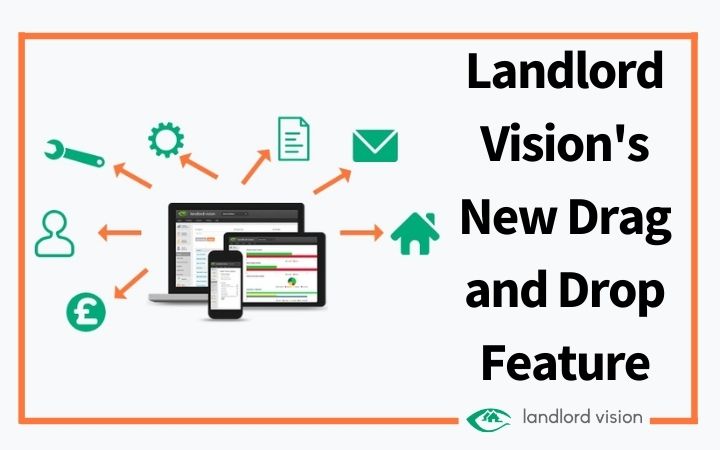 At Landlord Vision we're always listening to your feedback requests no matter how large or small.

If you've been following along in our newsletter you'll know that we've had some pretty major developments this year, like Making Tax Digital and Open Banking. But these huge integrations don't mean we aren't still taking care of the little stuff. Introducing…
Drag and Drop File Upload
In October Landlord Vision released the capability to upload files using drag and drop rather than manually uploading them one at a time. This allows you to quickly upload a full set of tenancy documents or fill up the Gallery in one go. Here we have an overview of this new time saving feature.
How to use the New Drag and Drop File Upload
The new function is available on any screen where you see an Upload or Attach button. Next to the Upload or Attach Button will be the line 'Drop files anywhere on the page'. On any of these screens you have three options:
Click Attach or Upload and select the files one by one from your computer. Click Open and the files will be ready for upload.
Click Attach or Upload, select the files from your computer and drag them across. The files will be ready for upload.
Simply drag the files from your computer and drop them anywhere on an Upload screen. The Upload Documents screen will appear and the files will be ready to upload.
You will then be able to assign these files to properties, contacts and tenancies in the same way that you can already, as well as choosing which folder they go to. You can of course add another set of documents stored elsewhere onto the same Upload screen.
Other Handy Features of Drag and Drop File Uploads
If you drag and drop files on to an E-Signatures page, then the software will immediately begin the process of setting up the envelope for you. Once the first page of the wizard appears, then you can either add more documents or proceed to the next section to set the envelope up.
You can also drag and drop all of your receipts at once to the Scanned Receipts page and they will all immediately be added to the queue for processing.
We hope the drag and drop feature makes using Landlord Vision even easier and helps you to get more organised than ever before!
If you want to give us feedback on the new feature pop over to Facebook or Twitter or simply reply to any of our emails. Want to suggest new features or vote on what our next development priority will be? Head over to User Echo to join in!
Read More Like This.