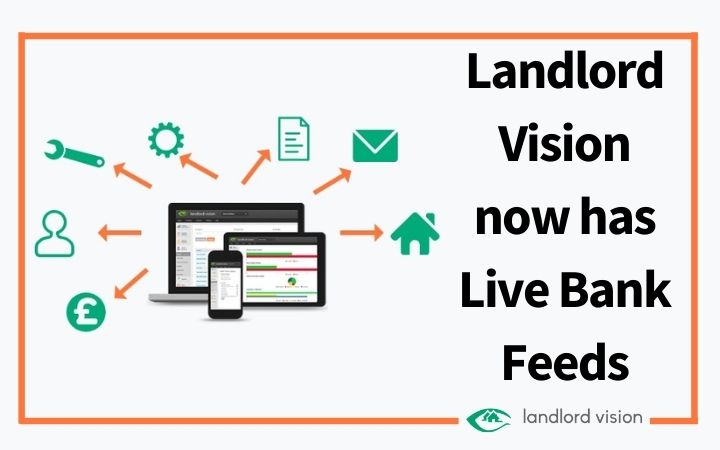 Here at Landlord Vision we've been going on about Open Banking for months as it's something we've added to the software. It sounds fancy, but what does it mean? In this post we're going to explain what Open Banking is, how it can benefit you and give you some insight into how it is used in Landlord Vision to make your life easier.
What is Open Banking?
In simplified terms, Open Banking is used by the UK financial industry to allow its customers (you) to share financial data via electronic means in a secure environment. This means you can, for instance, securely share your bank statements electronically with a variety of financial software providers.
Is Open Banking Safe?
Sharing your data via Open Banking is as secure as checking your bank balance using online banking. Your data always belongs to you.
To use Open Banking, providers have to be registered with the Financial Conduct Authority (FCA). Any FCA registered company has to comply with certain standards. FCA registration is designed to give consumers a lot more confidence in companies that use financial data and a lot more recourse if things go wrong. You can check a company's FCA registration and find out what that allows them to do on the FCA registration checker page.
What is Bank Reconciliation
Bank reconciliation is used to make sure that accounting records are correct. To carry out reconciliation you compare your bank statement with any financial records you've been keeping. For instance, comparing income and expenses recorded on your spreadsheet to the transactions on your bank account allows you to check their accuracy.
If you've been recording income and expenses in Landlord Vision, you can upload your bank statement to help you check these records. This process is often a lot more automatic when using software. Having to reconcile a spreadsheet and bank statement manually takes a lot of time and effort. Using Open Banking makes the process a lot faster again and will reduce the amount of time it takes to reconcile payments.
What are the Benefits of Open Banking for Landlords?
Some companies now use Open Banking (with the tenant's permission) to carry out affordability checks for landlords, but this isn't the only application. At Landlord Vision we're using Open Banking to allow landlords to import their bank transactions and to reconcile the statement lines with the income and expenditure entries they've entered into Landlord Vision.
Here's how the Landlord Vision Open Banking integration will benefit landlords:
Real Time Data
Previously you could import a scanned or downloaded bank statement into Landlord Vision to reconcile payments. This meant that the data was only as recent as your latest statement. With open banking the data is real time, so you'll always have the latest income and expenditure in the software for the most efficient reconciliation.
Save Time
When you had to scan in or download a bank statement for bank reconciliation in Landlord Vision it took extra time and extra steps to get the data into the software. Open banking means the data is direct and takes just a few clicks to import so it will save you time and effort.
Less of a Learning Curve
Because your bank statement transactions can be easily imported there's a lot less for you to learn before you take advantage of this feature. Previously you might have had to find out how to download your bank statement and then you'd have to figure out how to upload it. With the new Open Banking integration it's very intuitive. The software guides you through the process and it takes just a few clicks to get it up and running.
Secure
While the previous bank reconciliation feature in Landlord Vision was secure, Open Banking affords an extra level of security as the data is fully encrypted with the same level of security that is used when you use online banking.
Which Banks use Open Banking?
The high street banks use Open Banking, so if you're with any of the major providers you'll be able to take advantage of this feature in Landlord Vision. There are also some challenger banks that will use the Open Banking feed as well. Here's a complete list of all the banks you can currently import your data from:
Lloyds Business | Personal
Halifax
Bank of Scotland |Business | Personal | Commercial
HSBC Business | Personal
NatWest
Monzo
Nationwide
Starling Bank
Royal Bank of Scotland
Santander
Ulster Bank
First Direct
Barclaycard Commercial Payments | Barclaycard UK
Barclays Business | Barclays Corporate | Barclays Personal | Barclays Wealth
Tide
TSB Bank
TransferWise
When can I use Open Banking in Landlord Vision?
Here at Landlord Vision we've been working on our Open Banking integration for the best part of a year now, so we were all ecstatic when we finally launched it on 1st December 2020 – that means you can use the integration now for any of the banks listed above.
You Don't need to pay extra for this functionality, it is available to all existing and new customers. All you need to do is log in and go to Account Manager > Bank Accounts > Get Bank Feeds to get started.
Read More Like This.