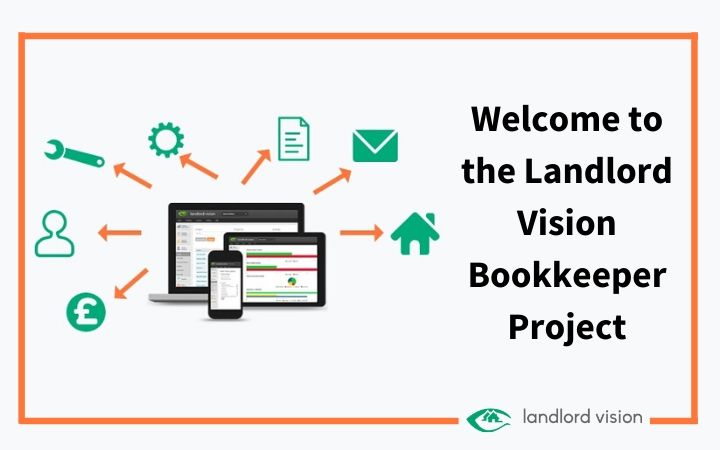 We did a terrible job of keeping our latest top-secret project under wraps. Turns out that was no bad thing! Here we'll let you in on what project Landlord Vision Bookkeeper is, how it can help you and how you can get involved.
What is Project Landlord Vision Bookkeeper?
So many customers ask us if we know any good bookkeepers who can use Landlord Vision. Our answer was always the same: "We know there are some bookkeepers using Landlord Vision, but we don't make recommendations". As this question started to creep up in popularity, we did what all good companies do and held a meeting to ask ourselves: Should we start recommending bookkeepers who can use Landlord Vision to our customers?
The resounding answer was yes, and so project Landlord Vision Bookkeeper was born. We sent out an email appeal and put up a software announcement asking bookkeepers who are using the software to get in touch. We didn't expect the amount of responses we got, not just from bookkeepers, but from customers who wanted to know who had responded because they were looking for a bookkeeper themselves. So, we put our skates on, screened all the applicants and made a webpage where we could recommend the best of the applicants.
How will Project Landlord Vision Bookkeeper help me?
Using a bookkeeper who is familiar with Landlord Vision means you can get up and running in the software faster, by hiring a bookkeeper to help you enter all your existing data into the software. As well as helping you to get started, they know how the software works so can help to maintain all elements of your finances without needing to get up to speed on a new software. Of course, if you are one of the customers who has previously asked us for a recommendation, you'll already know this!
How can I get involved in Project Landlord Vision Bookkeeper?
It's incredibly simple. If you want to find a bookkeeper that we recommend or you want to become one of our recommended bookkeepers, visit our shiny new bookkeeper page:

Want to see anything different on this page? Let us know. Just as we do with the software we're always happy to make improvements based on what would help you the most.
If you are a bookkeeper who uses Landlord Vision and you'd like to appear on this page, simply click the 'I want to become a recommended bookkeeper' button and fill in the form.
What's next for Project Bookkeeper?
Well, that would involve sharing our secrets! Safe to say we haven't deemed the project done and dusted. We hope that more bookkeepers will apply to become recommended, and that our customers find the information useful, if those two things happen the sky is the limit.
Let us know what you think of our bookkeeper project in the comments!
Read More Landlord Vision Updates:
The 10 Best Landlord Vision Developments This Year
5 Landlord Vision Features That Make Managing Time Easy