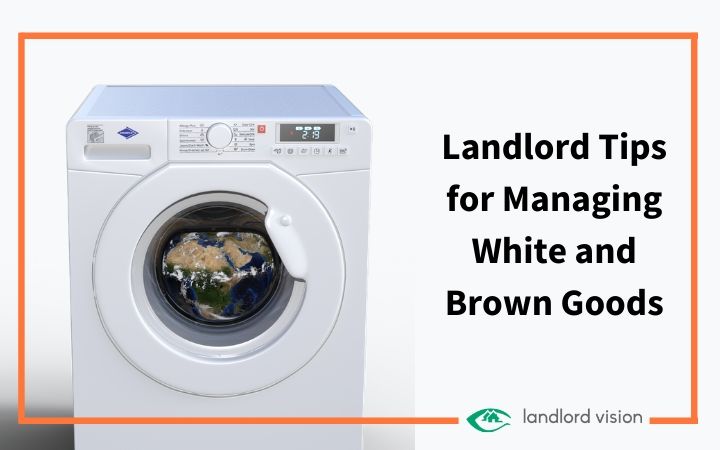 Not all landlords supply white and brown goods with a rental property, but it's common to include a couple of larger appliances.
If you do elect to let a property with a fridge, washing machine, and vacuum cleaner, etc., some degree of management is needed. In this article, we are going to look at how best to do this.
What are white goods?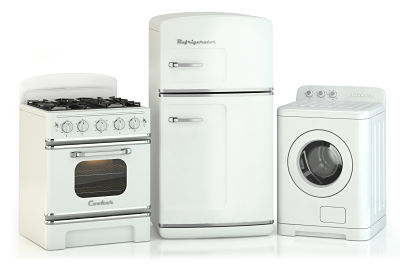 White goods are large kitchen appliances such as fridges, freezers, dishwashers, washing machines, etc. Not all landlords supply white goods in rental properties, but it is often a good idea to provide a fridge-freezer and washing machine, especially if you target low-income tenants or students. Some kitchens also have integral appliances.
Supplying white goods doesn't mean your property can be listed as "furnished".
Why supply white goods?
White goods are useful, practical, and many tenants don't want to have to buy their own. If you list a rental property that includes basic white goods such as a fridge and washing machine, you'll have more enquiries.
Often, it's worth splashing a bit of cash on budget appliances just to widen your pool of potential tenants. Remember, you have to spend money to make money!
Landlord responsibilities for providing white goods
Whether you are letting your former home that comes with integral appliances or you've been on a shopping spree down the local discount electrical warehouse, it is your responsibility to make sure white goods are safe.
Landlords are not obliged to supply appliances. It's entirely your decision. However, if you do elect to supply white goods, safety is paramount here. There are numerous stories in the press about fires started by faulty tumble driers, washing machines, and other appliances. Let's not forget the cause of the Grenfell Tower disaster was a malfunctioning fridge-freezer.
Any white goods you supply should be fit for purpose. If you pick up second-hand appliances, they must be safe. You are not obligated under the law to have white goods checked over by a professional, but the law states all electrical equipment supplied in a rental home must be safe.
Buying new appliances is usually a better idea, as they *should* be safe. However, check if there are any outstanding manufacturer recalls in place and avoid brands with a history of safety issues.
Landlord responsibilities for repairing and replacing white goods
Contrary to what you might think, supplying white goods does not mean you are obligated to repair and replace them. In the Landlord & Tenant Act 1985, it states in Section 11 that white goods don't fall under a landlord's maintenance/repair obligations. To avoid any painful misunderstandings, it's sensible to make this very clear in the tenancy agreement and reiterate it to the tenant before they sign on the dotted line.
However, just because you are not obliged to repair white goods when they break down, you might consider it prudent to take out an extended warranty on any appliances you do supply. Most brands offer a standard 12-month warranty. It's worth buying a five-year warranty to cover parts and labour, or even an insurance plan that covers between five and seven appliances. This will save you a lot of headaches and provide extra peace of mind for the tenant. You can pass the details to the tenant and if they have any issues with an appliance, they can contact the repairer directly.
Once the warranty runs out, you can then replace the appliance when it breaks down.
Landlord responsibilities for maintaining white goods
We have already covered repairs and replacement, but what about everyday maintenance?
Under section 11 of the Landlord & Tenant Act 1985, landlords are required to check the electrical safety of appliances supplied with a rental property. Checks must be carried out at regular intervals – in HMOs, this must be done every five years.
Look for frayed cables, exposed wiring, sparks when an appliance is plugged in, issues such as tripped fuses when appliances are used, etc. Often, a visual check is sufficient but if you have any concerns or your tenants have reported a problem, have the appliance tested immediately. Remember, faulty appliances cause around 60 fires a week! Tumble driers are the main culprits, followed by ovens and cookers.
It is a good idea to have a qualified electrician or electrical testing company check your appliances at reasonable intervals.
What are brown goods?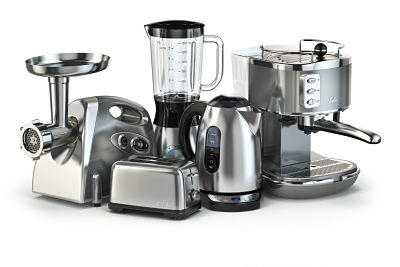 Brown goods are small, relatively lightweight electrical appliances such as vacuum cleaners, toasters, coffee machines, kettles, TVs, audio equipment, etc. Unless you are letting a fully furnished house, it's unlikely you will need to worry about these, but some landlords prefer to include a vacuum cleaner with their property, because it encourages the tenant to look after the property and keep it clean.
Landlord responsibilities for providing brown goods
As with white goods, you are not obliged to supply small electrical appliances, but providing a coffee machine, vacuum cleaner, fans, etc., could be classed as a selling point for some tenants. Some small appliances such as plug-in heaters are also handy during cold snaps or when a boiler breaks down.
Landlord responsibilities for repairing brown goods
It's your responsibility to ensure any small appliance you supply is safe, but you are under no obligation to repair brown goods if they stop working. Look for items with an extended warranty and give your tenant the details, so they can organise a repair if necessary. Once an item breaks down outside of the warranty, it's up to you whether you replace it, but in the case of a vacuum cleaner, it's definitely a good idea to purchase a new one.
Landlord responsibilities for maintaining brown goods
Portable appliance testing (PAT) is not a legal requirement for landlords, but if you supply portable electrical goods, it is good practice to have them tested at once a year. You can buy your own PAT machine, but they need calibrating and unless you own a lot of properties, it's often easier to pay someone else to do the job. They will test each appliance and put a tested sticker on it. This tells the tenant when the appliance was tested. You can find out more about PAT here.
Check for local portable appliance testing companies and ask them for a quote. It may not be as much as you think.
Management of white and brown goods
Keep a record of white and brown goods supplied with each property. Make a note of when each appliance was purchased, details of any warranties, including extended ones, and set reminders for when warranties are due to expire.
Landlord Vision is a useful tool in this regard with integrated white and brown goods management. It will remind you when warranties are approaching the end of their term. You can then check with tenants to find out if an appliance has any issues and book a warranty repair if necessary. There's nothing worse than discovering a washing machine broke down a week ago but the tenant didn't tell you – and the extended warranty expired yesterday.
Summary of a landlord's responsibilities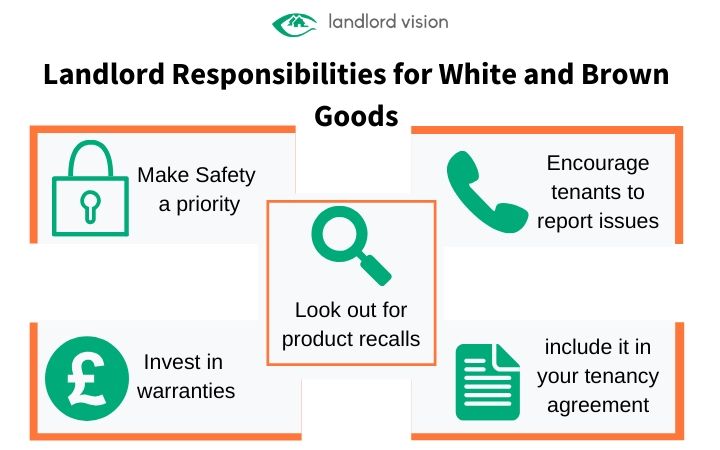 Make safety a priority – test and re-test all appliances at regular intervals.
Invest in extended warranties and/repair plans.
If you do supply white or brown goods or both, include some appropriate clauses in the tenancy agreement that clearly outlines who is responsible for what.
Ask your tenants to let you know immediately if there are any issues with any appliance supplied with the property.
Pay attention to product safety recall notices and have appliances repaired or replaced immediately if necessary.
Tell us how you manage white and brown goods. You can leave a comment below or reach out on Facebook or Twitter. We'd love to hear from you!
Read More Like This:
Simple Ways to Save Hours of Time Managing Properties
Fitting a Log Burner in a Rental Property – Landlords Beware!
Zero Deposits an Introduction for Landlords